WILLCOM implements a campaign capable of using a maximum of 512 kbps lines for 6210 yen per month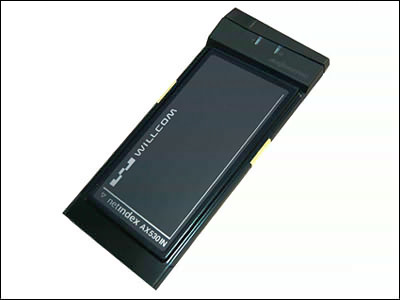 From Wednesday, August 1 (Wednesday), Wilcom will provide a communication plan with a maximum communication speed of 512 kbps "All you can do Tsunagi [PRO]"It is said that a campaign will be implemented that can continue to use for 62 months at 6210 yen or 6000 yen, which is approximately half of the monthly basic charge.

In addition, WILLCOM will sequentially convert backbone lines to optical IP, which means that high-speed data communication of up to about 800 kbps can be performed as it is.

Details are as follows.
About WILLCOM | AIR-EDGE [PRO] campaign implementation

According to this release, long-term discount plan "W-VALUE SELECTApplyAX520NOrAX 530 INTo users who contracted from August 1 to October 31, the communication plan of the maximum communication speed 512 kbps (when using AX 530 IN in the area corresponding to the PHS advanced communication standard "W - OAM type G")All you can do Tsunagi [PRO]It is said that the usage fee of 241 months, 6001 yen including tax will be discounted.

And by adding "W-VALUE discount" of "W-VALUE SELECT" here, the terminal fee is almost canceled out, and it seems that "Tsunagi All-Time [PRO]" will be available for 6210 yen per month or 6000 yen per month .

Breakdown of the actual burden amount by model.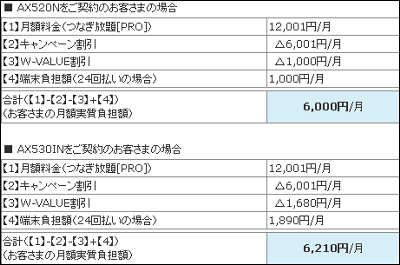 It may be good news for those who use the net frequently on the road.
in Mobile, Posted by darkhorse_log