Sony commercialized a small silicon tuner module for 4 waves including only 6.5 cm and terrestrial digital broadcasting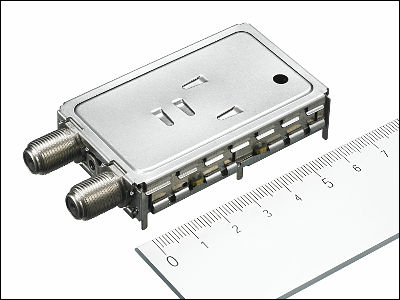 It seems that Sony will commercialize a small tuner of 38 mm × 65 mm × 13 mm, only 50 grams. It is a tuner module that integrates domestic terrestrial analog, terrestrial digital, BS digital, CS digital broadcasting 4-wave TV broadcast reception function as one, and it will be sample shipped from the beginning of October 2008.

IfB-CAS cardIf there is no, it will be unnecessary to insert the card and so on, so it can be downsized to a size slightly larger than this size and it can be made cheaper ... ....

Details are as below.
Sony Japan | Press Releases | Industry's First Commercialization of Small Silicon Tuner Module for Domestic Four-Wave Television Broadcasting System

The SUT - UJ 101 series to be commercialized this time is equipped with a newly developed silicon tuner IC made in - house, making it air - core coilless, greatly miniaturizing the module realized, the mounting area is about 2 minutes To 1. This makes it possible to reduce the size and thickness of thin flat-screen TVs and Blu-ray Disc recorders, lower power consumption (about 35% reduction compared to conventional products), cost reduction, and make it easier to mount multiple tuners.

Also, with its own high-frequency circuit technology, the industry's highest reception sensitivity, ground digital broadcasting: -80 dBm (64 QAM, Code Rate = 7/8), BS digital broadcasting: -83 dBm (TC 8 PSK, Code Rate = 2/3) High sensitivity is realized.

Furthermore, the high-performance interference elimination filter built into the silicon tuner IC and demodulation IC realizes the interference rejection performance corresponding to the large screen television. Moreover, it seems that high-frequency circuit technology and modularization technology suppress the influence of mutual interference at the time of signal reception of each broadcasting system on video quality, and realize excellent interference immunity tolerance.