100 yen Bargain than "EeePC"? How to buy "EeePC 901" cheaply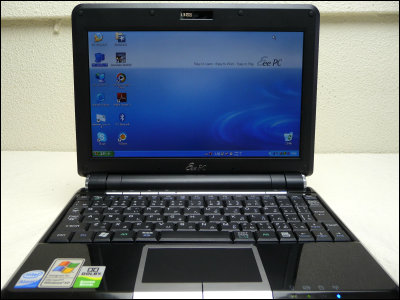 Previously at GIGAZINEHow to buy the first model of low-priced notebook PC "EeePC" at 100 yenAs I reported, when I checked, the latest model released on Saturday "EeePC 901It is said that it is possible to buy it at cheap.

Details are as follows.
When I contacted Yodobashi Camera Umeda store by phone, E-Mobile started from July 10 (Thursday), instead of promising two years use, discount of 69,600 yen from initial cost as a long-term contract discount Rate plan"MAX in Superlight Data Plan"Is applied, it seems that" EeePC901 "sold for 59,800 yen can be purchased for ¥ 14,980, down 45,000 yen.

The original "EeePC" which is sold for 44,800 yen is sold for ¥ 100, a discount of ¥ 47,400, so "EeePC 901" is slightly more affordable.

Considering that the built-in battery has evolved significantly from 4 hours to 8.3 hours, "EeePC 901" may be more compatible with e-mobile if it is for mobile use.