"European five languages ​​Japanese translation" started with "Infoseek multi translation"


You can translate French, German, Italian, Spanish, Portuguese. The reverse is also possible. Also, you can translate a website written in those languages. This may be useful.
Infoseek multi translation
http://translation.infoseek.co.jp/

The above page has been written at the present time like this.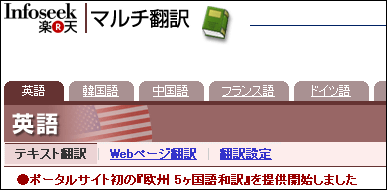 We launched "European 5 languages ​​Japanese translation" for the first portal site

As written on February 22, 2005 Livedoor is offering ....

Livedoor translation
http://translate.livedoor.com/

"Livedoor translation", translating from five languages ​​including English and French to English
http://internet.watch.impress.co.jp/cda/news/2005/02/22/6550.html

Or is it a judgment that livedoor is not a portal site ...?