Preparing "World Cup Burger" 40% bigger than Big Mac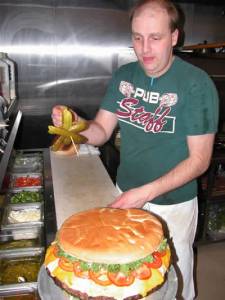 I think that I will not sell first in Japan, but McDonald 's US McDonald' s secretly preparing a burger that made BIG MACK about huge by about 40% according to the World Cup ....

The calorie is 667 kcal, it seems that it is for 9 snickers.
McDonalds to launch World cup burger the biggest ever - New Launches

By the way, the above image is the thing which was published at the following site, it is not a World Cup Burger forecast diagram.

See how the magic happens!

I think that there is no big thing so far ...

Or is it about this size?

SupersizedMeals.com - Fuddruckers takes world's largest burger title (for now)

Clinton Station Diner - Zeus Picture

By the way, this is the menu calorie and nutritional composition table of McDonald's head home abroad
http://www.mcdonalds.com/app_controller.nutrition.index1.html

It is quite different from Japan and its face is different ... Japan is like the following.
http://www.mcdonalds.co.jp/quality/basic_information/check.html

In addition, even if it is said that 4 extra surcharge is usualThe following imageIt is like a feeling, so there is an opinion that this menu will finally be as per the menu picture.