NHK started podcasting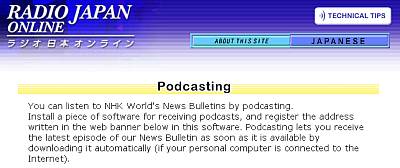 However, English, Arabic, Italian, Indonesian, Urdu, Swedish, Spanish, Swahili, Thai, Chinese, German, Hangul, Burmese, Hindi, French, Vietnamese, Persian It is Bengali, Portuguese, Malay, Russian. Somehow Japanese is excluded. Slashdot Japan | NHK enters full-scale into podcasts (but only in foreign languages)
http://slashdot.jp/articles/06/03/20/004248.shtml


Anonymous Coward says "NHK online has been podcasting foreign language news from March 16
We began offering (News release (PDF)). On the website of radio international broadcasting, from before

Japanese · English · Arabic · Italian · Indonesian · Urdu · Swedish
Spanish, Swahili, Thai, Chinese, German, Hangul, Burmese, Hindi
French, Vietnamese, Persian, Bengali, Portuguese, Malay, Russian

We provided 22 national language news in WindowsMedia · Real format,
On the Podcasting page you can use 21 languages ​​news except Japanese.
The update frequency is 8 times a day on English news which seems to be updated most frequently.
While reminding me of the recent debate over international broadcast expansion,
The point that does not correspond to Japanese news and introduction page is only English version
It seems that it considered to be criticized as "private pressure oppression". "

So, when you search for a variety of things, you are streaming about NHK radio news, do not you?

Radio Center Online
http://www.nhk.or.jp/radiodir/

NHK Radio News
http://www.nhk.or.jp/r-news/

It is quite convenient to listen while at work.