Microsoft installs browser built-in VPN function 'Microsoft Edge Secure Network' in Edge Canary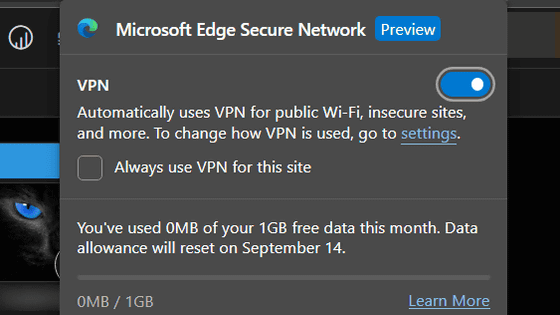 Microsoft has installed the browser built-in
VPN
function 'Microsoft Edge Secure Network' on the Canary channel, which is the new function test version of Microsoft Edge.
Browsers with built-in VPNs — the new normal? Microsoft bakes a VPN into Edge and turns it on
https://adguard-vpn.com/en/blog/vpn-built-browser-microsoft.html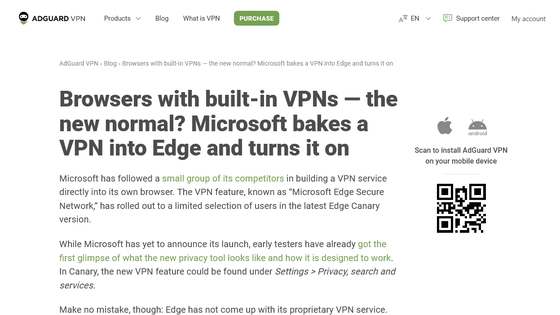 Microsoft Edge Secure Network (VPN) has been integrated into the Settings page. : MicrosoftEdge


'VPN' is an abbreviation of 'Virtual Private Network', and it is a technology that enhances the security of network communication, even in countries where 'access to overseas networks is blocked' because IP addresses can be hidden. You can connect to the internet overseas by using a VPN.

According to security company AdGuard, 'Microsoft Edge Secure Network' is realized in partnership with Cloudflare rather than Microsoft's own service. It is not possible to choose which server to connect to and it is automatically routed through Cloudflare's server near the connection source, so it is not possible to `` avoid geoblocking '', which is one of the important functions that users want from a VPN. That's what I mean.

Opera has already built the VPN function into the web browser, but Opera needs to turn the function on manually, while Edge says it is turned on by default. However, the recommended 'optimized' mode, for example, turns the VPN on for specific uses, such as using public Wi-Fi or browsing insecure networks or sites without a valid HTTP certificate. increase. You can turn it on for all sites, but the monthly data limit is set at 1GB, so you risk wasting data where you don't really need a VPN.

The limit of '1GB per month' is really strict, and AdGuard suggested that it may be possible to relax the limit in the future or increase the limit for a fee.

In addition, AdGuard said that many VPN providers, including their own, offer extensions with more advanced functions than Microsoft Edge Secure Network for general web browsers, including Edge, saying, 'Microsoft is a VPN We're just trying to promote VPNs by building functionality into the browser.' It also warns that the browser's built-in VPN feature does not guarantee that Microsoft is not collecting user data.