'Steve Jobs Archive', which summarizes the words and images of Apple's co-founder Steve Jobs, is on sale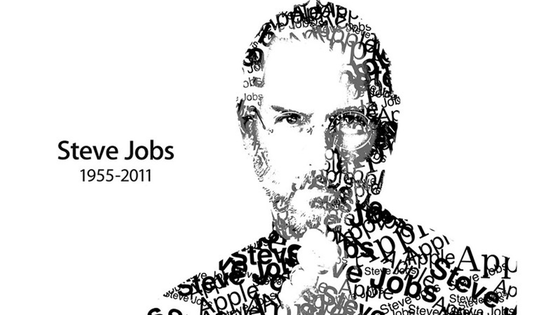 by
Joan Shaffer
Apple's co-founder and former CEO, Steve Jobs, who died in October 2011, has launched a project '
Steve Jobs Archive
' to publish the recorded words and images. The project was announced by Apple CEO Tim Cook, Jobs' wife Lauren Powell Jobs, and Apple's former chief designer Jonathan Ive.
The Steve Jobs Archive
https://stevejobsarchive.com/
"What's important is that you have a faith in people, that they're basically good and smart, and if you give them tools, they'll do wonderful things with them."—Steve Jobs, 1994

Welcome to the Steve Jobs Archive.

Let's make something wonderful. https://t.co/CzrW2CxnR9 pic.twitter.com/JUI3NcpF3O

— Steve Jobs Archive (@SJArchive) September 8, 2022


Steve Jobs Archive is a project to collect Mr. Jobs' words and images and publish the archive online, and it was launched mainly by Mr. Cook, Mr. Lauren, and Mr. Ive. It was announced at the annual event ' Code 2022 ' hosted by digital media / Vox Media.

The sentence displayed at the top, ``I don't grow most of what I eat, and most of what I grow is not what I have bred or sowed,'' is Jobs. An email he sent to himself from his iPad in 2010. Mr. Jobs seems to have often sent e-mails to himself in order to summarize his thoughts.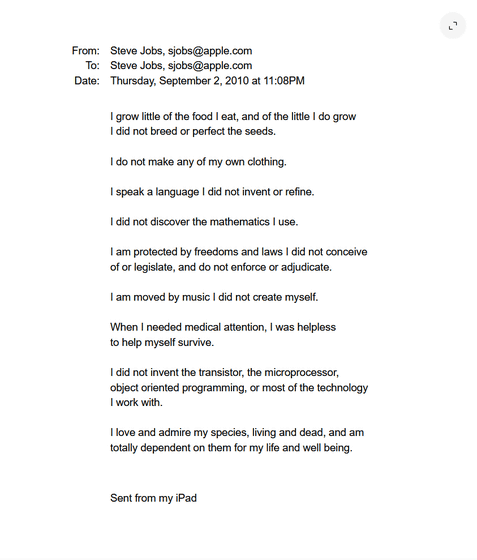 When you click on a sentence you care about in Steve Jobs Archive ......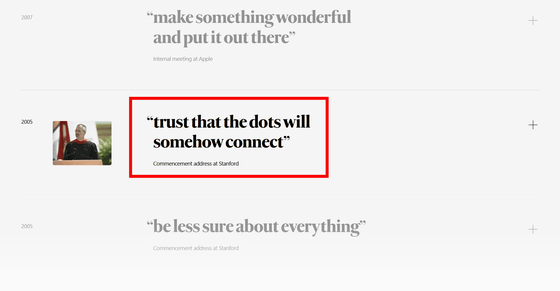 ``You can't connect the dots looking forward, you can only connect the dots when you look backwards. So you have to believe that the dots will somehow connect in your future.'' displayed large. This is a quote from a speech given by Mr. Jobs at the graduation ceremony of Stanford University.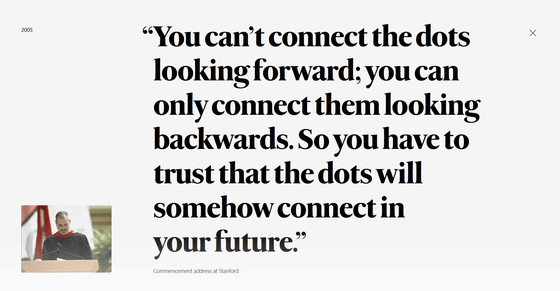 Clicking on this sentence further played a part of the video of Mr. Jobs who actually gave a lecture at the graduation ceremony of Stanford University.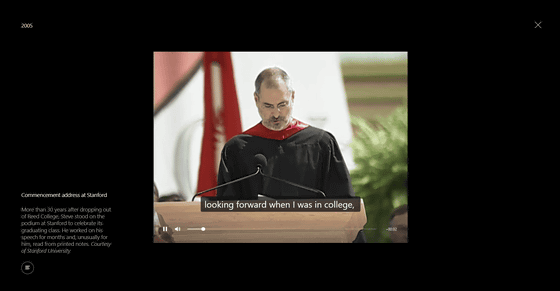 Cook CEO commented, 'Steve's will lives on in the company Apple and the products and services Apple produces.Steve Jobs Archive was born as a place to evoke possibilities for everyone.' increase.

Steve's legacy lives on in the company we are and the products and services we create. The Steve Jobs Archive was created as a place to spark a sense of possibility in everyone. https://t.co/MfgMuGV8IX

— Tim Cook (@tim_cook) September 8, 2022