DuckDuckGo has a deal that can't refuse Microsoft trackers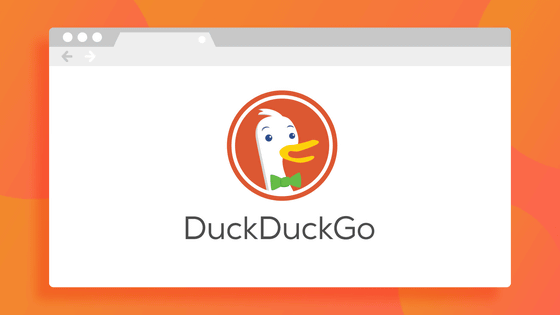 DuckDuckGo's browser '
DuckDuckGo Privacy Browser
' released for iOS and Android claims to focus on privacy, but intentionally allows Microsoft's third-party trackers through the agreement in the Syndicated Search Content Agreement with Microsoft. turned out to be
DuckDuckGo browser allows Microsoft trackers due to search agreement
https://www.bleepingcomputer.com/news/security/duckduckgo-browser-allows-microsoft-trackers-due-to-search-agreement/
DuckDuckGo Isn't as Private as You Thought – Review Geek
https://www.reviewgeek.com/118915/duckduckgo-isnt-as-private-as-you-thought/
DuckDuckGo is a search engine that claims to respect your privacy by not tracking what you search for or what you do while searching. Additionally, instead of building user profiles and displaying
personalized ads
, DuckDuckGo displays contextual ads from partners like 'Ads by Microsoft'.
In addition, the web browser 'DuckDuckGo Privacy Browser' provided by DuckDuckGo for iOS and Android is equipped with many privacy functions such as SSL constant encryption, third-party cookie block, and tracking block. On the App Store
release page
, 'Tracker Radar, a tracking blocking tool, finds and automatically blocks third-party trackers hiding on the websites you visit with DuckDuckGo, and the companies behind those trackers are yours. It prevents us from collecting and selling your data.'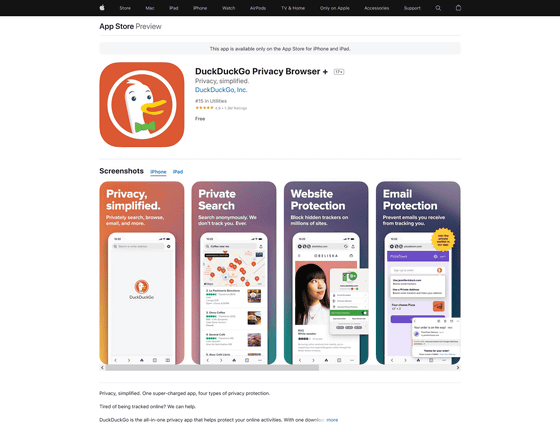 However, when security researcher Zach Edwards conducted a security audit of DuckDuckGo Privacy Browser, he found that it blocked Google and Facebook trackers while not blocking Microsoft trackers.

Sometimes you find something so disturbing during an audit, you've gotta check/recheck because you assume that *something* must be broken in the test.

But I'm confident now.

The new @DuckDuckGo browsers for iOS/Android don't block Microsoft data flows, for LinkedIn or Bing.???? pic.twitter.com/ol7Ydfo3BJ

— ℨ???????????????????????????????????? (@thezedwards) May 23, 2022


Further testing shows that DuckDuckGo Privacy Browser allows trackers related to the bing.com and linkedin.com domains and blocks all other trackers.

Gabriel Weinberg, CEO of DuckDuckGo, has revealed that DuckDuckGo Privacy Browser intentionally allows Microsoft trackers through a contract with Microsoft. However, Weinberg clarifies that this restriction applies only to the DuckDuckGo Privacy Browser and does not affect the DuckDuckGo search engine itself. Weinberg also said, ``We are working hard behind the scenes to improve our contract with Microsoft,'' and said he is working to improve the transparency of the DuckDuckGo Privacy Browser.

For non-search tracker blocking (eg in our browser), we block most third-party trackers. Unfortunately our Microsoft search syndication agreement prevents us from doing more to Microsoft-owned properties. more soon.

— Gabriel Weinberg (@yegg) May 23, 2022


Weinberg told the IT news site BleepingComputer, ``We always take great care not to promise browsing anonymity. This is because , frankly, anonymous browsing is not possible because it circumvents tools that do a lot of other browsers out there. DuckDuckGo Privacy Browser imposes restrictions on third-party tracking scripts, including those from Microsoft, which are more advanced defenses that most browsers don't attempt. In other words, it blocks third-party tracking scripts before they even load on third-party websites.DuckDuckGo gets far more privacy protection than when using Safari, Firefox, or other browsers. You can, 'he said, appealing that the DuckDuckGo Privacy Browser is still a browser that enables strong privacy protection.

Review Geek, an IT news site, said of a series of issues, ``Privacy and transparency are the biggest features of the DuckDuckGo Privacy Browser. Ugh,' he criticized.