Why did Mozilla remove the popular antivirus software Avast! And AVG?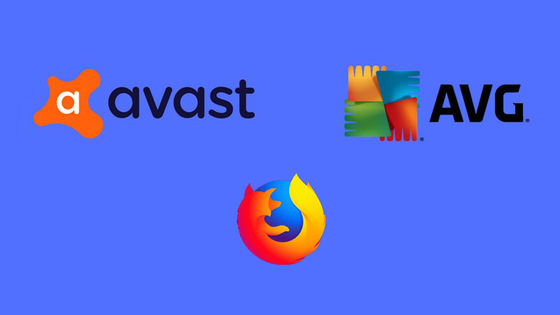 by
Umair Anwar
Add-ons (extensions) released for free anti-virus software 'Avast!' And 'AVG' for Firefox have been removed from the
official Firefox add-on store
. It is pointed out that both add-ons have privacy issues in their behavior.
Mozilla removes all Avast Firefox extensions-gHacks Tech News
https://www.ghacks.net/2019/12/03/mozilla-removes-all-avast-firefox-extensions/
'
Avast!
' Is an antivirus software that is famous for its free use. In 2016, Avast software, the developer of Avast !, acquired the developer of
AVG
, a competitor, to unify the management.
Antivirus software 'Avast!' To acquire rival 'AVG' for 130 billion yen-GIGAZINE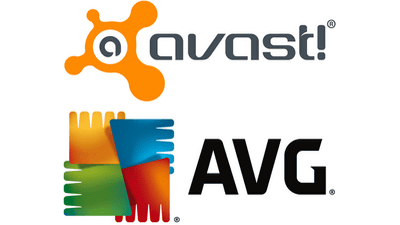 In addition to the anti-virus software that is installed on the PC, add-ons for Firefox '
Avast Online Security
' and '
AVG Online Security
' that prevent access to
phishing sites
etc. have also been released, and install the anti-virus software As a result, it was automatically installed in Firefox, and it was possible to introduce it to the browser from the official Firefox add-on store.
However, on December 3, 2019, Mozilla will find `` Avast Online Security '' `` AVG Online Security '' and `` Avast SafePrice '' and `` AVG SafePrice '' which will find sites cheaper than the page you are browsing when shopping online A total of four add-ons have been excluded from the distribution site.
At the time of article creation, when accessing
the add-on store
of
'Avast Online Security'
, the following is displayed and the add-on cannot be installed. The same was true for the other three add-ons.


The Avast add-on has been removed from the official Firefox add-on store, but it is not unusable. Mozilla has created a blacklist ``
Blocked Add-ons
'' that summarizes add-ons that have security problems and add-ons that have a negative effect on browser performance.Additions added here will not be distributed, Will be uninstalled from Firefox and will be unusable. However, at the time of writing the article, the four add-ons excluded from the add-on store this time are not listed in 'Blocked Add-ons', and users who have already installed Firefox can continue to use the add-on.
Mozilla has also
added
a
large number of add-ons to the blacklist at once on
December 2 as `` collecting data without user consent and violating Mozilla's add-on policy '', but Avast's product is here Not included.
Although Mozilla has not made an official announcement about this response, Avast's add-on has long pointed out that 'possibly collecting user's personal information illegally'. Vladimir Palant, the developer of the classic ad blocker
Adblock Plus
, published an
article
in October 2018 titled 'Avast Online Security and Avast browsers are spying on you.' Among them, `` As a result of analysis, we found that the Avast add-on is collecting enough data to completely reproduce the user's browsing, '' he pointed out, and Avast has a large amount of personal information unrelated to security That you are collecting.
Avast Online Security and Avast Secure Browser are spying on you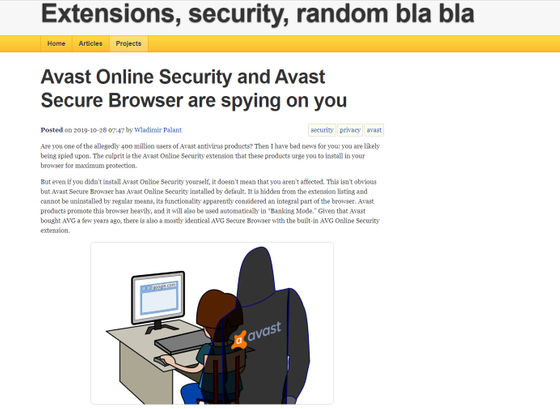 Mr. Prantto directly analyzed only 'Avast Online Security', but he sees that the remaining three add-ons released by Avast will do the same. In
a blog post
released
December 3
after Mozilla removed the add-on from the add-on store, Pallant said, 'Spying users clearly violates the browser's privacy policy. Yesterday, we reported to the companies about these four add-ons, 'said Mr. Prantto, who was working on Google, Mozilla, and Opera, and suggested that Mozilla's response was the result.
He added in a Twitter post, 'Mozilla has removed all Avast add-ons from its distribution site, but is not on the block list, so already installed users are still affected. It looks like we're still discussing this issue with Avast, 'he urged Mozilla to take further action.
Mozilla has all four Avast extensions disabled in the add-on store now.They are not blocklisted, so they will stay active for users who already have them-apparently, Mozilla is still talking with Avast about this.

— Yellow Flag (@WPalant) December 2, 2019


◆ December 6, 2019 15:10 Update
The following statement was sent to GIGAZINE from Avast through public relations in Japan.


We have been providing Avast Online Security and SafePrice Browser Extensions in the Mozilla Store for many years. In response to recent policy updates in the Mozilla store, we are working with Mozilla to tailor extensions to new policies. Avast Online Security Plugin is a security tool that protects your online activities from malware infected websites and phishing attacks. To provide the expected functionality, we need to collect URL history, but we do not collect and store user information.

Some adjustments have already been made to Mozilla's new policy, and we plan to release a fully compliant and transparent update in the future. Avast Online Security and SafePrice Browser Extensions will be available soon in the Mozilla store, as before.


◆ Posted at 9:05 on January 9, 2020
Avast has renewed the following statement:


We take privacy very seriously, and best practices for handling data are issues that are continuously discussed in the technology industry. We have never compromised on the security or privacy of personal information.

This time, we listened to the voices of our users and realized that we needed to specify the data necessary for our security software to function. We also recognize that we need to state the purpose of the data and allow users to choose whether to disclose the data. We have modified the extensions, including limiting the use of data. Corrections are also described in our Privacy Policy.

Our extensions, Avast Online Security and AVG Online Security, have been relaunched in the Chrome and Mozilla stores. We sincerely listen to our users' concerns about transparency and data use and try to be a role model in security.


When I actually accessed the 'Avast Online Security' add-on store , the distribution page was back.