"Safe browsing" function added to Chrome for Android, protection from malicious sites will be strengthened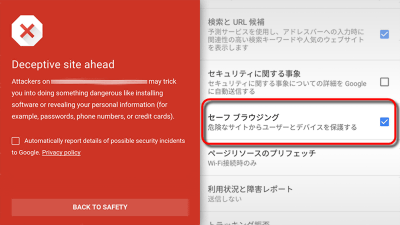 In order to protect users against threats such as malware and phishing sites, Google announced that it added safe browsing function to the browser "Chrome" provided for Android.

Google Online Security Blog: Protecting hundreds of millions more mobile users
https://googleonlinesecurity.blogspot.co.uk/2015/12/protecting-hundreds-of-millions-more.html

Google Turns On Safe Browsing In Chrome For Android | TechCrunch
http://techcrunch.com/2015/12/07/google-turns-on-safe-browsing-in-chrome-for-android/

This feature is said to be realized by adding a client with Safe Browsing function on Android terminal. It is provided as one of the functions included in "Google Play Services version 8.1" released on September 24th.

When this function is turned on, a warning will be displayed on the screen of the browser when trying to visit the site that Google judged as "suspicion of fraudulent behavior". With this measure, users will be protected from malware, phishing, malicious unnecessary application installation, etc., and will be able to browse safely.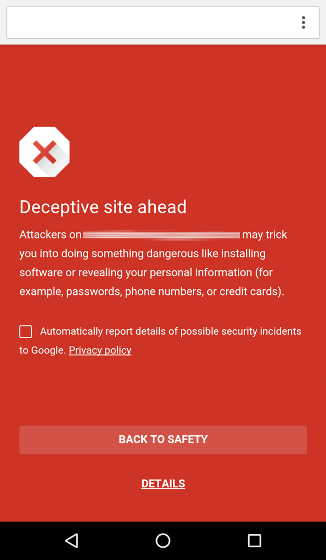 Safe browsing function is installed in version 46 of Android version of Chrome. Since the latest version at the time of article creation is "version 47", in reality, many people are already using this function already. The status of the function can be confirmed by checking "Safe Browsing" checked in [Settings] → [Privacy] from the Chrome menu screen. I confirmed that the Safe Browsing function was turned on in both Nexus 6 (Android 6.0 Mashmallow) and Sony Xperia Z3 (Android 4.4 KitKat), which was in the editing department at hand. If unnecessary, it is also possible to stop the function by unchecking it.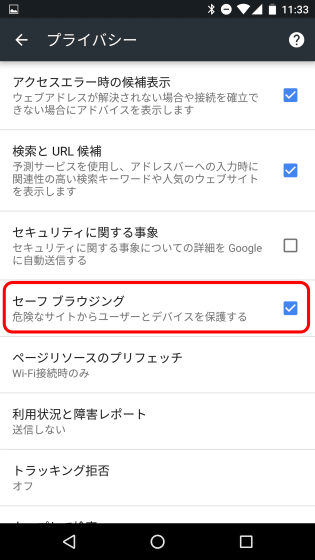 Actually this was already widely used in Chrome for PC, and this time it finally came to be able to use the same function also on Android terminal. About the fact that it took time to implement the Android version, Google said it was necessary to deal with "data volume constraints" that mobile terminals can not avoid. Since the data required by the Safe Browsing function is very huge, there is a possibility that the possibility of putting pressure on the traffic of mobile terminals is imposed. Therefore, Google integrated Chrome 's "data saver function" with Safe Browsing function, thereby reducing the amount of communication traffic, making it possible to use the function even in environments with poor communication quality. Also improvements have been made to reduce terminal memory and processor processing.

In this way, it is encouraging to feel strongly that the function of increasing security is added more and more. Nonetheless, since malicious sites and malware are being produced one after another, it is also important to finally be aware of security yourself. Whether Safe Browsing is actually working or not,Test pageYou can access and check it.