There is a problem that Firefox can not connect to the net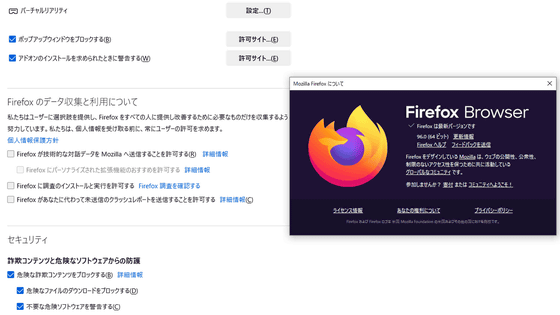 From around 17:00 on January 13, 2022, there was a problem that you could not connect to the Internet without doing anything with the web browser Firefox. Even the PC of the editorial department could not connect to the net, and for a while I got into a Firefox restart loop, but I managed to escape.

Anyone else having problems with Firefox? (Fix in comments) | Hacker News

https://news.ycombinator.com/item?id=29918052
1749908 --Infinite loop in HTTP3 hangs socket thread
https://bugzilla.mozilla.org/show_bug.cgi?id=1749908
This 'unable to connect to the internet' event is not only occurring in Japan, but has been reported all over the world. The cause seems to be http3.
As a countermeasure, it is said that the situation will be improved by unchecking all the check boxes in the 'About Firefox data collection and use' column in the 'Privacy and Security' tab (
about: preferences # privacy) of the setting.

Firefox has just released the latest stable version of Firefox 96
on January 12, 2022, but it is not necessarily caused by the latest version, and there are voices that it will occur in the previous version 95.0.2.
On one of the editorial PCs, Firefox crashed before changing the above settings and the 'Mozilla Crash Reporter' opened, and when 'Restart Firefox' was pressed, the next Firefox that started crashed again and the crash reporter. I fell into a loop of opening. So if the crash reporter opens, press 'Exit Firefox'.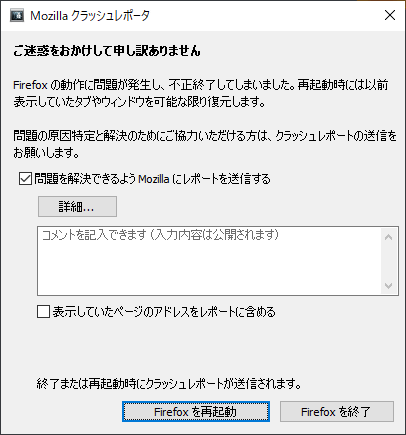 After that, by restarting Windows and completely terminating the Firefox process, Firefox succeeded in starting after restarting.

Uncheck 'About collecting and using Firefox data' above, open 'about: profiles ', click 'Disable add-ons and restart', and restart Firefox again to get online. You can now connect.




If you restart Firefox that started with the add-on disabled, the add-on should load this time.

However, if the add-on still does not load, select 'Troubleshooting Mode' from 'Help'.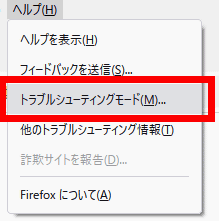 A dialog will be displayed, so click 'Restart'.




Firefox closes and the dialog 'Open Firefox in troubleshooting mode' appears, so click 'Open'.




Since Firefox has no add-ons yet, select 'Turn off troubleshooting mode' from 'Help' in the menu.




Firefox should restart again, and this time the add-on should be back again.

In addition, it is said that automatic renewal will be performed from around 18:25 Japan time.

·postscript
Twitter's Firefox Support Contact account has announced that the issue has been fixed.

Hi folks,

Firefox has witnessed outages recently and we are sorry about that. We believe it's fixed now and a restart should restore Firefox to normal. We will provide more information shortly . #Firefoxdown #firefox

— Firefox Support (@FirefoxSupport) January 13, 2022


・ Continued

What was the reason Firefox suddenly stopped displaying pages? --GIGAZINE