Twitter is testing 'a new feature that allows you to remove followers without blocking them'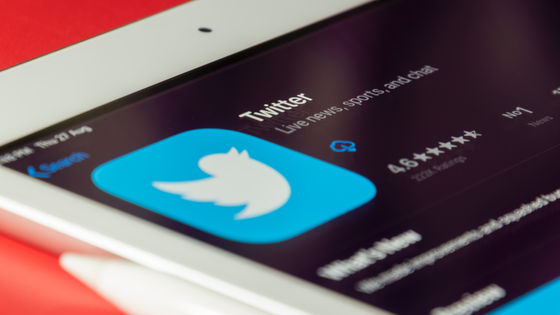 Previously on Twitter, 'blocking' was required when deleting followers, but it turned out that there is a new feature in the testing stage that allows you to delete followers without blocking.

Twitter is testing an official'soft block' feature --The Verge

https://www.theverge.com/2021/9/7/22661452/twitter-follower-remove-soft-block-test
Until now, Twitter did not have a function to 'delete followers
', and if you perform a 'block
' that prohibits following from the target account, the follow will be forcibly canceled, so the block will delete the followers. Has been used as an alternative to.
However, if you block, you may notice the block because the blocked person's timeline will not show the blocked person's tweets, you will not be able to retweet, or you will not be able to view your profile. I have. This situation is angry, and some Twitter users say, 'Forcibly unblock a follower and then unblock it (so that the other person doesn't notice that you've blocked it). This allowed them to 'unsubscribe from their followers' while allowing them to view their profile, retweet, and so on.
The act of blocking once and then unblocking is called 'soft block' in English-speaking countries. There was criticism that this soft block was troublesome, but it became clear that Twitter is trying to implement a 'function to directly delete followers' that saves that trouble. Below is a tweet posted by Twitter Support, the official Twitter support account, that has a feature that allows you to delete followers without blocking.
We're making it easier to be the curator of your own followers list. Now testing on web: remove a follower without blocking them.

To remove a follower, go to your profile and click "Followers", then click the three dot icon and select "Remove this follower". Pic.twitter.com/2Ig7Mp8Tnx

— Twitter Support (@TwitterSupport) September 7, 2021


According to the post, if you want to remove a follower, click the '...' icon next to your username and select 'Remove this follower'.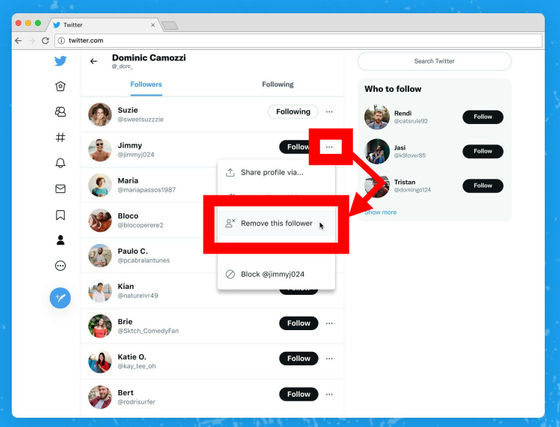 Then a confirmation pop-up will be displayed, so it seems that the removal will be completed by selecting 'Remove'.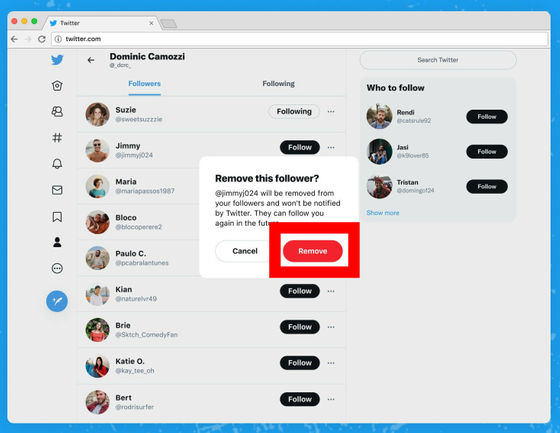 According to Twitter Support, this new feature is being tested in the web version.