Who can make money with Twitter's voice conversation function 'Space', and who can use it?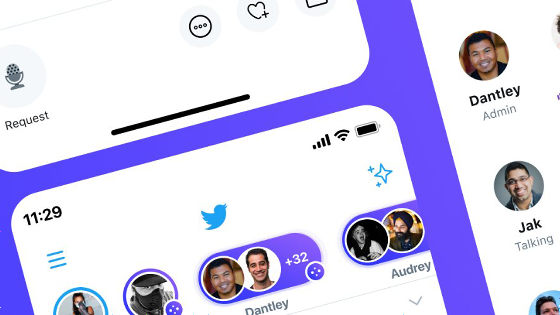 In May 2021, Twitter launched a voice conversation function ' Spaces ' similar to the voice SNS 'Clubhouse ' that gained popularity in 2020. At the time of writing the article, space is a function that anyone can use for free, but Twitter announced that it will start a new paid 'Ticketed Spaces'.

Twitter starts launching Ticketed Spaces for some iOS users --The Verge
https://www.theverge.com/2021/8/27/22644283/twitter-ticketed-spaces-live-audio-test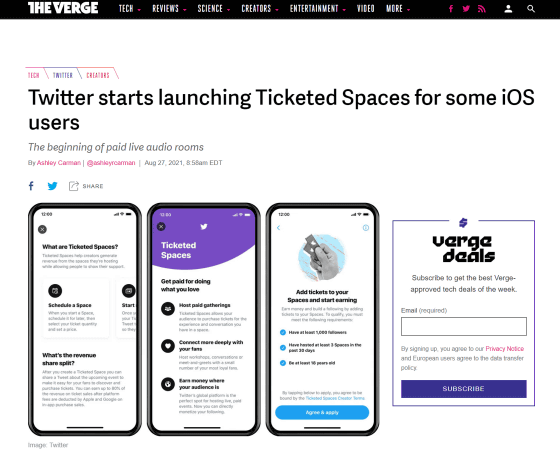 Twitter now rolling out Ticketed Spaces for iPhone users --9to5Mac
https://9to5mac.com/2021/08/27/twitter-now-rolling-out-ticketed-spaces-for-iphone-users/

On August 27, 2021, Space's official Twitter account said, 'We want to help users make money in Space. Starting today, some hosts will have ticket-based space available. For now, it's only available on iOS, but it's expected to be available to everyone in the near future. It will take some time, but I want you to use it too. '

we want to help people creating cool Spaces make $$. Today, some Hosts will be able create Ticketed Spaces!

we're experimenting on iOS only for now but we hope to get it to everyone soon. Know it's taking us a little time, but we want to get this right for you! Https://t.co/xc68yWkOim

— Spaces (@TwitterSpaces) August 26, 2021


In the ticket-based space, the host can set the price of the chat room of the space from 1 to 999 dollars (110 yen to 110,000 yen), and it is also possible to limit the number of people. According to Twitter, the fee for ticket-based space is 3%, and the host can earn 97% of the ticket amount. However, it is explained that the commission will increase to 20% when the sales of the application exceed 50,000 dollars (about 5.5 million yen), and it is possible that the commission will increase in the future.

To use the ticket-based space, it is necessary that 'the host user has at least 1000 followers' and 'hosts at least 3 spaces in the last 30 days'. In addition, people under the age of 17 cannot charge for the space.