Interview with Jim Anderson, CEO of FPGA development company and a contributor to AMD's resurrection, is now available


As a senior vice president of AMD's computing and graphics business,
he led the development of the Ryzen series with
the Zen architecture by
Jim Keller
, and was a contributor to the revival of AMD, which was on the verge of bankruptcy. Known Jim Anderson left AMD in 2018 to become CEO of
Lattice
, a semiconductor company that focuses on
FPGAs.
An interview with CEO Anderson is available from hardware-related news site AnandTech.
An AnandTech Interview with Jim Anderson, CEO of Lattice Semiconductor
https://www.anandtech.com/show/16879/an-anandtech-interview-with-jim-anderson-ceo-of-lattice-semiconductor
Below are some of the huge interviews.
Q: Q:
Anderson has retired from AMD's Senior Vice President of Computing and Graphics Business and left AMD to serve as CEO of Lattice for three years. Why did you move from consumer hardware to FPGA development?
Anderson CEO:
I loved working at AMD and love the AMD staff. AMD's staff are great and very determined. But when Lattice contacted me, I didn't want to miss this opportunity. That's because Lattice is one of the companies that has been developing FPGAs for almost 40 years since the early 1980s. Lattice is a unique company that innovates around small, power-efficient FPGAs. Lattice FPGAs are used in all applications in a variety of markets.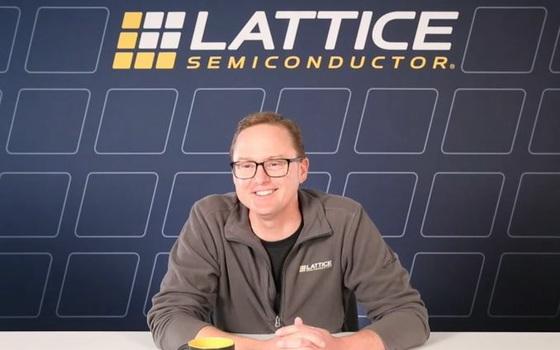 I thought that if I joined Lattice, I could pave the way for Lattice to move forward and help develop better products faster. It was a lot of fun for the three years to completely rebuild the Lattice product line and get it on track. We look forward to the next few years even more.

Q: Q:
If you know the existence of Lattice, you know that Lattice is a manufacturer of FPGAs, but most people think of FPGAs as Xilinx , which was acquired by AMD, and Altera , which was acquired by Intel. I think. What is Lattice's position in the industry compared to Xilinx and Altera, and why is it important?

Anderson CEO:
Xilinx and Altera focus on very large, high power and complex FPGAs. Lattice, on the other hand, specializes in small, power-efficient and extremely easy-to-use FPGAs. Lattice FPGAs are used in industrial IoT, industrial automation, communications equipment, and robotics because physical or power constraints can handle any application that competitors' products cannot.

At the end of the tweezers that CEO Anderson has is a 1.4mm square FPGA made by Lattice.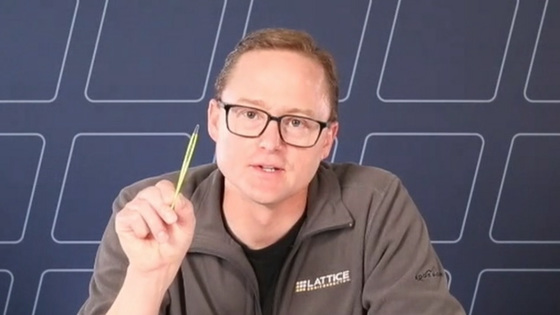 Below is an image comparing this FPGA with AMD's Threadripper.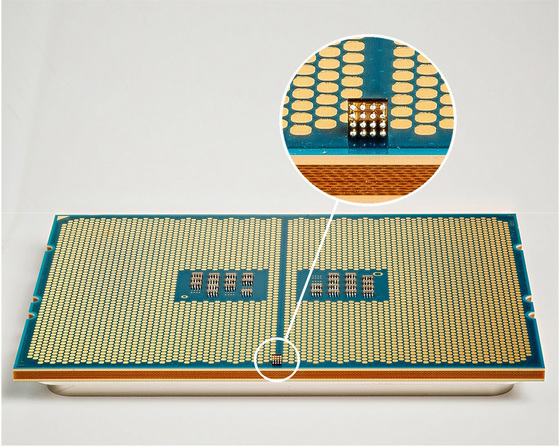 In addition, this is the Lattice FPGA sent to the interviewee by a Lattice spokeswoman. The size is 1 mm or less, and it is invisible without using a magnifying glass.

These

@latticesemi FPGAs that just arrived in the mail are smaller than 1mm x 1mm. I can hardly see them without a magnifying glass of some sort.

If I try and bite into these, they'll get consumed. Maybe I can use them as sprinkles. Pic.twitter.com/BHbxrH0HbQ — ??????????. ???????????? ??????????????????????????????? (@IanCutress) July 28, 2021


Q: Q:
CEO Anderson has a master's degree in electronics from the Massachusetts Institute of Technology and has since worked as a CPU architect at Intel. What are the consequences of a career from architects to strategic planning and marketing of semiconductor products, AMD processors and graphics, and now Lattice?

Anderson CEO:
As you say, it's an unscrupulous career (laughs) I started my career as a CPU architect involved in Xeon and Itanium. However, after that, he developed multi-core digital signal processors , extremely complex network processors used in communications, ASICs, CPUs and graphics for consumers, and now he is working on FPGA development. I think what I have in common with my career is that I have worked in the semiconductor industry. The semiconductor industry is basically the foundation of the entire technology industry, and it is also an unsung hero for other industries, and I find it very exciting to work in the semiconductor industry.

Q: Q:
When we talk about FPGAs at work, we are often asked, 'Why are FPGAs that cost a lot of mass production rather than ASICs (application specific integrated circuits)?' Why do Lattice customers and FPGAs choose FPGAs over ASICs?

Anderson CEO:
There are technical and economic reasons for that.

For technical reasons, customers want to innovate in system design and differentiate themselves in the market. The solution is an FPGA that is highly customizable and adaptable. The advantage of FPGAs is not only that they can be customized to what you need, but also that they can be reprogrammed to the end of the system's life. This means that FPGAs can be updated as the market changes and features are added. Many customers are actually running artificial intelligence algorithms on FPGAs. Since AI algorithms are constantly evolving, it is a great advantage to be able to reprogram the FPGA as the algorithms evolve. Guaranteeing the future of the platform is a major reason for choosing an FPGA.

Also, trying to create a custom chip optimized for your application can take at least a year and a half to two years. During the two years from the initial architectural concept to commercialization, customer needs can easily change. On the other hand, FPGAs allow you to quickly customize just what you need. If your needs change over the next two years, you can reprogram. It is also optimized for power efficiency and size, so custom chips such as ASICs are not superior to FPGAs in terms of maintenance costs.

Also, in the more than 20 years since I started working in the semiconductor industry, the cost of full custom chips has increased tremendously. It used to be easy to customize, but now it's expensive to develop and cost. With FPGAs and custom chips like those developed by Lattice, there is almost no cost difference anymore.

Q: Q:
When talking to Esam Elashmawi, Chief Officer of Lattice's Strategy and Marketing, Elashmawi said, 'Lattice continues to grow in the server market, and a few years ago, how many Lattice products were on servers. It was about 20%, but now it has improved to about 80%. ' Why did Lattice Silicon play an important role in the enterprise motherboard market?

Anderson CEO:
That's a good question. This is arguably a big growth area for Lattice. A few years ago, about 20% of all servers were equipped with Lattice silicon. Until a few years ago, Lattice products were responsible for more basic tasks such as server power management and basic control functions. Today, however, more than 80% of the latest generation mass-produced servers are equipped with at least one Lattice semiconductor to control and manage the server platform. In addition, security features have been enhanced.

Due to the growing interest in security these days, Lattice offers products with features called platform security and platform resilience. For example, when the server boots, the Lattice chip checks the hardware itself for damage and checks the firmware version for any anomalies. By saving a copy of the firmware in the memory inside the Lattice chip, if there is something wrong with the firmware, it can be repaired by replacing it with the copy.

Lattice also supports both Intel and AMD platforms, as well as ARM-based servers. It is very important that the product is compatible with various platforms and is independent of a specific platform or environment, and it is also an advantage for customers.

A typical server platform uses multiple Lattice chips. That would mean shipping more chips to the market than there are servers shipped. The average selling price of Lattice products is also rising. This is because Lattice continues to provide additional value to the server market.

Q: Q:
One of the problems with FPGAs is that they are difficult to develop. Before using FPGA, you need to learn how to code a hardware language. What exactly does Lattice do to make development easier for people who understand software but have no hardware experience?

Anderson CEO:
This is one of Lattice's mottos and we want Lattice products to be as easy to use as possible. Over the last few years, we've made a lot of improvements to make it easier to use, not only for those who are familiar with FPGAs, but also for developers who have never used FPGAs before.

One of the major initiatives we have undertaken over the past three years is 'Application Specific Software Solution Stacks.' It makes it easy for customers to use complex FPGAs with pre-built tools and libraries. Not only does this effort allow new customers to enter the market more easily and quickly, but it also helps FPGA-savvy customers switch from competitors to Lattice products.

Lattice also announced SenseAI , a software stack specializing in artificial intelligence, embedded vision development kits , hardware security and factory automation. All of these are pre-built solutions that customers can use out-of-the-box, but they can also be customized. We will continue to prepare more software stacks and build a wider portfolio.




Q: Q:
Does that mean that you have a compiled library that manages your FPGA, and that library and function are called and it's done automatically?

Anderson CEO:
That's a good analogy.

Q: Q:
Do you have any good memories or special moments when you worked at AMD?

Anderson CEO:
It's been three years now, so my memory has become ambiguous. First of all, looking back on my life at AMD, what I really enjoyed was the memories of people. I'm still in contact with many of the people I worked with at AMD and I think they're really good friends. Innovative, creative and wonderful people. AMD has always been a brave team. I liked that kind of thing about AMD, and I liked the really decisive people. I always remember it nostalgic.

The most memorable thing when I was at AMD was the first Ryzen launch. We put Zen architecture CPUs on desktops first, and then on laptops. The amount of work and effort the team spent doing that, and the excitement and expectations of bringing Ryzen to market, were really exciting.

Also, the last event involved in the AMD era was the announcement of the 2nd generation Threadripper. I loved the event because I had a special feeling for Threadripper. In the 2nd generation Threadripper product line, we've thrown away all the rules we've had so far and have done everything we can.



But the three years at Lattice were great and fun. I feel like I've made great strides in rebuilding my product portfolio over the last three years. But I'm always looking forward to where we're heading in the next few years. I'm excited about where Lattice is heading.