Interview with Liza Su of AMD who raised resurrection lost smoke at Ryzen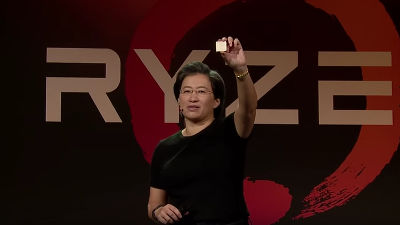 In Japan as well, at midnight March 3, 2017 a new CPU "Ryzen 7"Has been released and the expectation of AMD full recovery is increasing with overwhelming cost performance that could destroy Intel's high-end CPU. In 2017, not only with Ryzen, but also AMD's Lisa Su CEO who refrains from release of new GPU architecture "Vega" and 32 cores / server thread "Naples" for servers,AnandTechI interviewed them independently and I've heard a lot.

Making AMD Tick: A Very Zen Interview with Dr. Lisa Su, CEO
http://www.anandtech.com/show/11177/making-amd-tick-a-very-zen-interview-with-dr-lisa-su-ceo

AMD Lisa Su, CEO of Taiwanese born, received a doctorate in electrical engineering from MIT. After working as Texas Instruments, IBM, Freescale Semiconductor, AMD has served as CEO since 2012. In the semiconductor industry, Sue CEO, a woman with a few doctoral degrees, is a well-known person in the industry as a top-noticable figure.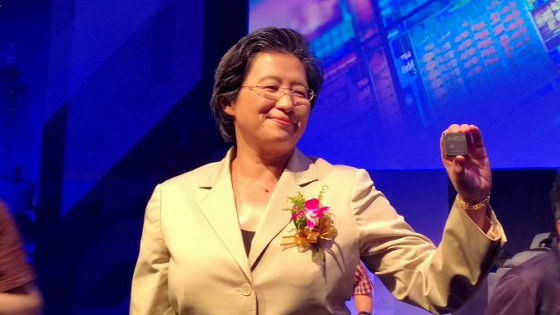 AnandTech:
You declare AMD as well that it is necessary for AMD to officially return to the "High Performance PC" market. Many hurdles still remain in returning, but what is the position of "Zen" microarchitecture in the remaining roadmap?

Lisa Su (CEO, hereinafter referred to as "Su CEO"):
I think it was a huge hurd to launch Zen with desktop CPU. It has been said that there are many things to do as we progress, but you can imagine I am happy now. It is still only for the latest product (Ryzen 7), and after that, it will continue with "GPEG" Vega ", server CPU" Naples ", notebook CPU, and 2018.

AnandTech:
I heard that there are times when technological development may take three to four years, in some cases over five to seven years. How long are AMD engineers developing in anticipation?

Sue CEO:
It's at least 3 to 4 years. Speaking about CPU and GPU products, we have a road map until 2020. Of course this is not absolute, it is adjusted according to the needs of the market by observing the market trends.

AnandTech:
Many analystsJim Keller(Note: Genius engineer who developed "Athlon (K7)" when he was enrolled at AMD, led the development of "Zen" after returning to AMD and now rejoins AMD and recalled to Tesla) is correct again to AMD I think that it was judgment. From what point did the new CPU team develop at full throttle?

Sue CEO:
Mark · Paper Master (Note: Former Apple's current AMD Senior Vice President and CTO) had a wonderful vision on the CPU / GPU roadmap. So, to invest money in the right place, Jim Keller andRaja Kodri(Note: the person responsible for developing the "Poraris" architecture). I canceled many projects, but I invested in the future. This was judicious judgment. Keller was a wonderful developer on CPU and part of AMD's vision.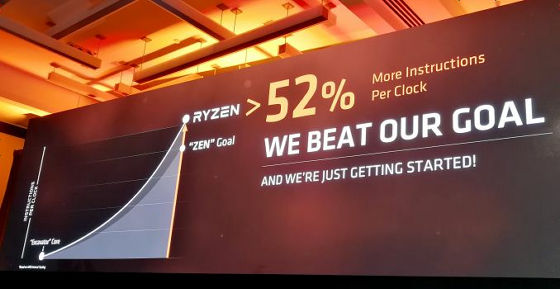 AnandTech:
BulldozerMicro architecture needed cooperation with Microsoft to optimize to maintain proper performance. Zen does not have such a problem, did you interact with Microsoft to improve performance on Windows? For example, XFR (function to overclock automatically according to the cooling possessed by Ryzen)?

Sue CEO:
Zen as a whole is a fairly traditional x86 architecture, but optimization work is necessary. The slight difference in circumstances is that most of the optimization work is on the developer side. We are collaborating to understand where Microsoft's code becomes a bottleneck in the Zen architecture. To see how many applications are optimized, I think that the work is going well.

AnandTech:
Was it important to support simultaneous multithreading (SMT)?

Sue CEO:
I think that it is very important. It was really complicated ... .... AMD's goal was to make a very well-balanced architecture. I wanted high single thread performance, but SMT was important for it. We did not want to excuse as Zen at all. SMT to high single-threaded performance and many CPU cores. We wanted to be ambitious.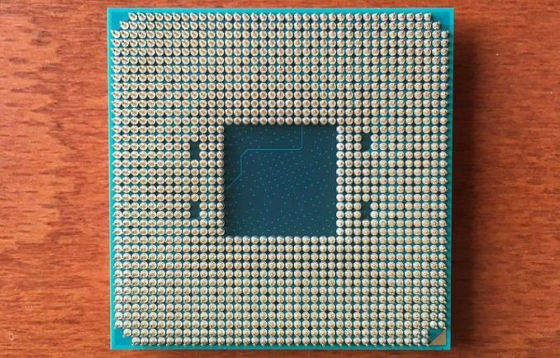 AnandTech:
The market capitalization of AMD several years ago was lower than the amount of assets held. It is currently trading at more than $ 10 a share. What are your thoughts on AMD stock rise in the past 12 months?

Sue CEO:
We can not predict the stock market, so we do not anticipate it. Because there is a market idea in the market. But what I can say is that there are several very important foundations. AMD has markets for PC, cloud, infrastructure, games and so on. Both are good growing markets. The market is skeptical whether we can realize an ambitious and competitive roadmap and we had to convince them. In the last 9 monthsPolarisWe can prove that we can gain market share in the graphic market by selling. I am convinced that Ryzen will capture the high performance CPU market. The important thing is that we are convinced of our customers (motherboard vendors). When Ryzen's sample was offered, I was convinced that "this is genuine!" And started schedule earlier. I think that we need proof that people can believe. If you do it even then AMD is fine.

AnandTech:
The competitor announced that Intel will change the new processor node, the release strategy of the new architecture. AMD is Zen, it plans to issue with desktop CPU first, then server CPU, and finally mobile SoC, you already mentioned about roadmap about Zen +, too. Is it the best way for AMD to release models desktop → server → mobile?

Sue CEO:
It is not necessarily the case. I think that it makes sense to this end in this generation. The desktop and server are tuned very similarly, high frequency / high performance, but the desktop is simpler and the ecosystem is simple as well. The server has a complicated test set up to run and given several contexts. We have hoped to put products in the high-end market. Beyond technology strategy there is a market strategy aspect.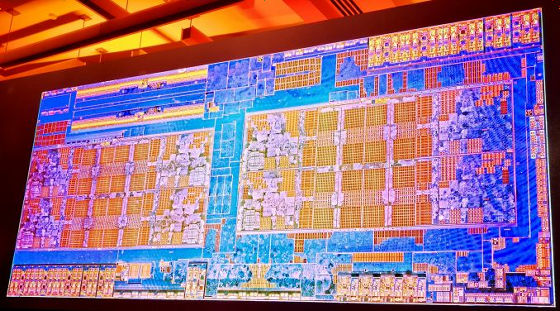 AnandTech:
AMD has a semiconductor design partnership and is developing semi-custom business assuming millions of consoles (game machines). Custom silicon for consoles on current generation platforms uses a low power "Cat" core. I already have Zen's x86 core, but can we see Zen in the console in the future?

Sue CEO:
As you know, it is a secret what partner companies are about about products for consoles. However, it is assumed that Zen will appear in semi-customs including console if a certain time comes.

AnandTech:
AMD is in a unique position for x86 vendors in having significant GPU intellectual property. For example, are you planning to use a common brand name for CPU and GPU like ASUS 'ROG brand? Or have you thought about it?

Sue CEO:
What I want to say is "I love CPU and GPU the same way". You can sympathize about this, do not you? However, the market is slightly different. AMD's GPU needs to work with Intel's CPU. In the same way our CPU needs to work with NVIDIA GPU. Therefore, compatibility and clarity must be maintained.

I will launch Vega in the second half of 2017. In Ryzen and Vega we would like to create an excellent system with both high CPU and GPU performance. I do not know about common branding, but what we should do is that "A (AMD) Plus A (AMD) can build a wonderful system."

AnandTech:
Ryzen has a high level of competitiveness against its products from competitors (Intel), making it an inexpensive option. Is this characteristic of AMD?

Sue CEO:
We think Ryzen wants to put it into the high-end market aside from anything. So how about a cheaper mainstream? Not to mention technological aspects, but brand strategy is also the reason to put it on the market from the high-end Ryzen 7. Of course, AMD wants to sell millions of CPUs. We will also sell CPUs with less than 8 cores, but first it means that we will be launching from Ryzen 7 with 8 cores / 16 threads.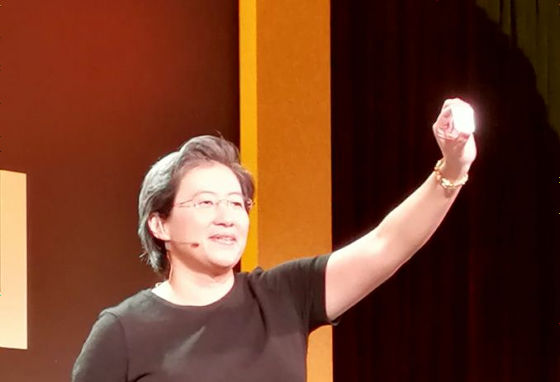 AnandTech:
Desktop PC sales are decreasing, but the game PC market is on the rise. There is no doubt that Ryzen will be sold for gamers, but how do you think consumers will reach Ryzen?

Sue CEO:
The PC market is one of the very successful, hot markets. We are working with gamers as a very important element. I think Ryzen is a wonderful game CPU. However, Ryzen has excellent performance not only in games but also in games. In a game you may only use 4 out of 8 cores, but you can do more with video editing and streaming. What we are working on is not just for today's gamers, it may be what the future users may think.

AnandTech:
Bristol Ridge(Note: AMD's 7th Generation APU.BTO is mainly targeted, and APU alone is not being sold mostly) Can consumers offer comments or can you comment?

Sue CEO:
That's a good question. The answer is "yes". On the AM4 platform, you can load APU as well as CPU. Scaffolding is the first in Ryzen 7,The AM4 platform is a strategy with a very long lifespan and wide responseSo I answer "yes". The exact timing of the release has not yet been finalized.

AnandTech:
In the high-end market Ryzen 7 competes with Intel's high-end desktop. However, while Intel has native PCI-Express in 24/40 lanes, Ryzen has only 16 lanes. This prevents the use of full bandwidth dual GPUs and NVMe. Was the 16-lane PCI-Express 3.0 the right choice?

Sue CEO:
I think that was the right choice. When I look at the distribution of PCs entering the workstation, I think the volume zone is there. In our decision, we think that the relative balance of performance and power is good, but it is an interesting point.

AnandTech:
Competitors (Intel) succeeded in both "Core" and "Xeon". The latter is equipped with professional features such as ECC and vPro. In the announcement, it is said that you have a CPU line for Pro, are you discussing inside AMD?

Sue CEO:
Naples expects to leap in server space including dual socket as well as single socket. After working on the consumer first, then head to the data center. Then you will see something next.

AnandTech:
Is the brand name "Opteron"?

Sue CEO:
As the launch gets closer we talk about server branding. When you go to the market you will not be called "Naples".