It is clear that the production of 'Cybertruck' that seems to have escaped from the world of Tesla's science fiction will be postponed until 2022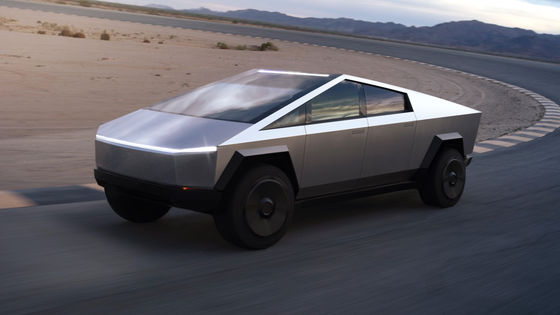 It has been revealed that production of
the electric pickup truck 'Cybertruck
' announced by electric car maker Tesla in 2019 will be postponed until 2022.
Tesla finally confirms Cybertruck electric pickup is delayed to 2022 --Electrek
https://electrek.co/2021/08/07/tesla-confirms-cybertruck-electric-pickup-delay-2022/
Tesla Cybertruck production delayed to 2022 --The Verge
https://www.theverge.com/2021/8/8/22615539/tesla-cybertruck-production-delayed-2022-elon-musk
Introduced in November 2019, Tesla's Cybertruck is an electric pickup truck that claims to be 'more practical than a truck and better than a sports car.' After all, the appearance of the crisp design reminiscent of the coarse polygons that appeared in the games of the original PlayStation and NINTENDO 64 is characteristic.
Cybertruck | Tesla Japan
https://www.tesla.com/ja_jp/cybertruck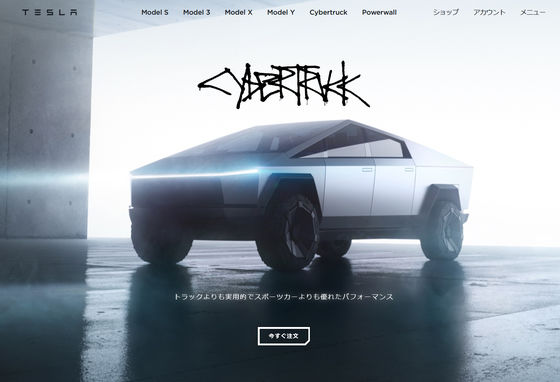 At the time of the announcement, Tesla said that Cybertruck would be 'on the market by the end of 2021', but it was reported that the release may be delayed as the deadline approaches. Tesla CEO Elon Musk said in a conference call to investors at the time of the announcement of financial results for the fourth quarter of 2020, 'Almost all of Cybertruck's engineering has been completed. Therefore, at the design center level and design level. There are no delays. We will soon be ordering the equipment needed to produce Cybertruck. However, the rear body of Cybertruck is clearly larger, requiring larger equipment than those used in existing Tesla vehicles. Instead of the 6000-ton cast press used in Model Y, we need an 8000-ton cast press. ' Was suggesting.
However, when Tesla announced its financial results for the second quarter of 2021 in July 2021, 'following Model Y, Cybertruck, which is planned to be produced at the Austin plant, is also being industrialized,' said Cybertruck. He left a statement as if the production of the product was proceeding smoothly.
However, in just a few weeks, Cybertruck's production has been postponed until 2022.
When you visit the Cybertruck order page
on Tesla's official website, the screen says, 'Full refund is possible. The design can be completed when production in 2022 approaches.' You can see that the planned release by the end of 2021 is not in time.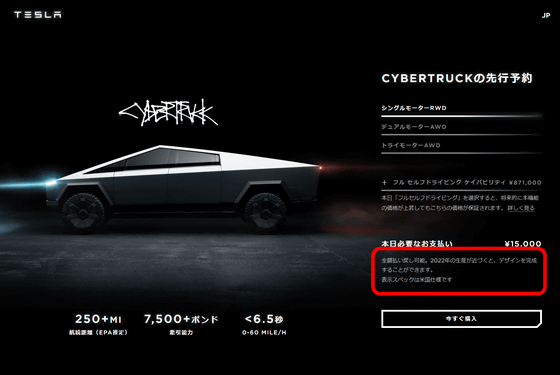 In the United States, the competition for which manufacturers first bring electric pickup trucks to market is fierce. Although Tesla's Cybertruck wasn't considered the best, it's clear that this delay in production will further diminish its expectations. However, not only Tesla but also other electric pickup truck manufacturers such as Rivian and Lordstown have problems, and it is reported that the production period has been postponed.

As of August 2021, the number of Tesla Cybertruck reservations has exceeded 1.2 million.

Tesla's futuristic electric pickup truck 'Cybertruck' has exceeded 1.2 million reservations --GIGAZINE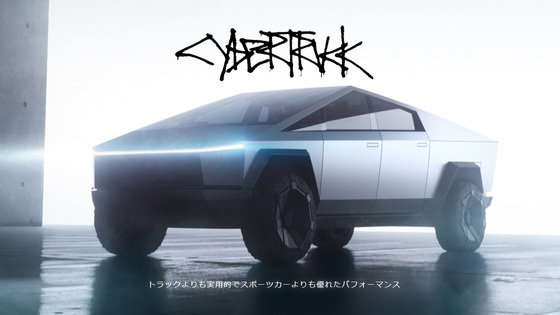 in Ride, Posted by logu_ii