YouTube announces new money-throwing system 'Super Thanks', new revenue for YouTuber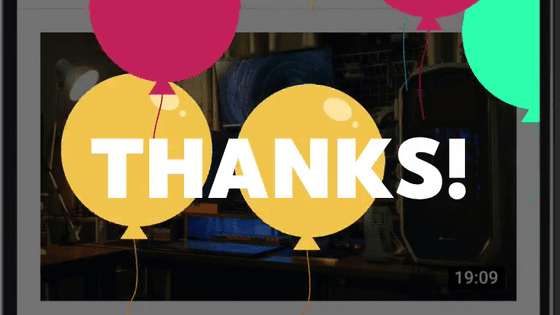 On July 20, 2021, YouTube announced 'SuperThanks ,' a new feature that provides financial support to creators. Assisting YouTuber with this new feature, formerly known as 'viewer applause,' allows you to add colorful comments below your videos, which YouTuber can even reply to.

Introducing the newest member of the Supers family --Super Thanks

https://blog.youtube/news-and-events/introducing-newest-member-supers-family-super-thanks/
YouTube adds a new way to tip creators --The Verge
https://www.theverge.com/2021/7/20/22584330/youtube-tipping-feature-super-thanks
YouTube Chief Product Officer Neil Mohan said on July 20th, 'YouTube has
channel memberships
,
super chats
,
super stickers,
etc., but we have a way for creators to diversify their revenue. So, we are announcing our fourth paid digital product, Super Thanks. This new feature is a new way for creators to earn money and at the same time connect with their viewers. It will also strengthen, 'he said, revealing the introduction of Super Thanks.
The place where I actually use Super Thanks is as follows. When you tap the 'Thanks' button on YouTube ...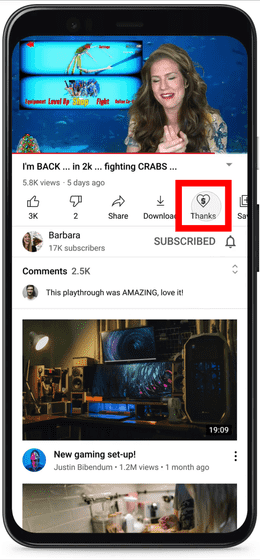 Four options are displayed: '2 dollars (about 220 yen)', '5 dollars (about 550 yen)', '10 dollars (about 1100 yen)', and '50 dollars (about 5500 yen)'. For example, select '10 dollars (about 1100 yen)' ...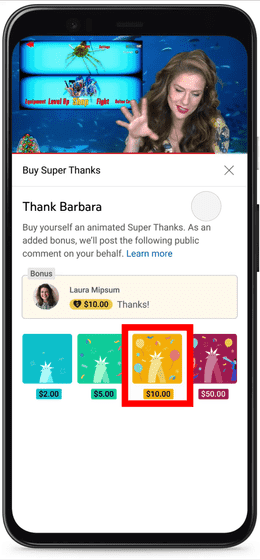 Settle.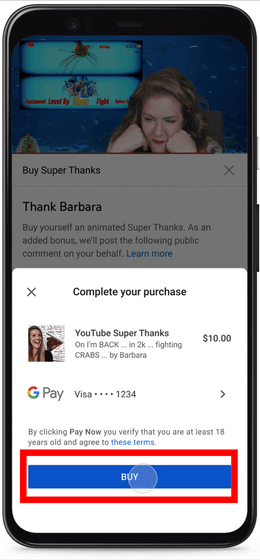 Then, 'THANKS!' Is displayed ...



The comment 'Thanks!' Was automatically posted. The comments are prominently displayed on a yellow background that represents a $ 10 Super Thanks. If you click this link , you can see the place where you are using Super Thanks in GIF animation.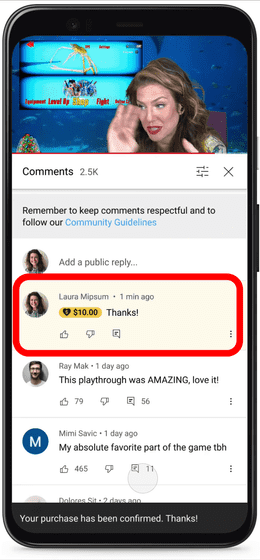 When you purchase Super Thanks, colorful comments are posted along with an animated display, and YouTuber can reply to those comments.
YouTuber Nicholas Ashbaugh
, a new feature beta tester, said, 'With Super Thanks, viewers can show their love and support without interruption. Livestreaming with animation at the time of purchase. People who are watching the replay of the movie can feel the atmosphere at the time of distribution, and the fact that comments remain is a good complement to Super Chat and Super Stickers. '
Super Thanks has been introduced in the browser version and the mobile version of Android and iOS as a beta feature for users and viewers in 68 countries around the world. You can check if a creator can receive Super Thanks by selecting 'Supers' from 'Receive Revenue' in YouTube Studio and seeing the 'Super Thanks' switch button on the screen. YouTube plans to make this feature available to all creators participating in the YouTube Partner Program by the end of 2021.