Subway 'Tandoori chicken' tasting review that can adjust the spiciness of tandoori chicken full of spices with 3 stages of 'selectable spiciness'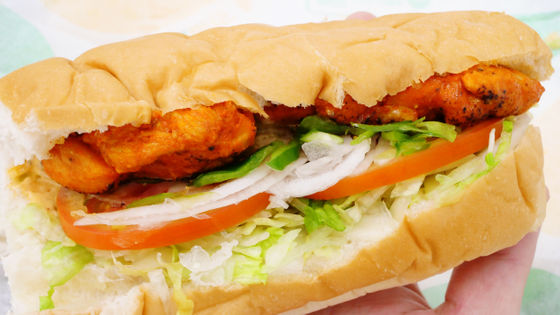 'Tandoori chicken ', which produces a spicy taste with juicy chicken and more than 10 kinds of spices from the subway, has appeared for a limited time. Tandoori chicken appeared in 2020 as well, but in 2021 it was a mild and rich mayonnaise-type sauce ' Yuru-spicy ', ripe pepper-smoked Chipotle sauce ' Spicy ', and chili pepper mustard. It is said that you can choose 3 types of hot chili sauce ' Gachi-spicy ' that uses pepper etc., so I actually tried tandoori chicken with each of the 3 types of spiciness.

Introducing 3 levels of 'selectable spiciness' this summer Energize the summer with the authentic spicy 'Tandoori chicken'! -Launched on July 21st (Wednesday)-
(PDF file)
https://origin.subway.co.jp/upload/press/HP210707.pdf
That's why I came to the subway.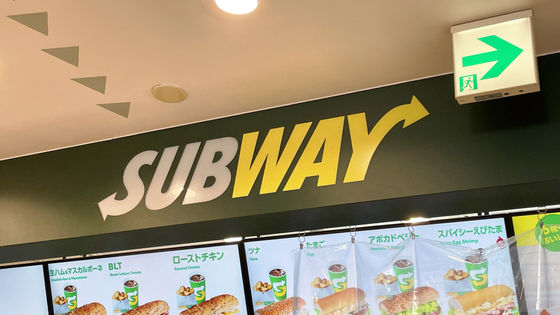 Next to the cash register, there is a banner that appeals to the tandoori chicken you are looking for.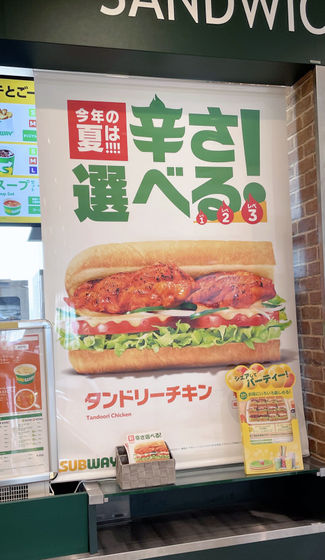 Order immediately. You can choose buns, sauces, and vegetables to add on the subway, but this time we recommend all of them. Tandoori chicken is hard to take out, so it is recommended not to bake the buns.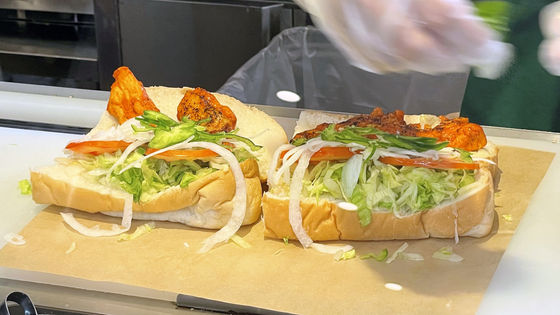 Purchase all three types of tandoori chicken, 'loose spicy', 'spicy spicy', and 'gachi spicy'. The price is 490 yen including tax for all types, and you can increase the amount of tandoori chicken by 1.5 times with an additional 100 yen, but this time I ordered the normal amount.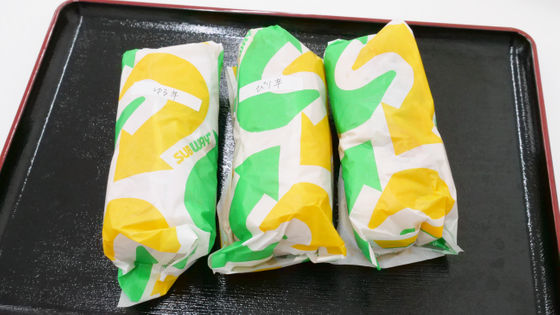 First of all, I will try to eat from the mildest 'Yuruspicy'.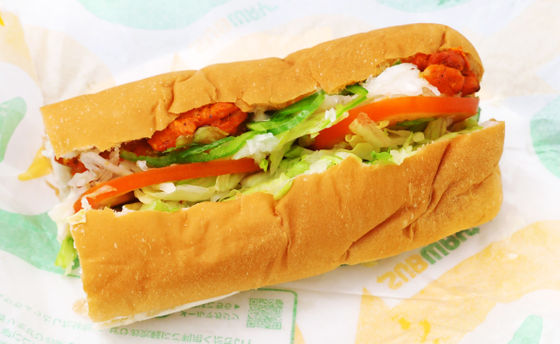 The ingredients are tandoori chicken, tomatoes, onions, peppers and lettuce.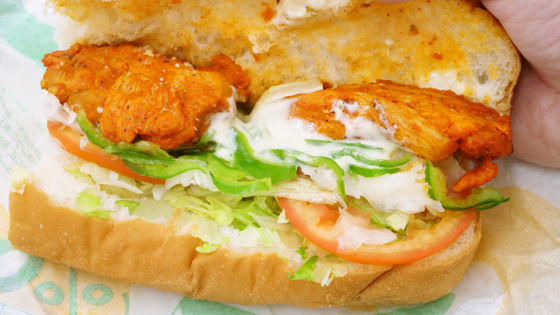 Tandoori chicken, which is cooked over an open flame and then cooked in the oven, can be seen to be spiced with a brownish brown color.



The sauce is different in the three types of spiciness. In the case of 'loose spicy', mayonnaise sauce is applied.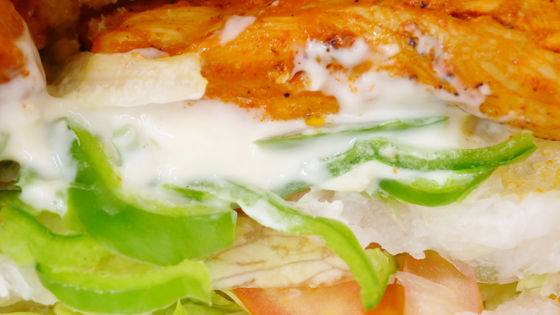 When you try it, the tandoori chicken has a plump and prepreg texture, and when you chew it, the taste of spices such as chili pepper and cumin spreads slowly in your mouth. The mayonnaise sauce has the impression of a slightly sour and light mayonnaise, with almost no spiciness. It goes well with vegetables, and I got the impression that it brings out the umami of vegetables.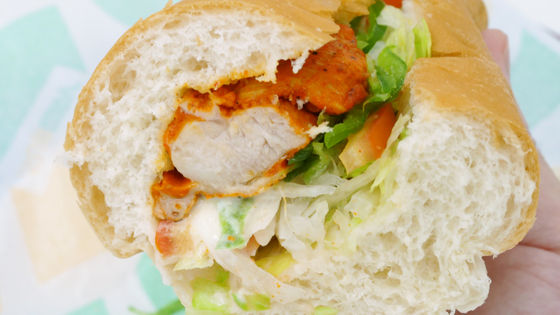 Next is the spicy 'spicy' in the middle.



The ingredients are the same as tandoori chicken, tomatoes, onions, peppers, and lettuce. The sauce is different, with a smoked chipotle sauce of ripe chili peppers.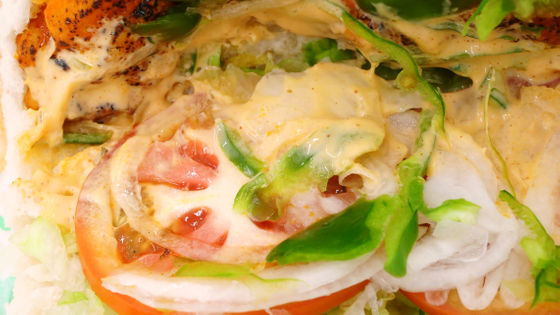 When I try to eat it, the spiciness and sourness of chili peppers exceed the taste of tandoori chicken, which was mainly composed of Indian spices such as chili pepper and cumin. The aftertaste is so spicy that the tongue gets hot, and it is different from 'Yuru-spicy', which has almost no spiciness.



The last is the highest-ranked spicy 'tachi-spicy'.



The sauce is hot chili sauce using chili pepper, mustard, pepper and so on. It has a color that is one step closer to red from the previous 'spicy'.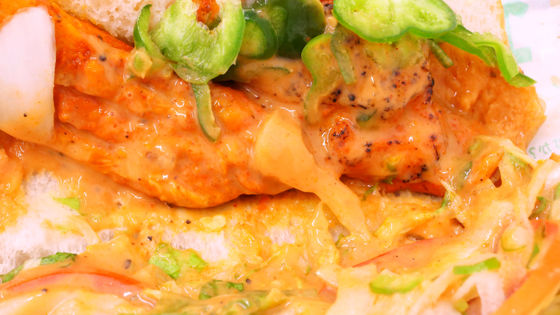 When I try to eat it, not only the chili pepper but also the mustard and pepper tastes create a complex spiciness. It was a type of spiciness that became spicy afterwards, and the flavor of spices such as tandoori chicken cumin and chili pepper was felt quite modest. It was a highly recommended dish for those who pursue spicy spiciness.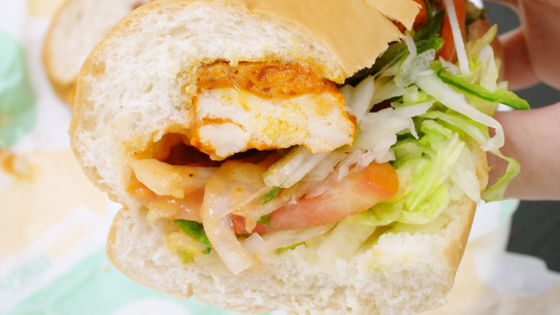 'Tandoori chicken' can be purchased from Wednesday, July 21, 2021 at subways nationwide except for some stores such as stores in leisure facilities.