Facebook launches a way for creators to receive subscription revenue with zero fees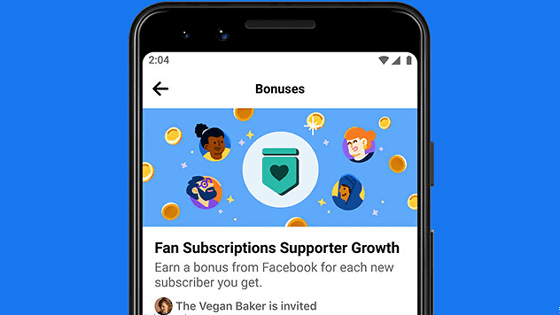 It
has been pointed out that Apple and
Google Play are overpaying for services.
To avoid these fees limiting creators' revenues, Facebook announced on November 4, 2021 that it will provide a way to reduce subscription fees to zero and increase creators' revenues.
Build a sustainable business and earn more with Subscriptions
https://www.facebook.com/creators/earn-money-with-subscriptions
Today we're sharing a number of exciting updates for Subscriptions, previously Fan Subscriptions, that will help creators make more money, earn a sustainable living and have more control over the businesses they build on Facebook. Learn more here https: // t. co / B8uZtoODJ2 pic.twitter.com/JZp7Xvx74T

— Meta for Creators (@FBforCreators) November 3, 2021


Facebook skirts Apple fees with custom subscription links for creators --The Verge
https://www.theverge.com/2021/11/3/22761620/facebook-apple-app-store-fees-subscription-links-creators

The way Facebook offers creators is to provide creators with a custom web link that allows fans to pay for their subscriptions with Facebook Pay. If a subscription is made this way, the creator will receive all revenue, excluding tax. On the other hand, if fans subscribe on Apple's platform instead of custom weblinks, they will continue to be charged a 15-30% commission. In addition, the 'zero fee' measure is scheduled to continue until at least 2023, and at the time of writing the article, it is being deployed in 27 regions around the world , but it seems that Japan is not included.

On the management screen of Facebook's creator tool ' Creator Studio ', 'Promotional link' will appear in the 'Tool' part.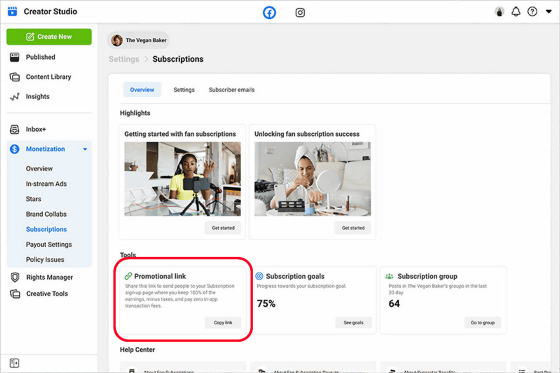 Apple
's guidelines for developers
prohibit 'inducing users to make any purchases other than in-app purchases.' But with the new Facebook tool, a Facebook spokeswoman said it wouldn't violate the policy because it's the 'creators' who use the service, not Facebook or app developers, who offer payment options. That thing.
In a Facebook post, CEO Mark Zuckerberg
said, 'Building Metaverse
focuses on opening up'creators' opportunities to make money from their work.' Apple's 30% commission makes this difficult. So we'll update our subscription products to help creators make more money. '
In addition, Facebook has announced programs other than the above in order to strengthen the profit tools of creators. For example, from November 3, 2021 to the end of 2021, for every new audience a creator gets $ 5-20 ($ 5-20), regardless of whether they subscribe to Apple or use Facebook Pay. It is said that a bonus program will be implemented so that it can receive profits (about 550 yen to 2200 yen). In July 2021, Facebook announced a program to allocate a total of $ 1 billion to creators, which is said to be part of the program. We will also provide creators with many tools for audience management, such as the 'new subscriber email address download feature'.