Spotify Announces Podcast Subscription That Anyone Can Monetize With Podcasts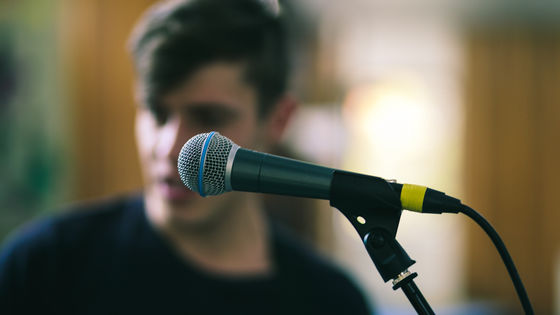 Music streaming service Spotify has announced that it will make available a subscription plan that allows any user to monetize on a podcast.

Opening Up Podcast Subscriptions to All US Podcasters — Spotify

https://newsroom.spotify.com/2021-08-24/opening-up-podcast-subscriptions-to-all-us-podcasters/
In April 2021, Spotify began testing podcast subscriptions on its unique podcast recording, editing, distribution and analysis platform,
Anchor,
as a way for creators to deliver paid subscriber-only content. bottom. Podcast subscriptions are a feature that allows creators to monetize content by creating content for users who have paid a paid subscription. Since the test, more than 100 accounts have used podcast subscriptions, and various podcasts have been distributed on Spotify.


In response, Spotify has announced that it will offer podcast subscriptions to all users in the United States to allow more users to monetize their podcasts.

Podcast Subscriptions is expanding—with exciting new updates! ???? Now you can create bonus content and grow your show like never before. You can pick from 20 new pricing tiers, email your subscribers directly, and more. This is your sign to get started!

https://t.co/aaRpPuy4Me — Anchor (@anchor) August 24, 2021


Using a podcast subscription is easy, just mark the podcast you created on Anchor for subscribers. All you have to do is distribute the content, and you can publish subscriber-only content to Spotify and other platforms.

At the same time, Spotify also publishes a how-to video about podcast subscriptions.

Anchor: How to set up a Podcast Subscription-YouTube


A podcast subscription will start on Anchor, the podcast platform provided by Spotify.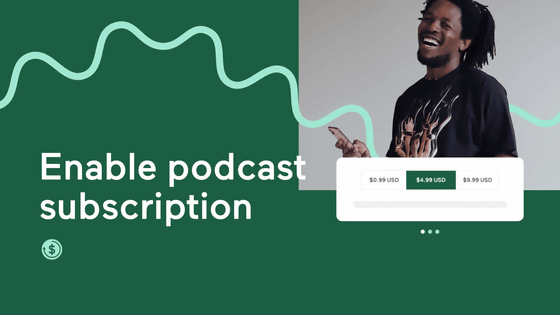 Listeners can listen to content created exclusively for subscribers by paying a monthly subscription fee.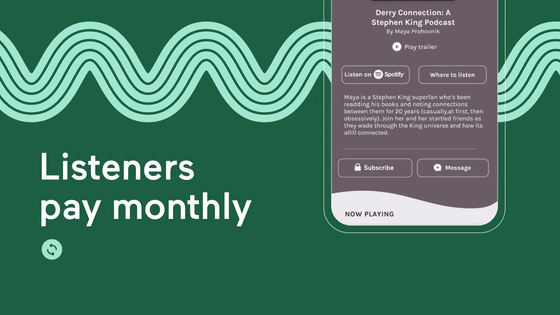 Podcasts delivered on Anchor will be delivered on multiple platforms, including Spotify, allowing you to monetize across different platforms.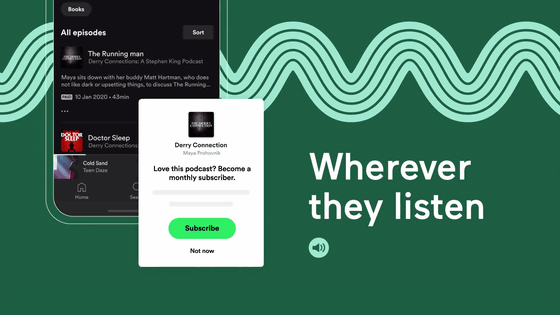 With a podcast subscription, Spotify has zero share. The system is such that the subscriber's payment is fully returned to the creator. However, the fee is zero until 2023, after which you will have to pay a 5% fee to Spotify.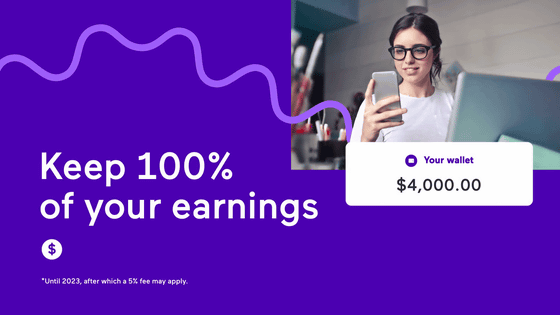 Using a podcast subscription is easy, click on 'Subscription' at the bottom of the settings screen.



Then set the subscription amount.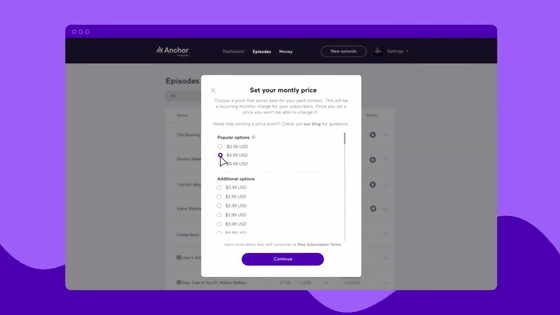 All you have to do is check the podcasts you created that will be subscriber-only content, and click 'Update episodes' at the end.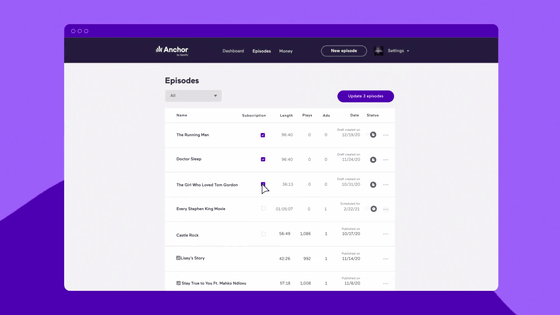 After publication, the amount, the number of dedicated contents, the number of subscribers, etc. will be displayed on the Anchor subscription screen. In addition, the URL displayed on the subscription screen is a link to the screen for subscribing to your own account, so you can effectively use it by pasting it on your account profile.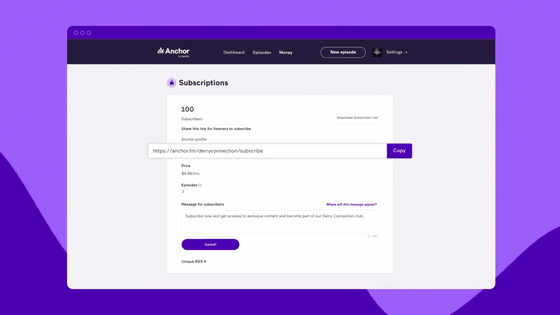 In addition, Spotify announced on June 29, 2021 that Anchor will start full-scale deployment in Japan. In addition, Spotify says, 'From September 15, 2021, creators around the world will be able to use podcast subscriptions,' so it is expected that podcast subscriptions will start in September in Japan as well.

Podcast distribution platform 'Anchor' started full-scale development in Japan, supporting creators all at once --Spotify Japan — For the Record
https://spotifynewsroom.jp/2021-06-29/anchor-now-easy-to-use-in-japan/