The person who was the center of the Trump camp launches its own social media 'Gettr'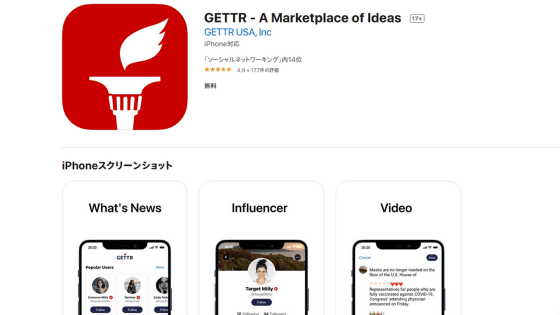 It was reported that
Jason Miller
, a senior adviser to the Donald Trump camp in the 2020 US presidential election, led the camp members
to launch a new social network like Twitter, Gettr.
Gettr has a mission to '
fight cancel culture
, promote common sense, protect freedom of speech, challenge social media monopolies and create true market ideas' on July 4, 2021 local time. It will be officially released.
Team Trump quietly launches new social media platform --POLITICO
https://www.politico.com/news/2021/07/01/gettr-trump-social-media-platform-497606
Gettr, Jason Miller's new social media app, doesn't have Trump --Vox
https://www.vox.com/recode/22559493/gettr-jason-miller-trump-app-social-media-facebook-twitter-free-speech-cancel-culture
GETTR Is the Trump Team's Buggy, Leaky Twitter Clone
https://www.vice.com/en/article/z3xqva/gettr-is-the-trump-teams-buggy-leaky-twitter-clone
Trump adviser Jason Miller to launch GETTR, a'cancel-free' social media platform | Fox News
https://www.foxnews.com/politics/trump-adviser-jason-miller-to-launch-gettr-a-cancel-free-social-media-platform
Mr. Trump has been locked out from SNS such as
Twitter
and
Facebook
in the wake of the 2021
attack on the Capitol,
and it has been pointed out that the
power of transmission on the Internet has declined significantly since then.
Meanwhile, in March, Mr. Miller announced that 'Mr. Trump intends to launch a social media platform himself,' and
although it closed in less than a month,
he opened his own official blog online. It was also clear that he had not given up on his activities.
Former President Trump intends to launch his own social media platform-GIGAZINE

by
Darron Birgenheier
And on July 2, it was reported that a team of former Trump camps led by Mr. Miller launched a new SNS 'Getter'.
Gettr appeared on the App Store
and
Google Play
in mid-June and is in beta at the time of writing. It supports not only English but also Spanish, French, Japanese, Korean, and Chinese, and the official service is said to start on July 4, local time, which is the Independence Day of the United States.
Gettr's mission is to 'fight cancel culture, promote common sense, protect freedom of speech, challenge social media monopolies, and create true market ideas,' with radical remarks on Twitter and Facebook. I'm trying to bring in people who are dissatisfied with moderation. According to foreign media Recode, the beta Gettr trends include '#trump' and '#virusorigin' and Trump supporters such as
'#keepamericagreat', '#defendfreedom' and '#maga (Make America Great Again)'.
There is also a slogan used by.
However, it is not clear at the time of writing whether Mr. Trump will participate in Gettr. Miller told Fox News, a foreign media outlet, that Trump hasn't funded Gettr in any way and it's unclear if he'll get a Gettr account. There are accounts already available for Mr. Trump, but Miller said, 'I would like Mr. Trump to join, but he has many different options under consideration.'
A screenshot of Gettr shared on Twitter by former Federal Trade Commission (FTC) chief engineer Ashkan Soltani shows that there are already multiple accounts claiming to be 'Real Donald Trump.'
Like Looks #GETTR Is Already Well Setup To Be A Haven For Bots Ando Fake Accounts. Pic.Twitter.Com/Lhnq0mN9Nn

— Ashkan soltani (@ ashk4n) July 1, 2021


It is said that the name Gettr is taken from 'Getting Together', but it is pointed out that Recode of overseas media sounds like a name that is conscious of 'Twitter'. In fact, Gettr seems to be an SNS that is quite similar to Twitter, and the Gettr home screen that you can see in the screenshot below has a menu on the left, a timeline in the center, and a trend panel on the right ...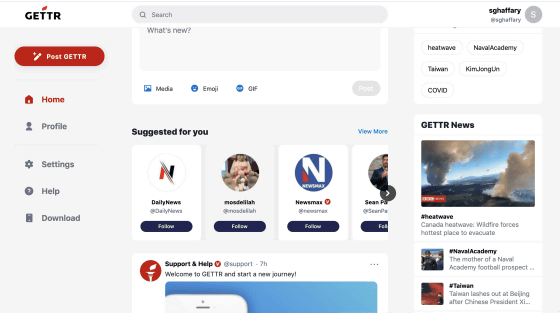 The layout is almost the same as the Twitter home screen.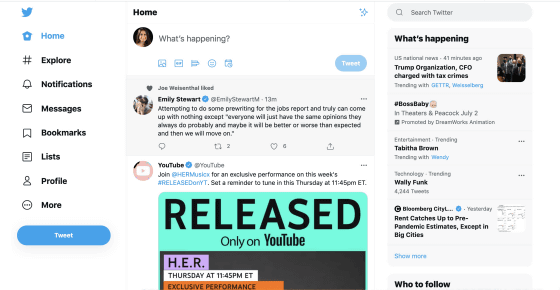 On the other hand, Gettr can post 777 characters, which is more than Twitter, and can also post videos for up to 3 minutes and live stream. After the official release on July 4, there will be a 'chip' feature that can help content creators through Gettr, Miller claims that the tool will attract prominent influencers to Gettr.

In addition, Gettr also has a function called 'Import Twitter posts', and it is possible to port tweets posted on Twitter in the past to Gettr as it is. Therefore, although Gettr was released in June 2021, it seems that some accounts can also see tweets posted on Twitter before that. 'By importing tweets, you can bring your efforts, creativity, and intellectual property,' Miller told Fox News. The tweet import feature is a one-time option available when creating an account. I explained that it is.

Sean Parnell, a Trump supporter and Pennsylvania senator, has 178,400 followers on Gettr, according to screenshots shared by foreign media Motherboard. This is clearly more than the total number of Gettr users, which is the same as the number of followers on Twitter. This is the result that the number of Twitter followers at the time of using the tweet import function was also reflected in the Gettr account.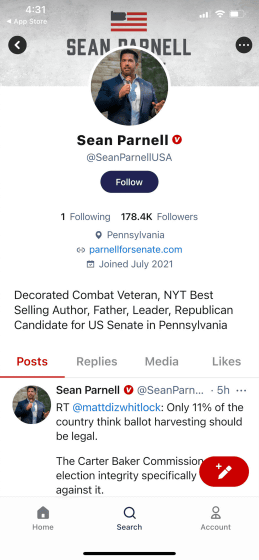 Soltani has already discovered several potentially dangerous privacy bugs about Gettr, including unlimited inquiries about whether a particular email address is being used to register for a Gettr account.

Even with such basic functionality, GETTR already has a small privacy issue specifically you can indiscriminately query whether an email address has been used to register (with no rate limiting or token required) https://t.co/9izcGWT5TI pic.twitter.com / 2hyiAIFHMa

— Ashkan soltani (@ ashk4n) July 1, 2021


When Fox News asked Mr. Miller about opening a Gettr account for President Joe Biden, he said, 'We really want President Biden to come.' If you are free to agree and believe in its power, then this platform is for you. '

・ Continued
SNS 'Gettr' made by former Trump camp staff is hacked early --GIGAZINE