Bitcoin rises again due to Elon Musk's remarks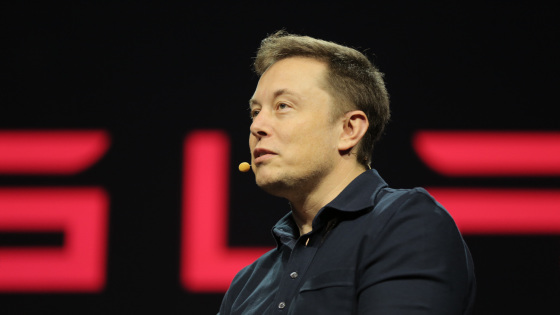 by
NVIDIA Corporation
On June 14, 2021, Tesla CEO Elon Musk tweeted that 'if (bitcoin) miners use clean energy properly, they will resume Bitcoin payments.' The price of Bitcoin has risen by more than 10% in one day, surpassing $ 40,000 for the first time in about two weeks.
Bitcoin tops $ 40,000 after Musk says Tesla could use it again | Reuters
https://www.reuters.com/business/finance/bitcoin-jumps-after-musk-says-tesla-could-use-it-again-2021-06-14/
Following massive BTC purchase announcement, MicroStrategy says it may sell up to $ 1B in stock
https://cointelegraph.com/news/following-massive-btc-purchase-announcement-microstrategy-says-it-may-sell-up-to-1b-in-stock
EXCLUSIVE El Salvador bitcoin transfers soar, but still a fraction of dollar remittances | Reuters
https://www.reuters.com/business/finance/exclusive-el-salvador-bitcoin-transfers-soar-still-fraction-dollar-remittances-2021-06-14/
On June 14, Japan time, Mr. Musk responded to a tweet introducing the article
'Mr. Musk is manipulating the market' on the virtual currency news site Cointelegraph, 'Tesla sells only 10% of the holding amount. I didn't, but this was to make sure that Bitcoin could be easily settled without moving the market. '' If clean energy is properly used for Bitcoin mining in the future, Tesla will use Bitcoin. Will resume payments. '
This is inaccurate. Tesla only sold ~ 10% of holdings to confirm BTC could be liquidated easily without moving market.

When there's confirmation of reasonable (~ 50%) clean energy usage by miners with positive future trend, Tesla will resume allowing Bitcoin transactions.

— Elon Musk (@elonmusk) June 13, 2021


Tesla that it has purchased Bitcoin 15 billion dollars (about 157.7 billion yen) worth on February 8, 2021 announcement . On March 24, Mr. Musk announced that Tesla cars could be purchased with Bitcoin, and the price of Bitcoin temporarily exceeded $ 64,000 (about 7 million yen). However, just 49 days later, on May 12, Mr. Musk announced that he had suspended Bitcon payments at Tesla due to environmental issues. The price of Bitcoin has fallen sharply, and on May 19th, it temporarily fell below $ 30,000 (about 3.3 million yen).

Bitcoin has fallen 30% from its temporary peak, pointing out that the market is being swayed by Elon Musk's remarks --GIGAZINE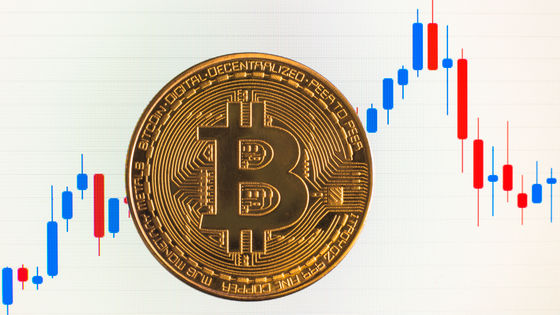 The price of Bitcoin at the time of writing the article is as follows. It has recovered to over $ 40,000 at 11:30.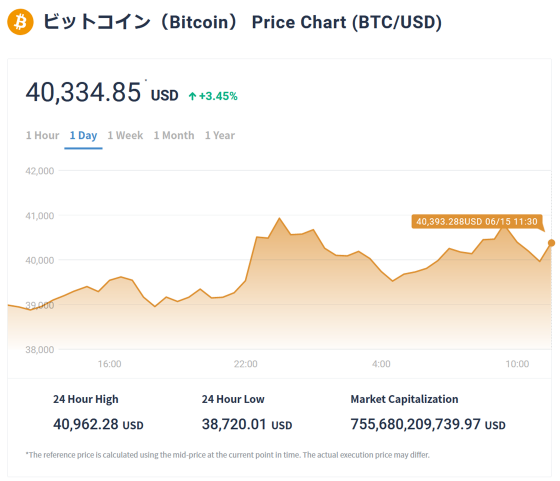 Mr. Musk's remarks are not the only reason why Bitcoin has risen. On June 15, American software company MicroStrategy announced that it would use $ 488 million (about 54 billion yen) of the gain on the sale of private placement bonds to purchase Bitcoin. It also announced that it could continue to sell up to $ 1 billion in shares to buy Bitcoin. MicroStrategy also spent $ 250 million in August 2020 buying Bitcoin because it was 'better than cash.' According to SEC filing , MicroStrategy has about $ 3.7 billion worth of Bitcoin as of June 4, and Cointelegraph said, 'The company valued Bitcoin about 1.5 billion yen (170 billion yen). ) Increased. '

In addition, information on Bitcoin traded in El Salvador , which has just passed the 'Bill to make Bitcoin legal tender' on June 8, is also released. According to Chainalysis , a company specializing in blockchain analysis, the total amount of Bitcoins remitted domestically from El Salvadorans working overseas has quadrupled from the same month of the previous year as of May. The economy of El Salvador relies heavily on remittances by migrant workers overseas, and the total amount of remittances to El Salvador in 2019 will amount to 6 billion dollars (about 660 billion yen), which is equivalent to about one-fifth of GDP. .. Immediately after it was discovered that El Salvador had adopted Bitcoin as fiat currency, Bitcoin prices have risen by about 5%, awaiting a June report.