Headline News on April 8, 2021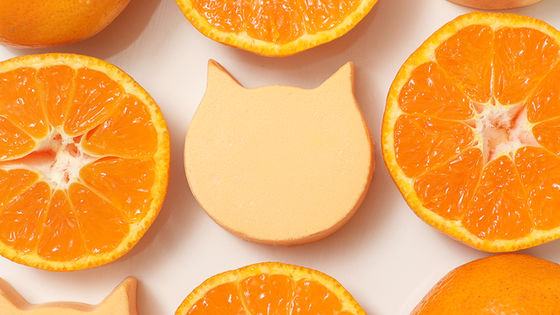 A new flavor 'Nyanchi Mikan ' and a new product ' Mofuneko Cheesecake ' will be added to the cat-shaped cheesecake specialty store '
Neko Neko Cheesecake
' for a limited time.
'Nyanchi mandarin' is a Basque-style cheesecake 'Nyanchi' finished with mandarin orange juice to give it a mandarin flavor. It will be sold for a limited time from April 22nd (Thursday) to May 20th (Thursday), 2021 for 237 yen including tax.
'Mofuneko Cheesecake' is a sister product of the signature product 'Nekoneko Cheesecake', and has a fluffy texture by attaching a sponge crumb around the two-layer cheese dough. The price is 1620 yen including tax, and it will be released on Thursday, April 22, 2021.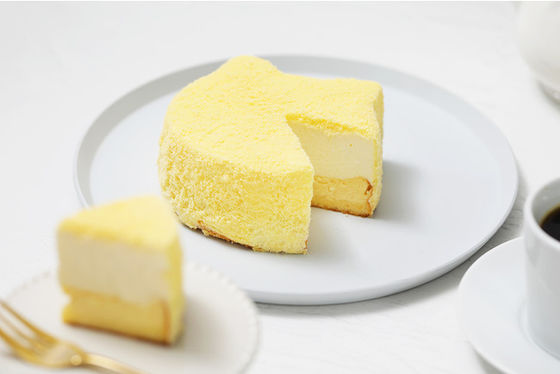 By the way, I posted this article on the same day of the same month in the past.

Why is 'soap' more effective than alcohol disinfectant for new coronavirus control? --GIGAZINE

Pandas that haven't copulated for about 10 years finally mate, suggesting that 'privacy may have been needed' at a zoo closed by the new coronavirus epidemic-GIGAZINE

An all-you-can-read manga service has released 'Popular genres of hentai manga by prefecture', what is the popular genre of your city? --GIGAZINE

The area of 'Ome Station', which is mistaken for 'Aomi Station', was a place where you can enjoy cats and Showa retro. --GIGAZINE

Research results show that even 'moderate' drinking increases the risk of stroke --GIGAZINE

I tried expanding the bookshelf with 'Labrico' which can make a wall-mounted shelf without damaging the wall and ceiling --GIGAZINE

What is the identity of the leaf-like design that is common in ancient architecture? --GIGAZINE

Town 'Murray' that does not exist but has residents --GIGAZINE

Unfinished and wacky architectural summary by architect Zaha Hadid --GIGAZINE

I actually enjoyed a leisurely cruise on the new ship 'Ferry Osaka II' of Meimon Taiyo Ferry --GIGAZINE

Succeeded in developing an 'aluminum battery' that can be fully charged in just 60 seconds --GIGAZINE

99 'Reading Lists' Recommended by 'Father of Personal Computing' Alan Kay --GIGAZINE

If you pressure Wikipedia to delete the content of the article, it will attract attention on the contrary --GIGAZINE

◆ Neta (memo, etc.)

Recently, I've been using a 3D printer to make spoons that make clothes fluffy pic.twitter.com/07ypWpijy7

— Marina Fujiwara | Marina Fujiwara (@togenkyoo) April 7, 2021
When I bought a 'B' balloon at 100-yen shop, 'C' came out, and when I inflated it while thinking that I was deceived, it became B and was messed up pic.twitter.com/FqLUPyU47W

— Miracle Miyako (@miracle_miyako) April 7, 2021
I don't think the lineup is good ... pic.twitter.com/0xqcvjG2oO

— Konpeito (@ ouren6) April 6, 2021
Pic.twitter.com/qITTHYdmff given by my eldest son before going to bed today

— Asami Sakuraguchi (@ asami81) April 6, 2021


◆ Science (Science / Academic / Technology)
Variant virus infectivity is 1.32 times higher than conventional viruses | New coronavirus | NHK News

Percentage of mutant viruses in Tokyo 32% in the last week Four times the previous week | New Corona Number of Infected People in Japan | NHK News

◆ Society / Politics / Economy (Case / World News / Business)

Asahi's 'raw beer mug can' announced to stop shipping due to flood of orders 2 days from pre-sale https://t.co/ErgIUjFskQ

The raw mug can is the first canned beer to be equipped with a mechanism that opens the lid fully like a canned food. A product that allows you to enjoy draft beer-like bubbles that you drink at restaurants with a mechanism that causes bubbles to spring up naturally as soon as you open them pic.twitter.com/hVAHpFgX1e

— Sankei News (@Sankei_news) April 8, 2021
A truck that forgot to apply the side brake rushed in ...

(This is a dashcam given by the victim) pic.twitter.com/od8RvkDa5Q

— Aoki Takayuki (@Blue_Aoki) April 7, 2021
It's an erratic thing at the intersection next to Yodobashi Kiba (^ _ ^;) pic.twitter.com/vp2E3iPnYN

— Tamasa (@kerokero_tamasa) April 8, 2021
Burger King, which I was looking forward to about once a week, was closed ... it's hard. However, I have never found such a painful closing notice, such as 'I am desperately looking for a property' or 'Who can introduce me ...'. I hope it will come back soon ... pic.twitter.com/vjJP1WYEOQ

— Akira Mamori (@Matumori) April 7, 2021


Consideration of priority inoculation for Olympic athletes Government, twice by the end of June | Kyodo News

Breaking the window with a hammer ... Bureaucrats attempted suicide on the 8th floor of the Ministry of Health, Labor and Welfare | Bungei Online

Impatient Osaka Prefecture 'I'm almost doing what I can' Crisis of medical collapse [New Coronavirus]: Asahi Shimbun Digital

Three people attending the Ministry of Health, Labor and Welfare banquet are infected with corona | Kyodo News

Disposal of contaminated water, resentful Tohoku fishermen 'If it's safe, go to Tokyo Bay' | Mainichi Shimbun

Tokyo Metropolitan Government New Corona 545 Confirmed Infection Over 500 for 2 consecutive days | New Corona Domestic Infected | NHK News

Government puzzled by boycott theory of the Olympics China, Tokyo not participating Smell: Asahi Shimbun Digital

Saturday delivery, abolished in October 'Next day' will be January next year-Japan Post: Jiji.com

21 people participated in farewell party doctors in March under the declaration of the National Institute of Infectious Diseases [New Coronavirus]: Asahi Shimbun Digital

Ministry of Health, Labor and Welfare staff attending a problematic banquet infected with new corona Virtual cluster: Tokyo Shimbun TOKYO Web

Invisible Budget: Personnel Expenses for Olympic Consignment 'Personal Information' Organization Committee, Avoid Clear Statements House of Representatives Committee | Mainichi Shimbun

US President Joe Biden "Indispensable for Huge Infrastructure Investment Against China" | US President Biden | NHK News

Living lung transplantation for women after corona infection, Kyoto University Hospital lost its function for the first time in the world, provided by family | Culture / Life | Regional News | Kyoto Shimbun

◆ Lifestyle (life / life / health)

A paint bottle that can be closed with just a push! The bottle is made of a transparent, solvent-resistant soft plastic material that allows you to put your favorite paint or liquid material such as a surfacer. Just press the lid paint bottle (small 28ml / 8 pieces) Product page has been released! Released in April 2021. https://t.co/dgd6UR7JiP pic.twitter.com/X25GykGcXB

— Wave Corporation (@wave_corp) April 8, 2021
It's an inconspicuous sticker, but it says something really good pic.twitter.com/UXpbe5gdAC

— Kingfisher (@ Kawasemi8159) April 6, 2021
The other day, I was finally able to visit the Shikoku Aquarium, which opened last year, but the newly released 'Ai-kun Cushion' sold at the official shop is so cute that I've been hugging it every day since I returned from Shikoku. Ai is a friend of the Shikoku Aquarium mascot, Hammerhead Shark Shuko. Is it so cute that I can do something with a cushion? pic.twitter.com/n9HqCeStx4

— People of Hokkaido @ Expedition restart (@ North_ern2) April 8, 2021
It's the entrance season for the world. Mothers with elementary school students for the first time Please be sure to bring this coin case. A collection bag comes out of the school bag suddenly in the morning. It is said that you will suddenly prepare a chisel, sewing kit, and various things without change in the morning. More and more I was saved by this pic.twitter.com/PcjosgukW2

— LIN (@ LIN1561P) April 8, 2021
Too funny pic.twitter.com/pb03Igb45G

— Y (@ Y27813376) April 6, 2021
Why doesn't the number of passengers on the bus increase? When the local bus company took a questionnaire, many people said, 'I don't know how to get on the bus,' and when I advertised how to get on the bus, the number of passengers increased.

— PsycheRadio (@marxindo) April 7, 2021


did you know? I can't breathe if I fall into the water with my mask on (Hidetoshi Saito) --Personal --Yahoo! News

◆ IT / Gadgets (Net / Soft / Hard / Mobile)

Show me a disassembled ASUS high-speed charger. https://t.co/5moFV7rxQj

— KEISUI ART STUDIO (@keisuiart) April 7, 2021


Mathematics for Algorithms / AtCoder [Part 1: Mathematical Knowledge ①] --Qiita

[Article] Malware Analysis Struggle ~ Analyze USB Malware ~ --Security Research Center Blog

◆ Anime / Game / Manga (subculture)

Report on the change of the OP theme song for the TV anime 'The World Ends With You' https://t.co/05V8vtVNXO

— The World Ends With You The Animation Official Account (@TWEWY_PR) April 8, 2021


'Miss Kobayashi's Dragon Maid S' Bansen CM


'Mini-Dora' Episode 1 Usual morning (every day is everyday) [Limited time delivery]


[Broadcast started in October 2021] TV animation 'Osama Ranking' teaser PV


TV Anime 'Pretty Boy Detective Club' Character PV: Nagahiro Sakiguchi


Movie 'Listen to Ai's Singing Voice' Special Report ② 2021 Autumn ROADSHOW


TV anime 'Tesla Note' teaser PV.


TV animation 'Saint's magical power is versatile' Bansen CM


TV animation 'Mother of the Goddess Dormitory. ] PV 1st (90s ver.)



[Bansen CM release]
'Mei Dragon S Kobayashi Origin' is ABC TV from 2021 July, TOKYO MX, TV Aichi, please have a look once that became a broadcast start numbers declared CM also published in the BS11 #Maidragon Pic.Twitter.Com/rH5uD2DqsZ

— TV Anime 'Miss Kobayashi's Dragon Maid S' Official (@maidragon_anime) April 7, 2021
shortly

#Separate volume Shonen Magazine May issue

It is on sale. pic.twitter.com/ncB5j2TLXE

— Bessatsu Shonen Magazine [Official] (@BETSUMAGAnews) April 8, 2021
It's about to start.
Thank you! #Zombie Land Saga Revenge pic.twitter.com/fjXuYCytvU

— Munehisa Sakai (@munehisa_sakai) April 7, 2021
Mewtwo pic.twitter.com/rxSIcOhuEm suffering from work

— Kenichi Shiba (@shiba_kenichi) April 7, 2021
I drew Mali
#Shineva pic.twitter.com/DQRARiVrtZ

— Masayoshi Tanaka @ Anohana 10th Anniversary (@ tanamasa0119) April 7, 2021
Ai-chan pic.twitter.com/NgkaKnr5Jl

— Yomu (@y_o_m_y_o_m) April 7, 2021
By all means, it's a weapon on the side that doesn't protect the peace of the earth, or a barbaric practice reaping farm tool.

After taking measures against infection, even if I met Eva who wields a huge circular saw at Shin Eva, which is being screened at the movie theater, I wonder if it looked like a magic weapon at a glance to Mr. Gaku of CG. This circular saw does not speak) pic.twitter.com/ab7Eb7aUin

— Ikuto Yamashita @ Evangelion ANIMA 5 volumes (@ikuto_yamashita) April 7, 2021
Robo grandfather's coffee shop pic.twitter.com/XSB96HgOAP

— GOTTEHamsterPainter (@ap_hamham) April 8, 2021
Open for 6 consecutive days
Character Promotion Reel

Board the Evangelion as a member of the anti-NERV organization 'Ville' with the 4th Asuka. Details are unknown.

#Makinami Mari Illustrious
(CV: #Maaya Sakamoto )

Now showing at theaters nationwide #Shin Evangelion Theatrical Version #Shin Eva #Shin Eva pic.twitter.com/CrulebmRwd

— Evangelion Official (@evangelion_co) April 8, 2021
Anime 'Boyfriend and Her Circumstances' #GYAO will start free distribution from episode 1 ⃣

A high-tension romantic comedy!
The director is Anno, the director of the blockbuster movie Shin Evangelion.

Episodes 1 to 3 are being delivered together

Fire wood Date update # His and Her Circumstances # Anno Hideaki # anime anime #GYAO

Click here to watch

— GYAO! @Anime (@GYAO_Anime) April 4, 2021
1 month anniversary #Shineva pic.twitter.com/b5UPHXVGYk

— Shin Ego: || (@egocoroking) April 7, 2021
[Creative manga] Story of a cat that has lived for 100 years (1/5) pic.twitter.com/IY64pfuXzt

— Yoshiyoto @ Every Wednesday 19:00 Manga update (@kilightit) April 7, 2021
A story about plants (reposted) pic.twitter.com/6fTVqyE2sH

— Kamatamiwa (@kamatamiwa) April 7, 2021
For those who are not good at it, I wonder if it is not suitable ... pic.twitter.com/WbMDaYdg4O

— Tsubasa Fukuchi @ Short stories on sale (@fukuchi_tsubasa) April 7, 2021
This is the best saying of anime this season pic.twitter.com/tkrCxDCkni

— Minagawa (@ sirokane1215) April 6, 2021
Avengers pic.twitter.com/CwLKsRIVAp

— Looking for Shiratori Jobs (@ yy_108109) April 7, 2021
Sky and fireflies pic.twitter.com/et8gMA2maw

— Nagi (@nnnagikiho) April 8, 2021
It's cute to say Nya Nya #Akuart pic.twitter.com/WxcBTtjnOv

— Topia (@ tpa425) April 7, 2021
I'm scared to be unaware ... pic.twitter.com/5P000B1tYe

— Makaroni (@ lylyly7777) April 7, 2021
Papapapapipupepoyo Chamat !!! pic.twitter.com/jCX2RrvOS1

— HAACHAMA (@akaihaato) April 7, 2021
'How to submerge your friends and lovers in the swamp'

Don't be impatient Geek's job is not to pull suddenly pic.twitter.com/I46L09P6QT

— METORO (@metorokou) April 7, 2021
I drew a manga of rice balls that came out of my heart. # Picture porridge and was able to # Coronate pic.twitter.com/bRQsA9wQSg

— Masafumi Watanabe (@ masafumi_127) April 7, 2021
Story of illegal dungeon map (repost) pic.twitter.com/JMJc9vOiq6

— Kurikimaru @ 'Black Yakushi to White Ryuhime' Volume 2 Released in late April (@kurikimaru) April 7, 2021
This water is sweet pic.twitter.com/OZixWC7iLO

— Yu Kuroto (@ kurotoyu816) April 7, 2021
Marginal painter pic.twitter.com/Cfvo5bLkks

— Sari B (@ danny_2011rs) April 8, 2021
Grass pic.twitter.com/F55uUf489s

— Zelgameth (@ Zelgameth1) April 7, 2021
I happened to meet a childhood friend in a maid style. pic.twitter.com/Cl0tkh8X0g

— UNJEM (@un_jem) April 8, 2021
English textbook, cute and grass pic.twitter.com/7uqvdoHcpp

— (@ Runo64bit) April 7, 2021
#gawrt
Gura-chan is cute! pic.twitter.com/Fp7EY1jhiv

— Yuzuri Kaede (@ yuzuri_222) April 7, 2021
Cherry-blossom viewing pic.twitter.com/9zd2gdgSXM

— RUDA (@RUDA_E) April 8, 2021
Precure Atomawashi Club pic.twitter.com/qeV5Y6yDrR

— Dis-kun (@discoveryYUTA) April 7, 2021
Makima-san of the past day pic.twitter.com/oNpkKzj32n

— Kashiwa (@hitomi_kashiwa) April 7, 2021


Understand in 5 minutes! TV anime 'How Not to Summon the Demon Lord and the Slave Magic of the Summoned Girl' | The second season will start broadcasting on TBS and BS-TBS from April 8, 2021!


PAC-MAN 99 Additional content introduction PV


Disappearing orders, early delivery, and the importance of 'waiting people' --- 'One year of Corona and the same person' from the perspective of a printing company: Interview | gihyo.jp… Technical Review Company

◆ Sports / Entertainment / Music / Movies (Entertainment)
What J PRIDE: Shinji Takehara, the god of gods

◆ New products (clothing, food, housing)
(PDF file) Collaboration with 'Touken Ranbu -ONLINE-'! Japanese sword-shaped gummy is now available! New release of Kanro 'Kandemi Nagumi Two Swords Open Eyes'