Facebook launches beta test of Hotline, a voice service that competes with Clubhouse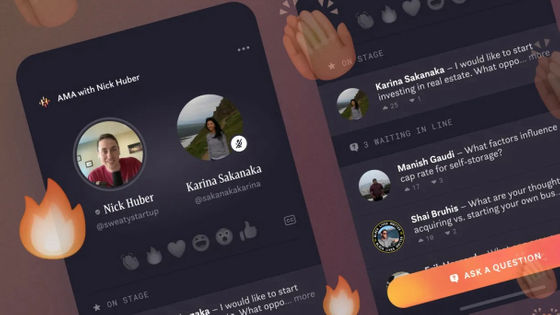 By Facebook

Facebook has started a closed beta test of its own service ' Hotline ' that competes with the voice SNS service '
Clubhouse' that appeared in 2020.
Hotline is similar to Clubhouse in that it mainly uses audio, but it differs in that it focuses on 'questions and answers' and can also deliver video.
Facebook's first crack at a Clubhouse competitor is a new Q & A platform called Hotline --The Verge
https://www.theverge.com/2021/4/7/22372190/facebook-hotline-clubhouse-competitor-q-and-a-app-test
Facebook's Hotline app combos Clubhouse and Instagram Live ―― 9to5Mac
https://9to5mac.com/2021/04/07/facebook-clubhouse-competitor-hotline/
Facebook's new Hotline platform is like Clubhouse with video and Q & A | Android Central
https://www.androidcentral.com/facebook-tests-hotline-app-q-and-clubhouse-competitor
Hotline is a web app for creators that allows you to ask and answer questions with the audience.In addition to the organizer and questioner who actually ask and answer questions, there are three roles of the audience, 'just listen to the questions and answers.' Features. The actual appearance is like this, the icon of the organizer and the questioner is displayed large in the part called 'stage' on the left side, and the icons of the audience are lined up on the right side. If the audience wants to go up to the stage as a questioner, it is necessary to enter the question content in text in advance, and the judgment of the organizer who saw the question content and the vote of the audience will determine whether or not the audience can become the questioner.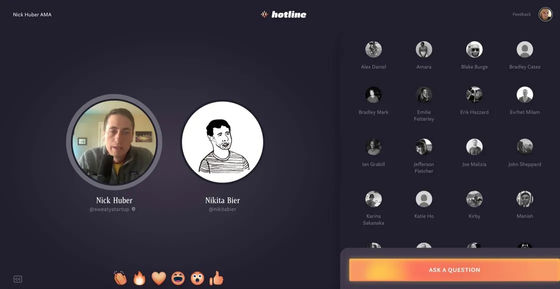 By Facebook

The audience is not allowed to speak, but it is possible to send a heart or smile icon during the question and answer session to take a reaction. The organizer also has the authority to exclude inappropriate questions and to expel users from the session.

Another big difference between Hotline and Clubhouse is that 'events are recorded'. Clubhouse is forbidden to record or even leak conversations to the outside world for the purpose of promoting casual conversations. On the other hand, since Hotline focuses on questions and answers, conversations are 'automatically recorded', and the organizer receives two types of audio data in mp3 format and recorded data in mp4 format after the session ends. This audio data and recorded data are intended to be published on Facebook, YouTube, podcasts, etc.

Hotline will be available at the following URL, but at the time of writing the article, the phrase 'Coming soon! Hotline is not currently available in your country, but will be available soon' It was displayed and was in a private state.

Hotline
https://hotline.co/

Hotline is being developed by Facebook's New Product Experimentation (NPE) team . The NPE team has released a number of voice and video calling apps for creators, such as the group voice calling app ' CatchUp ' and 'Venue ' for live events, but basically they are on track. Only treated as an independent app.

According to TechCrunch , Facebook talks about Hotline: 'Interactive multimedia-style questions and answers help experts understand how experts build their businesses and how ordinary users learn professional skills from experts. I want to do it. '