Facebook launches Clubhouse-like voice SNS function 'Live Audio Rooms'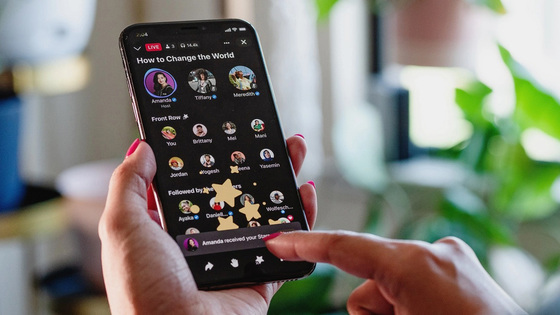 Facebook announced that it has started offering 'Live Audio Rooms ', a voice SNS function like
Clubhouse.
Some users in the United States will be able to host their rooms from the Facebook app for iOS.
Live Audio Rooms and Podcasts on Facebook --About Facebook
https://about.fb.com/news/2021/06/live-audio-rooms-and-podcasts-on-facebook/
Facebook's Live Audio Rooms start rolling out in the US --The Verge
https://www.theverge.com/2021/6/21/22540508/facebook-live-audio-rooms-clubhouse-rival-spaces-greenhouse
Clubhouse is an SNS that says, 'The user who set up the room talks and plays, and the followers can listen to it freely.' Clubhouse is a fairly closed SNS because it is a complete invitation system and there is a rule that 'what you talk about or hear on Clubhouse is useless'.
With the popularity of this Clubhouse, other social media are also offering similar voice services in a way that follows Clubhouse. For example, Twitter has released 'Space' as a voice SNS function in iOS and Android versions.
Twitter version of Clubhouse's 'Spaces' is now available as a beta version for Android --GIGAZINE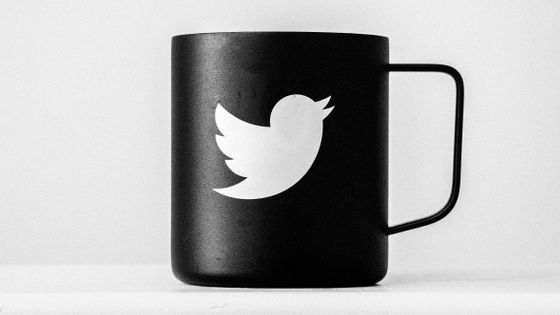 And the voice SNS function provided by Facebook is 'Live Audio Rooms'. Only some US-based public figures and certain groups can set up a room from the Facebook app for iOS, and up to 50 people can be invited as speakers at a time. Also, you can enter the room and listen to the talk from both the iOS version and the Android version, and there is no limit on the number of listeners. In addition, group chat has public chat that anyone can use and private chat that only authorized members can use.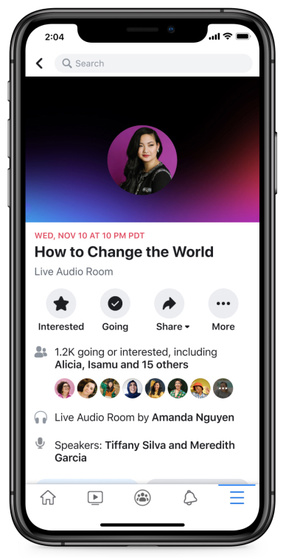 In a room talk session, the host can also solicit listeners for donations or donations to nonprofits within the app by displaying a donate button in the chat.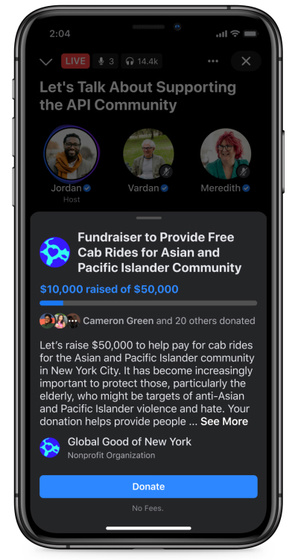 In addition, listeners can show gratitude to the host by sending the 'star' of the paid item to the host. By using a star, you will be guided to the 'front row' where the host emphasizes your presence, so you can be more actively involved in the conversation.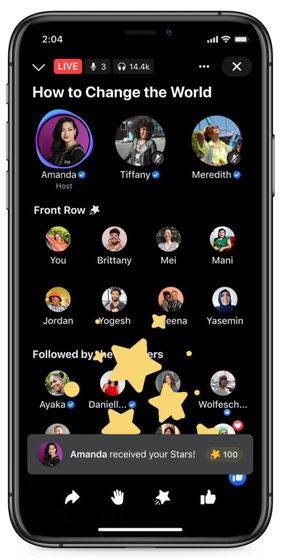 In addition, Live Audio Rooms has a feature that notifies you when a friend or follower joins a room, a live caption that transcribes what you're talking about in real time, a raised hand button to request participation in a conversation, and a chat. It is said that it has many functions that the original Clubhouse does not have, such as the reaction at.

Then, once you close the screen of your smartphone, you can switch to mini player mode to see your favorite creator's page or search for programs in the news feed so that you can enjoy the talk session you are listening to in Live Audio Rooms as a podcast. It seems that you can also do it.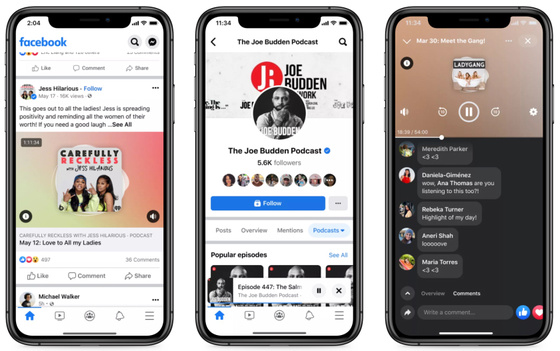 Facebook says it will roll out clip and live captioning features that allow listeners to share their favorite parts of the talk in late summer 2021, but wrote an article about whether Live Audio Rooms will be available outside the United States. Not disclosed at this time.