Twitter is developing 'send cancel function' as a paid option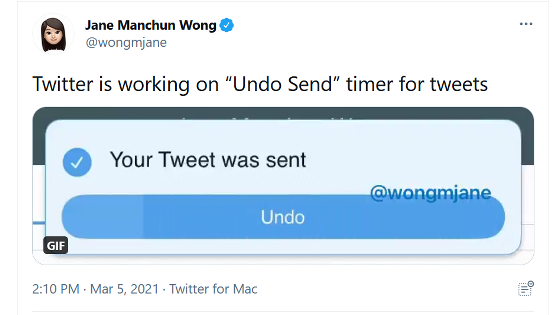 We found that Twitter is testing a feature that allows users to 'cancel' for a few seconds immediately after sending a tweet.


Twitter is working on "Undo Send" timer for tweets

pic.twitter.com/nS0kuijPK0 — Jane Manchun Wong (@wongmjane) March 5, 2021


Twitter is testing an'undo' option after sending tweets --CNN
https://edition.cnn.com/2021/03/05/tech/twitter-undo-send-timer-feature/index.html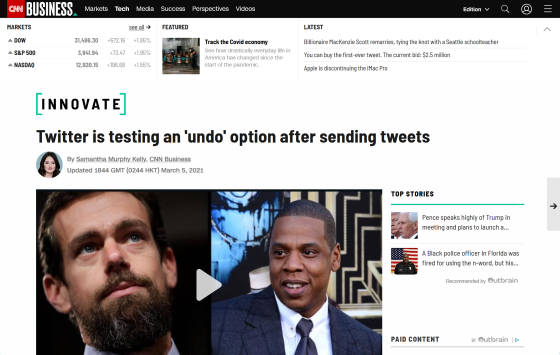 When the unsend feature is enabled, the 'Undo' button will appear for about 5 seconds with the words 'Your Tweet was sent' immediately after you press the 'Tweet' button. It seems that you can cancel the tweet by pressing the Undo button.




This feature is expected to be offered as a subscription. Twitter has long told investors that it is considering a new subscription service that includes a send-cancel feature. Other features include an auto-reply feature, customized display colors, and a unique badge feature that shows the company you work for, and are reportedly asking some users to rate these options.

Twitter is considering charging TweetDeck and introducing 'chip' function --GIGAZINE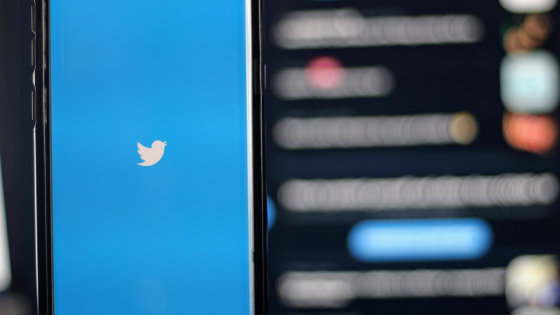 This transmission cancellation function was discovered by Jane Manchun Wong, an app developer who has been analyzing a lot of pre-implementation content. Mr. Wong was the first person to report in 2019 that 'Twitter is developing a'conversation subscription function (super follow)'', as well as ' restarting the authentication badge granting process ' and 'Birdwatch'. Also mentioned early. In addition, Mr. Wong is doing analysis as a hobby to the last.