Twitter may soon start paying follow function 'Super Follow' or will be able to post limited adult content


Twitter allows you to 'follow' users you care about, but by fusing subscriptions and followers , like Patreon , 'users can pay content creators to access exclusive content. A 'super follow ' function called 'Naru' is planned. Details about this super follow feature have been revealed.

Twitter may be close to launching Super Follows, as new research shows what it could look like --The Verge
https://www.theverge.com/2021/6/6/22521555/twitter-super-follows-new-research-jane-wong-subscription

'Super Follow' allows you to access exclusive posts that are not displayed to regular followers by subscription. Twitter announced SuperFollow at the end of February 2021 as a way for creators to make money directly on the platform. Super Follow will be available for $ 4.99 per month (about 550 yen).

Twitter announces 'super follow' function to display posts that are not displayed by normal followers by subscription method --GIGAZINE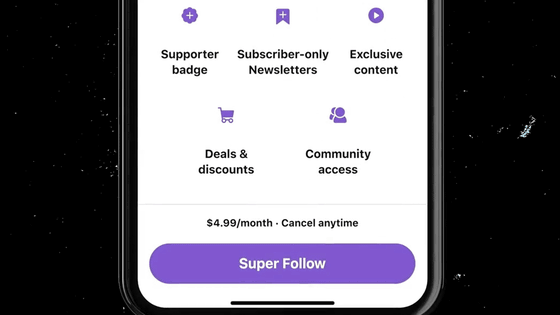 App developer Jane Manchun Wong revealed the details of this super follow. He is a person who has revealed functions such as Twitter's ' cancel transmission function ' and ' Twitter Blue' from application analysis.

According to Mr. Wong's analysis, limited posting is possible using Super Follow for 'having 10,000 followers', 'posting at least 25 tweets in the last 30 days', and '18 years old and over'. It is a Twitter user.

Also, when using SuperFollow, content contributors will have access to a list of categories to describe their content. In this category list, there are also categories such as 'Adult content' and 'Only Fans'.

Twitter is working on Super Follows application

Requirements: Requirements:
--Have at least 10000 followers
--Have posted at least 25 Tweets in past 30 days
--Be at least 18 years old

notably, "Adult content" and "OnlyFans" are mentioned in the category and platform sections https://t.co/qSEjh0ohm8 pic.twitter.com/yvkzx672V2

— Jane Manchun Wong (@wongmjane) June 6, 2021


In addition, when the overseas media The Verge inquired about the truth of Mr. Wong's analysis result to Twitter, he said that he could not get an answer.

Twitter has implemented a throwing function called 'Tip Jar ', and this Tip Jar does not collect a part of the throwing money as a fee. However, The Verge points out that the Super Follow feature is likely to collect a portion of the sales as a commission.

In addition, Twitter has started 'Twitter Blue' as its own paid service, and is steadily expanding the paid subscription service.

Twitter launches paid service 'Twitter Blue', which can be canceled / corrected after posting a tweet --GIGAZINE