Website 'twelve 70' that automatically completes coordination just by selecting the clothes and colors you want to wear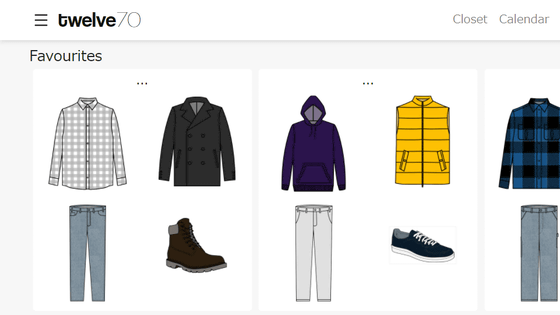 It's a hassle to think about how to coordinate the clothes you wear every day, but if you choose something that you don't wear, you'll end up with a squishy color and you'll fail. It's a hassle to think about the coordination of the whole body, but if you don't want to make a mistake, the tool that you can use is ' twelve70 ', which automatically suggests safe coordination just by selecting the clothes and colors you want to wear.

twelve70 | Men's Outfit Generator

https://www.twelve70.com/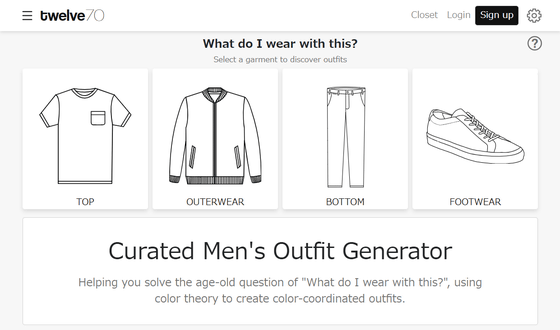 First, access the above URL and select one of 'TOP', 'OUTERWEAR', 'BOTTOM', and 'FOOTWEAR'. It seems that there are many people who renewed the outerwear when it became cold this time, so click 'OUTER WEAR'.



Then various outerwear will be displayed. There are various types of coats such as duffle coats and trench coats, and at the time of writing the article, 35 types of outerwear were prepared. Select the one you have from this. This time, click 'DOUBLE RIDER'.



Next, a list of colors will be displayed, so select the color of the clothes you have and click 'Go with this'. This time it was a rider's jacket, so there weren't many color variations available, but for another item, more colors can be selected.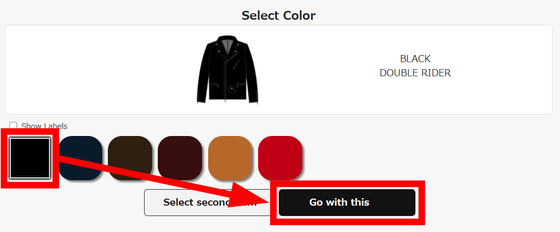 The proposed coordination looks like this. Orthodox coordination with black denim and white shirt ...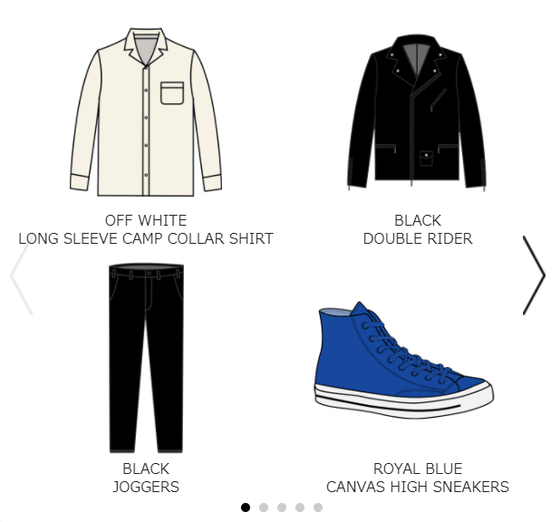 Top and bottom burgundy color coordination that seems to require a little courage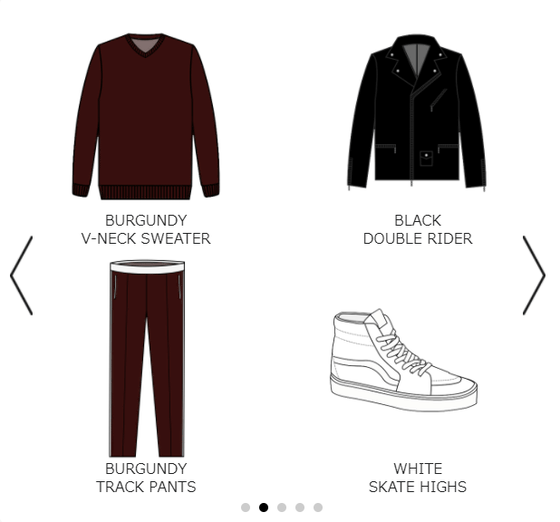 Coordination that incorporates patterns using camouflage pants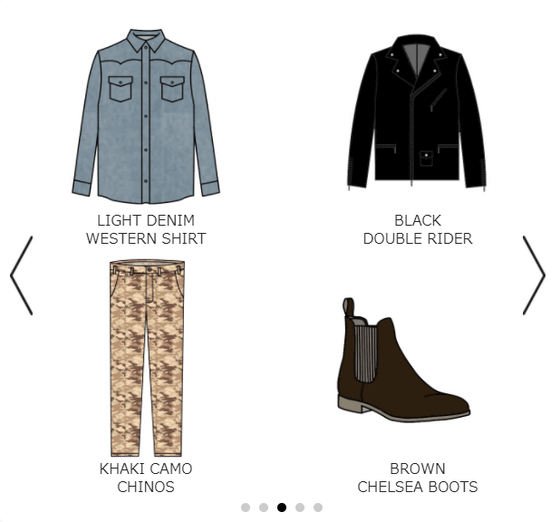 Adult-like coordination with a green sweater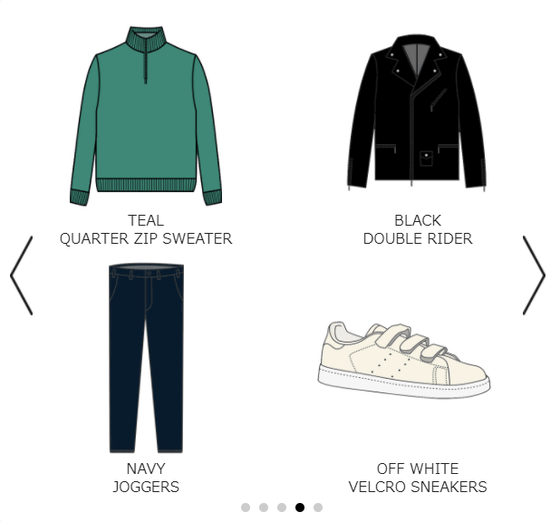 They offer a variety of coordination, such as American casual style coordination using check shirts. Since the range of proposed coordination is wider than I imagined, 'I can't do this coordination because I don't have camouflage pants, but I think I can reproduce this coordination because there are similar items ...!' It seems to be a hint of.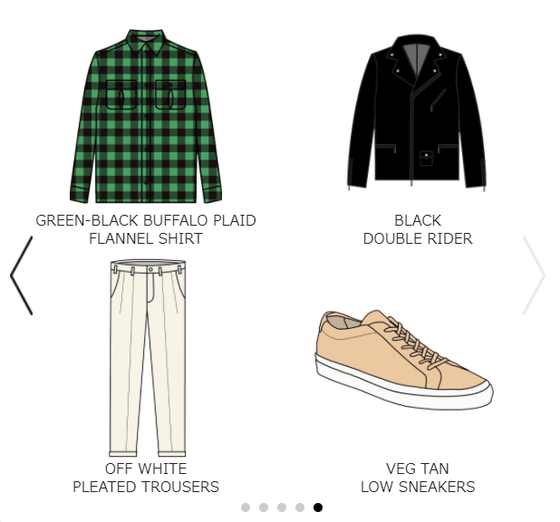 If you can't find the coordination you like, just click the icon at the bottom right.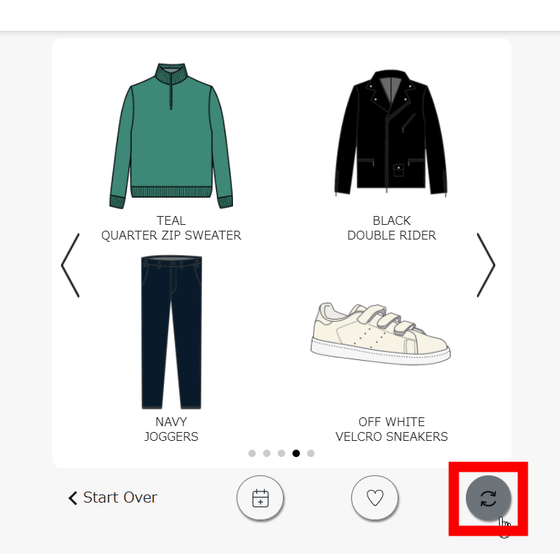 This will suggest a new coordination.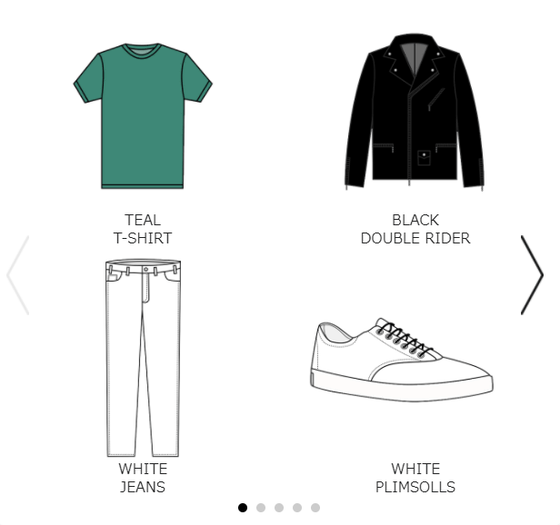 If you like the coordination, you can register it as a favorite, so click the heart icon.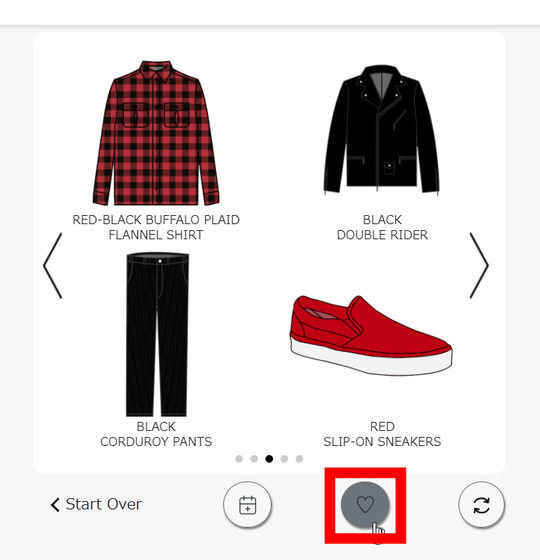 You will then be asked to create an account. Click 'Sign up Now' to create an account. However, at the time of writing the article, nothing happened when I clicked 'Sign up Now' displayed on this window.




Therefore, click 'Sign up' at the top right of the screen to create an account. You can easily create an account by linking it with your Facebook or Google account, but this time click 'Sign up with Email' to create an account in the usual way.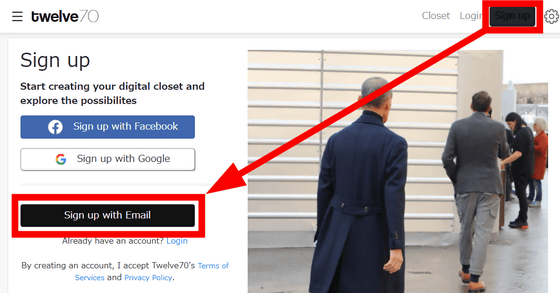 Enter your e-mail address, password, and password (for confirmation) in order from the top, and if you want hints for coordination, click the check box below the text box and click 'Sign Up'.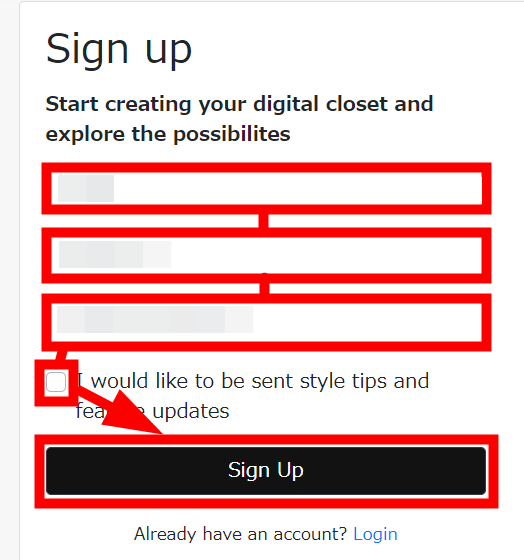 An email will be sent from 'twelve70' to the email address you entered, so click 'Verify Email Adders'. This completes account registration.



After that, go back to 'twelve 70' and click 'Favourites'.




Now you can check the coordinates you have registered as favorites at any time.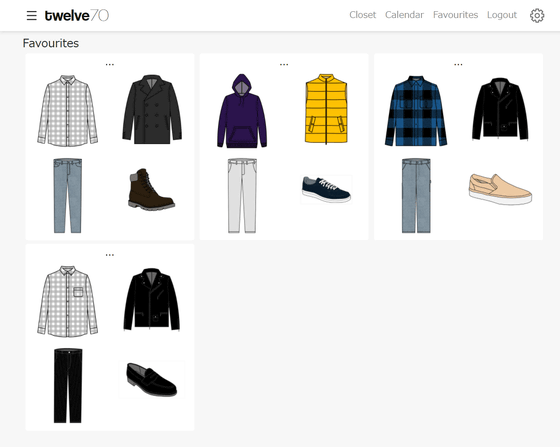 Furthermore, if you click the icon next to the heart icon for registering as a favorite ...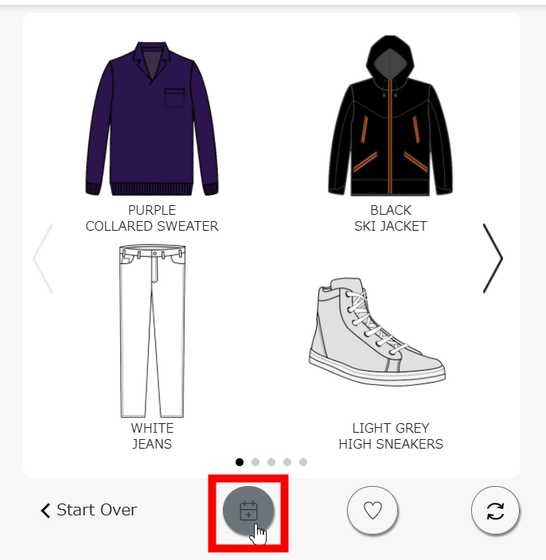 You can register when to wear the coordination in the calendar.




You can check the coordination from the calendar at any time by clicking 'Calendar' at the top right of the screen.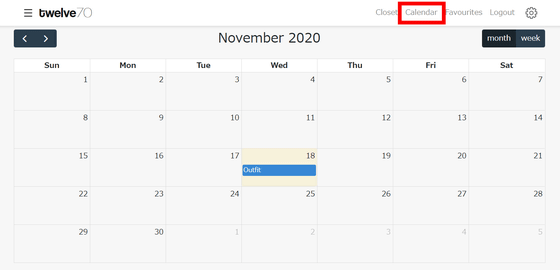 Also, with 'twelve70', by registering the clothes you own, you can have the coordination automatically created only with the items you have. To register your own clothes, click 'Closet' and then click '+'.




Click on the item you have ...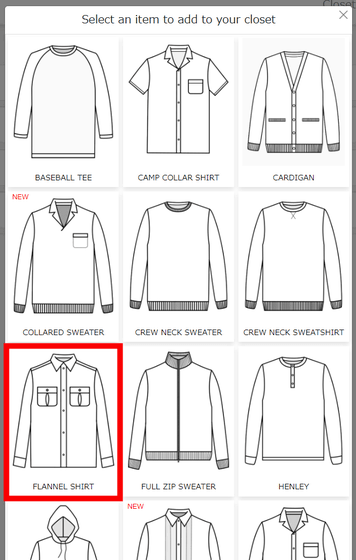 After selecting the color you have, click 'Add to closet'.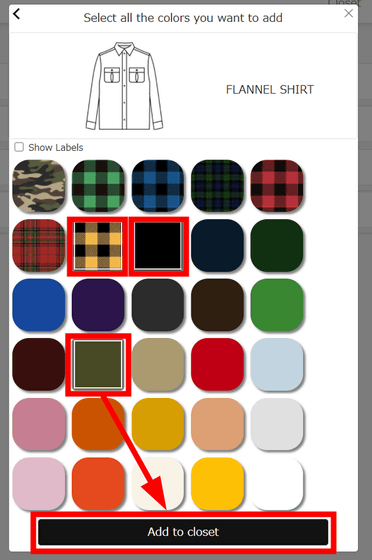 After adding items to the closet in this way, click 'Just Generate'.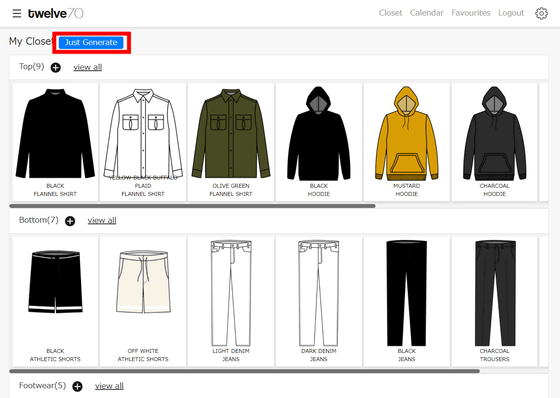 Then you can make a coordinate only with the items you have. It seems that the hanger icon indicates that it is an item that you own.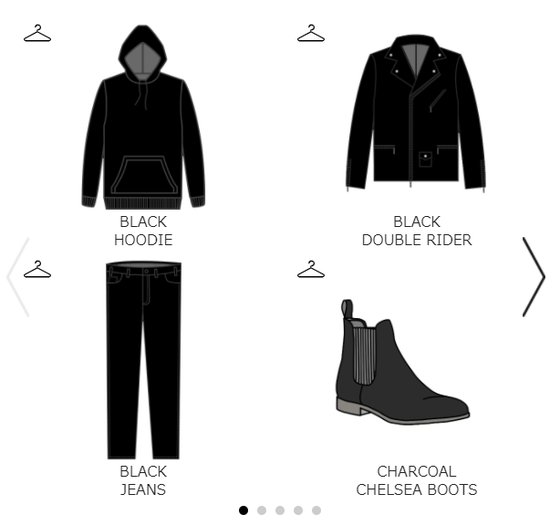 You can use the coordinate automatic generation function without creating a dedicated account, but you cannot use the coordinate favorite function, closet function, and calendar function unless you create an account. If you combine the closet function and the calendar function, you will not get lost in coordinating for a week, so it seems convenient to register an account especially for those who are troubled with daily coordination.