I've eaten 'half-boiled moon-viewed meat burger & full-moon moon-viewed meat burger' that can be topped with your favorite baked egg on a thick patty in Lotteria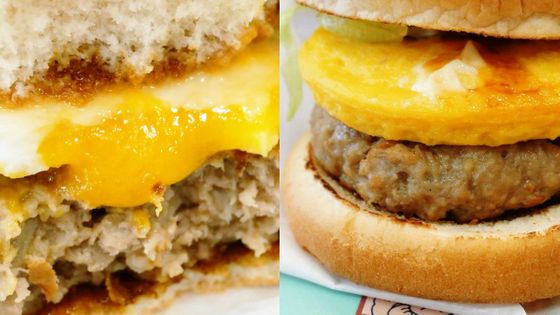 Lotteria's classic autumn menu "Tsukimi Burger" is topped with a " half-boiled Tsukimi Meat Thick Burger " topped with a soft half-boiled egg and a " Full Moon Seen Thick Thickness " topped with a round soft egg that looks like a full moon. " Burger " was newly introduced, so I actually ate it.

'Full Moon Moon View Thick Burger' 'Semi-Mature Moon View Thick Burger'-Lotteria's moon viewing this year is a new 'Full Moon'-available for a limited time from Friday, August 30, 2019!
(PDF file)
https://www.lotteria.jp/pdf/jp/store/storage/190821_tsukimi.pdf
Arrived at Lotteria.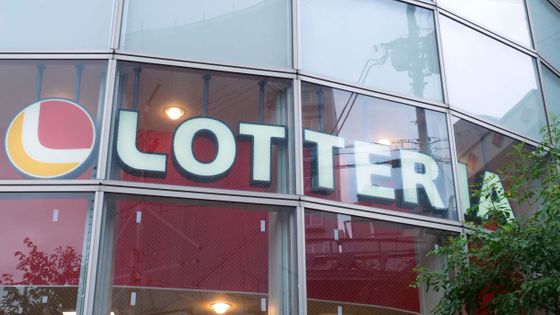 The target burger is appealing on the shop signboard.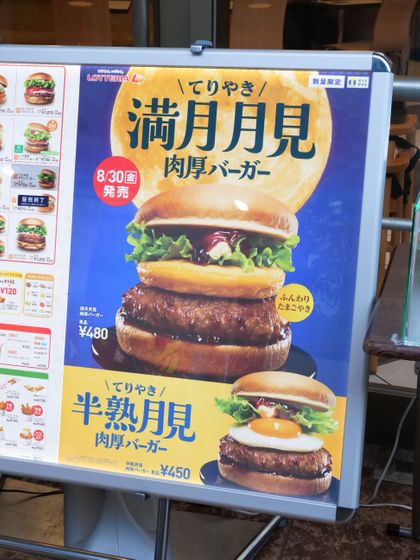 In addition to the new "Tsukimi Meat Burger", Lotteria 's new "Tsukimi Burger" has been added to Lotteria's classic popular menu, with a half-ripe and soft-boiled egg.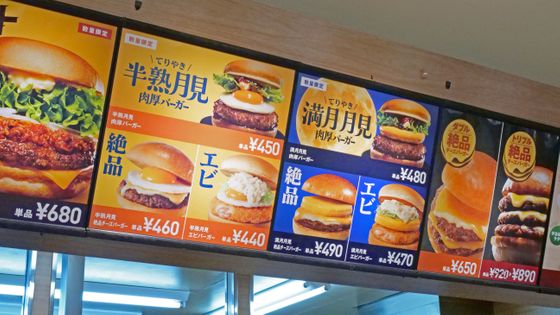 This time, we ordered the new "Full Moon Moon Thick Burger" and "Half Moon Seen Thick Burger". The offer will take about 5 minutes, so sit down and wait.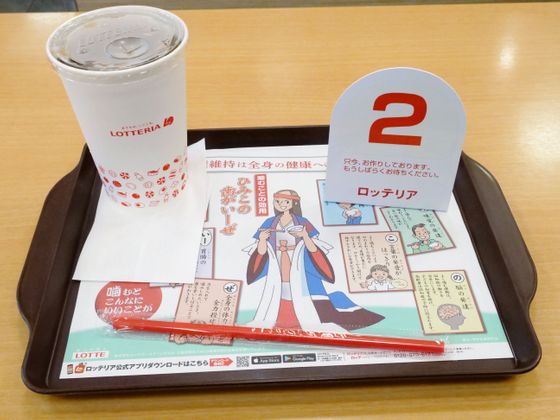 Burger was carried in over 5 minutes.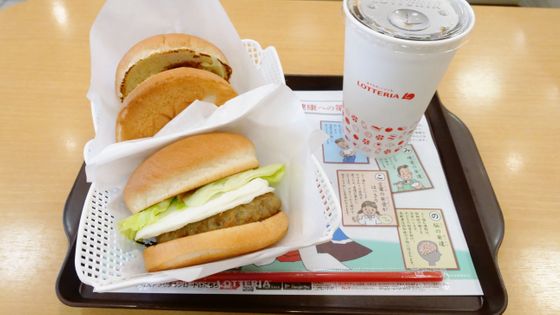 ' Full Moon Moon View Meat Thick Burger ' (480 yen including tax and 870 yen including full potato set) is a burger that looks like a large round egg on the moon.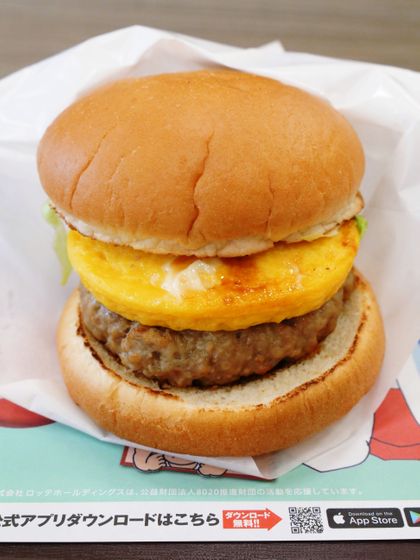 Round egg and lettuce are covered with Lotteria original teriyaki sauce and mayonnaise with oyster sauce added to tamari soy sauce and tri-sugar.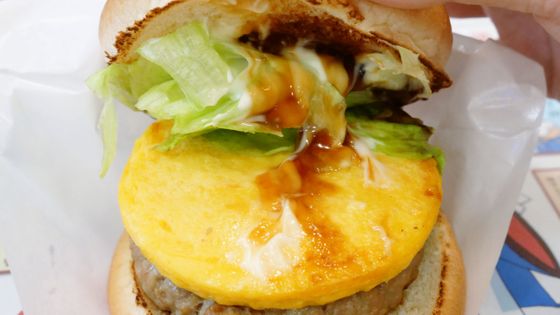 Since the lower patties are thick, they are burgers with a height.



Real food.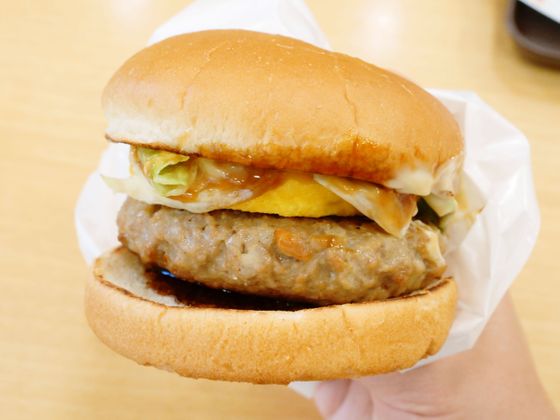 When you eat it, the patty labeled "thick" is quite thick, and when you chew it, the umami of fat starts to flow into your mouth. In addition to patty, round eggs are thick, but round eggs are fluffy and patty has a soft texture and can be bitten without any effort. The original teriyaki sauce is very sweet and the soy sauce has little saltiness. It was a burger with a round egg and an original teriyaki sauce.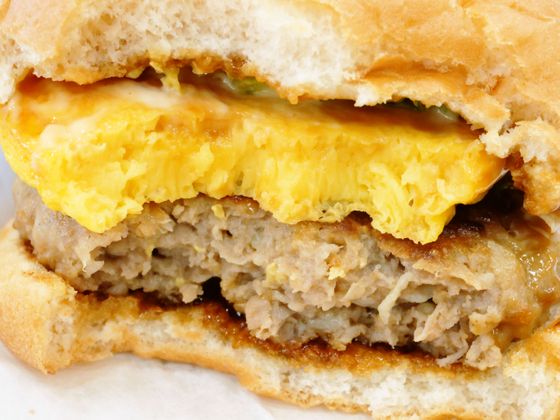 " Half-moon moon- viewed thick burger " (450 yen including tax, 840 yen including full potato set) is a burger sandwiched between fried eggs with a half-boiled egg.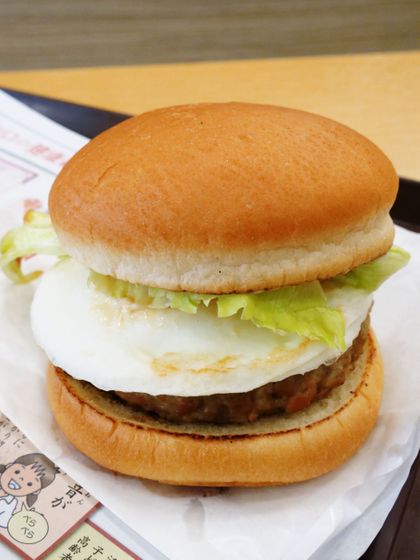 The official information
emphasized the yolk part at a glance, but the yolk part was covered with white and difficult to understand. Lettuce, patty, sauce, etc. are the same as "Full Moon Viewing".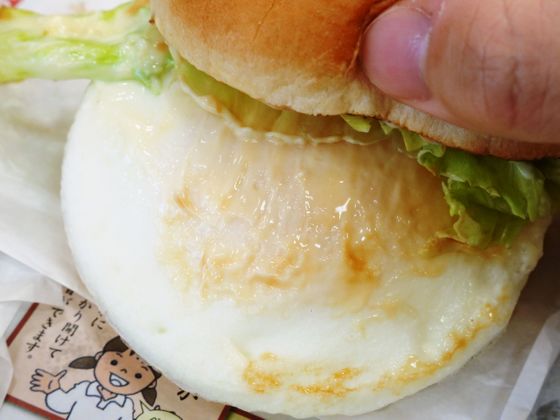 Let's eat.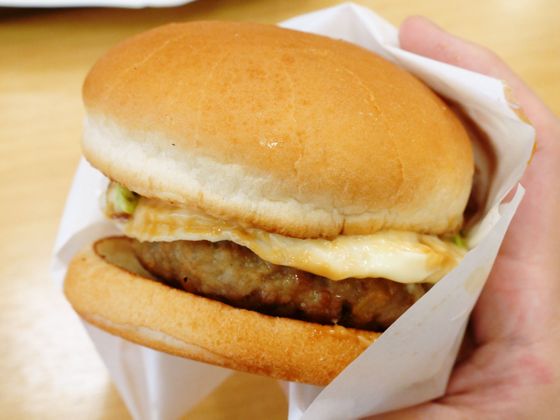 When biting, the yolk is so soft that it flows out and goes perfectly with the original teriyaki sauce and patty. The taste of yolk is accented with the taste of thick patty volume. This is recommended for those who want to feel the taste of yolk firmly.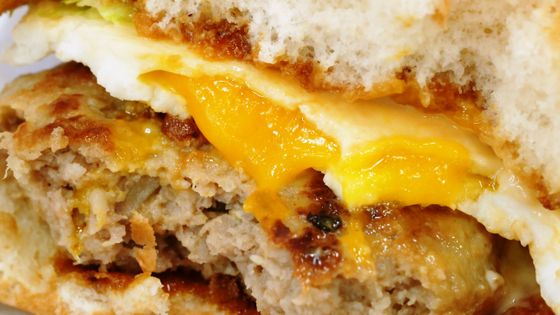 Various types of Tsukimi Burgers, including `` Full Moon Moon Viewing Meat Thick Burger '' and `` Half Moon Viewing Meat Thick Burger '', are limited to the period from August 30 to late September 2019, Saitama Super Arena Store, Ueno Park Rueno FS Store, You can eat at Lotteria nationwide except Hakkeijima Seaside Oasis FS and ZOZO Marine Stadium.