It turned out that the police were able to obtain the image of Amazon's smart doorbell `` Ring ''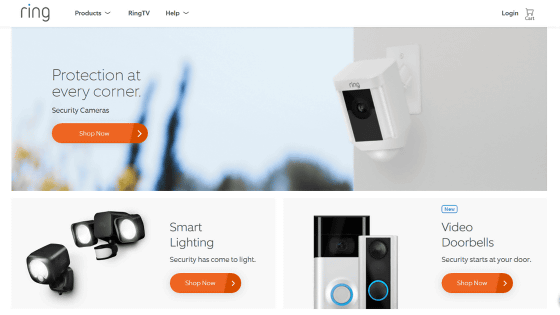 With
the
smart doorbell "
Ring
" product
acquired by Amazon in
2018, it turned out that the police were able to view the video of the terminal and information posted by the user to the community.
Working Together for Safer Neighborhoods: Introducing the Neighbors Active Law Enforcement Map-The Ring Blog
https://blog.ring.com/2019/08/28/working-together-for-safer-neighborhoods-introducing-the-neighbors-active-law-enforcement-map/
How to check if police are watching your neighborhood with Ring
https://mashable.com/article/amazon-ring-law-enforcement-surveillance-map/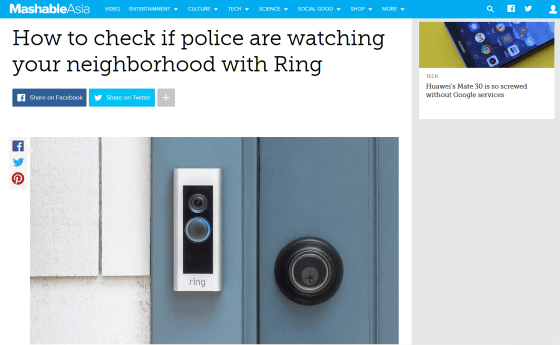 Ring Told People to Snitch on Their Neighbors in Exchange for Free Stuff-VICE

https://www.vice.com/en_us/article/ne8wqx/ring-told-people-to-snitch-on-their-neighbors-in-exchange-for-free-stuff
Ring develops a variety of security products, including the "
Video Doorbell
" smart doorbell with a surveillance camera equipped with motion sensors and video streaming functions. If Video Doorbell is connected to a smartphone or tablet, you will be notified when a person stands in front of the entrance, you can check who the visitor is, and you can also call from outside.
In addition, we have started a business with the goal of `` reducing crime in the community '', providing a `` Neighbors app '' that shares information on crime and safety with neighboring Ring users, and forming a network of Ring users It is.
However, in August 2019,
Gizmodo
and Motherboard found that police were able to see the contents posted to `` Neighbors app '' which can only be seen by Ring users, and shooting with Ring products He was able to request access to the recorded video.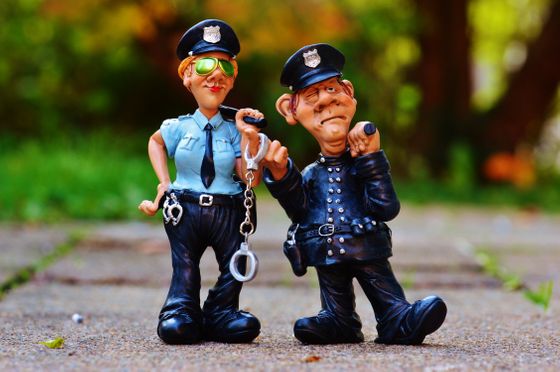 by
Pixabay
Concerns about the "surveillance network" by Ring were expressed by privacy experts.
According to Motherboard, in the Ring company in 2017, a system called `` Digital Neighborhood Watch '' was discussed, and Ring users spread Ring products to other neighboring residents or provided crime-related activities to the police In addition, a plan to give a privilege to purchase Ring products at a low price was envisaged. A spokesman for Ring said the Digital Neighborhood Watch plan was discontinued in 2017 and commented that companies are constantly considering a variety of new ideas.
After the media revealed the partnership between the Neighbors app and law enforcement, Ring announced itself on August 28, 2019 about the size of the partnership with law enforcement through the Neighbors Portal. Ring said it has partnered with 405 law enforcement agencies in the United States, and released a map that makes it easy to check whether local law enforcement agencies are affiliated with Ring.
In partnership with law enforcement agencies, he has been thinking about managing information shared by users and protecting personal information. In addition, Ring claims that by helping local residents and law enforcement agencies work together, they have achieved remarkable results in solving incidents such as
firearm theft on roads
and
drug theft for diabetics
. "All members of the community play an important role in making neighborhoods safe, and Ring users are proud to contribute to the safety of the community," Ring said.