Pornographic video advertisements are distributed on the accounts of popular distributors transferred from Twitch to other distribution services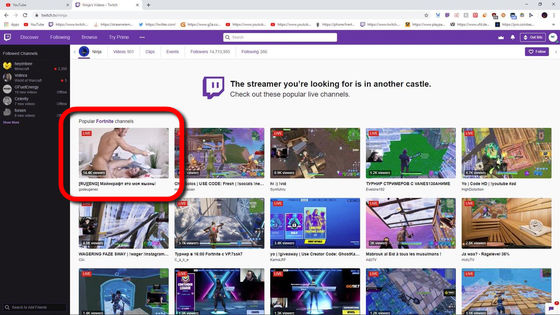 Streaming a state in which to play the game the game play-by-play in, the distributor hugely popular overseas Ninja is, Microsoft graduated from Twitch of the delivery platform to August 1, 2019 operated Mixer Transfers to Announced to do. After that, on Twitch's Ninja account, which is no longer being renewed, live streaming of porn videos somehow appears, and Twitch is condemned.

Ninja alleges Twitch promoted porn from his old channel-Polygon
https://www.polygon.com/2019/8/11/20801261/ninja-twitch-porn-channel-referral-allegations-mixer

Ninja is a person who has been playing games on Twitch since 2011, and is a very popular person in the world of the popular battle royal game " Fort Knight ". In March 2018, in an interview with the economic newspaper Forbes, it became a topic that revealed that the monthly income obtained from distribution on Twitch is about 500,000 dollars (about 53 million yen).

Clearly that popular professional gamers are earning more than 50 million yen every month in the game situation of Twitch-GIGAZINE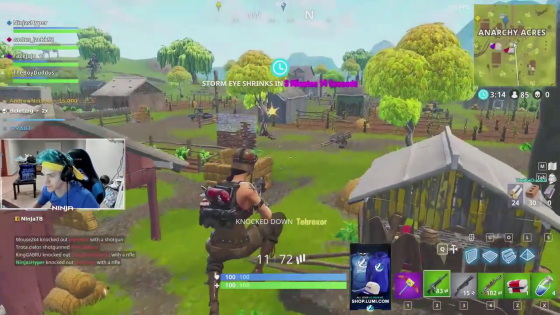 In addition, it was reported that a reward of 1 million dollars (about 110 million yen) was earned just by playing live game `` Apex Legends '' of the battle royal game that started service in March 2019, and again the degree of attention of the game live situation The appeal of the height and the influence of popular distributors will be announced to the world.

Popular game distributors who earned over 100 million yen individually in the promotion of games are reported to appear-GIGAZINE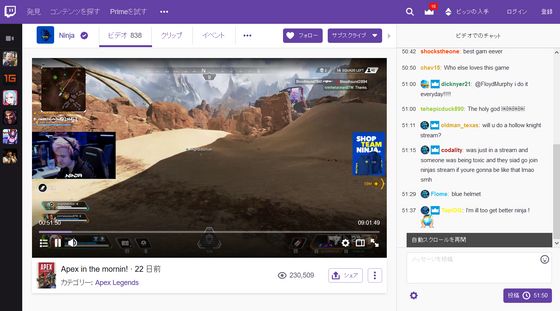 On August 1, 2019, Ninja will announce on a large scale that it will transfer from Microsoft's streaming service Twitch to Amazon's streaming service Mixer from Amazon's own streaming service Twitch. Although we talked about transferring from the Twitch channel with a total of more than 4.7 trillion views in the past, the first delivery to be commemorated with Mixer is about 70,000, which exceeds the average number of viewers on Twitch 6000 people watched it live .

Announcing that a popular gamer who earns more than 50 million yen monthly in game distribution will graduate from Twitch and transfer to Microsoft-operated Mixer-GIGAZINE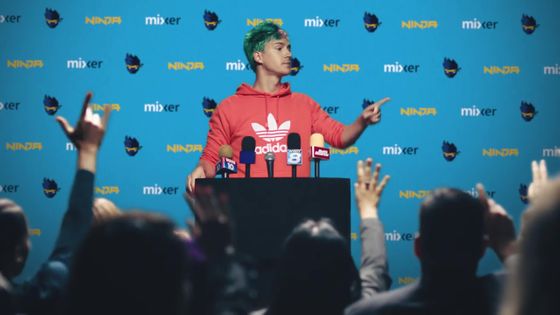 More than a week has passed since Ninja transferred from Twitch to Mixer, but the handling of `` https://www.twitch.tv/ninja '', the dedicated channel of Ninja on Twitch, is significantly different from general accounts It has become a hot topic.

The point is that since the transfer announcement on August 1, Ninja's dedicated channel on Twitch has no longer displayed archived contents of live play delivered in the past. Instead, 404 page that displays recommended content related to Fort Knight was displayed, but at the top of this page to the live delivery that displayed thumbnails of two men and women who are sexually acting with Russian titles The link of was displayed.

Now @Twitch is recommended PORN on @Ninja 'a channel to his young fans! Honestly I would sue at this point! This disrespect has went on long enough! #DramaAlert pic.twitter.com/gN2OGXvVY8

— KEEM ???? (@KEEMSTAR) August 11, 2019


The red frame at the top of the image is the URL bar of the browser, where "twitch.tv/ninja", the URL of the Ninja Twitch channel page, is entered. Below that, `` The streamer you're looking for is in another castle. '' Is displayed, and it is written that Ninja has transferred from Twitch, Below that, live broadcasts related to Fort Knight are lined up. However, one of the problems is that one of them is a link to a channel that distributes pornographic videos.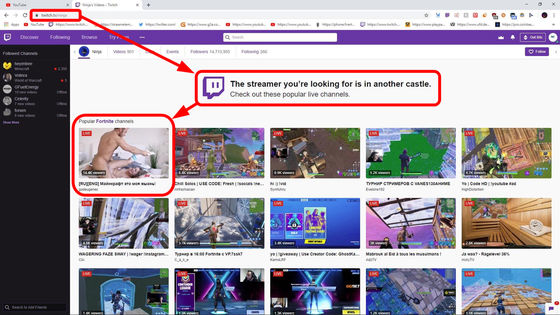 The problem was not only that `` link to pornographic video distribution '' was displayed, but as soon as Ninja announced the transfer, the dedicated channel on Twitch became treated differently from other users It is a point. According to Ninja, in the case of other distributors, the archived content can be browsed, but in the case of Ninja, all the content cannot be browsed. Normally, 404 pages will not be displayed unless you mistype the URL or access a nonexistent channel.

Ninja explains this to his fans on his Twitter account.

And So Sorry Disgusted. Pic.Twitter.Com/gnUY5Kp52E

— Ninja (@Ninja) August 11, 2019


Ninja commented on Twitch's mishandling of his channel and URL, 'This doesn't happen with other users who are offline. It only happens with my account.' "I've been streaming for the past 8 years, building brands, building channels, and gaining 14.5 million followers. But Twitch used my channel to promote other distributors. I accuse Twitch. '

Ninja says 'I am thinking of deleting the channel itself' in response to my Twitch account being mistreated. Ninja's dedicated channel on Twitch has returned to normal handling at the time of article creation, and archives of movies distributed in the past are stored.

Ninja-Twitch