45 meters deep 'world's deepest pool' will open in Poland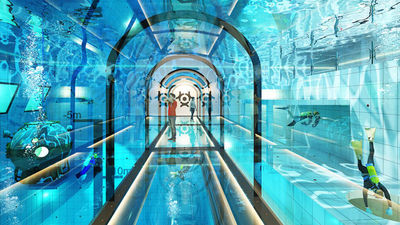 In Poland, the ' world's deepest swimming pool ', with a maximum depth of 45 meters when completed, is under construction. There will also be a walkway in the pool where you can watch the people who swim in the water, and there will be multiple photos of the construction and completion images.

Deepspot-Najgębszy na Świecie Basen Nurkowy w Warszawie
https://flyspot.com/en/deepspot/

Deepspot-Photos | Facebook
https://www.facebook.com/pg/deepspotpoland/photos/?ref=page_internal

World's deepest pool to open in Poland | CNN Travel
https://edition.cnn.com/travel/article/worlds-deepest-pool-scli-intl/index.html

In late 2019, the 'world's deepest swimming pool' is scheduled to open in Poland. The pool is called 'Deepspot' and will be a practice facility for professional scuba divers. It is up to 45 meters deep, contains 8000 cubic meters of water, and has 27 times the volume of an average 25 meter pool.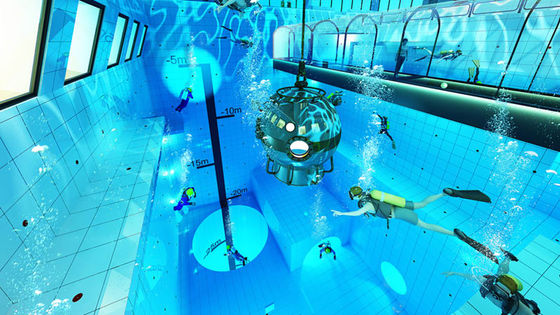 The designer says, 'it will be a facility that is suitable for both experienced divers and beginners,' and plans to build an underwater tunnel for people without swimming.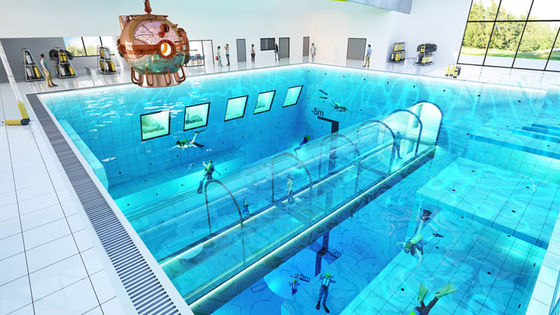 The image from the underwater tunnel is as follows.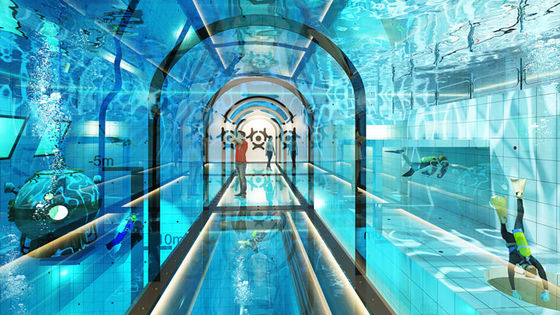 Deepspot is under construction in a town called Mszczonow, which is less than 30 miles (approximately 48 km) from the Polish capital city of Warsaw, and about 1100 tons of steel is used to make it solid.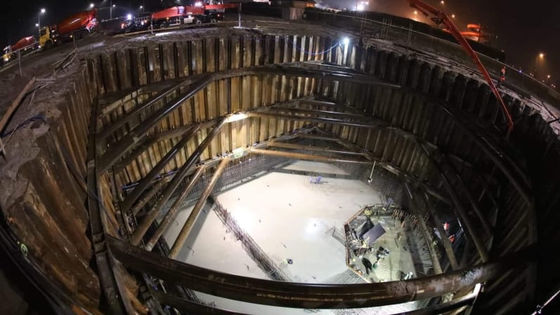 It looks like this when looking at the foundation under construction from below. Deepspot will have a training room with pool views and a hotel.



Check Deepspot under construction from outside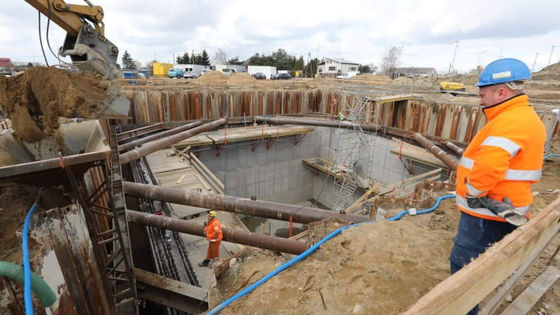 Until Deepspot is completed, the "world's deepest pool" is " Y-40 The Deep Joy ", one of the facilities of the Hotel Millepini Hotel Terme in Montegrotto Terme, Italy. As the name implies, the maximum water depth is 40 meters, which also has an underwater tunnel.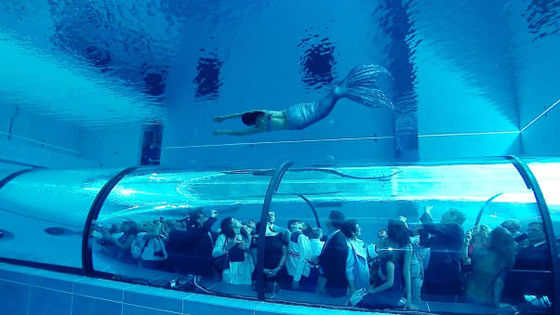 In addition, there is also a movie that shows how to do free diving in Y-40 The Deep Joy, and if you check the following article, you can understand the greatness of the pool 40 meters deep.

Free diving in the world's 40 meter deep swimming pool 'Y 40'-GIGAZINE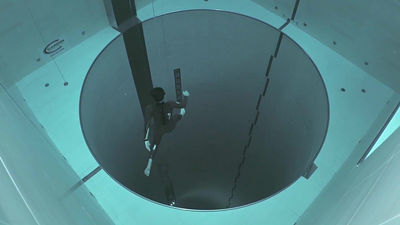 However, in 2020, Blue Abyss, a 50 meter deep swimming pool with a maximum depth of deeper than Deepspot, is scheduled to open in the United Kingdom. Blue Abyss will not only be a huge pool, but will also serve as a commercial astronaut training center.

Expand your horizons. Dive into the future. With Blue Abyss.-YouTube



in Note, Posted by logu_ii