'Excel' can import the table taken by the camera as digital data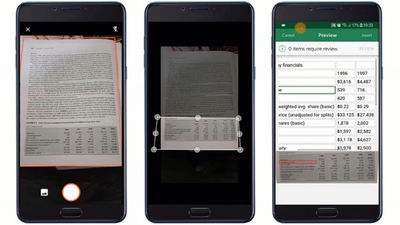 Microsoft has announced the update of the " Excel " application, and in the Android version, it is now possible to import digital data into Excel by just shooting the table printed on the paper material with the camera of the smartphone.

New to Microsoft 365 in February-advancing security and empowering a modern workplace - Microsoft 365 Blog
https://www.microsoft.com/en-us/microsoft-365/blog/2019/02/28/new-to-microsoft-365-in-february-advance-security-and-empower-a-modern- workplace /

Microsoft Excel will now let you snap a picture of a spreadsheet and import it - The Verge
https://www.theverge.com/2019/3/1/18246429/microsoft-excel-covert-photos-data-tables-editable-table-ai-feature

Microsoft has announced an update for Microsoft 365 . Among them, in the Android version of the Excel application, when you shoot a table printed on paper materials with a smartphone camera, you can automatically convert the data in the table to a table that can be edited completely, so that it can be imported into Excel It has been revealed that it has become. With the introduction of this function, users do not need to manually enter the data of the table distributed in paper materials.

You can check the table printed in paper materials with the latest image recognition technology and take in the data as data by checking the following GIF image.



This feature is a new feature announced in Microsoft 's event " Microsoft Ignite 2018 " held in September, 2018, it was finally implemented in the application in March 2019.

Four new advanced functions that fully utilize AI for "Excel" are added - GIGAZINE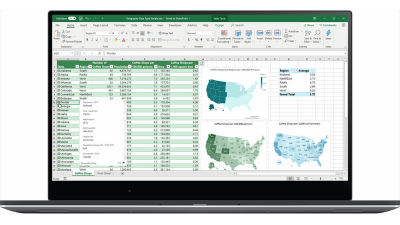 At the time of article creation, only the Android version of Excel has the function to shoot with the camera and capture the table, but Microsoft wrote that "Immediately afterwards it will be implemented by iOS version application". Please note that this feature will be available to Microsoft 365 users.

Other new features that appeared in February 2019 include " Microsoft Threat Expert ", a new threat detection service, a new feature that provides secure communication and collaboration for medical staff, compatibility between Windows 10 and Office 365 ProPlus application New service " Desktop App Assure " designed to deal with problems, " Microsoft Authenticator " Microsoft 's security application for smartphones is now able to receive notifications on security warnings of Microsoft accounts by phone, application, document " Office " application for Windows 10 that can quickly access necessary items such as users, and the ability to add photos and files to tasks in Microsoft's task management application " Microsoft To-Do " .