Survey revealed that the country with the longest online time is 10 hours 2 minutes a day in the Philippines, Japan is surprisingly short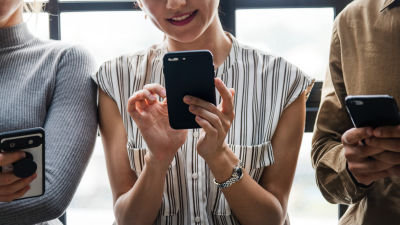 by rawpixel.com

" Asian smart poisoning is abnormal " has been reported for some time, but the latest survey showed that the country with the longest online time in the world in 2018 is the Philippines. The average online time in the Philippines a day is 10 hours 2 minutes.

The global state of digital in 2019
https://hootsuite.com/resources/digital-in-2019

Philippines tops world internet usage index with an average 10 hours a day | Technology | The Guardian
https://www.theguardian.com/technology/2019/feb/01/world-internet-usage-index-philippines-10-hours-a-day

How much time does YOUR country spend online? | Daily Mail Online
https://www.dailymail.co.uk/sciencetech/article-6658237/How-time-does-country-spend-online.html

A survey conducted by HootSuite of social media management system and We Are Social advertising company specialized in social media focused on people in more than 150 countries. Thailand of "9 hours 11 minutes" and "8 hours and 36 minutes" such as Indonesia are ranked in ranking high ranking of the length of online time, Japan is 3 hours 45 minutes and online time is fewer It was. It is said that developing countries such as Southeast Asia and Latin America had a lot of Internet use time.

The ranking of the Internet use on a computer is like this. First place is the Philippines (5 hours 4 minutes), followed by South Africa (4 hours 55 minutes), Colombia (4 hours 49 minutes), Brazil (4 hours 43 minutes), Taiwan (4 hours 17 minutes). The bar graph becomes blue in the world average (3 hours 28 minutes). Japan is considerably lower than the world average 2 hours 20 minutes.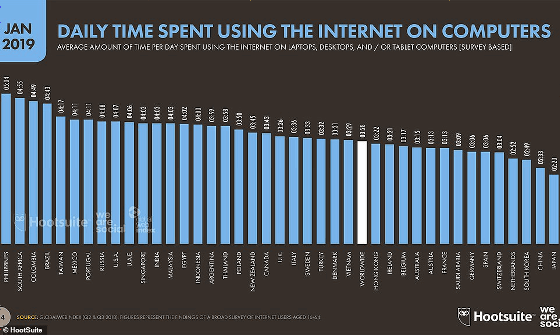 Meanwhile, Thailand's mobile Internet is No. 1 (5 hours and 13 minutes), the Philippines is second place (4 hours 58 minutes), Brazil (4 hours 45 minutes), Indonesia (4 hours 35 minutes), Nigeria (4 hours 32 Minutes), followed by the world average 3 hours 14 minutes, Japan 1 hour 25 minutes. Since Thailand was ranked 17th in the world in terms of computer use, it seems to be overwhelmingly used on mobile.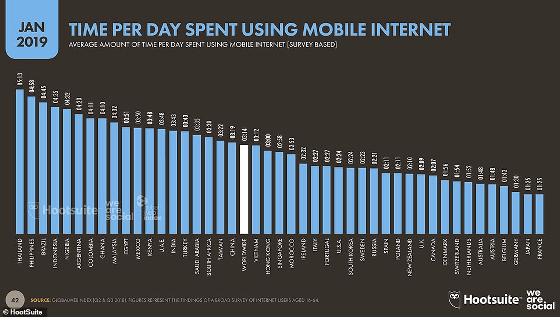 The report states that 57% of the world population is now connected to the Internet, spending an average of 6.5 hours a day online. Simon Kemp, who led the survey, said, "In 2019 the global digital community will spend a total of more than 1.2 billion years on the Internet."

It is also shown that most of the Internet is access from mobile devices. The rate of increase in new users is also accelerating, more than 360 million people use the Internet for the first time in 2018, with an average of 1 million per day.

Internet use by computers and tablets from 2014 to 2018 is decreasing ... ...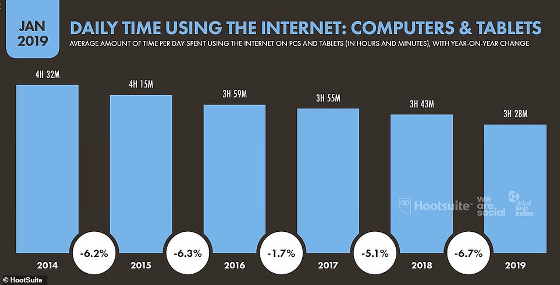 On the other hand, it was shown that mobile terminals are increasing.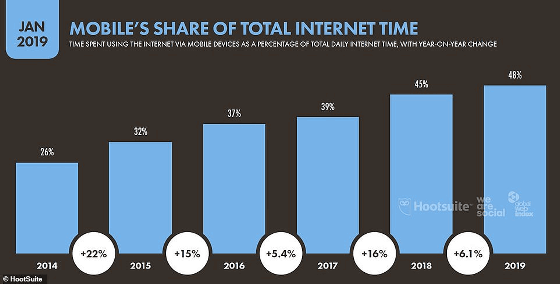 In 2018, the country where there was a particularly leap in using the Internet is India. In India, Lynch Murder by people who believed in fake news of kidnappers occurred , etc. There are multiple occurrences of cases based on false information on social media, which is a problem.
in Mobile, Posted by darkhorse_log