I have eaten 'Matsutake mushrooms and kaki no Tamebowen' which can enjoy both fragrant high-grade pine-mushrooms and plenty of umami 'kaki' in one cup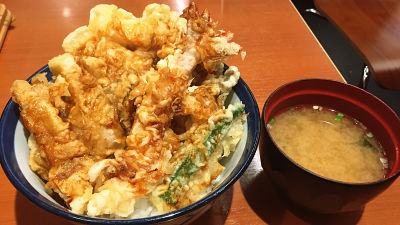 Tempura with two pieces of "Matsutake", which is a representative of Autumn's taste, and Tempura of the seafood "Kaki" filled with tight juice, served with Dodon together with Ebaya Okra, Squid and Yuzu noodles The name " Matsutake and Takinori on Taika " appeared on September 27, 2018 in "Tenkonedoron". I have eaten a dish that you can taste the taste of winter together with the taste of autumn as soon as possible.

Matsutake mushroom and oyster bowl of tempura | limited time | in-store menu |
http://www.tenya.co.jp/menu/season/season01.html

A bowl of rice which is perfect for the fall of taste appears on Thursday, 27th (Thursday) "Matsutake mushroom" and a juicy "Kaki" luxuriously tasting with W "Matsutake mushrooms and kaki's bowls" + "Matsutake mushroom all-star bowl" Kakizodori Bowl "Popular" Meat Tanpo Series ", Saga's brand chicken appeared" Footed red chicken bowl "
(PDF) http://www.tenya.co.jp/release/pdf/info180921.pdf

Arrived at Tennenbara Taya.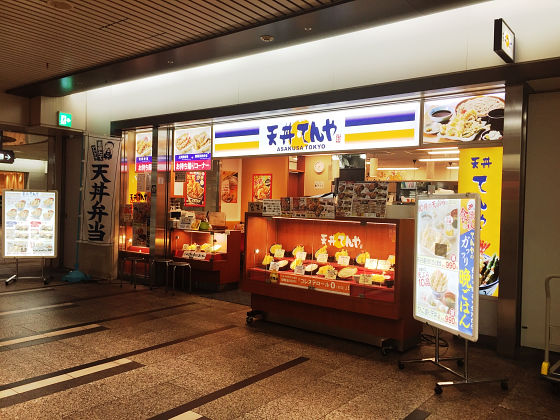 On top of the shop front showcase are "Matsutake mushroom and Kaki no Tairmakers" as well as "Matsutake Mushroom All-Star Tankan" and "Kakuten Tenkoron" that appeared the same day as well as "Footed Aka Tentern Bowl" There was a flyer of the day.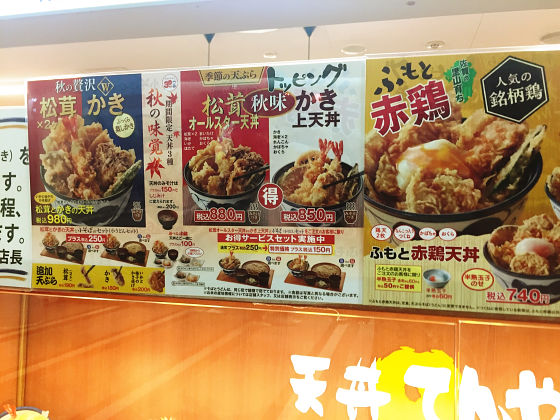 I entered the shop and ordered "Matsutake mushrooms and kaki noodle bowl" (with miso soup and tax included 980 yen) at once. It was carried in about 5 minutes.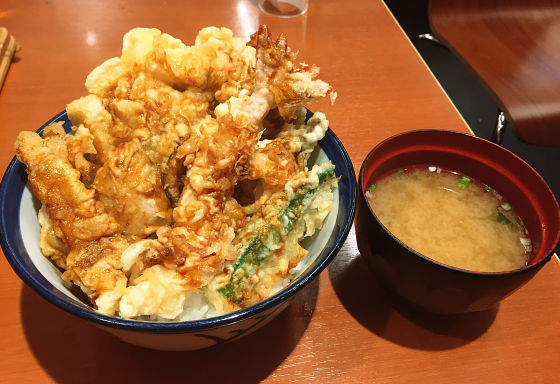 A lot of tempura served with dodon on a bowl. Although it is hard to distinguish slightly, six kinds of fried citrus fruits, squid and fried citron, × 2 matsutake mushrooms, shrimp, shrimp, mushrooms and oats are served from the back.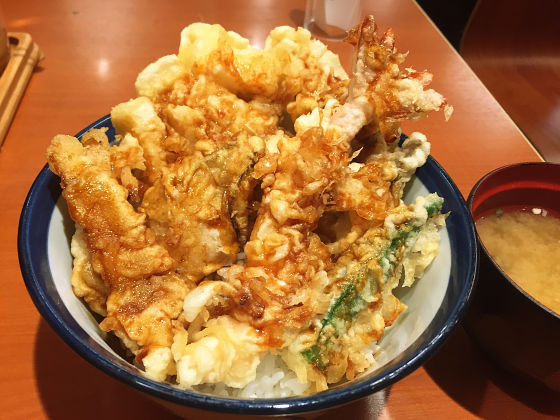 Whatever, I will eat "Matsutake" first. Although it is not to say "even if you are away it will be a messed up", if you pick it up with chopsticks you will feel the fragrance of Matsutake mildly.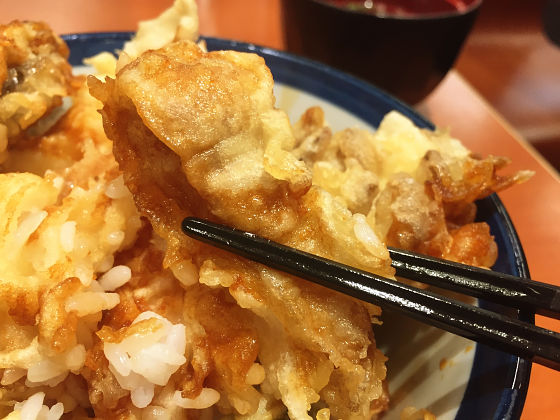 Try eating a bite, this is certainly matsutake itself. It makes me feel obediently "delicious" by the fragrance of freshly crushed clothing and the smell of matsutake.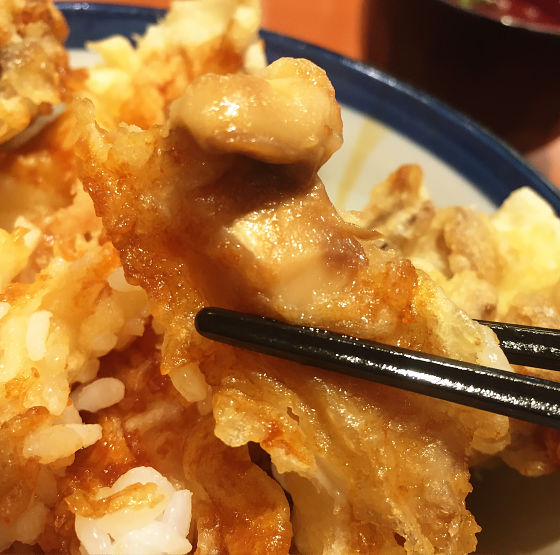 Next, a bite of "kaki".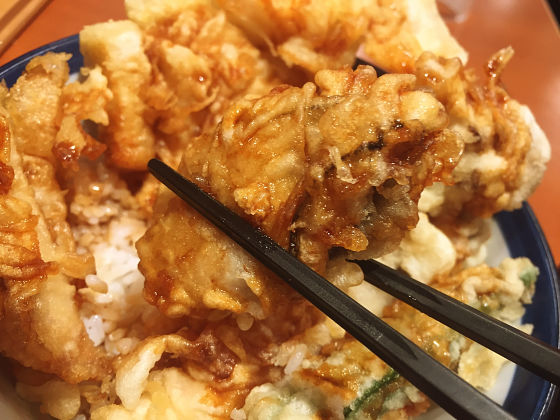 Tempura which has "tempura" "steamed kaki" is tempura whose taste is tight and the umami is confined, chewy overflowing with umami. It was bigger than I had imagined and it was a solid scoop, so I felt somewhat impressed.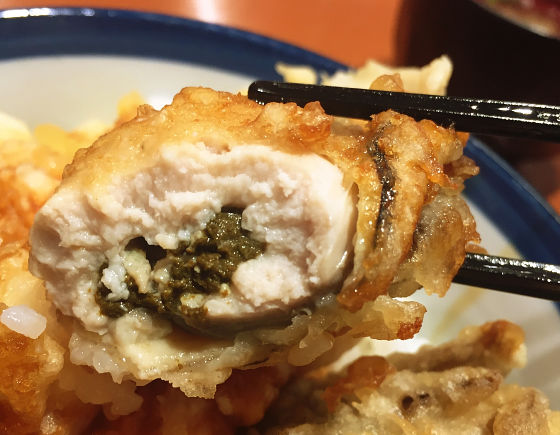 "Miutake" is a dish that makes me feel a good scent again.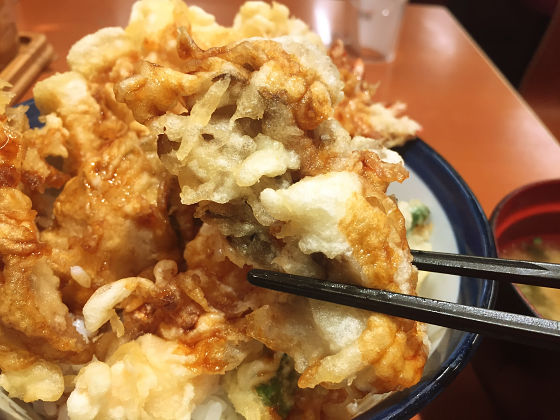 We can also enjoy the taste of texture and stickiness which is hokuhoku, "Oira" that it was promoted to a new regular of Tennonbara Tanya.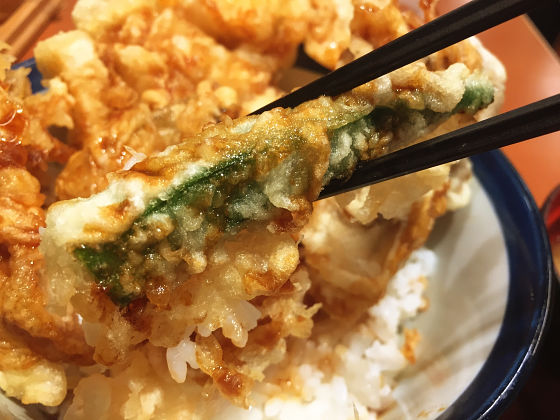 The royal road of tempura, "shrimp" was a dish that you can enjoy the texture of the dish while shrinking.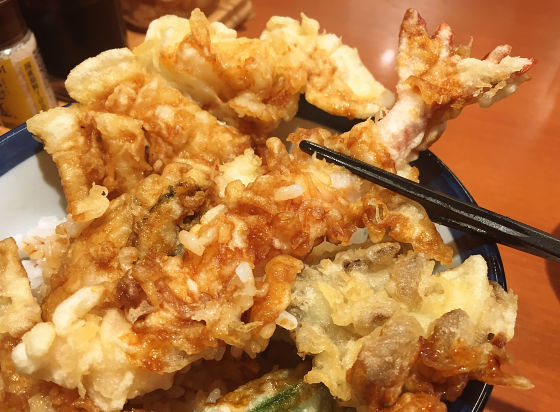 And, it seems to be said that the hidden leading role was the first to appear and "Squid and How to Cook Yuzu".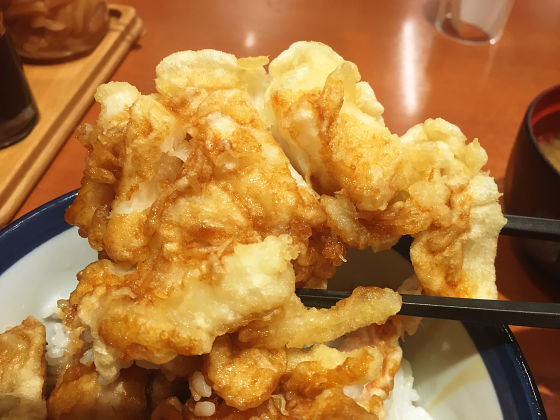 When I ate a bite, the fragrance of Yuzu drifted with Fuan in the texture and flavor of what I wanted to purr and it was finished in a very elegant taste. For the editorial staff who was in charge of tasting, this combination was the first experience, but it is a dish that is surprised to be "compatible with this sort of fun !?", it is a name supporting role supporting two tops, namely matsutake and kaki from behind He had an outstanding presence as the third leading role.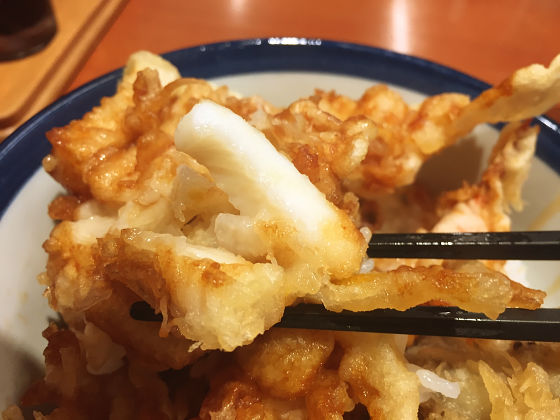 Four items such as "Matsutake and Takinori" are scheduled to be offered as limited menus until November 14, 2018 (Wednesday), 2018, at all restaurants except the following shops.

· "Matsutake mushrooms and oyster mackerel rice bowl" "Matsutake mushroom all-star bowl of rice bowl" "Kakiden Tenkoron" : Tokyo Racecourse store · Haiyattata PA store · Uesato SA store · New Chitose airport store · Asakusa Kaminarimon store · Ohufu branch (opened on October 4 ) · Fukushima south bypass store (open on 10/5)
· "Footed red chicken bowl" : Tokyo Racecourse store · Haiyattata PA store · Kamisato SA store · New Chitose airport store · Haneda airport first building · Haneda airport second building · Kariya Highway Oasis Kintetsu Park House store · Asakusa Kaminarimon store · Ouchu shop (opening 10/4) · Fukushima south bypass store (opened 10/5)