I tried Godiva's "Mixed Chocolate Strawberry" etc. which the exquisite fusion of strawberry sweet and sourness and richness of white chocolate fulfilled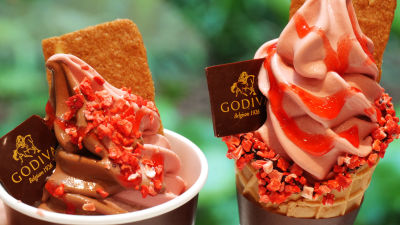 Godiva is called dry strawberry and strawberry sauce, strawberry double use "Chocolate white chocolate strawberry & violet chips"And a soft cream that white chocolate and strawberry blend together"White chocolate strawberry"Mixed chocolate strawberry"Has appeared for a limited time. As the temperature suddenly rose and it began to become a time when I wanted a cold sweet, I ate three kinds of new menu of Godiva.

Luxurious chocolate drink in love with strawberry "Chocolate white chocolate strawberry & amp; violet chip" ~ Limited time sale from Wednesday, April 11, 2018 (Sunday) September 30 ~
https://www.godiva.co.jp/onlineshop/NewsDetail?seqNo=397

GODIVA | Product Catalog - Soft Creamhttps://www.godiva.co.jp/items/softcream.html

Arrived at Godiva.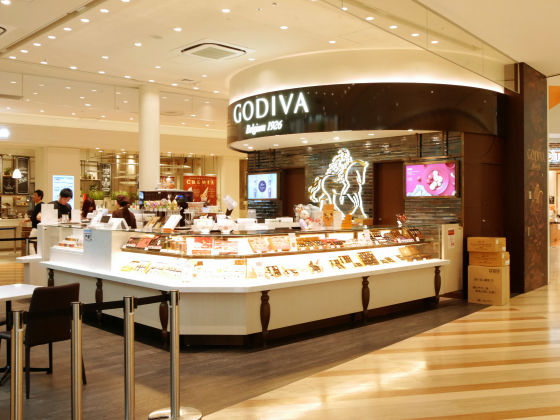 I ordered "Mixed chocolate strawberry" and "White chocolate strawberry" (tax included 510 yen each). Since you can choose between a cup and a cone, the mixed chocolate strawberry chose a cup and the white chocolate strawberry chose a corn.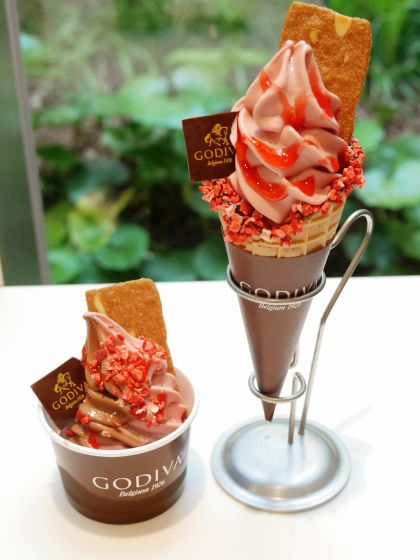 This is like comparing the size of white chocolate strawberry with the 138.1 mm iPhone 6.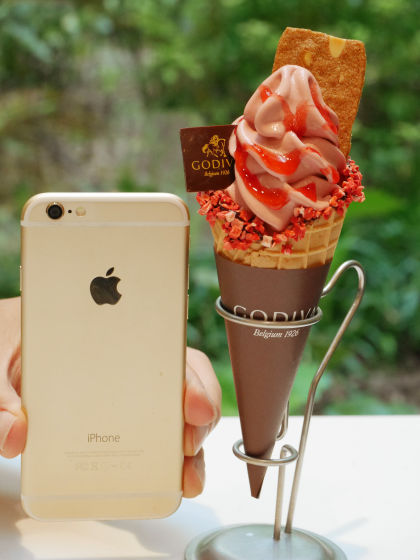 Strawberry soft cream is a lot of light pink color, and Godiva's soft cream is slightly dark shade. A lot of strawberry sauce is put on it.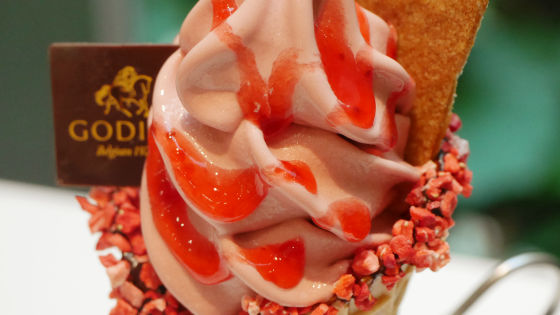 It was an image that Godiba = rich, but when I tried it I felt the sweet and sour taste of strawberry and the mellowness of white chocolate in a very good balance, and it was rich, although it could not go as far as "rich" is. The soft cream itself is a mellow sweetness, but since the acidity of the strawberry sauce is solid, there is no mockery like "Ichigo Milk" and you can enjoy the flavor of the strawberry itself.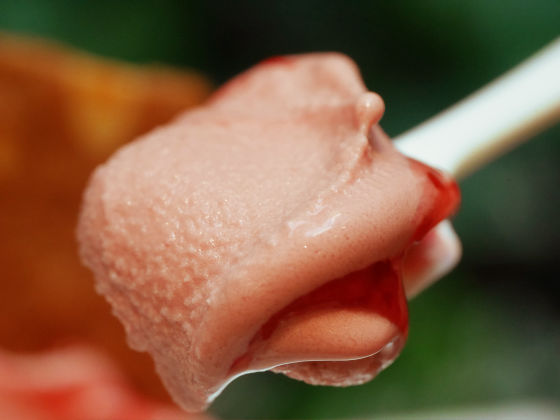 A plate of chocolate with Godiva's logo drawn ......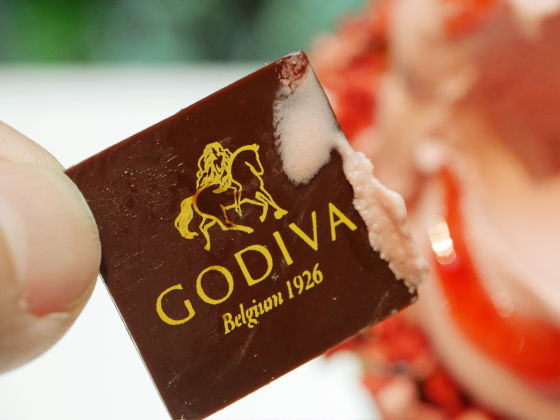 Although it was not in the picture of the official page, the crispy cookie was also topped.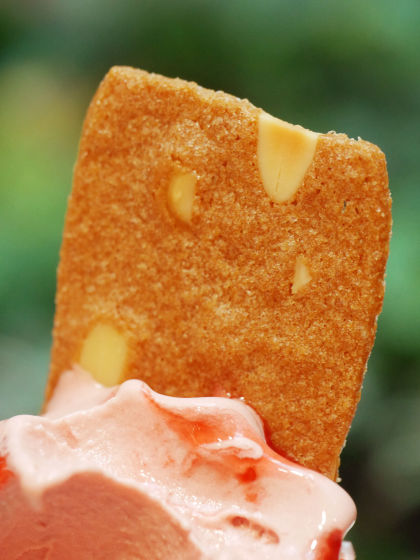 On the edge of the waffle corn was chocolate and sweet and sour dry strawberries. This chocolate is rich in feeling that it is "Godiva ......" The richness of chocolate and the acidity of strawberries added accents to the soft cream.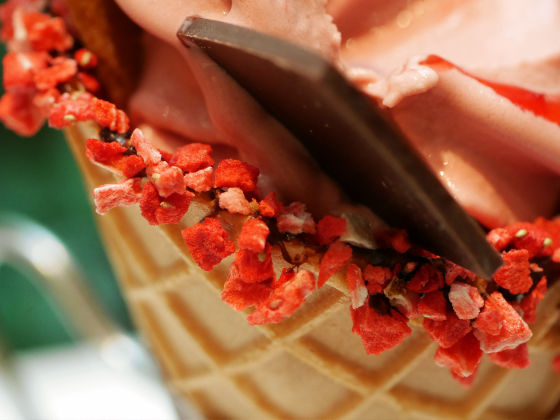 Next I will eat mixed chocolate strawberries as well. This is a combination of white chocolate strawberry and "double chocolate" using two kinds of dark chocolate.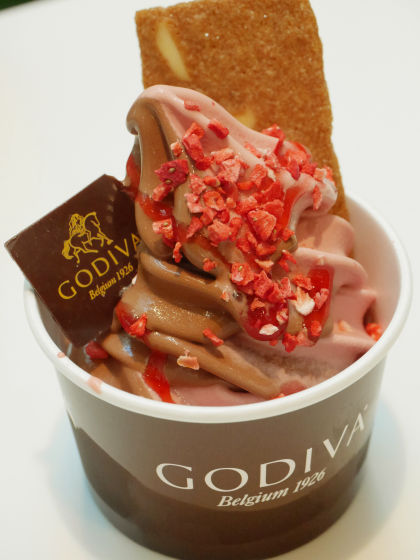 Because double chocolate is a soft cream that makes you feel bitter and rich and rich in chocolate firmly, when you eat it with a mixed chocolate strawberry, the mixed chocolate strawberry slightly loses a slight taste. If you eat separately you can enjoy two tastes better, but if you want to enjoy strawberry it might be better not to mix. Because there is no corn, dry strawberry is directly applied to soft cream, and sweet and sour is added.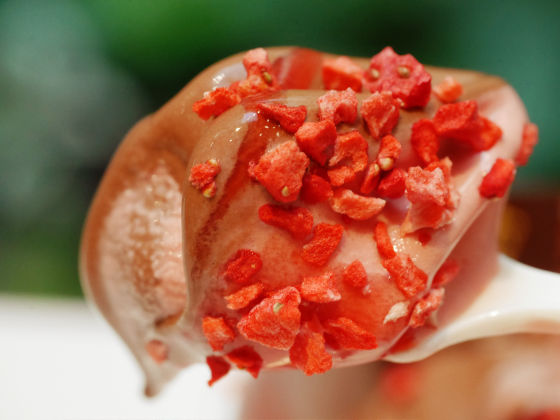 I also ordered "Chocolate White Chocolate Strawberry & Violet Chip" (600 yen including tax) that appeared from the same day.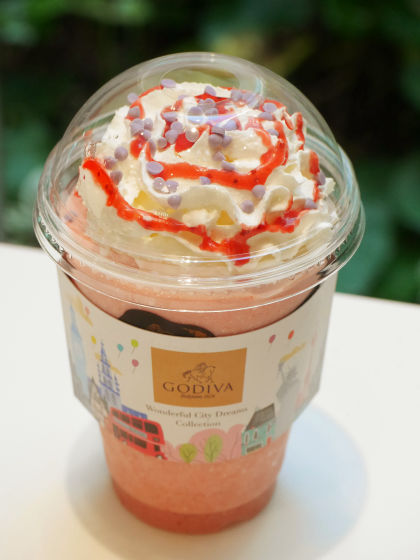 It is about the same as the iPhone 6 with a lid, somewhat smaller size.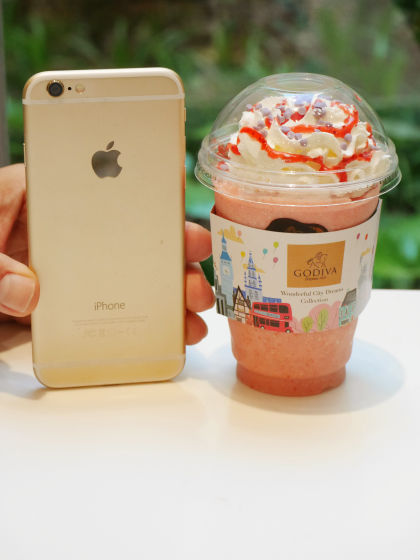 Strawberry sauce and violet chocolate chip on top of whipped cream.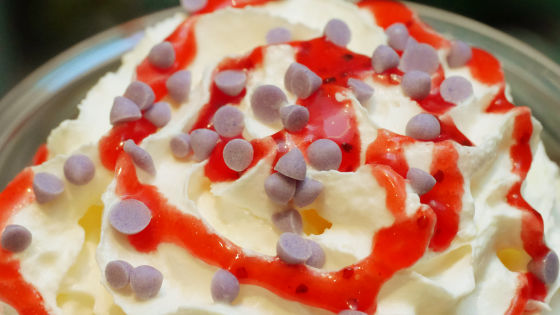 When I drank it, I felt that sourness was somewhat stronger and more refreshing sweet and sour taste of strawberry was recreated, compared to soft creams with noticeable sweetness and richness.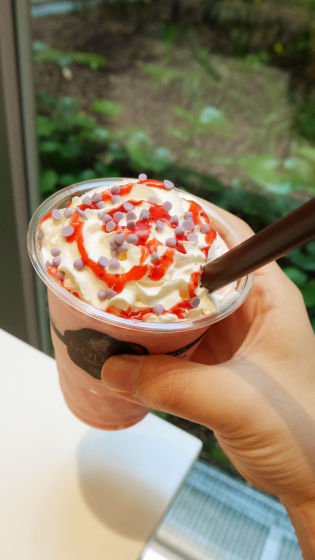 The whipping cream has a light taste and a gentle taste of milk. The violet chocolate chip was the taste of normal white chocolate.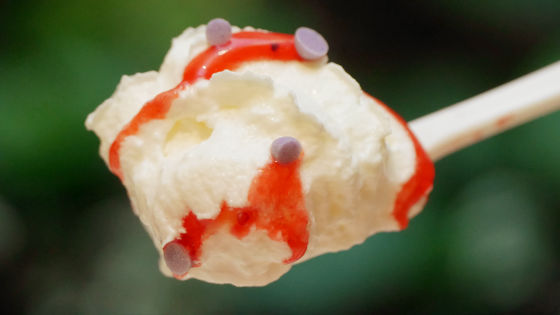 Drinks contain crushed dry strawberries, which seems to be the reason for this strong feeling of strawberries. Also, crushed white chocolate was included, and the chocolate grains melted in the mouth gradually, so that the aroma of white chocolate friendly to the aftertaste remained. White chocolate Strawberry seems to be said to be a unique taste of godiva, as chocolate elements are a little weak, so that chocolate can taste the refreshing strawberries and the mellowness of chocolate at the same time.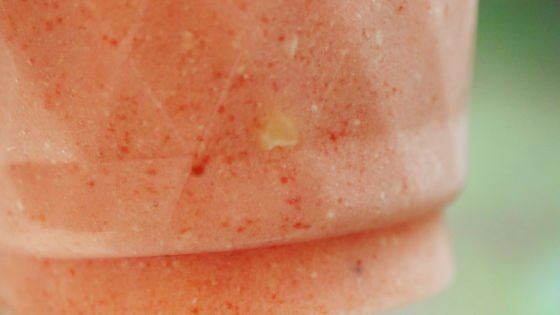 "Chocolate white chocolate strawberry & amp; violet chip" will be offered for a limited time until September 30 (Sun). "White chocolate strawberry" "Mixed chocolate strawberry" is until June 30, but it is said that it will end as soon as it disappears. There are some chocolate and soft cream depending on the shop, and it is possible to check from the following page.

Godiva Store Search | Godiva (GODIVA) Official Site
https://www.godiva.co.jp/boutique/