I have eaten three new sweets of strawberry sweets at Sushiro of revolving sushi such as "Strawberry parfait" using 14 strawberries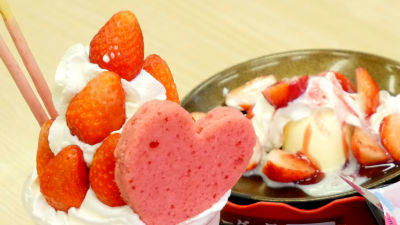 Authentic apple pieYaParfait with Black ThunderAs a sweet sushi restaurant Sushiro aggressive in sweet development, new sweets using strawberries "Strawberry too parfait"And collaborated with Fujiya"Strawberry Milky Roll"And vanilla ice which topped with raw strawberries"A lot of fresh strawberry Melba"Has appeared on March 14, 2018. Among them, the parfait which is too strawberry is said to be a luxurious parfait that uses 14 strawberries, so I got tasted the taste of spring at a quick rush.

Spring Strawberry Sweet Fair | Sushi Rotary Sushiro
https://www.akindo-sushiro.co.jp/campaign/strawberry/#/boards/d9d5ba0f-0914-446c-97e6-daf920f78825

Arrived at Susirow.



Because it was before dinner, the inside of the store was vacant. When guided by the seat ......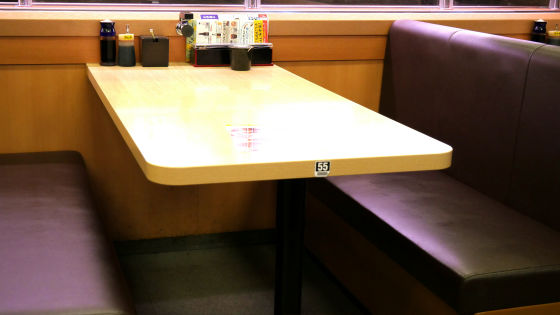 I will order 3 items of strawberry's new sweets on the touch panel. Three new items of strawberry sweets are said to have appeared as a "Spring Strawberry Sweet Fair" campaign.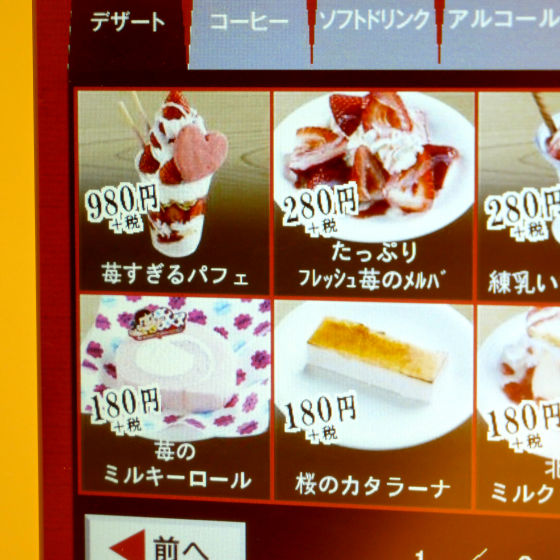 A new strawberry sweet arrives in about 5 minutes.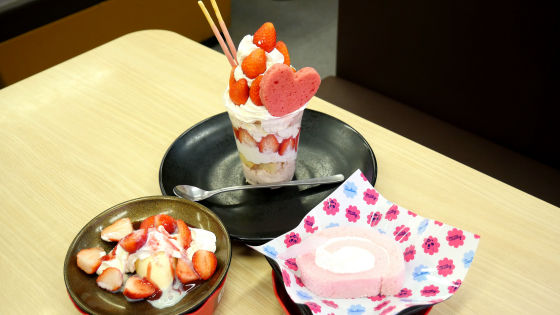 First I will eat it from a strawberry parfait (1058 yen including tax).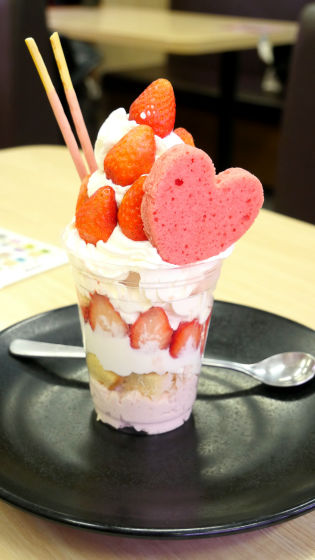 The height of a strawberry parfait is 1.3 times higher than the iPhone 7 with a long side of 138.3 mm.



A whip cream with a heap over the cup. Raw strawberries are boldly put on it.



A pink sponge cut into a heart shape is also topped.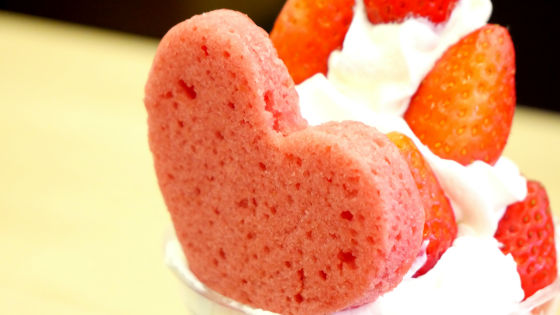 Looking through the cup from the side, whipped cream and strawberry ice, cornflakes, cut strawberries, sponge, and strawberry cream draw layers.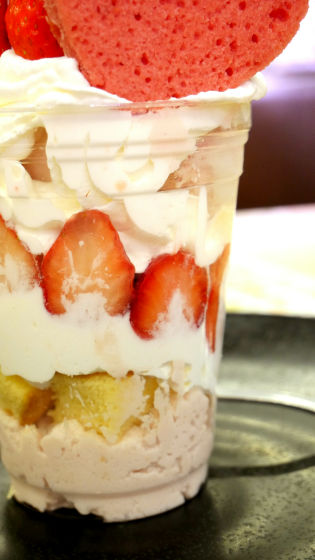 Raw strawberries are refreshing in sweetness and sourness.



Under the strawberry there is a smooth whipped cream and sweet and sour strawberry ice ......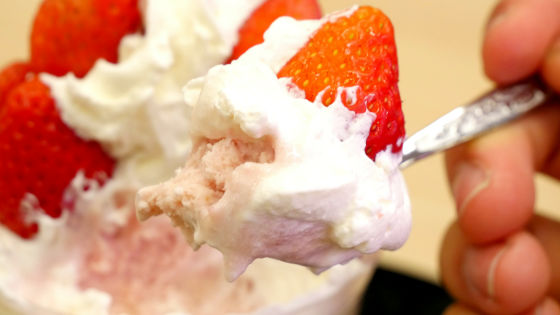 As you advance on eating, you can enjoy a variety of tastes and textures, such as strawberries cut further, cornflakes with crisp texture, and strawberry whipped cream. The café packed full of cups has a volume, so even a single item can swell out of stomach so it may be better to order it as a single item or "I do not want something a little" rather than dessert at a time when you are full with taste Hmm.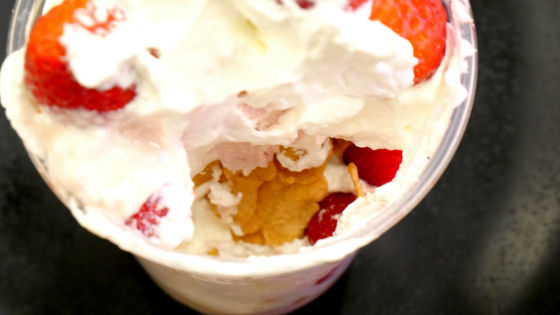 Next, I will eat strawberry milky roll (194 yen including tax).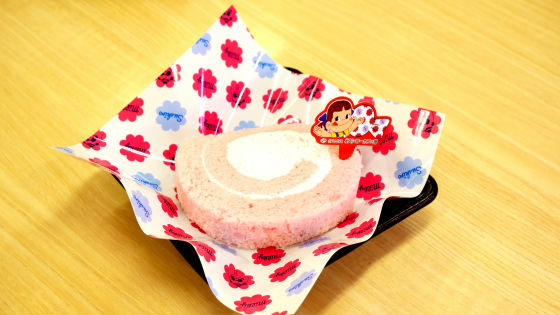 Size is like this when compared with iPhone 7.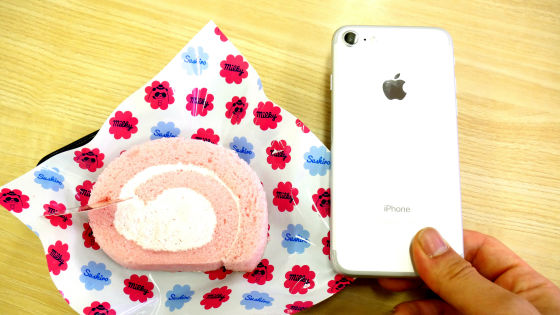 "The second collaboration sweet with Fukuya's Peko-chan", strawberry sauce and condensed milk are used for the material.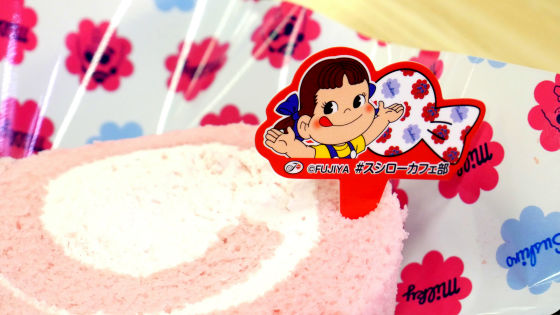 When I try to eat, a sweet cream combines into a light fabric that smells of strawberries, and a slight sour taste is given to the aftertaste.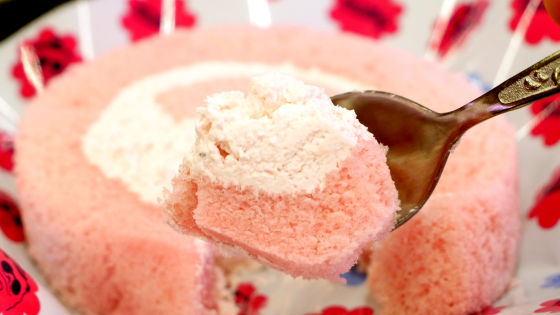 At the end, I will eat plenty of fresh strawberry melbas (302 yen including tax). This sweet is a thing that the "fresh strawberry Melba" provided by Sculil in the past power up and came back.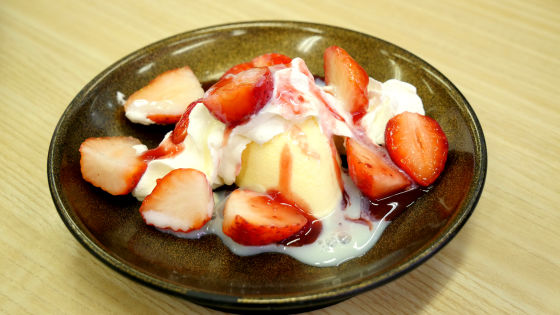 Compared to the long side of iPhone 7, it is like this.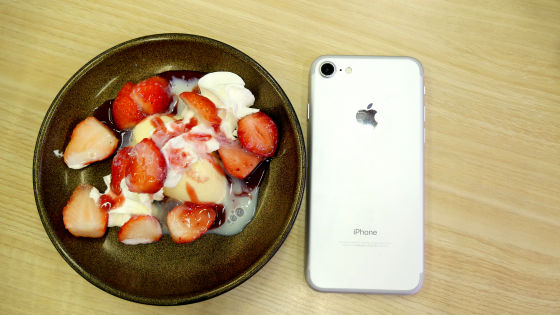 The cut raw strawberries are topped with vanilla ice and condensed milk is applied from the top.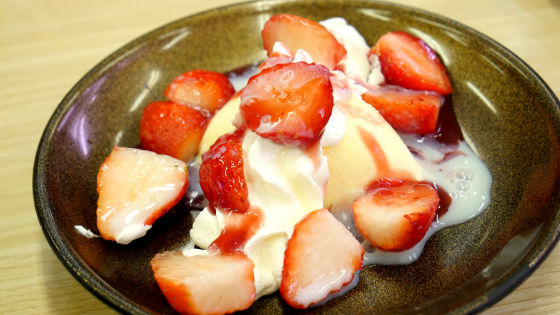 When I try to eat it, cold vanilla ice adds rich to sweet condensed milk and strawberry sour and pulp. Vanilla ice was outstandingly compatible with the classic combination of condensed milk and strawberry.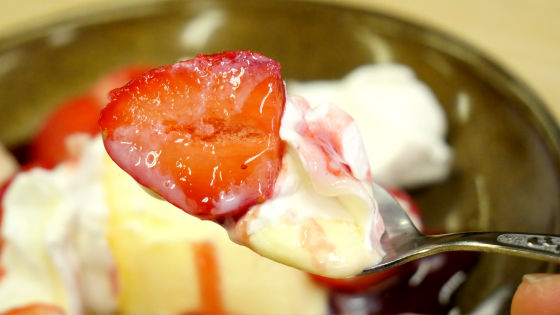 "Strawberry too much parfait", "plenty fresh strawberry Melba", and "strawberry milky roll" is a limited-time menu. You can order at each store in Sushiro nationwide. Please note that "Strawberry too much parfait" and "Plenty fresh strawberry Melba" are menus that can not be taken out.