Russia World Cup combination decided, Japan is the same group as Poland, Senegal, Colombia, the first game is Colombia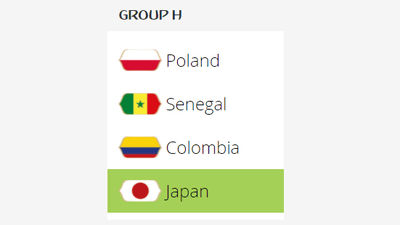 It was held in Russia from 0 o'clock on Saturday, December 2, 20172018 FIFA World CupAt the group league combination lottery, Japan was divided into the same group as Poland, Senegal, Colombia.

2018 FIFA World Cup Russia ™ - Final Draw - 1 December 2017 - FIFA.com
http://www.fifa.com/worldcup/final-draw/#draws

The lottery venue is quite gorgeous like this. At the draw ceremony, Russian President Vladimir Putin entered and greeted.

#WORLDCUPDRAWLIVE BLOG!

We're building up to the drama in Moscow, where the 3 ⃣ 2 ⃣ teams set for the# World Cupwill discover their groups.

Get exclusive insights, pictures, behind the scenes access and more!

Join us!https://t.co/6JWLwwqEOZpic.twitter.com/pMzTzcrgho

- # WorldCupDraw (@ FIFWorldCup)December 1, 2017

◆ Group A
Russia
Saudi Arabia
Egypt
Uruguay

◆ Group B
Portugal
Spain
Morocco
Iran

◆ C set
France
Australia
Peru
Denmark

◆ Group D
Argentina
Iceland
Croatia
Nigeria

◆ Group E
Brazil
Switzerland
Costa Rica
Serbia

◆ F group
Germany
Mexico
Sweden
Korea

◆ Group G
Belgium
Panama
Tunisia
England

◆ H pair
Poland
Senegal
Columbia
Japan

Japan will be in Colombia in the opening round, Senegal in the second race and Poland in the third race. Speaking of Colombia, I became the same group at the Brazilian World Cup in 2014, and if I win in the final race it was a breakthrough of the group league, but it will be the partner who lost the defeat.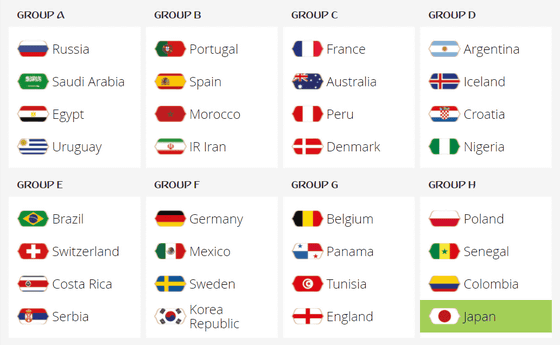 The methods of combination drawing etc were as follows.

The Final Draw: How it works - FIFA.com
http://www.fifa.com/worldcup/news/y=2017/m=11/news=the-final-draw-how-it-works-2921565.html

There are 32 countries participating in the Russian World Cup, and in the drawing a draw will be divided into 8 groups of 4 countries. Grouping was not completely randomly decided but was announced in October 2017FIFA rankingIt is divided into "pots" decided on the basis of. Pot division of 32 countries participating in the World Cup is as follows.

◆ Pot 1
Russia (host country)
Germany
Brazil
Portugal
Argentina
Belgium
Poland
France

◆ Pot 2
Spain
Peru
Switzerland
England
Columbia
Mexico
Uruguay
Croatia

◆ Pot 3
Denmark
Iceland
Costa Rica
Sweden
Tunisia
Egypt
Senegal
Iran

◆ Pot 4
Serbia
Nigeria
Australia
Japan
Morocco
Panama
Korea
Saudi Arabia

In the group stage division, each country is elected one by one from each pot, and a group consisting of four countries is formed. However, since countries in regions other than Europe are not allocated to the same group as the countries in the same region, Japan in pot 4 will be in the same group as the same Asian Iran (Pot 3) although it is a different pot was.

#WORLDCUPDRAW POTS
Find out where all 3 ️⃣ 2 ️⃣ teams have been placed in the four pots for next month's draw in Moscow!
️https://t.co/t4xX0mnhccpic.twitter.com/lZj4NPlCt3

- # WorldCupDraw (@ FIFWorldCup)November 16, 2017
in Note, Posted by logu_ii