Twitter begins labeling accounts of government officials in each country, including Japan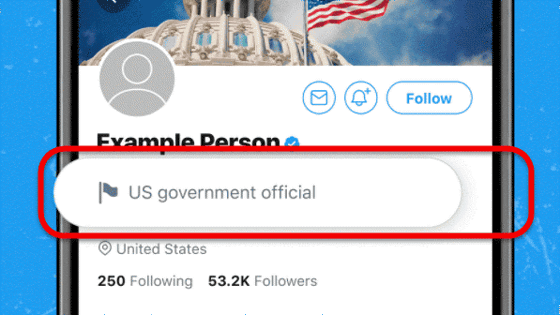 On February 11, 2021, Twitter announced that it will label the accounts of government officials in 16 countries, including Japan, in order to increase transparency in SNS where the spread of false information is a problem.

Expanding our work to identify state-affiliated accounts

https://blog.twitter.com/en_us/topics/company/2021/account-labels-phase2.html
When it comes to conversations with government and state-affiliated media accounts on Twitter, we're helping to make the experience more transparent.

We'll now use two distinct profile labels for these types of accounts, so you can easily identify them and their Tweets. (1/2) pic.twitter.com/JW67o422MO

— Twitter Support (@TwitterSupport) August 6, 2020


In August 2020, Twitter announced that it would label senior government officials' Twitter accounts and state media accounts with the goal of 'increasing transparency.' In this first effort, positioned as Phase 1, Twitter has labeled accounts in five permanent members of the UN Security Council.

Twitter announces labeling of government officials and state media accounts-GIGAZINE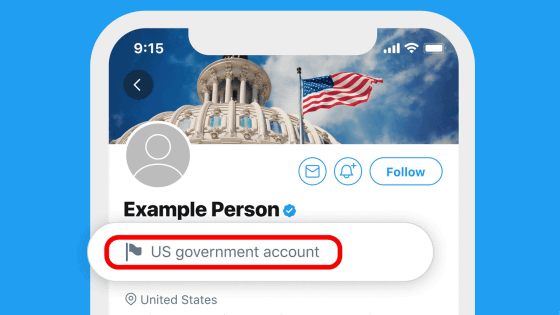 And on February 11, 2021, Twitter announced that it will move this labeling work to Phase 2 and cover countries other than the above five countries. The following countries, including Japan, will be labeled during Phase 2.

·Canada
·Cuba
・ Ecuador
·Egypt
·Germany
・ Honduras
·Indonesia
·Iran
·Italy
·Japan
·Saudi Arabia
·Serbia
·Spain
·Thailand
·Turkey
·United Arab Emirates

Labeling will be done by government officials, including foreign ministers, government agencies, ambassadors, government spokespersons, and diplomatic leaders, with particular focus on those who represent high-ranking government officials and the voice of the country. .. In addition, personal accounts of representatives of countries that fall under Phases 1 and 2 are also subject to labeling.

Twitter has taken the next steps as 'labeling national media in countries that fall under Phase 2' and 'expanding labeling outside of the above countries.' As a result of confirmation, at the time of writing the article, the accounts of major government officials including Mr. Toshimitsu Motegi were not yet labeled.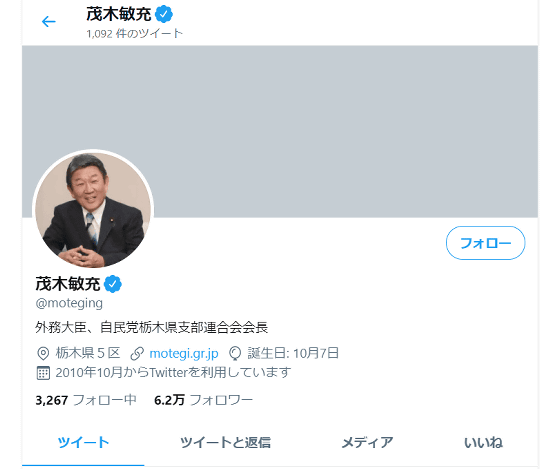 ・ Added on February 18, 2021:
Twitter Japan announced that it will start labeling in Japan as well, saying, 'We will expand the label for accounts associated with national authorities.'

Expanded efforts to identify government and national media accounts

https://blog.twitter.com/ja_jp/topics/company/2021/account-labels-phase2.html
Starting today, Twitter will expand the label for accounts associated with national authorities. This rule also applies to personal accounts representing the target country. Please see the blog below for details. https://t.co/zj2d0C4ikU

— Twitter Japan (@TwitterJP) February 18, 2021


As of February 12, Toshimitsu Motegi's account, which had not changed in particular, also displayed the words 'Japanese government officials.'