Twitter begins testing bot accounts to label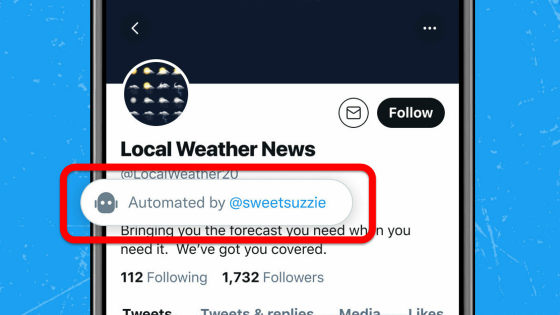 The account that automatically posts SNS is called a 'bot account', but Twitter revealed that it is testing the labeling of bot accounts newly on September 9, 2021 local time.

About Automated account labels

https://help.twitter.com/en/using-twitter/automated-account-labels
Twitter is beginning to test labels for bot accounts --The Verge
https://www.theverge.com/2021/9/9/22665748/twitter-automated-account-bot-labels-tweets-test
The official Twitter account posted, 'What's a bot and what's not? We'll make it easier to identify #GoodBots and their automated tweets with a new label.'
What's a bot and what's not? We're making it easier to identify #GoodBots and their automated Tweets with new labels.

Starting today, we're testing these labels to give you more context about who you're interacting with on Twitter. Pic.twitter.com/gnN5jVU3pp

— Twitter Support (@TwitterSupport) September 9, 2021


If you look at the posted image, you can see that the account profile shows 'Automated by @ ○○' and the account that runs the bot.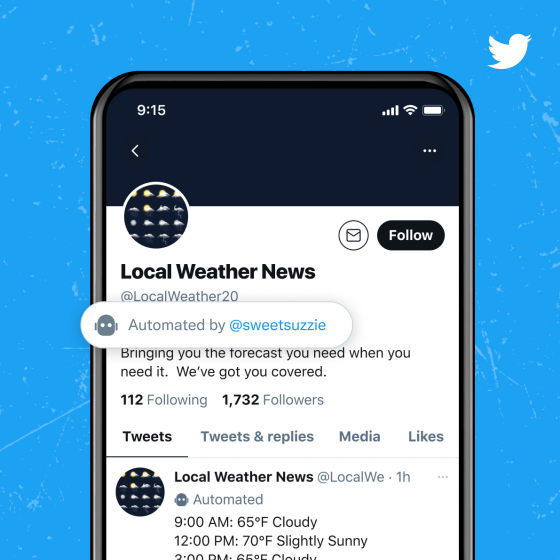 Also, each post also shows the words 'Automated' under the username and account name.



In the FAQ, Twitter said, 'Some of the automated accounts users see on Twitter include bots that help them find vaccine reservations and early disaster alert systems. Showing 'is' makes it easier for users to understand their purpose when they come into contact with their account. ' Bot may be used for misinformation and spam distribution, but Twitter newly labels it as a 'good bot' instead of spam. Twitter said labeling makes it easier to distinguish between good bots and spambots and increases transparency.

The bot label is being tested by invitation at the time of writing the article, and is being used by a small number of developers. Twitter states that all developers will have access to the above features by the end of 2021.