Japan national football team wins Colombia at the World Cup Russian Tour first round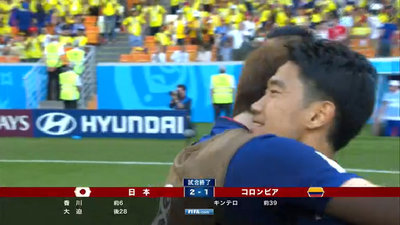 In the 2018 FIFA World Cup (World Cup) Russia that began on June 15, 2018, the first game between Japan and Colombia was held and Japan won 2-1 in the first game.

Schedule · Results | 2018 FIFA World Cup Russia | SAMURAI BLUE | JFA | Japan Football Association
http://www.jfa.jp/samuraiblue/worldcup_2018/groupH/match_page/m16.html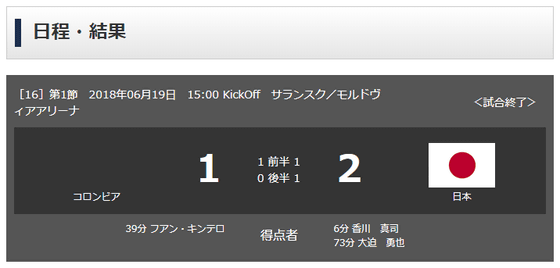 Collaboration MF Carlos Sanchez who got the opportunity of the game just after the game started to prevent the shot with his arms will be issued a red card. Makashi Kagawa decided exactly the PK obtained by this foul play early.

However, it was pushed by the Colombian attack that was reduced to 10 people, and it was decided the FK given by the foul and equalized.

The game returned to the launch, Japan launched Keisuke Honda instead of Kagawa in the second half. When Yoshiya Osaku combines his head with FK from Honda and took a winning point, he defended this one point and has won the World Cup victory since the 2010 Games.

Group H to which Japan belongs will be played against Poland v. Senegal from this time on June 19, Tue (Tue) at 24 o'clock (0 o'clock on the 20 th) in 2018. The next game in Japan is from Sunday, June 24th (Sunday) 24th (25th 0 o'clock) against Senegal.
in Note, Posted by logc_nt