Paraguay breaks Japan at the end of 5-3 in the World Cup finals tournament first round, Japan vs Paraguay rushing into PK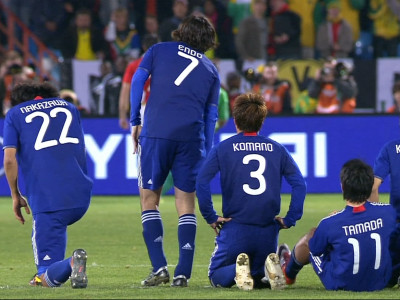 In the World Cup qualifying roundAgainst Cameroon,Against DenmarkThe Japanese national football team who won the second victory challenged the first round of the finals tournament with Paraguay night on June 29 (Tuesday). The game remained 0-0, and it was not settled even after the extension game, Paraguay won the 5-3 win as a result of entering the first PK game of the contest now.

Details are as below.
Japan challenged with the same starting members as qualifying. In the first half, the ball was dominated by Paraguay and it became the center of defense battle, In the first half 19 minutes there was a scene where Kawarima 's Kawashima sharply prevents Baroti' s shot, but Matsui shoots the cross bar and hits a middle shot and Matsui 's ball from Honda He struck a gap between opponents, such as by releasing a shot from the left side of the frame.

In the latter half both tires looked tired and there was a scene that allowed Paraguay to shoot inside the frame but it fought for 45 minutes and it will enter Japan's first World Cup extension game for Japan.

In the first half of the extension, the scene where Japan is attacked is conspicuous, especially from the first half of the 7th to the 8th minute the mark of the last line has been attacked many times, but Kawashima and the DF team surprised even the hardest. Even though Japan made several chances in the second half, I could not finish my goal because I passed the last pass, and I entered the first PK game of the tournament now.

Paraguay is ahead of PK game. In Japan, the crossbar stopped Komano's third goal on the goal, and in the end Paraguay won the 5-3. For Paraguay this is the first best eight advance. It is a pity that Japan did not lose as he fought for 120 minutes and luck did not turn to the end of the last.

Postscript: "Quarterfinals" is the next one, as I was still in the final round of the finals tournament so I modified the title and contents.
in Note, Posted by logc_nt