Currently Zak Japan is seen from overseas media like this, as ahead of the 2014 FIFA World Cup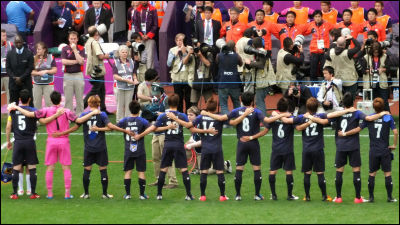 ByClive

In the year 2014, it is the World Cup holding year every four years, in the period from June 12 to July 13, in Brazil2014 FIFA world cupWill be held. ItalianAlberto ZaccheroniJapan national team led by Zakku Japan (also known as Zak Japan) has decided to participate in this competition,At the 2010 South Africa GamesIt is expected to have better results than.

Some teams will play with a European team of strong teamsShinji Kagawa·Yuuko Nagatomo·Keisuke HondaThere are players such as,Draw 2-2 with the NetherlandsOrWin 1-0 in FranceI'm doing a good fight against the world's strong country. When living in Japan it is common to see Zakujapan evaluation of domestic media only, but how is it seen from overseas media?

◆ Daily Star

World Cup 2014 Japan Team Profile | World Cup 2014 | Sport | Daily Star. Simply The Best 7 Days A Week
http://www.dailystar.co.uk/world-cup-2014/354310/World-Cup-2014-Japan-Team-Profile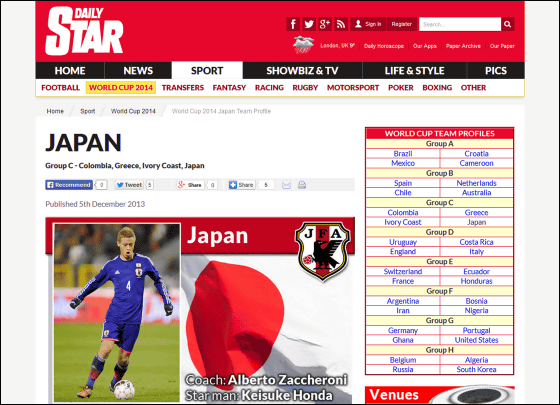 BritishDaily Star"Zack Japan shows that it is a team that can fight even the opponent of a strong country through multiple games." However, in Zac JapanCenter backThe position is especially fragile, and when confronting the first-class athlete it is pointed out that this position will cause the team's defeat, andCenter forwardWe also describe that athletes have not appeared enough.

As a star player in Zac Japan, he stated Keisuke Honda, "Honda is a great leader who leads a team mate in play, and his dribbling is indispensable in the pass soccer-oriented modern era." . Furthermore, "You can expect far more interesting football than four years ago,Do not be satisfied with the best 16 of the tournament"We felt high evaluation for Zac Japan.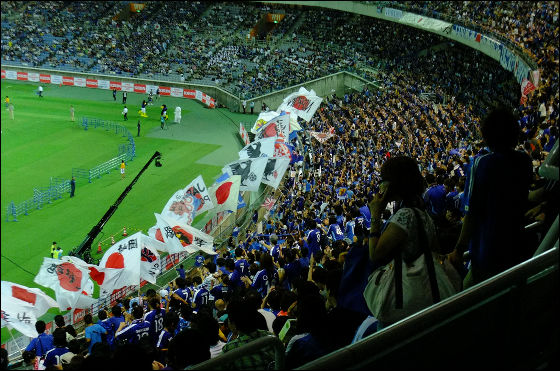 ByJames

◆ Daily Mail

World Cup 2014: Your guide to Group C with Colombia, Ivory Coast, Greece and Japan | Mail Online
http://www.dailymail.co.uk/sport/worldcup2014/article-2518995/World-Cup-2014-Your-guide-Group-C-Colombia-Ivory-Coast-Greece-Japan.html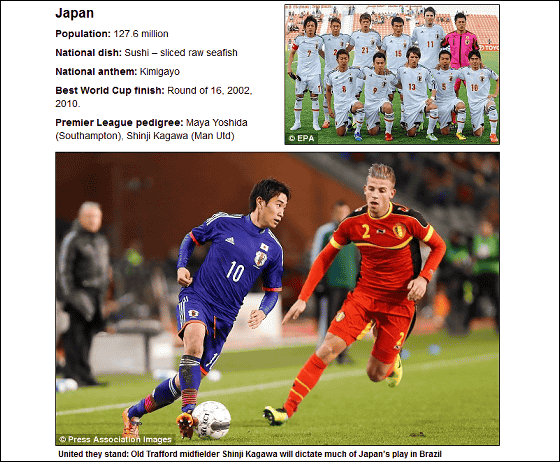 Of the oldest tabloids in the UKDaily MailMr. Kagawa introduces Shinji Kagawa as a player who can kick out a wonderful pass and a good free kick with midfielder Keisuke Honda with a high potential for creative vision and attack.

And for Zack Japan as a whole it is evaluating "side attacks that run well and Italian defense consciousness brought by Zaccheroni"A difficult partner to winAlso described.

◆ Guardian

Confederations Cup: Five things we learned | Jonathan Wilson | Football | theguardian.com
http://www.theguardian.com/football/blog/2013/jul/02/confederations-cup-brazil-nigeria-spain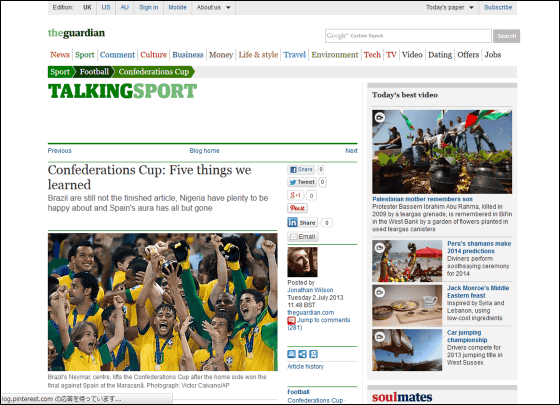 It was held in June of 2013FIFA Confederations Cup 2013, The impression of Zac Japan who participated in this was shown in the UKGuardian"Japan is a top-level national team in Asia, but there is still a difference with the top team of other continents, and the problem of the absence of a top class center forward is still left," We emphasize the difference between the national team and Zac Japan and point out the absence of reliable center forward.

In addition, with respect to Endo Yoshihito who is the center player of Zac Japan, "Endo Yasuhito succeeded in three games of the Confederations Cup, 151 passes, succeed the most pass among the teams that lost in the group stage But it also points out that this pass success number indicates that the handling of his ball is a bit too cautious ", and the difference in power with a strong country is still big, and To fill up the differenceRisky playI am trying to do it.


BySimon Williams

◆ Independent

World Cup 2014: Your guide to Group C - Colombia; Ivory Coast; Greece; Japan - World Cup 2014 - Football - The Independent
http://www.independent.co.uk/sport/football/international/world-cup-2014-your-guide-to-group-c--colombia-ivory-coast-greece-japan-8989438.html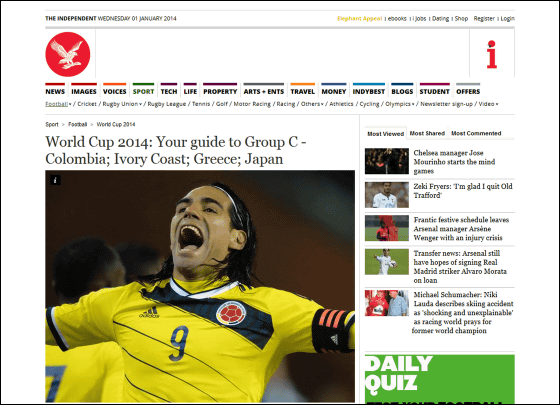 Overseas media attracts a lot of players belonging to the Big Club,An independentAs a cautionary player of Zac JapanShinji OkazakiIs cited. Only the Independent among the six media urged attention to the striker who has recorded eight goals this season and 36 goals in total at the belonging club this time.

◆ Daily Telegraph

World Cup 2014: Blagger's guide to Japan in Brazil - Telegraph
http://www.telegraph.co.uk/sport/football/world-cup/10497458/World-Cup-2014-Blaggers-guide-to-Japan-in-Brazil.html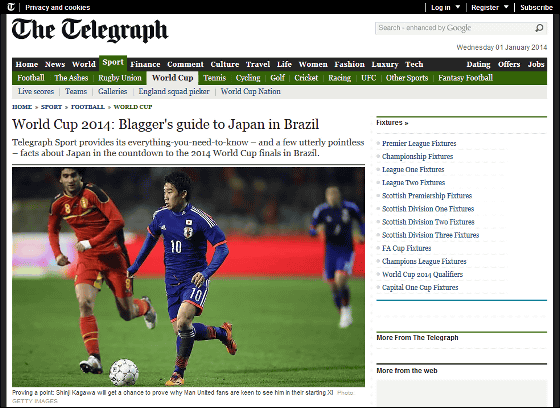 TelegraphSo, we introduce two players such as Japanese World Cup football team record, Keisuke Honda, Shinji Kagawa etc. And for the national team, "Have great skills, speed, make excellent side attacks"We say that.

In addition, the words associated with "Japan" are sushi (30%), karaoke (30%), karate (20%), sumo (10%), and bullet train (10%).

◆ SB Nation

World Cup 2014 Draw results: Group C sees Colombia take on Japan and the Ivory Coast - SBNation.com
http://www.sbnation.com/soccer/2013/12/6/5181934/fifa-world-cup-2014-draw-group-c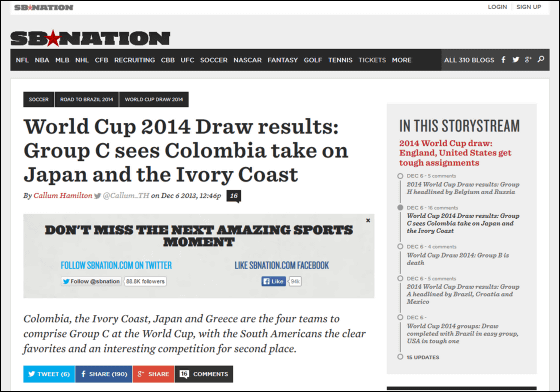 And lastSB NationJapan has been continuously improving his skill since the Japan-Korea World Cup in 2002, making it a more powerful team than before when Keisuke Honda had to play in the forward position at the previous event I evaluate it. In addition, Shinji Kagawa is cited as a new star player who emerged after the last competition.

And although it is said that the game against Cote d'Ivoire will be the biggest number for Zack Japan to break through the group league, the ability of Cote d 'Ivoire and Zac Japan is very balanced,It is very difficult to predict Group C's second place, And we are doing.

Looking at the responses of these overseas media, there are many places that highly appreciate the capabilities of Zac Japan, and in particular, both the players Keisuke Honda and Shinji Kagawa who got nominally globally attract much attention I understand. Also, there are many media that highly appreciate Zack Japan's side attacks, and it seems to be wrong to think that the characteristics of the team are well known. As Zack Japan 's weak point of center forwarding is a lot, it may be that inspiring players in this position will support Zack Japan' s pleasure.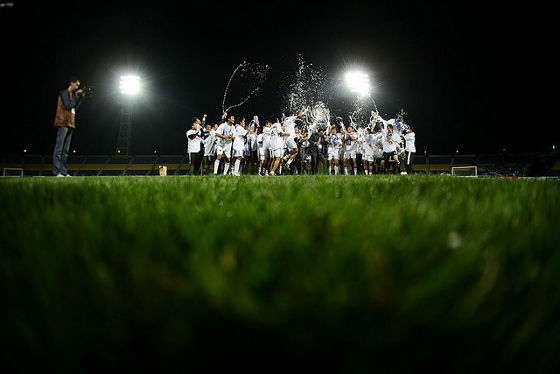 ByTsutomu Takasu
in Note, Posted by logu_ii