Sign of road construction of Chile which seems only to be intimidating with a spear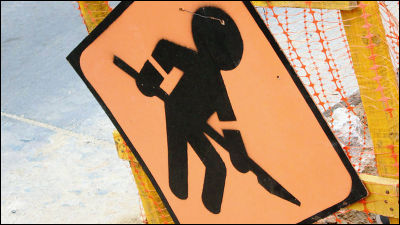 I'm going for a shovel, but I can only see it as a spear. Road construction signage of South America Chile is somewhat frustrating because it is somewhat unreliable. I should be doing heavy wear, but my feet are not firm. Somehow, overall the Chile road signs are full of humor.

Hello,Around the World Bicycle WorldIt is Takuya Sudo @ Chaliderman. I am proceeding to the south aiming for Patagonia, a long long national land. Because the bicycle is running, the road sign should be everyday without change. Even so, I was deprived of the signs of Chile.

◆ Road construction signs
A sign as if having a spear.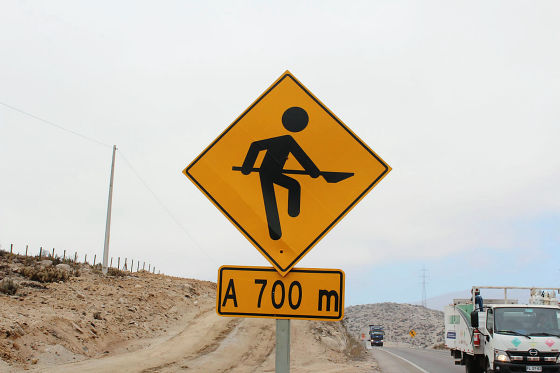 "Trabajos (in work)", this is a sign of road construction in Chile.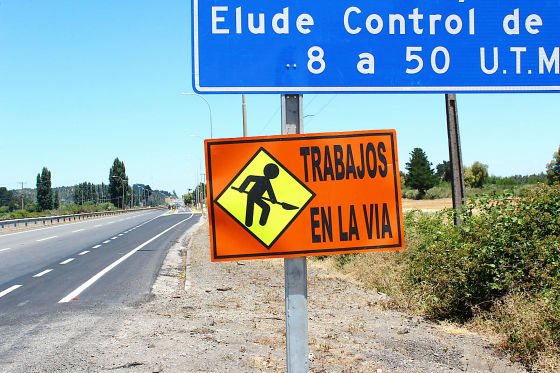 Shovel is supposed to be, but the figure with no power on your feet is comical, I do not know the meaning that one foot is floating. As I entered Chile and the townscape approached developed countries, signs increased, so I kept pictures of signs with things like spear like this shovel. By the way, I am from Fukuoka "The small one is the scoop, the big one is the shovelIt is a recognition that.

I feel that this floating leg is bad.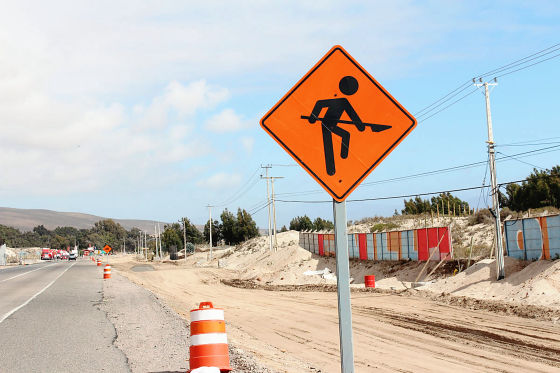 I am worried if I am watching if my feet are not steady.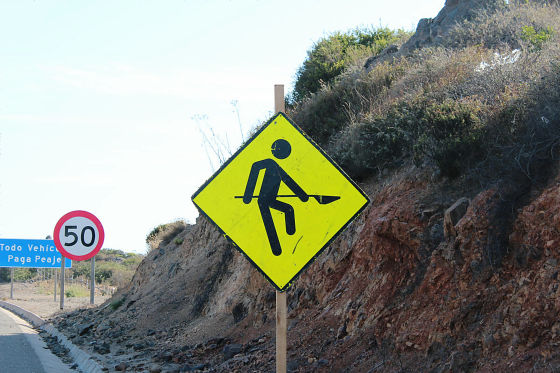 I turned around and poked with a considerable forward tilting posture.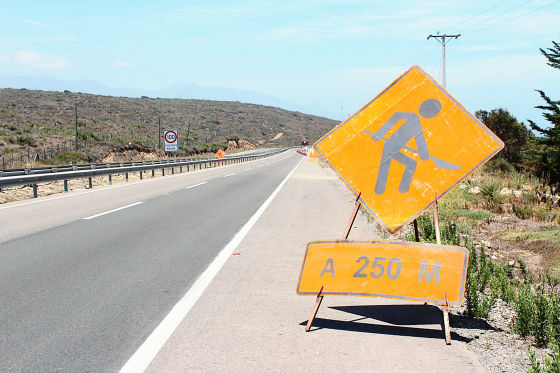 Too much momentum to the right in the middle.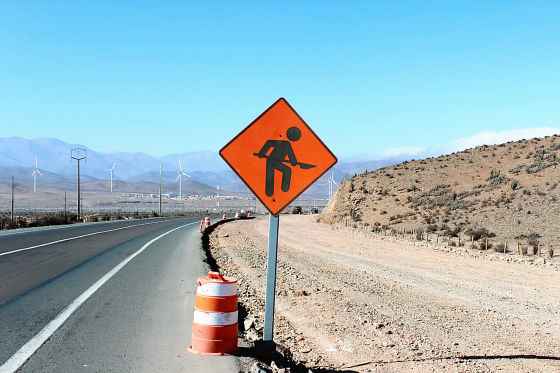 It is fun because the angle slightly pierced by the sign is different.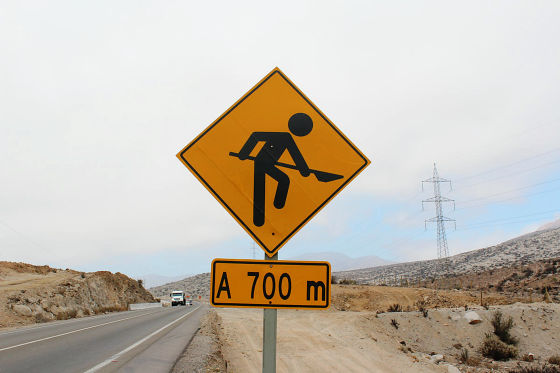 It seems like a shovel that the point is not sharp.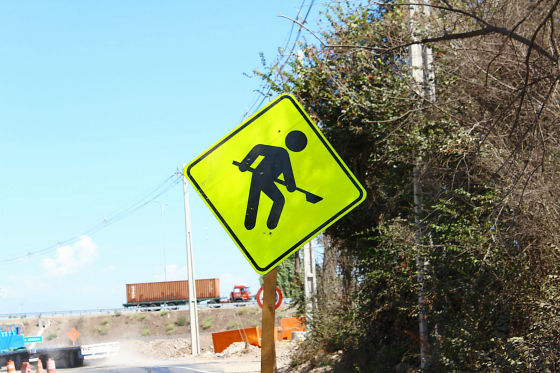 Specification of a mystery that the shoulder has come off.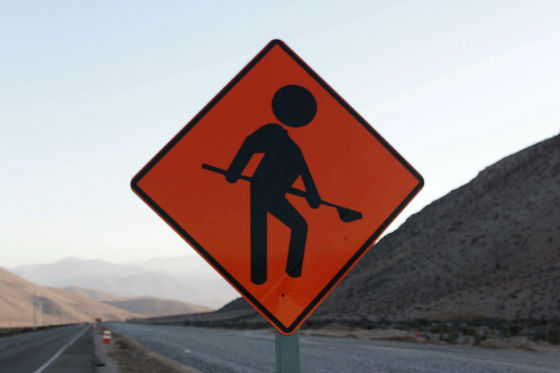 In such an atmosphere it seems like being threatened with a knife kitchen knife.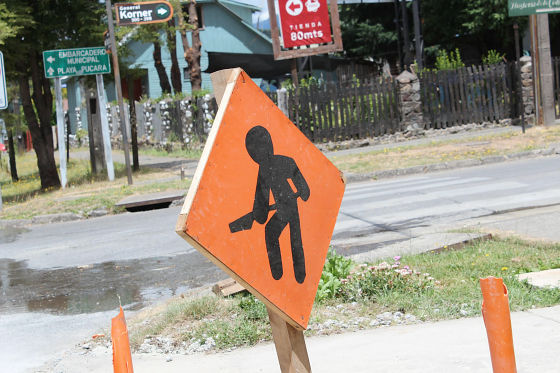 It was everyday being worked by a signer worker who was not working.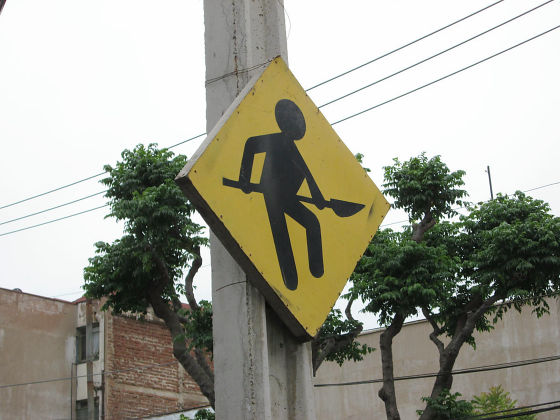 When people in inside become mini size, it becomes pretty cute.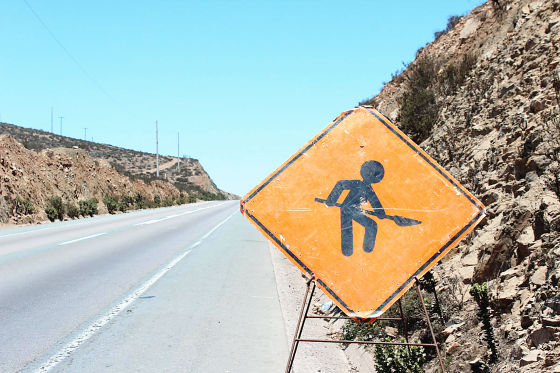 To say this loveliness.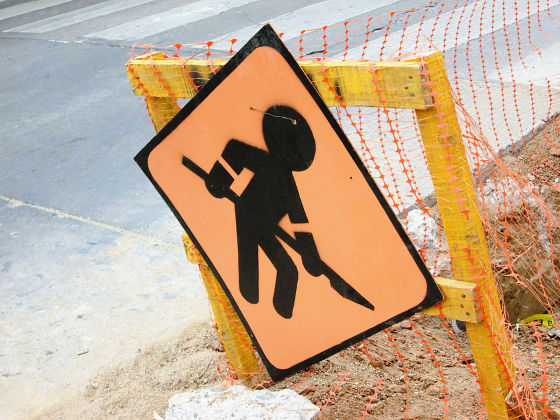 Although it seems to have been attacked occasionally, this means the end of the construction section.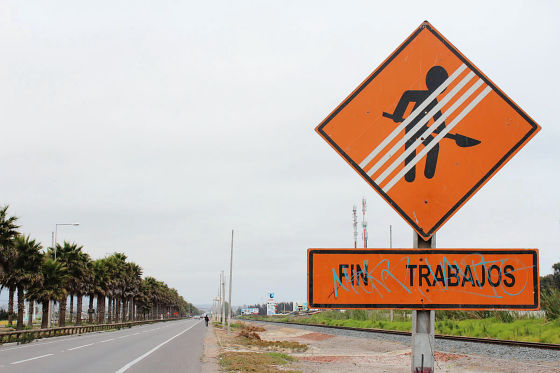 The majority of construction signs have become spear-like people, but sometimes decent signs come out.

It is nice to have soil in the scoop, but it seems to fall behind!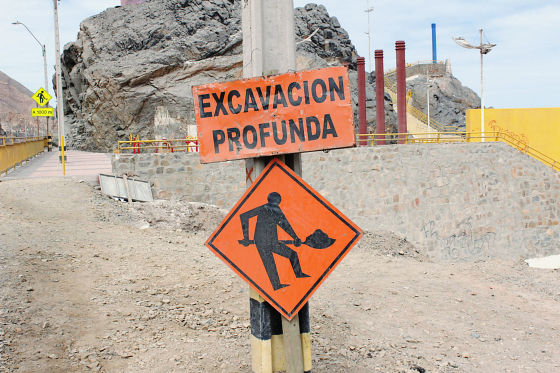 This is not bad.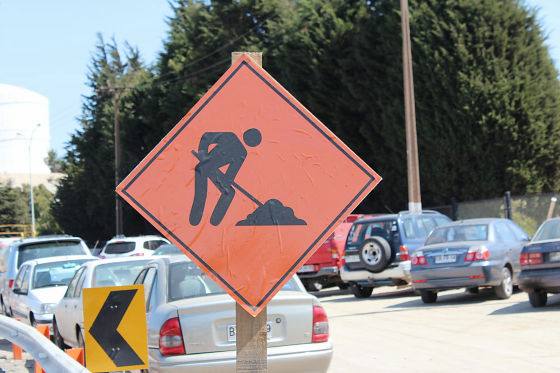 It is easy to understand if you do so far.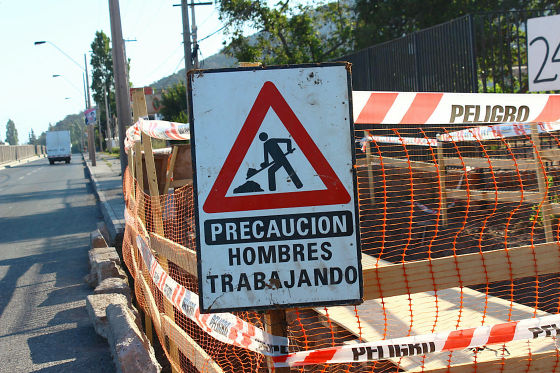 ◆ In other countries
Northern Europe Sweden road construction signs are easy to understand and nice.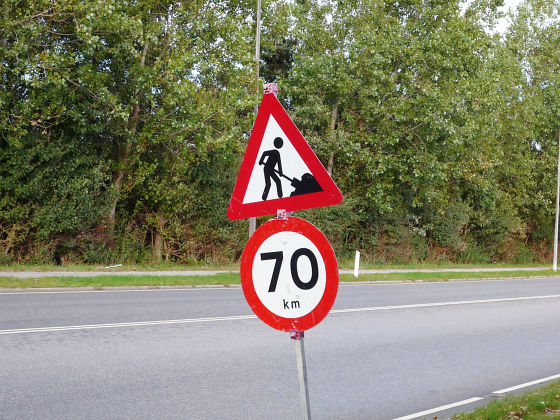 In Turkey I have faithfully reproduced it to the armor.



In Bosnia and Herzegovina it was with a snow removal car.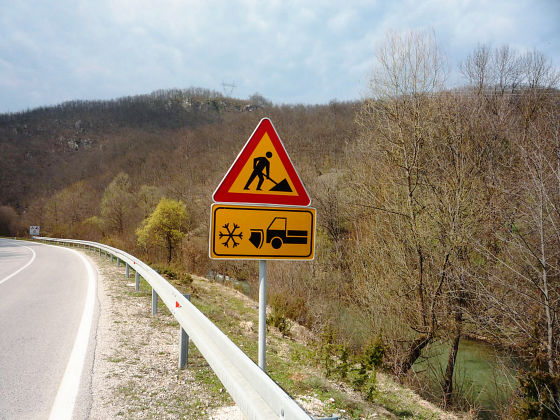 People in Peru are working with sweat.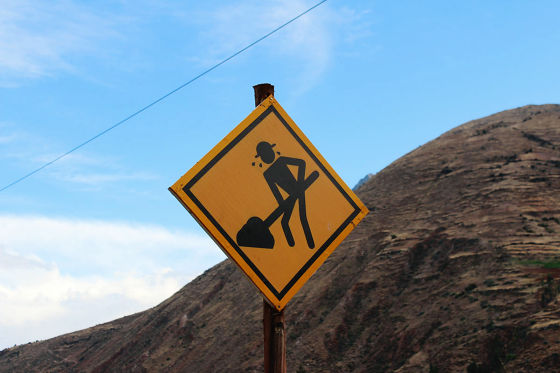 Usually I work seriously ... Bolivia was as well as Chile. "The Pacific WarEven though it is a country where they do not have good relations since then, there is something in common like this.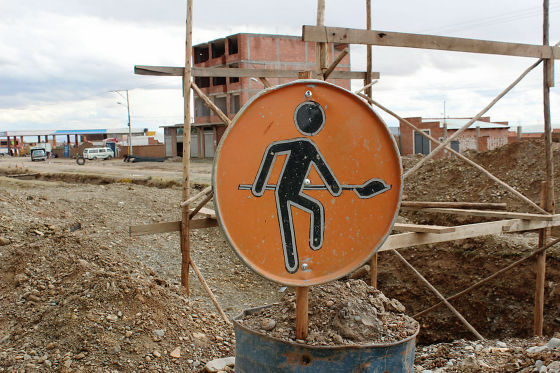 IncidentallyJapanese Road Construction SignsIt seems to be here.



◆ Other signs of Chile
While walking around the city, the walls of the private houses are surprised by art and artistic chili, but their talent does not seem to be made alive in signs. The sign of Chile was gentle and pretty.

Signs of road construction signs and signs of traffic inducers that come out in sets. This person is also cute.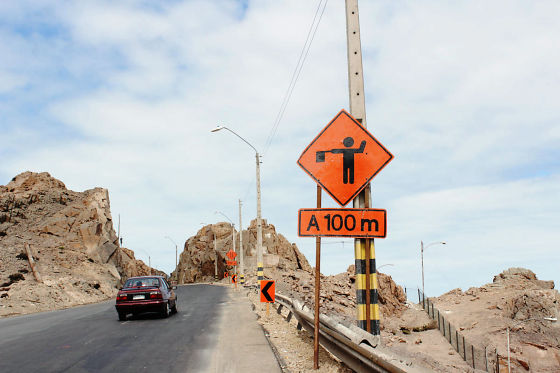 Attention to pedestrians.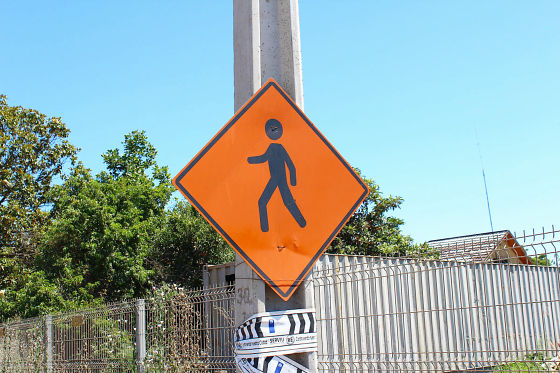 A school student whose face you can see also in Costa Rica matches.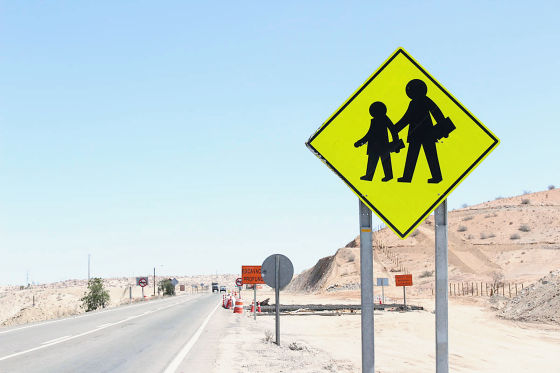 More appropriately it will look something like this.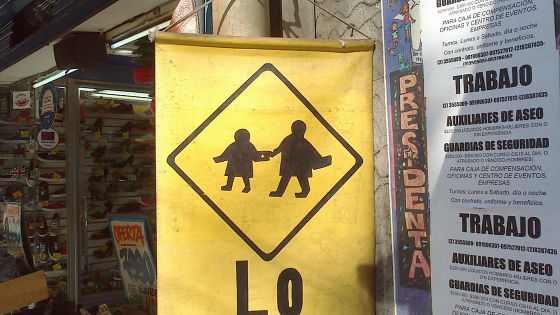 Because Chile is an earthquake country, the coastal area has a sign of "attention to the tsunami".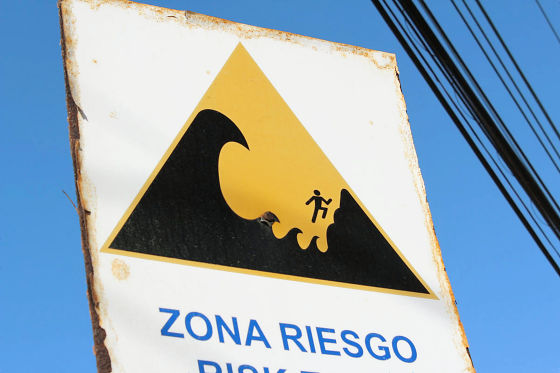 A cute bulldozer.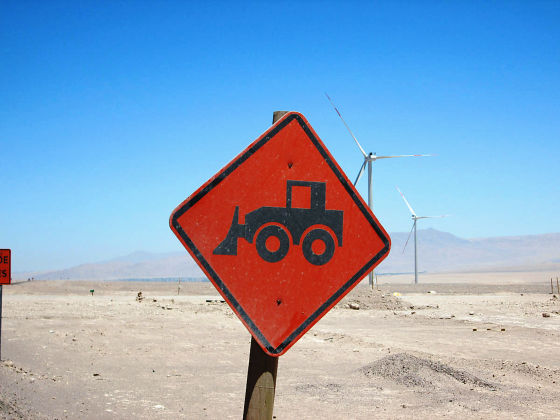 There is also a sign with the arm raised.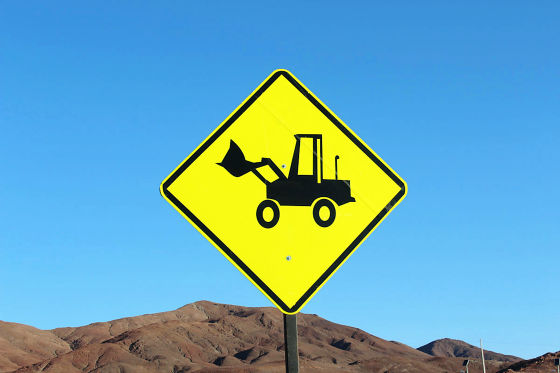 A quite rare fire signs sign. It is a fire department ahead.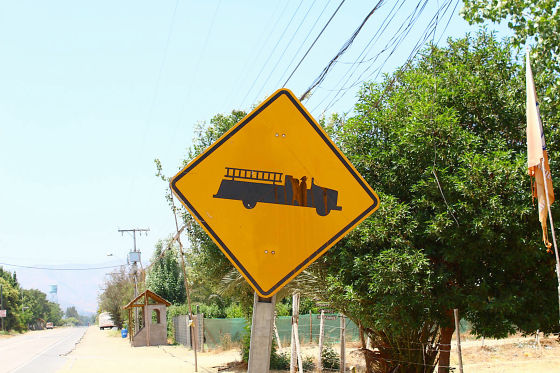 I also found an airplane in the wilderness in the north. Nearby was a runway.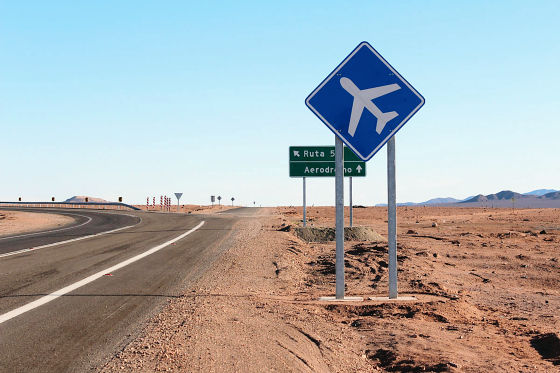 A sign of attention to downhill.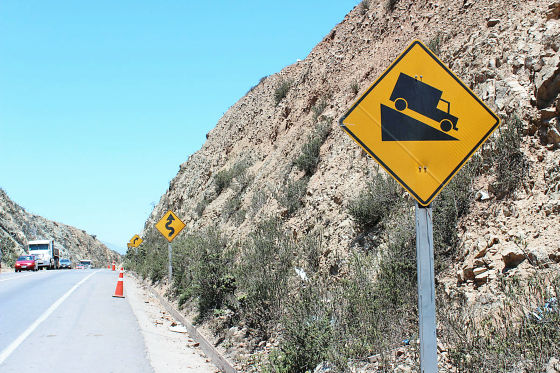 The shape of a rare track to watch out for downhill.



No overtaking.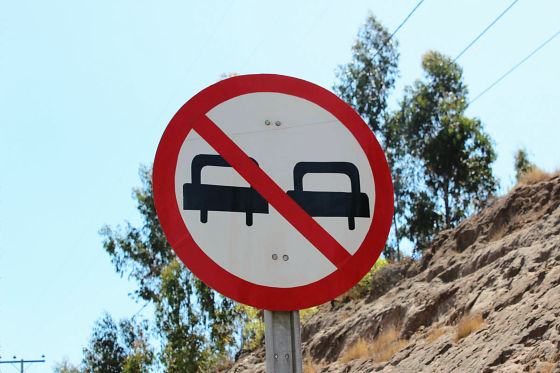 It is not a gas station but a guide of a toll booth.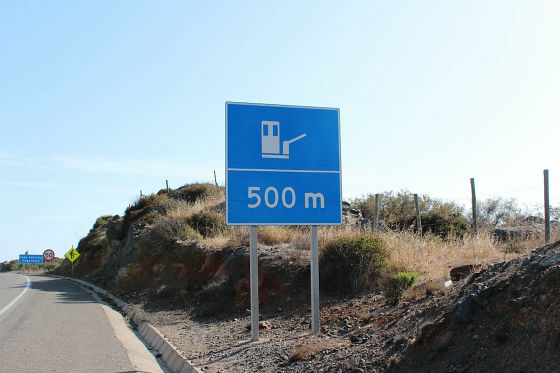 It was not a lightning bolt but a high-voltage line passed over the road, so it was necessary to be careful.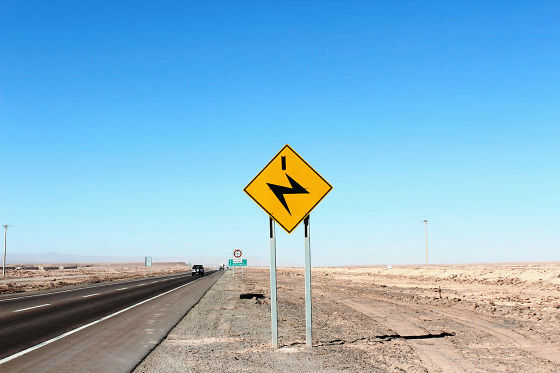 Alongside road signs faithful to Turkey's real thing, I was touched by Chile's humorous road signs. If you are traveling in Chile, please also look at the road signs. I will stop.

(Sentence / photo: Takuya S. Narou Charriderman
Cycling around the world for a bicyclehttp://shuutak.com
Twitter@ Shuutak)