Even then, Microsoft will be sued for Windows 10 upgrade issues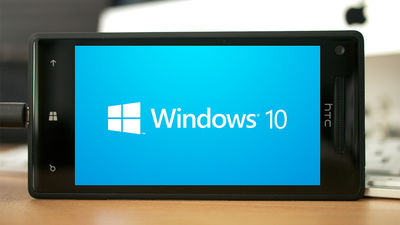 ByDownloadsource.fr

Microsoft's Windows 10, which was talked about somewhat in the topic on upgrading since its appearance, in 2016 it was "The PC unintentionally upgraded to Windows 10 automatically, and the PC became unusable"The woman accused as a complaint won the compensation of about 1 million yen and became a hot topic. Likewise, there seem to be a lot of people who are having trouble unintended problems due to the upgrade to Windows 10, and in the state of Illinois in the United StatesAgain class actionIt has evolved into.

Microsoft sued for millions over Windows 10 upgrades | Ars Technica
https://arstechnica.com/tech-policy/2017/03/unhappy-windows-10-upgraders-take-microsoft-to-court-for-lost-data-damaged-pcs/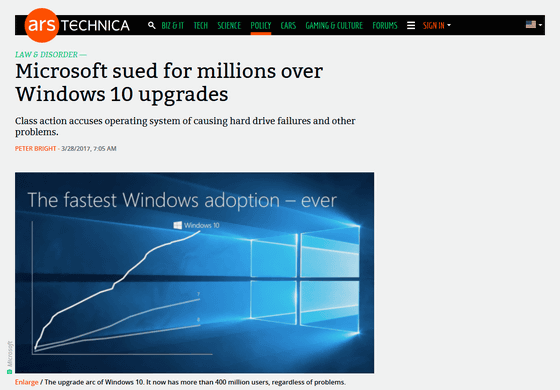 Upon release of Windows 10 in July 2015, unlike before, Microsoft is offering Windows 7 and Windows 8.1 usersFree upgrade to Windows 10 for a limited timeDid. And Microsoft talked about a strategy of displaying pop-up advertisements that suggested upgrading considerably positively for Windows users who did not upgrade.

For more information on pop-up advertising programs that will upgrade to Windows 10, "Why do not you upgrade to Windows 10" that gradually became evil for every day? Read the following article to learn more.

Pop-up advertising program of 'Will not you upgrade to Windows 10' is further aggressively changed - GIGAZINE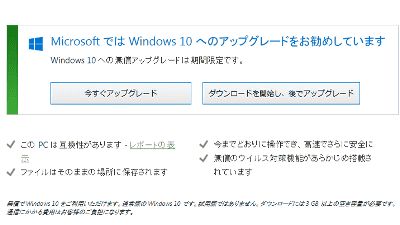 Also, in the early days when Windows 10 was released, some users reported that some users "will be on the verge of upgrading Windows 10 automatically".

Reports that automated upgrading to Windows 10 will be on the verge of Windows 10 without permission from users - GIGAZINE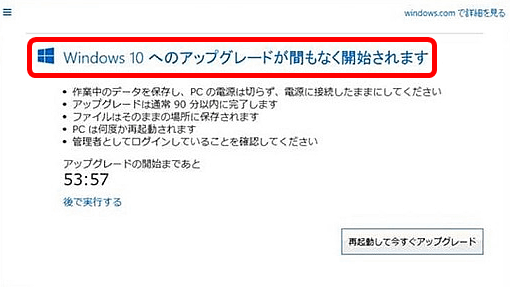 Then in 2017, users upgrading the PC's OS to Windows 10 in the state of Illinois in the United States got together and gathered a group lawsuit where users of PC's HDD failed or lost data in the PC gathered. There are three plaintiffs in this class action, each claiming that they suffered specific damage by Windows 10.

Stephanie Watson, one of the plaintiffs, argued that the OS had upgraded though it did not remember accepting the upgrade to Windows 10. As a result of this upgrade, the data in the PC was damaged, it was not able to repair the PC which I requested from the merchant, and it seems that it became to buy a new PC. By installing Windows 10, Mr. Watson claims that "many consumer HDDs have failed", Windows 10 claims that "HDD is not checking whether it can endure the load of installing Windows 10".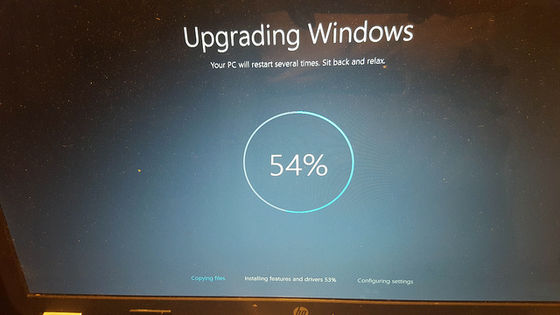 ByRaymond Shobe

Robert Saiger, another plaintiff, said he agreed to upgrade to Windows 10, but this seems that the software used on the PC has been stopped and some data corruption has occurred. Mr. Saiga is restoring data at his own expense to recover damaged data and Microsoft claims that it has not confirmed hardware or software compatibility before upgrading to Windows 10.

The third plaintiff, Howard Goldberg, accepted the upgrade after 6 months since updating to Windows 10 was recommended. However, OS download failed three times, thinking that "my PC is broken" Mr. Goldberg will do the data recovery and PC repair, and bring up a lawsuit to get the cost refunded I have claimed that.

In this class action lawsuit, the plaintiffs argued that "Microsoft should show consumers that they may damage PCs and data by upgrading to Windows 10 and tell consumers to back them up." I will. Microsoft also said that it should have understood that these problems occurred, claiming that "Microsoft is an accident based on Microsoft's negligence" that occurred because Microsoft did not disclose information about defects in Windows 10 doing.

In addition, in response to this class action lawsuit, Microsoft said, "With a one-year warranty program, we offered various options such as free customer support for updated customers and rolling back to the old OS for 31 days, I believe that there is no value for plaintiff's argument. "