ASUS's new smartphone "ZenFone AR" handles both Google's AR function "Tango" and VR function "Daydream"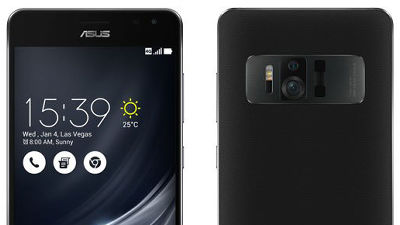 The world's largest IT and consumer electronics trade show to be held in Las Vegas, USA from January 5, 2017CES 2017"According to Google's AR function" ASUS planned to announce "according to"Tango"& Smartphone VR"Daydream"The information of the new smart phone corresponding to both is inadvertently leaked, and the specs etc. have become obvious.

[UPDATE: Press renders leak too] Qualcomm accidentally reveals Asus Zenfone AR - GSMArena.com news
http://www.gsmarena.com/qualcomm_accidentally_reveals_asus_zenfone_ar_snapdragon_821powered_both_tangoenabled_and_daydreamre-news-22485.php

ASUS will hold "Zennovation" according to CES 2017. In Zennovation, it was thought that new ZenFone will appear from the contents of the following toza movies.

Explore the Unknown - CES 2017 ZenFone Official Teaser | ASUS - YouTube


The new ZenFone was expected to be "a successor to ZenFone Zoom with optical zoom lens" and "equipped with VR function", but in Qualcomm's news release for CES 2017 "ASUS's" ZenFone AR "will become the world's first Tango compatible smartphone with Snapdragon 821", and it turned out that the new smartphone is "ZenFone AR". Qualcomm has already deleted the corresponding release.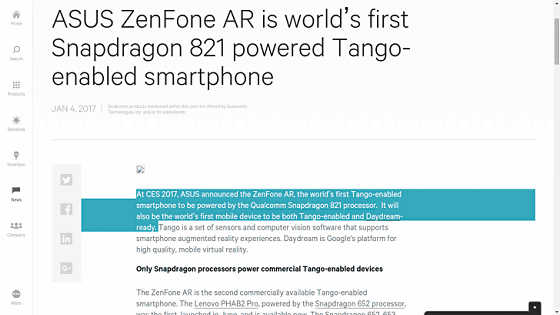 According to Qualcomm's brave foot release, Lenovo's Tango compatible smartphone "Phab 2 Pro"Is equipped with Snapdragon 652, ZenFone AR is equipped with the high-end SoC Snapdragon 821. It also corresponds to Daydream which can be used not only for Tango but also for a simple VR headset using smartphones. By the way, in the release of Qualcomm, SoC such as Snapdragon 652, 653, 820, 821 corresponds to Tango, and Soon of 600 series and 800 series of Snapdragon which will be released in the future will be compatible with Tango. In 2017, Google 's AR function Tango is likely to be familiar.

Evan Blass, famous for providing leakage information, also publishes rendering images of ZenFone AR on Twitter.

ASUS ZenFone AR (2nd Google Tango phone)Pic.twitter.com/ctKQ9IKfeC

- Evan Blass (@ evleaks)January 2, 2017

From this image, ZenFone AR is equipped with a Tango unit equipped with two cameras on the back, you can expect to have a home button corresponding to the fingerprint authentication function on the surface.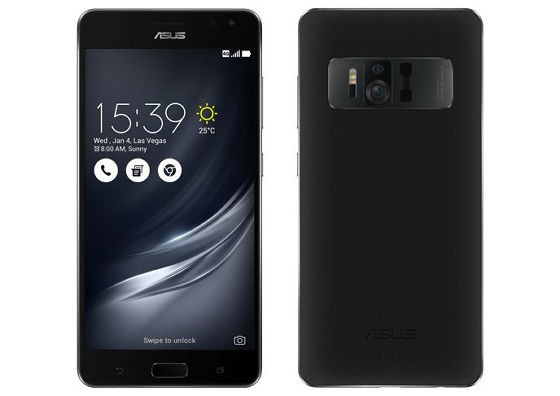 Details of ZenFone AR are scheduled to be disclosed at the press conference "Zennovation" from 11:30 am local time on January 4, 2017.

ASUS Zennovation @ CES 2017 on Jan. 4, 2017!
http://press.asus.com/events/



· Continued
Google 's AR feature Tango & VR feature "Daypiece" ZenFone AR "& dual lens" ZenFone 3 Zoom "appeared - GIGAZINE