Just by pushing the button, you made "anhydrous curry" etc. fully automatic with condensed umami etc, and I tried using convenient home electric appliance "Hot Cook" which can make shop-level dish as a vacuum cooker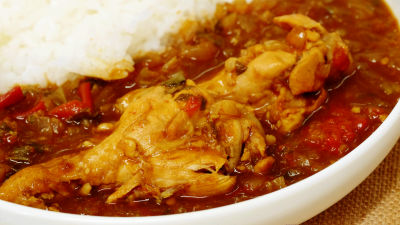 Automatic temperature adjustment & stirring work is done just by pushing the button by pushing the material and sharp waterless automatic cooking pot that shops are finished just by being left aloneHelshio hot cook"is. Since cooking is made by utilizing the moisture contained in foodstuffs, it is possible to prepare dishes with condensed taste, and fermentation work and sweets making are possible besides anhydrous menu,Super convenience home appliance "Slow Cooker" of about 3000 yenHow is it different? While confirming that,Vacuum cooker "The best cooking is completed" Anova Precision Cooker "Can you do the same thing as ...? Including the experiment that I actually used it.

Automatic cooking pan without water: Sharp
http://www.sharp.co.jp/hotcook/

◆ Body appearance review
Helshio hot cook arrived.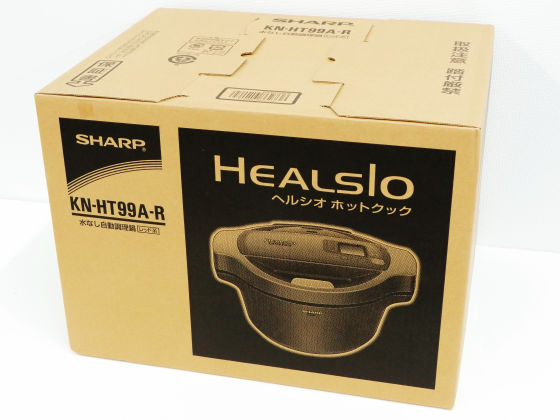 When I opened the box, I was in the inside of a hot cook main body · muzzle technique unit · power cord · storage only lid · instruction manual · menu guide · recipe collection.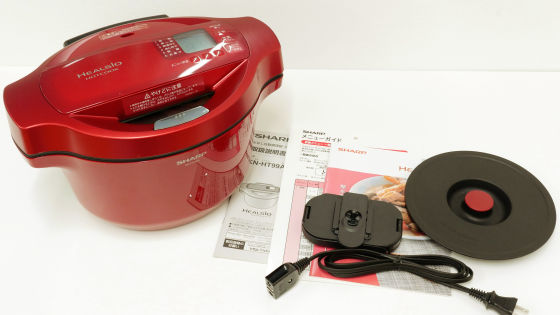 Mixing technique units are installed in the main body and when it comes in, it transforms to such a feeling and stirs the dishes.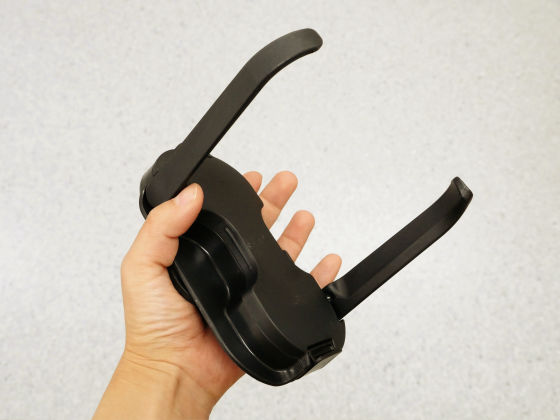 In addition, a steaming plate / steam mouth cover was included in the main body.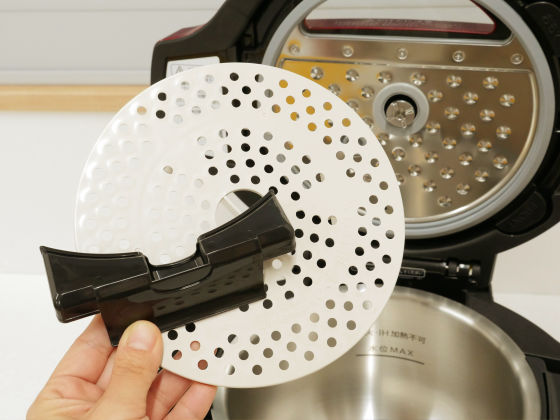 The inner pan is removable.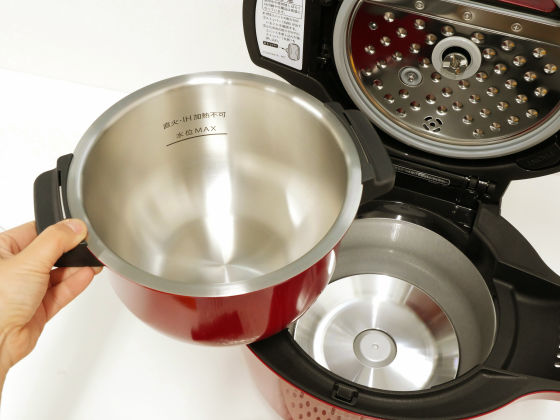 The inner lid opens like a door with the feeling as follows ... ...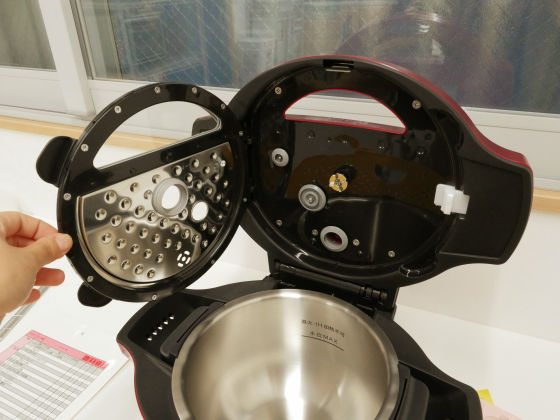 Just lifting it is easily removable.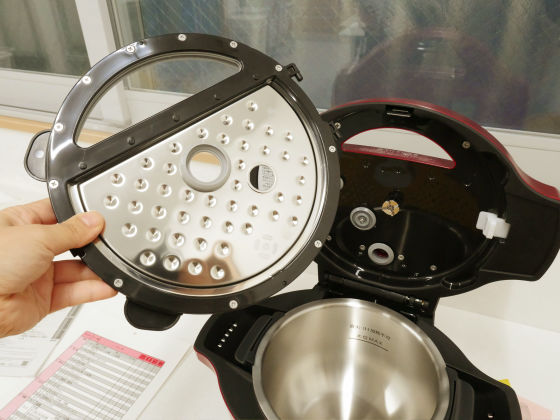 When I looked at the recipe collection, it was quite large. The menu is divided into "boiled (anhydrous menu)" "simmered" "steamed" "vegetable boiled" "freshly made" "fermented" "sweets · bread other" This type of household appliances, the number of attached recipes of good things I bought is small, and it is necessary to do experiments in order to go through my own recipe, but in case of hot cook that concern is necessary It seems not to be. The recipe isYou can see it from here.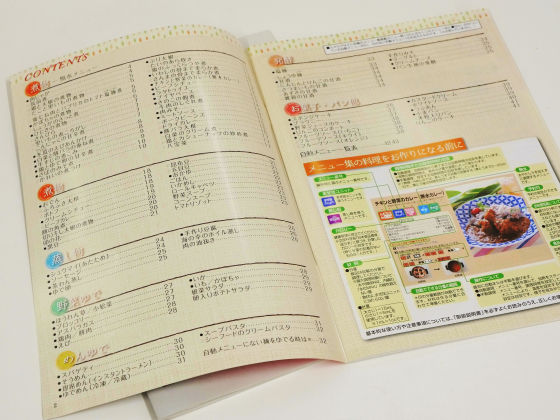 Each recipe is explained with a picture, and you can also see cooking time and calories at a glance. Even if it says a recipe, there are two things explained in 2 to 3 rows, because it is two "put ingredients into the body" and "set with buttons".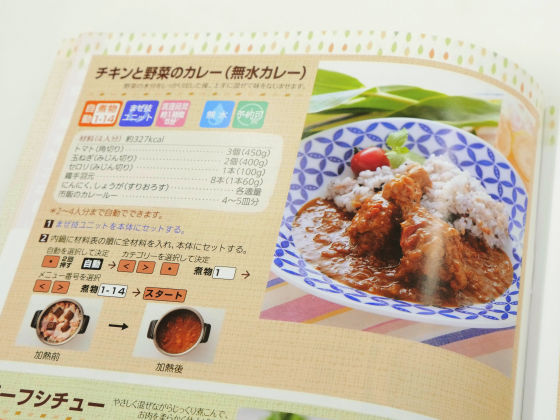 This is the main body. Helshio Hot Cook has 2.4 L large capacity type and 1.6 L type, this time purchase 1.6 L thing.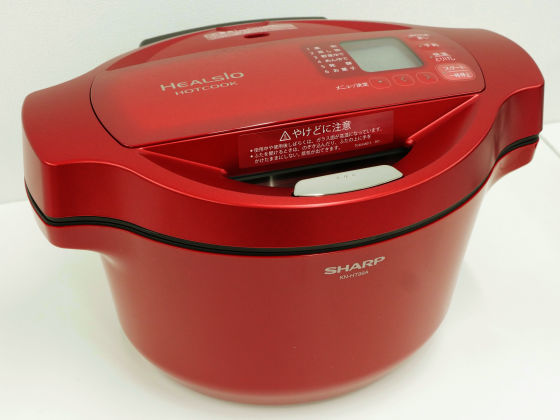 The size is width 364 × depth 280 × height 224 mm, weighs 5.2 kg. Because it is just the size of a family rice cooker, it is not "easy to carry around".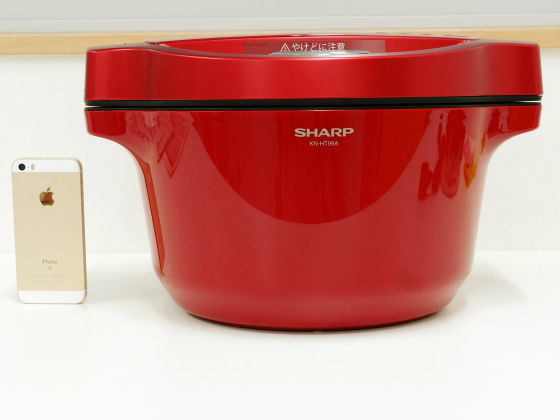 Touch panel above the lid.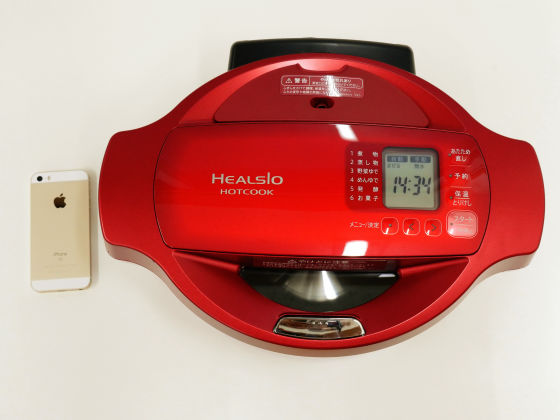 From here, press the button to set the setting.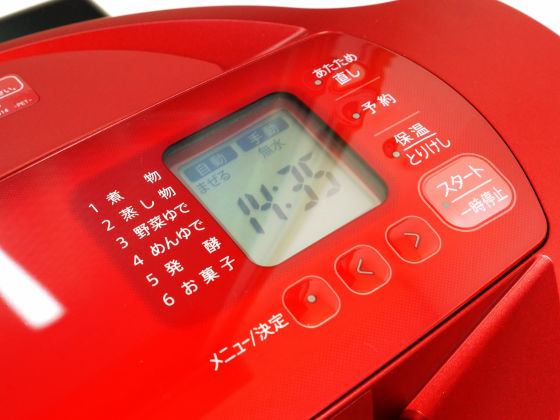 side.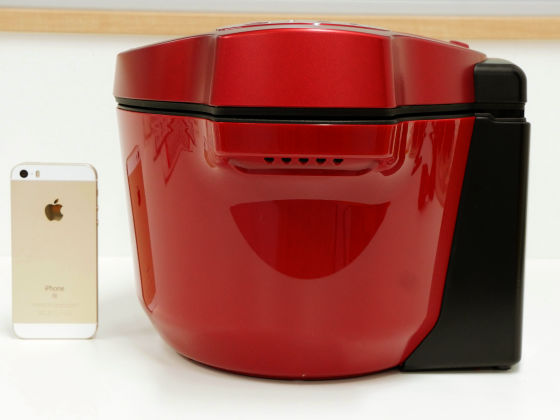 There is a plug terminal on the right side of the back side.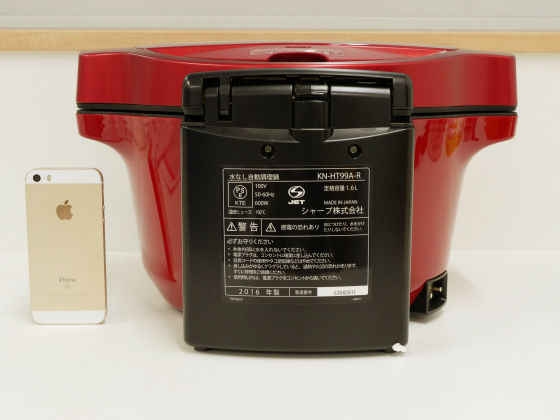 I tried making anhydrous curry
So I will use Helshio hot cook at once. First challenge chicken and vegetable curry (anhydrous curry).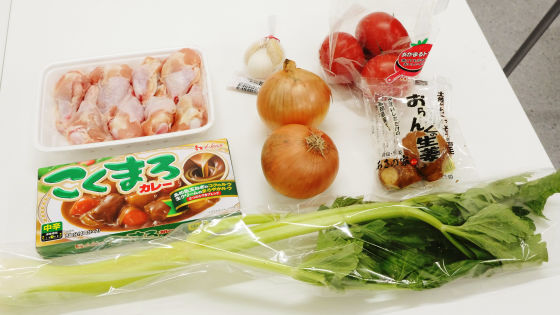 There are menus to use and menus not to use, but since anhydrous curry requires mixing work, we will install a blister unit in the inner lid first.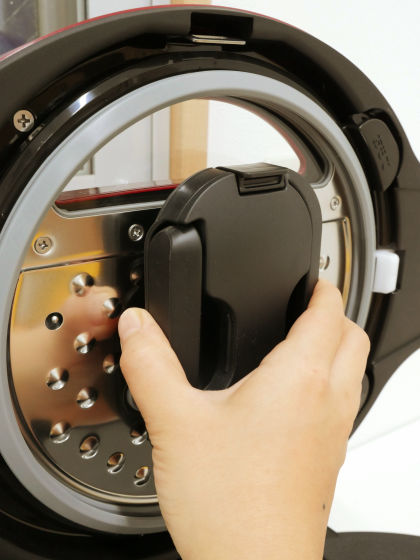 The way to make it, first cut the tomatoes, onions, celery ... ...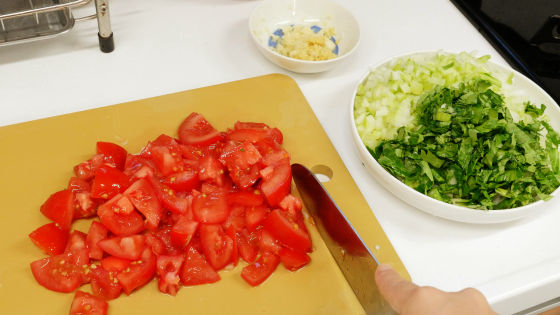 Throw in tomatoes, onions, celery in order to the inside pan.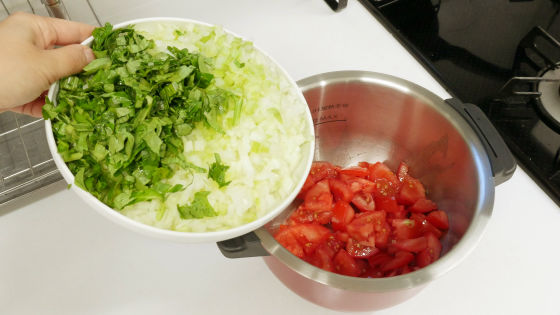 Place the chicken wings and arrange the grated and garlic.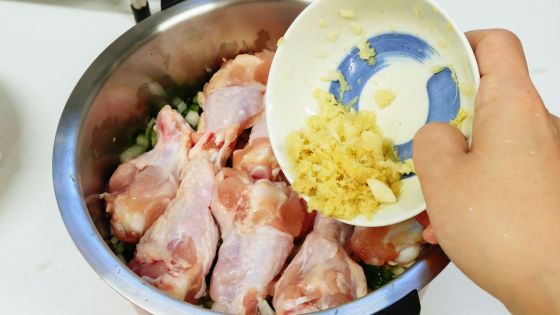 After that put a commercially available roux of 4 to 5 dishes in the pot and set it in the main body.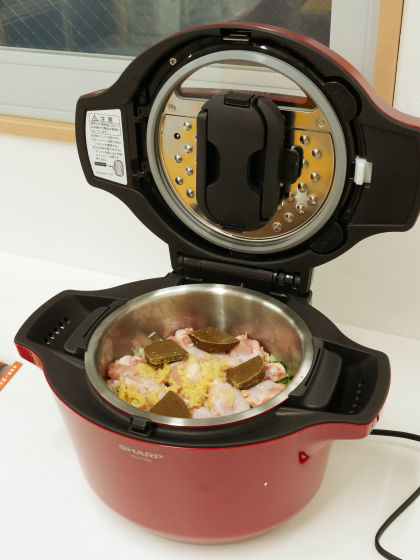 I will operate the lid with the touch panel. There are two kinds of cooking methods: "auto cooking" originally specified in recipe collection and "manual cooking" that you can set cooking time and temperature yourself. For this time, I will go with "auto cooking" where all the rice is completed by leaving it to hot cook. First, select "Automatic" by pressing "Menu / Decide".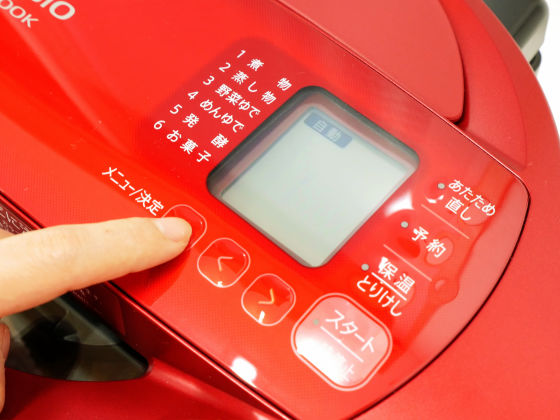 Press the select button and set the number described in the recipe collection. On the screen, "Muru" and "Anhydrous" also appeared.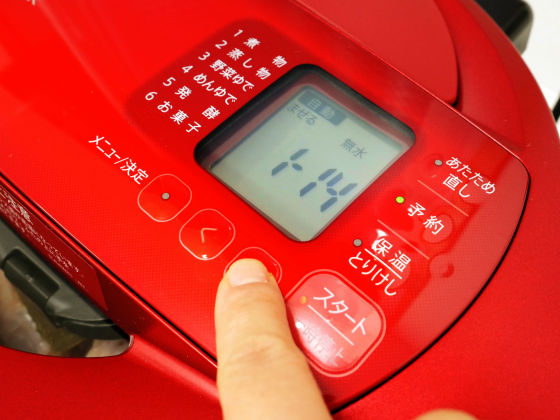 Just press start button. The remaining time of cooking is displayed on the screen. In the case of anhydrous curry, the cooking time was 65 minutes.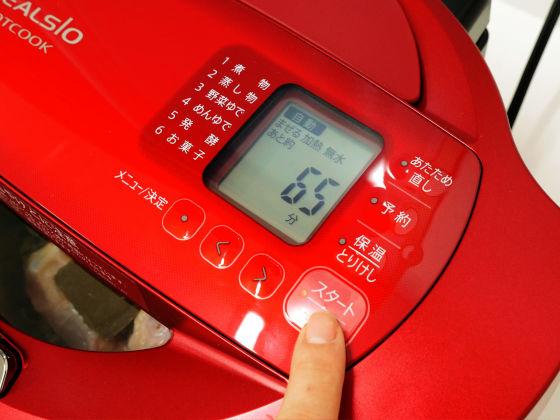 Helshio hot cook during cooking looks like the following. Basically it is silence.

"Helshio hot cook" While cooking - YouTube


Just wait. It is unnecessary to check the appearance in the pot like a normal pot, or stir in order not to burn, so it is physically and mentally possible to leave the kitchen and go out. It is also very easy.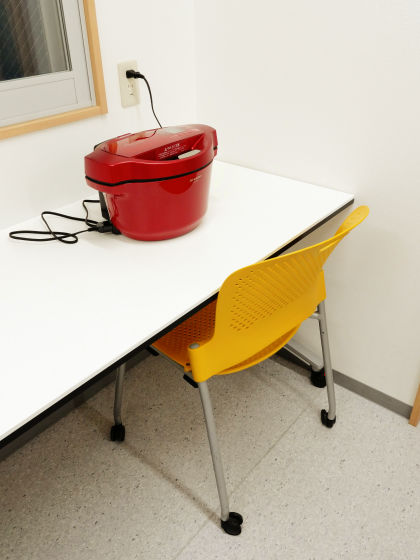 When it was completed, an alarm would be raised. As a result of opening the lid, the perfect curry which was made into a tortoise was finished despite the fact that water was not added.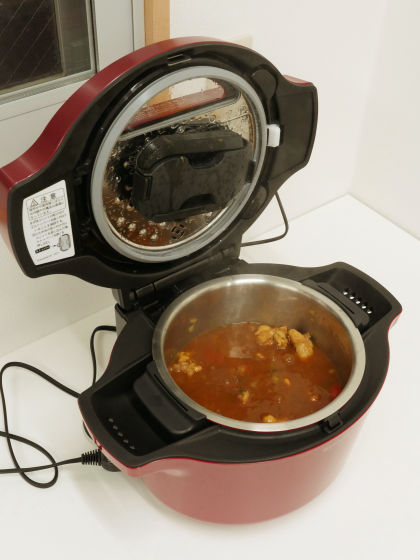 I tried it on a plate.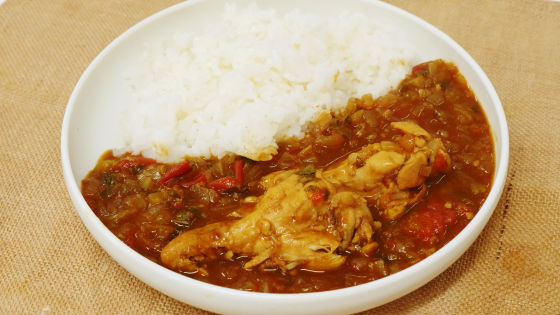 When I tried to eat it, the place I finished curry is the same as usual curry. However, the taste and sweetness of the vegetables are surprisingly condensed. I was worried that "It might be a little thin?" Because I put "4 to 5 dishes of curry in a recipe" as much as 4 dishes, but the taste was pulled out from the ingredients rather than the rouge There is no feeling that "taste is light" because it is done. As the atmosphere,Soup stock TokyoIt is finished like that, and I draw a line with usual curry.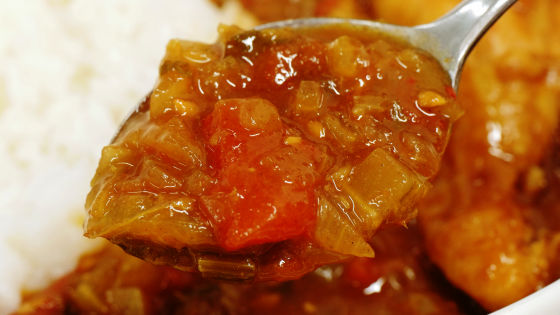 You can check the softness of the meat from the following movie. At first it hits the bones, but the meat itself is so soft that it can be peeled off from the sullen and bone.

Anhydrous curry meat made with "Helshio hot cook" looks something like this - YouTube


In 2016Super convenience home appliances "Slow Cooker" of only 3000 yenI also tried using, but the finish of Helshio hot cook and slow cooker is different thing. The chicken wings originally heated with a slow cooker for a long time are amazing softness so that the flesh becomes slunzlun and the fibers are disentangled on the tongue, but Helshio hot cook has about 1 hour heating time, so meaty meal The feeling remains. Honestly I was touched by the slow cooker, but in the case of a slow cooker I have to start from 5 to 8 hours ago, so I can make it in time even if I prepare from around evening Helsio Hot cook has another convenience. Also, the softness of the meat was better than making it with a pot & stove, and it was finished in a fluffy texture.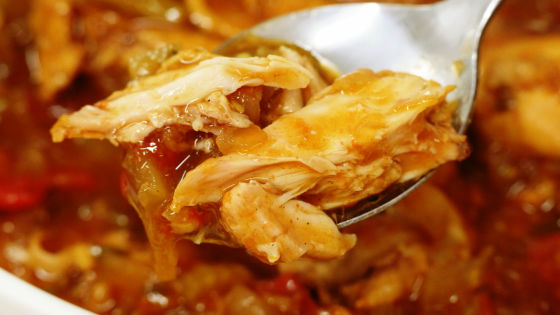 ◆ I tried to make the first radish
I will try using other recipes. Next time, the first radish.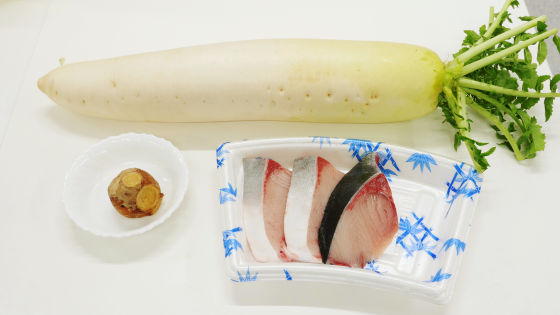 This also basically cuts the ingredients ... ...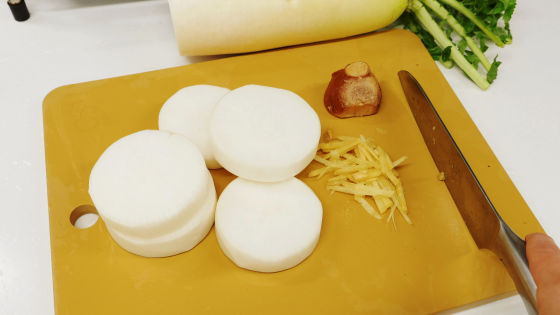 For the first time, put it in hot water and marbles.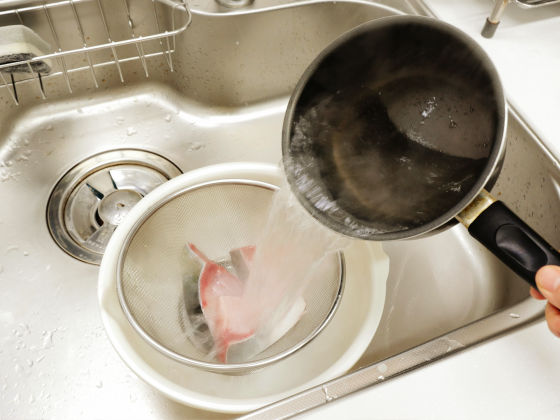 After putting radish, fresh ginger and ginger in turn in the inner pot, put 200 ml of mirin this time.



Add sugar, soy sauce, alcohol, etc., set it in the main body ... ...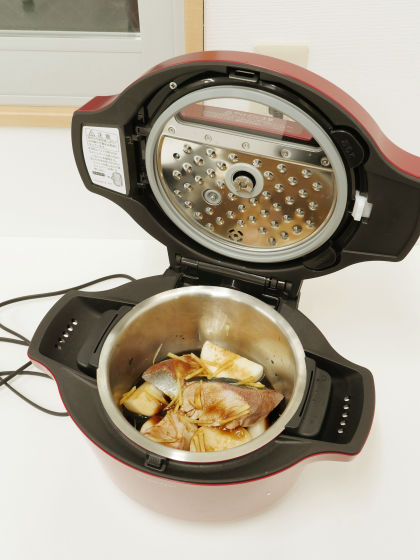 Next time again "Automatic", set as "1 - 10 simmered" according to the recipe.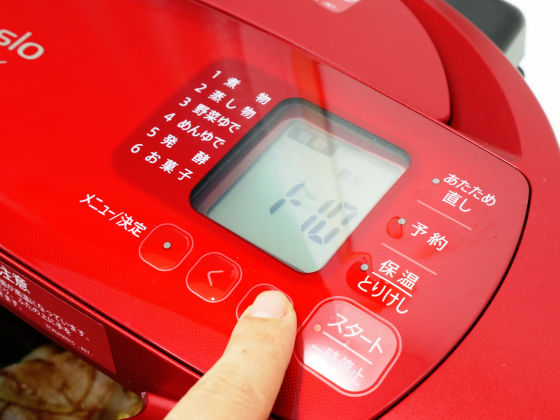 Helshio hot cook says that there is also a reservation function that can specify the end time of cooking, so when I tried to use it, I could not make a reservation by the automatic menu of radish radish. Automatic menus do not seem to guarantee that everything is always available.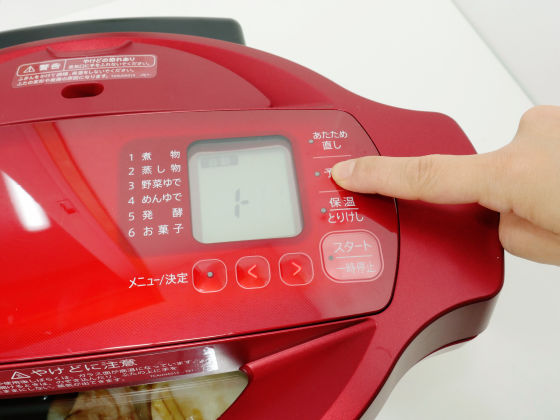 The first radish is completed in about 40 minutes .... When opening the lid after completion, there is a whitish part in radish and fog, and "Anxiety is overshadowed" is not it?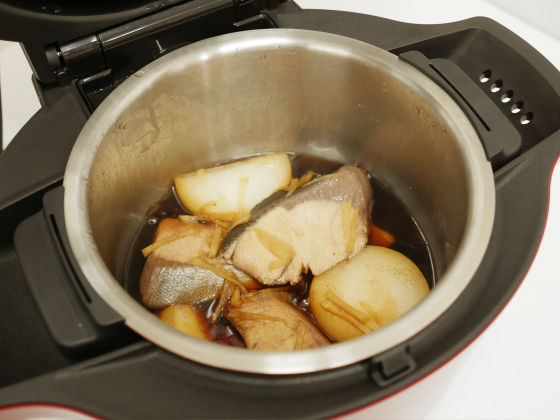 Serve as a plate for the time being.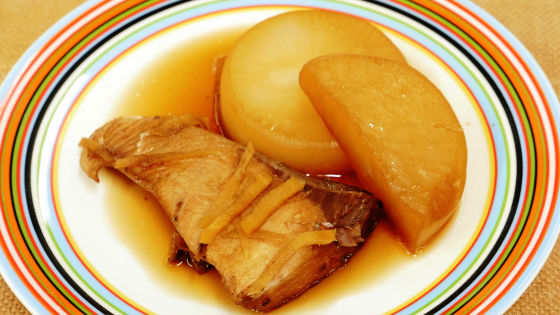 You can check the softness of the tongue from the following movie.

Newborn radish made with "Helshio Hot Cook" ~ Nori Hen ~ - YouTube


The first radishes tend to harden or tend to be crispy, but the first time boiled with Helshio hot cook is surprisingly fluffy. Sometimes cooking time is about 40 minutes, although the taste is not stinging to the inside, I do not feel that it is a dark seasoning, "taste is light". Although it uses 200 ml of mirin, it is slightly sweet, but it is almost unexpectedly finished with dishes made almost neglected.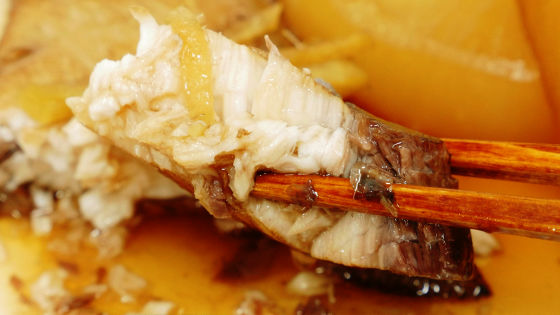 Softness of radish is as follows.

The first radish made with "Helshio Hot Cook" ~ Daikon Hen ~ - YouTube


Daikon had slight variation in stiffness depending on location, but very soft. Although this taste does not taste to the inside, the dark part of the outside taste and the original sweetness of the inner vegetables are felt and delicious. It was a little strange finish that "taste is not stingy but tasty".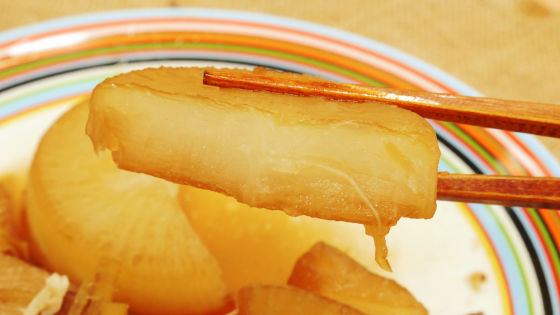 ◆ Challenge "Book cooking" further
By the way, I also tried pork beans in the menu collection so I tried booking cooking.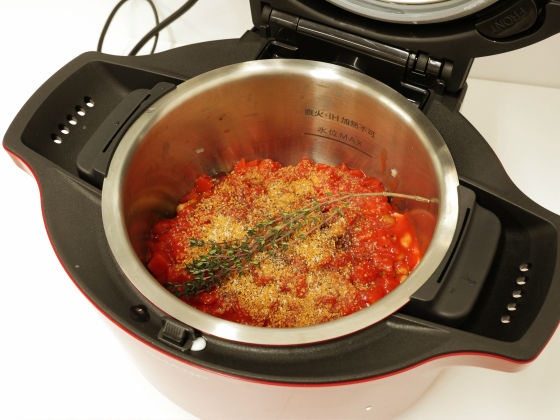 Because the reservation is possible for the menu "pour beans' automatic cooking 1-19", the light next to the reservation button flashes green. Press the button ......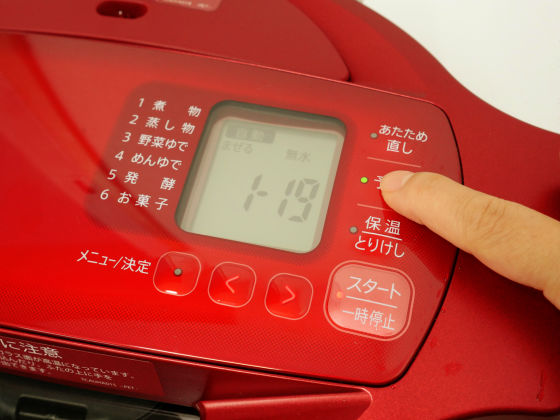 Specify the finish time and press start to complete the cooking.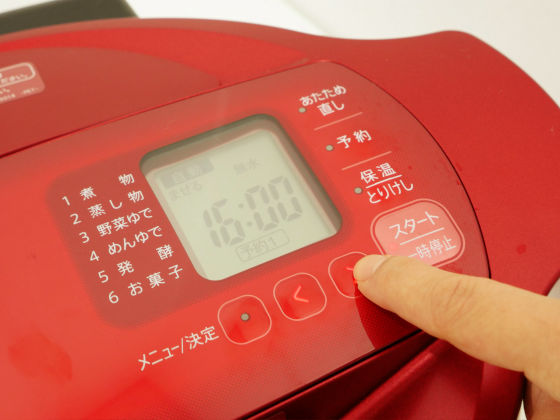 The pork beans was finished perfectly at 16 o'clock.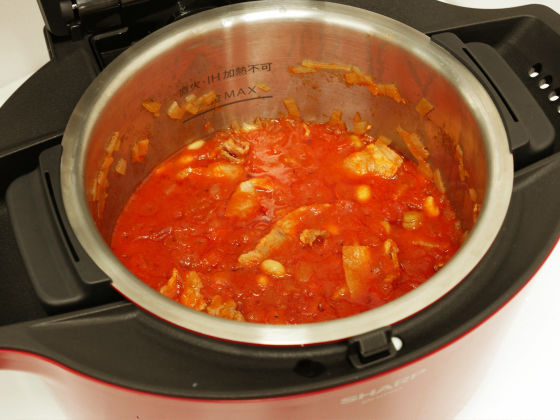 Again, the sweetness of onions is blending with the sweetness and sourness of tomatoes, the rose pork is also finished softly, I feel strongly the taste of vegetables and meat anyway. When using boiled beans, the beans were also polishing.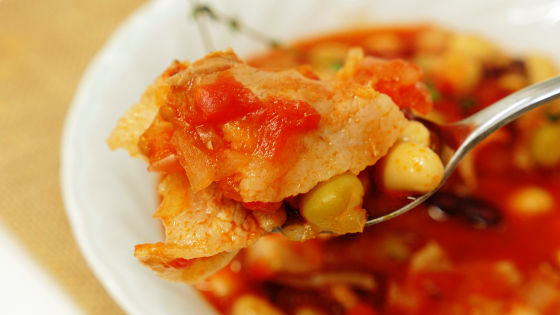 Because reservation can cook up to 12 hours, it can be said that "putting ingredients in the morning and making it in the evening". I am worried that the ingredients will be damaged if I use live things, but this point is also taken into consideration and after the reservation I cooked until it is set to 100 degrees and then cooked to be completed just at the set time I will do it. This is a pretty big point as it is impossible for a slow cooker of 3000 yen around here.

◆ Make cream cheese by fermentation cooking
I will also try the fermentation menu. Cream cheese making it. Prepare milk, yogurt, fresh cream, lemon and so on.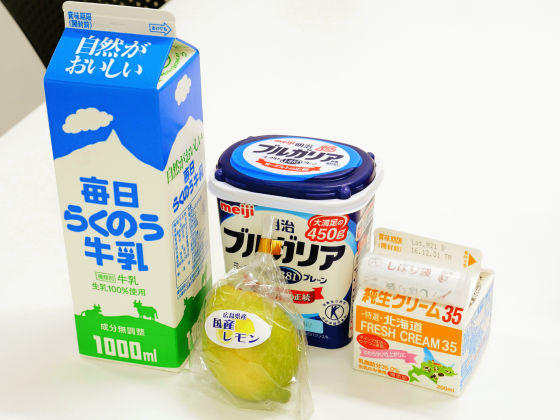 When fermented cooking is carried out, we will boil and disinfect cooking utensils to be used before cooking by using Helshio hot cook. If it is too big or too much, it will not enter the inner pan, but if it is a simple tool it is convenient to boil and disinfect without having to separate the hot water separately.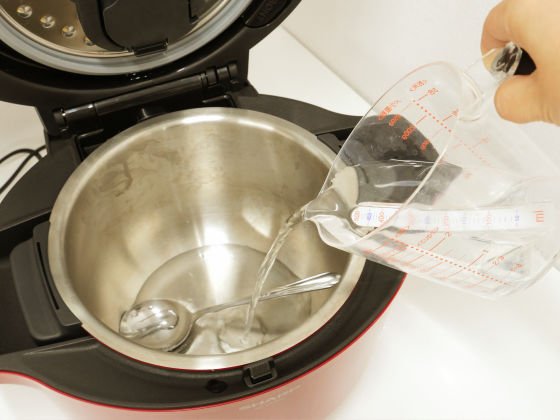 Boiling and disinfecting should be done with "steamed" setting OK.



Once boiled, put milk, yoghurt, cream into an inner pan and stir.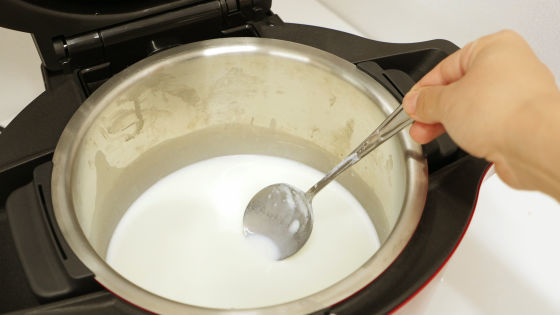 Press the start button.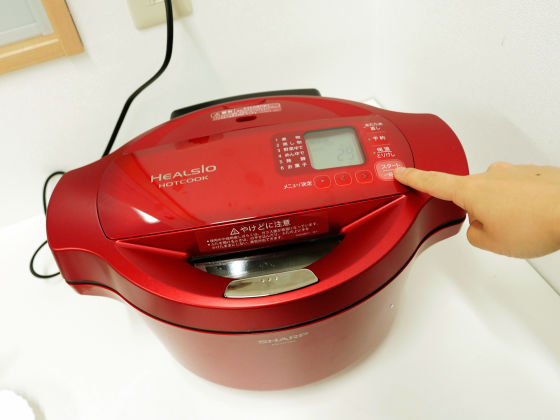 Since an alarm will occur once on the way, I will introduce lemon juice at that timing.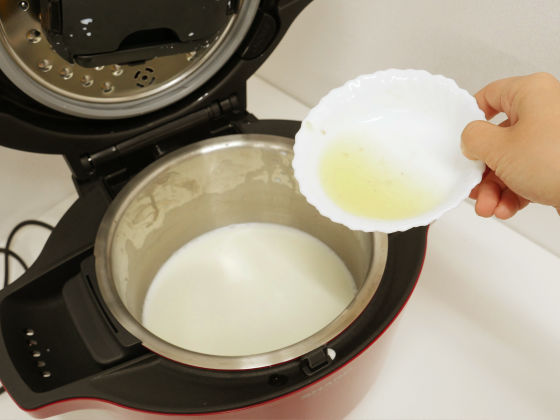 Heating itself is finished in 35 minutes, so when you are finished you will rub the contents with gauze or kitchen paper.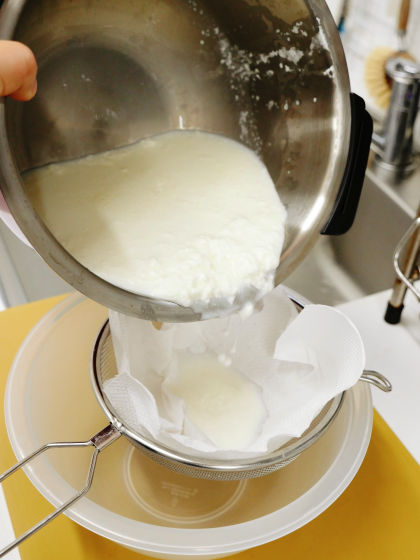 Just doing this is still fluffy and watery, it is an object different from cream cheese. When I tasted it at this point, the taste was similar to yoghurt rather than cheese.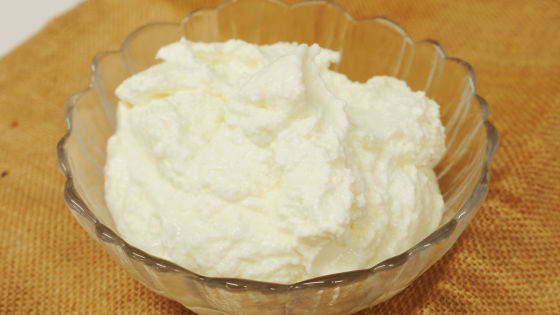 Furthermore, when gauze corners are gathered together with rubber, and weigh it and leave it in the refrigerator for about 5 hours ... ....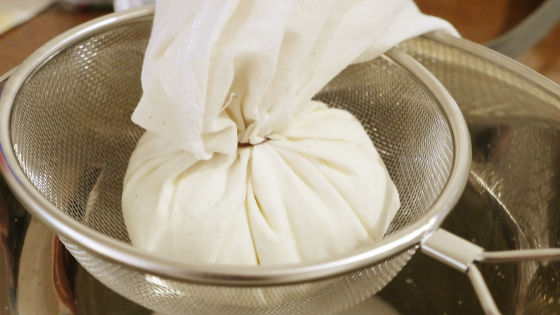 Cream cheese is completed. The yoghurt-like object was finished in a mellow and creamy cheese as whey goes out. The sweetness of milk is strong, both Kiri and Philadelphia are different, finished in a fresh and tastefully unique handmade. Besides cream cheese in the fermentation menu, it is also possible to make miso and salt.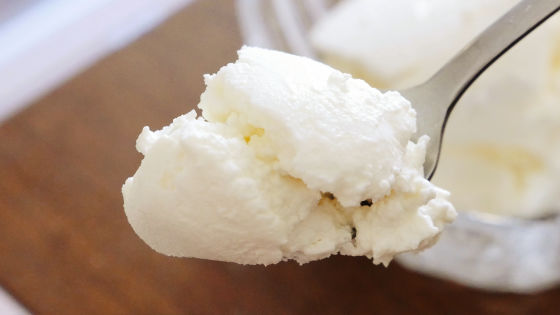 ◆ I tried vacuum cooking the steak using fermentation cooking
Furthermore, in the fermentation menu, it is said that the temperature can be set in 1 degree increments, which is about 20,000 yen reviewed by GIGAZINEVacuum cooker "Anova Precision Cooker"Can we do the same thing ...? Because I thought, I made a steak with low temperature cooking.

This time I made it in the review of AnovaRelaised garlic · Dijon sauceI will reproduce the dish.

That's why we prepared meat, wine, butter, dijon mustard, pepper, garlic, etc. same as when we made our steak with Anova last time.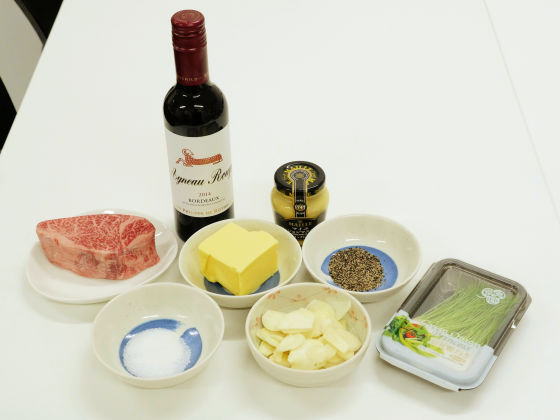 Helshio hot cook put lukewarm water to the bottom of the water level MAX line in the inner pan.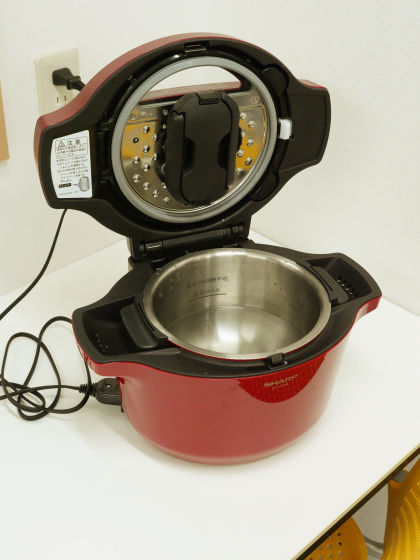 By selecting the "5" fermentation menu after choosing "Manual" in the same way as before, this time I was asked to set the temperature. The temperature can be set in 1 degree increments from 35 degrees to 65 degrees, this time it was set at 58 degrees according to the recipe.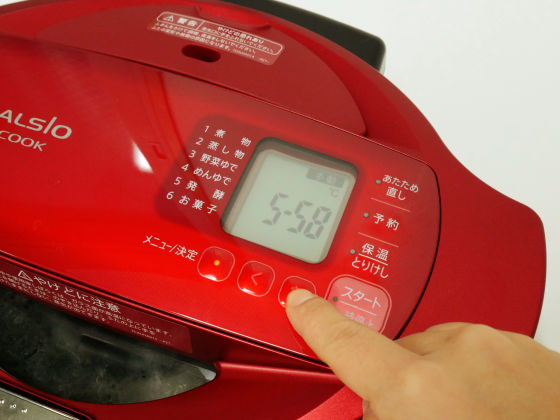 The recipe says "to heat for 30 minutes with hot water of 58 degrees", but Helshio Hot Cook can not say, "Detect lukewarm water to 58 degrees and let me know by alarm". So, let's set the heating time to 1 hour in the meantime and put the ingredients when the temperature reaches 58 degrees.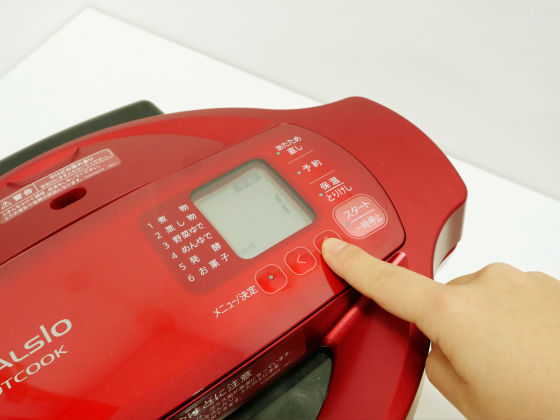 In the meantime, put salt-cooked meat in a ziploc with butter · pepper and garlic, and leave it lightly.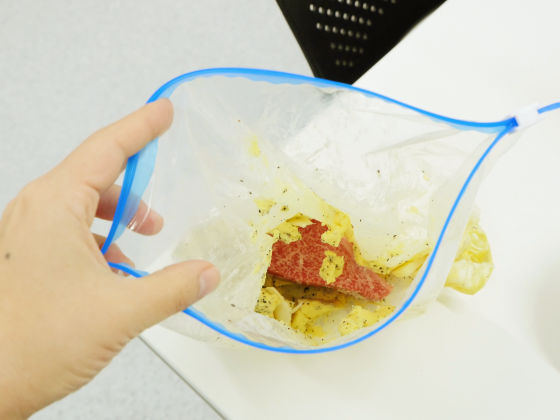 When I used warm water of about 30 degrees, it got about 57.5 degrees in about 30 minutes.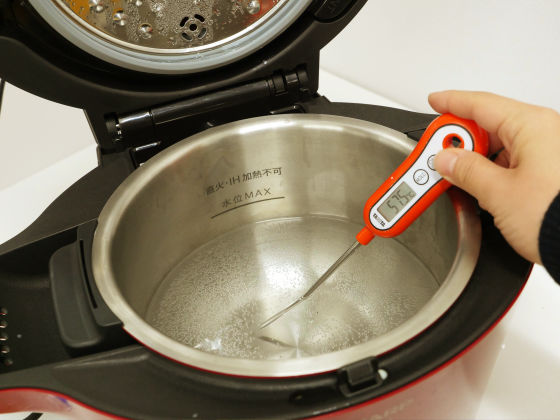 While releasing the air firmly, put Ziploc.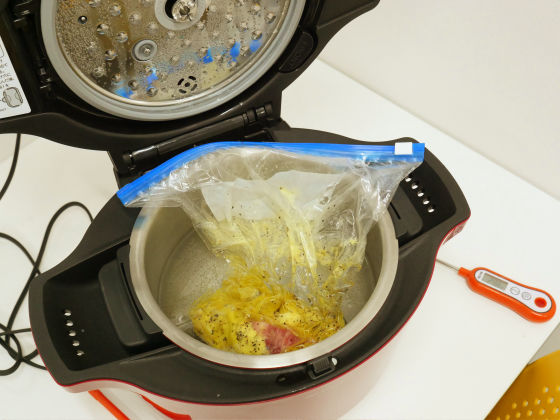 After that, reset the setting once again and ferment the cooked with "58 degrees · 1 hour" newly. In addition, since time is set in 1 hour unit for 1 to 6 hours, when it is desired to heat only 30 minutes, it is necessary to measure the time separately with a timer or the like.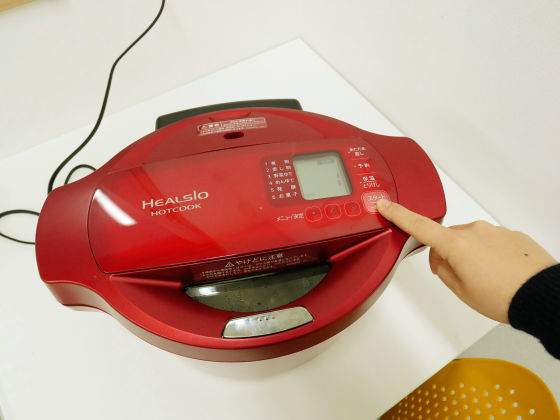 After 30 minutes, take out the meat from the bag and it looks like this.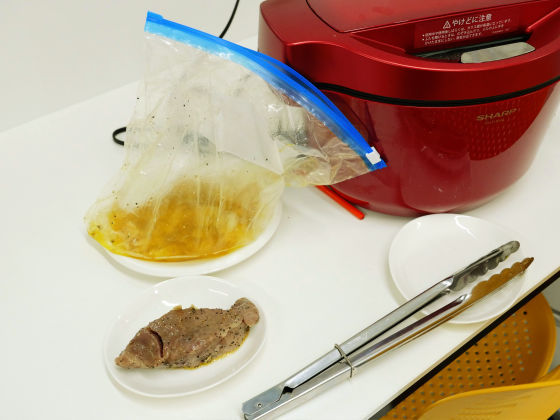 The surface looks brown, but the inside is pink with dark eyes, it feels somewhat raw.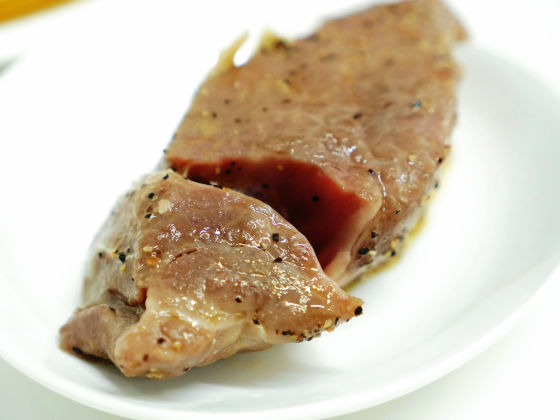 Bake this on a hot skillet and bake on both sides for 1 minute with high heat.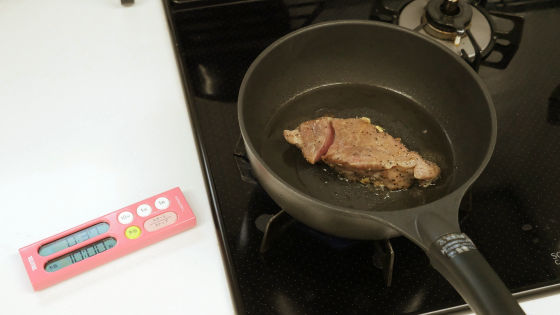 In addition, after making the meat in the dish and then making the sauce remaining in the frying pan and the sauce with chicken stock · red wine · garlic · Dijon mustard · butter etc. ...



Completion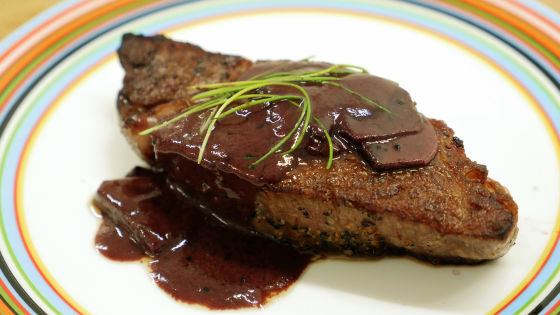 When I cut it, the section is beautiful pink.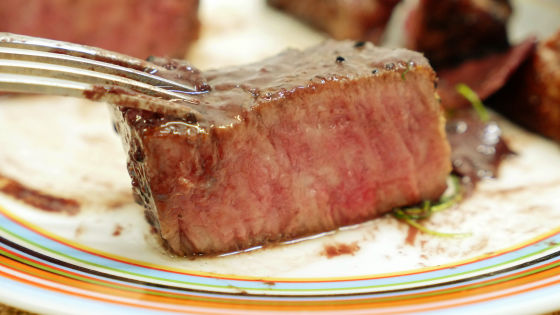 When eating, meat is incredibly fluffy & sweet. There is a feeling that meat is stuck between fibers when it is normal rare meat or medium rare meat, but the meat heated at low temperature is very soft, but there is no freshness, "tongue Melt on top of "finished worth expressing. It is at a level that can be shipped perfectly. If you make a steak at home, you may fail but we found that using Helshio Hot Cook, which controls the temperature perfectly, you can make high-level hospitality cuisine without fail, just like Anova.In Anova 's recipe there are written how to make fish dishes, desserts etc and set temperature in addition to thisSo if you use it, the range of cooking will be greatly expanded.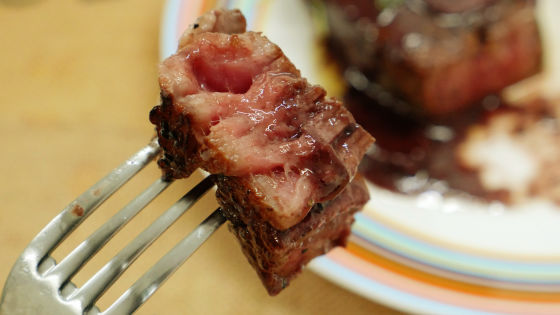 The softness of the finished steak can be confirmed from the following movie.

Vacuum cooked steak with "Helshio hot cook" - YouTube


As a lover of slow cooker, before I tried using Helshio Hot Cook, I thought that "Slow Cooker is not enough," but the width of the dish and the dish that can be made is quite different. Especially, if it is a slow cooker of 3000 yen, I can not make a reservation cooking using live things, but the point that Helshio Hot Cook anticipates about that is big. In addition, although the anhydrous curry made this time was heating up in a short time using the automatic cooking setting, the flesh was somewhat solid, but if it is set to manual cooking, finish it like a slog cooker when it is used It seems likely to be possible, so it seems that it can be used as a top version of slow cooker.

And, with Anova "It is not possible to get 20,000 yen for only low temperature / vacuum cooking ...", but Helshio Hot Cook can be cooked anhydrous and cooked in addition to an automatic cooking function, fermentation · low temperature cooking It is a big point. It is difficult to say that the heating time setting is one hour unit, there is no notice when the set temperature is reached, but clearly saying "Keep keeping at the temperature set in 1 degree increments" There is no need to manually do this around here. In the future, saying that it would be nice if added as a function.

Slow cooker is enough if you want to make delicious rice with anything by hand, anyway, if cooking is a hobby, making cookies and miso at home or making it fancy for hospitality If it is a person who cooks, it seems that it can be said that it is a convenient home appliance which widens the repertoire considerably only by having one.

The price at Amazon is 30,787 yen including tax.

Amazon.co.jp: Sharp Helshio Hot Cook Waterless Auto Cooking Pot 1.6 L Red KN-HT99A-R: Home & amp; Kitchen