Electric pressure cooker Meister "Electric pressure cooker meister" which can be cooked to rice, complete with okonomiyaki of boiled pork and lunch and oden at burning & time shortly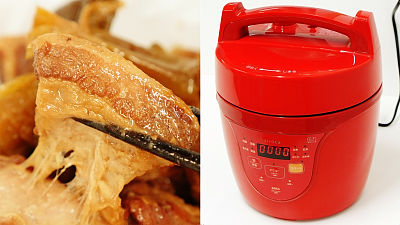 In the cold season, I would like to eat oden and other hot foods, but it is difficult to adjust the fire condition, and I have to worry about the state of the pan all the time around the stove, and troublesome too. Putting cut material and pushing a button will do the selfish cooking without saying "siroca's"Electric pressure cooker Cookmeister"It is an item that can be used not only as a pressure cooker but also as a slow cooker and a rice cooker and it seems that it is likely to widen the range of dishes by saving labor and so I tried to make this .

Siroca electric pressure cook Cook Meister SPC-101 | Oak Sale Inc.
https://www.aucsale.co.jp/products/brand/siroca/spc-101.html

This is the package of siroca electric pressure cooker "Cook Meister SPC - 101".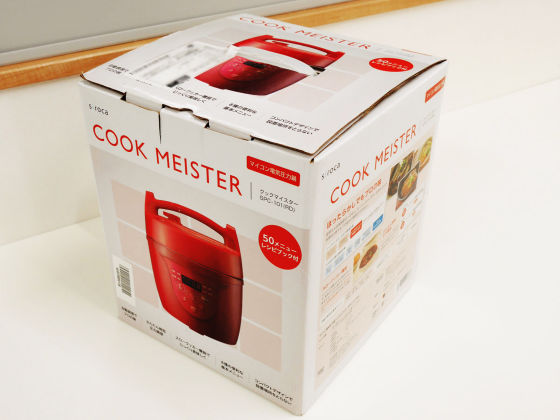 Inside was recipe book · instruction manual · main body · rice paddle · measuring cup · steaming table · power cord etc. were included.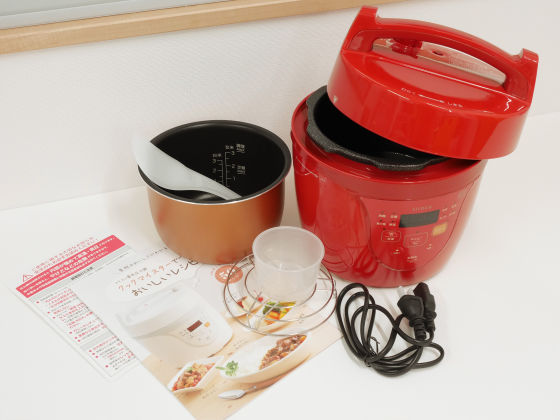 The size of the main body is width 21.9 × depth 23.3 × height 26.2 cm, this is about the size compared with iPhone 5. It is about a small rice cooker used for living alone.



The attached recipe book consists of 48 pages, consisting of four sections: "pressure cooker", "rice cook", "slow cooker's dish" and "sweets". Since recipes are explained with photographs, "Although I purchased cooked appliances, it does not seem to mean that I do not really understand how to use it."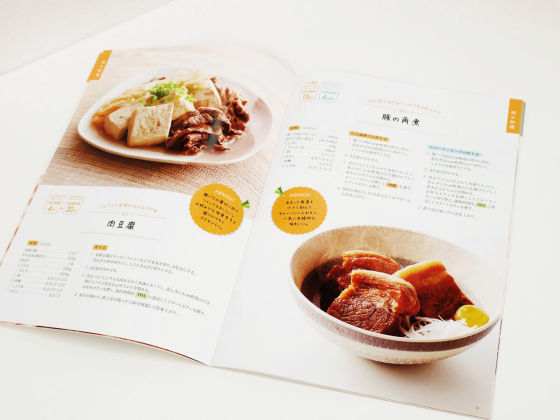 So, first, I will cook boiled horn of pork under pressure according to recipe. We prepare sake · soy sauce · mirin · ginger · golden part of green onion · pork belly · sugar etc.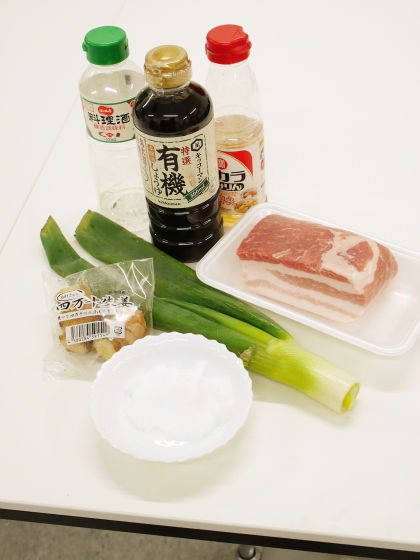 First, I cut the blue part of pork belly · ginger · ginger and long onion.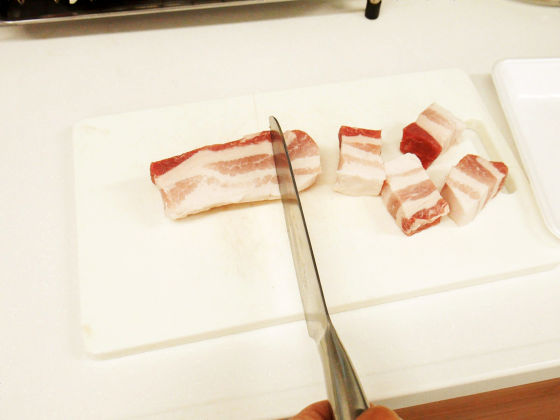 Like this.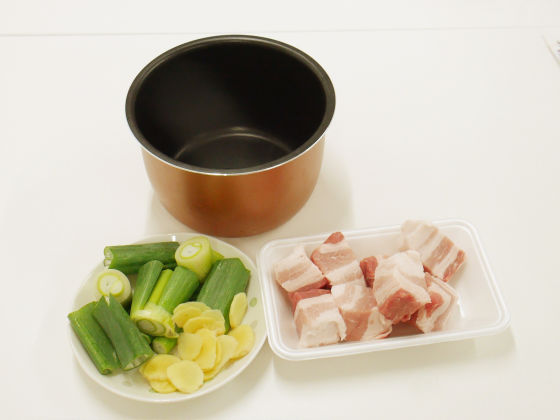 Next, add soy sauce and sake etc. to oolong tea ... ...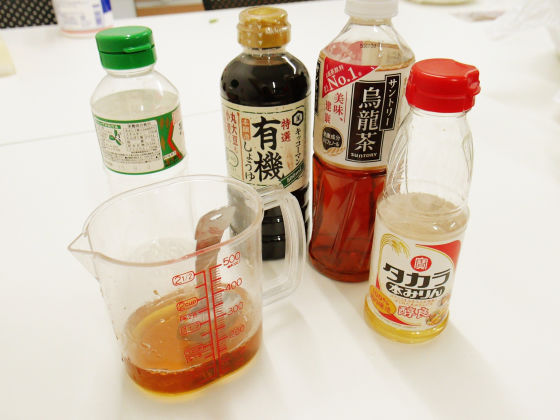 Together with the cut material, put it inside the pan inside the main body. In addition, the cooking capacity of the inner pan is 1.3 L. If it is rice, you can cook up to 3 times.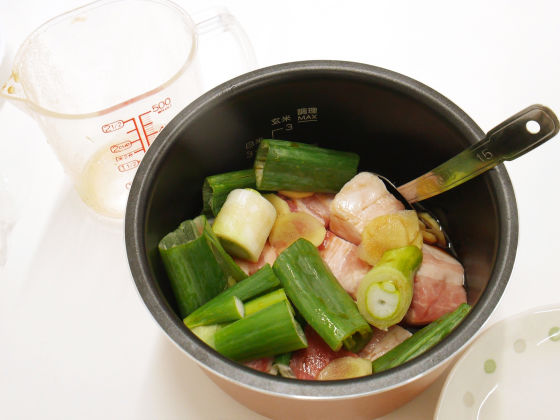 Install the pan inside the main unit and connect it to an outlet.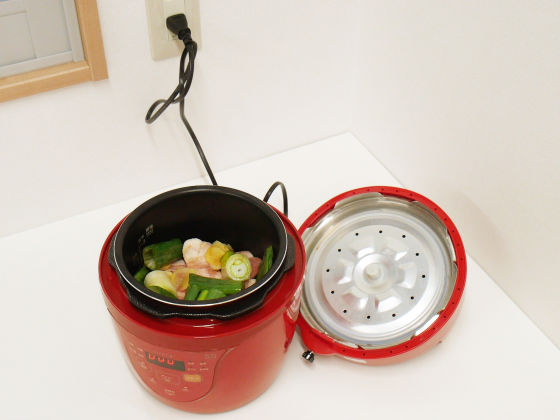 Place an aluminum foil with a hole of about 1 cm in the middle.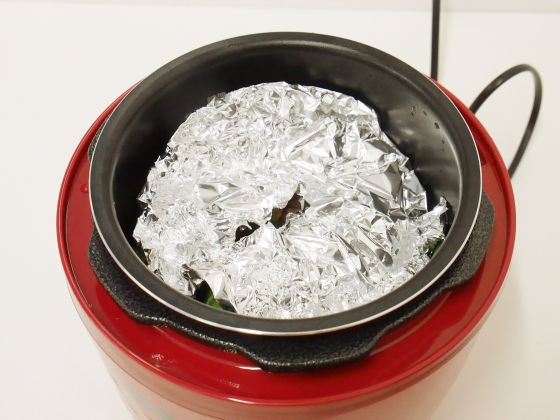 I will cover lid with lid. The lid is as follows, and the pressure switching valve and pressure indication pin are attached to the far side.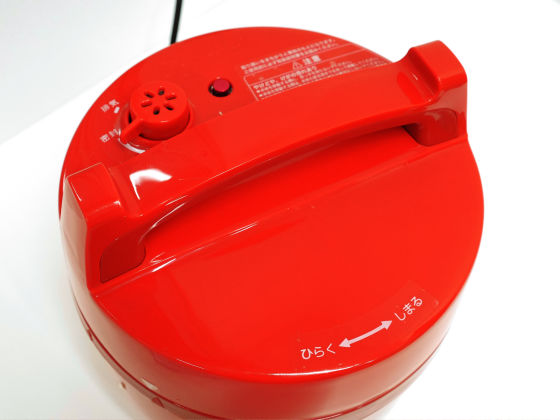 When pressurized cooking is performed, cooking is correctly done by matching the pressure switching valve on the left side to "sealed" and in slow cooker mode to "exhaust".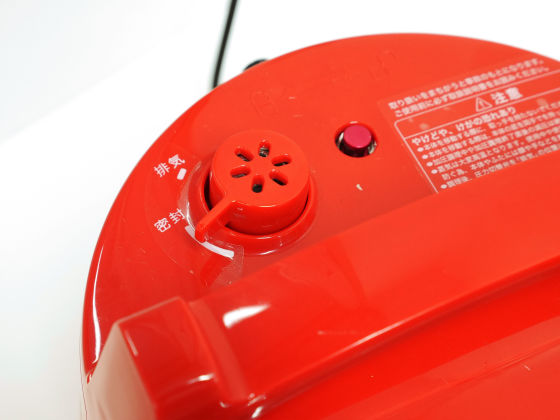 The pressure indication pin on the right side of the pressure switching valve rises when the interior of the electric pressure cooker is pressurized and it goes down when no pressure is applied. When the decompression ends before cooking or after cooking, the pin is in a state as it is in the image below.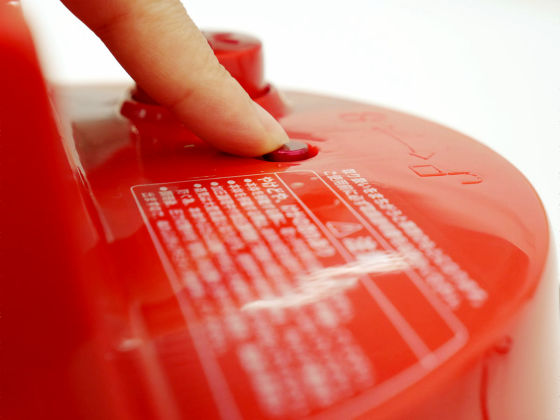 The pin floats up when pressure is applied. In addition, let's make sure that the pin will rise properly before cooking.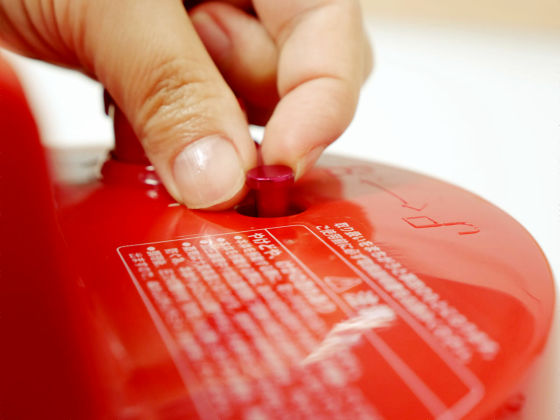 Just choose the mode from the menu button. The cooking modes include "menu selection mode", "slow cooker mode", "favorite mode", and menu selection modes are "white rice" "brown rice" "okay" "vegetables" "fish and shellfishes" "meats" "beans" "white rice If you select the desired mode from ", it is designed to perform pressurized cooking suitable for the material. Slow cooker mode does not perform pressurized cooking, heating time can be changed in 1 hour unit up to 24 hours by low temperature cooking. In the favorite mode, pressurization time can be freely set in 1 minute increments.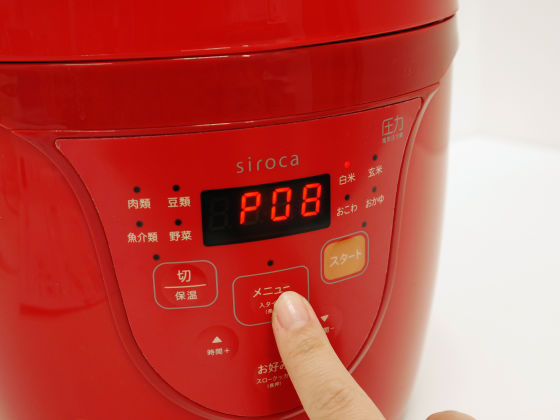 Since meat dish this time, when choosing "meat" in menu selection mode, "P 15" is displayed on the display. This means that pressurized cooking is done for 15 minutes.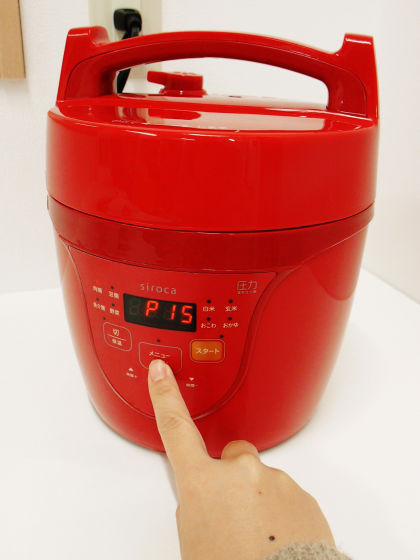 Finally start cooking by pressing start button.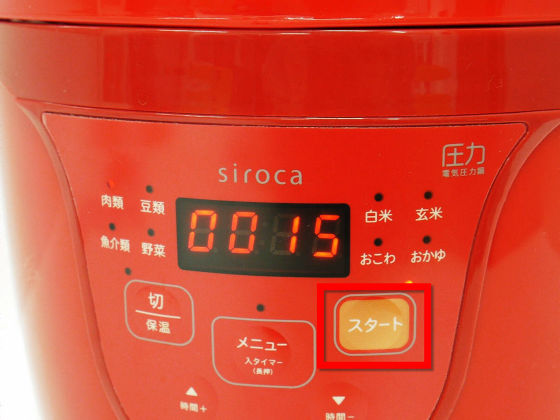 Afterwards it is okay with OK. The pressurization time was 15 minutes, but cooking was not finished in exactly 15 minutes, it took about 5 minutes to warm the interior of the pan.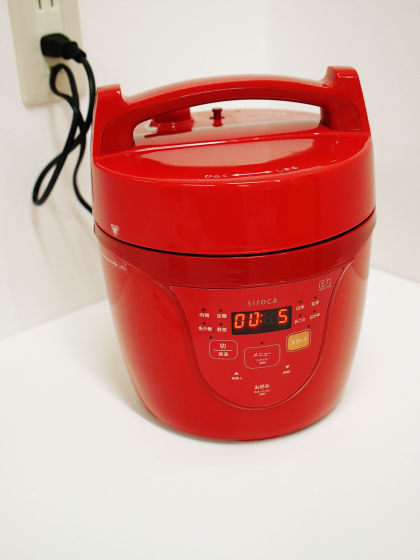 During pressurization, the pressure indication pin rises up with Pyon as shown below.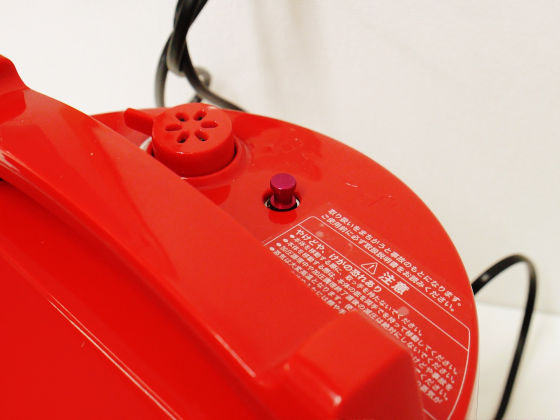 After 15 minutes of cooking, decompression finished after about 10 minutes, the pin fell down. It is okay to open the lid if this state is reached.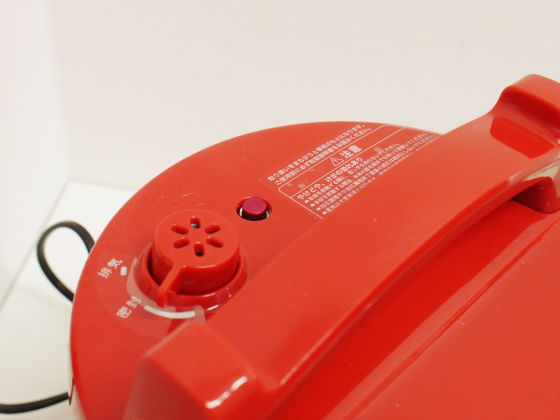 Opening the lid and lid will spread a gentle fragrance of ginger and pig roses.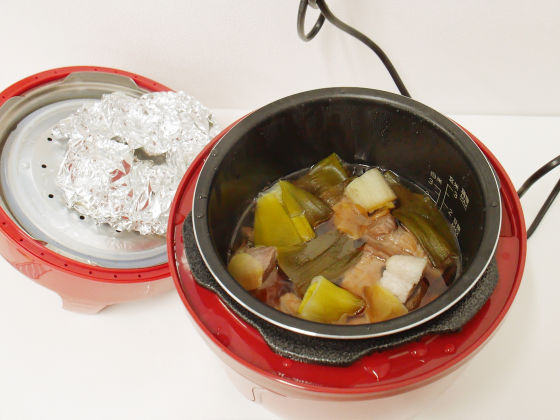 When you try it in a dish, it looks like this.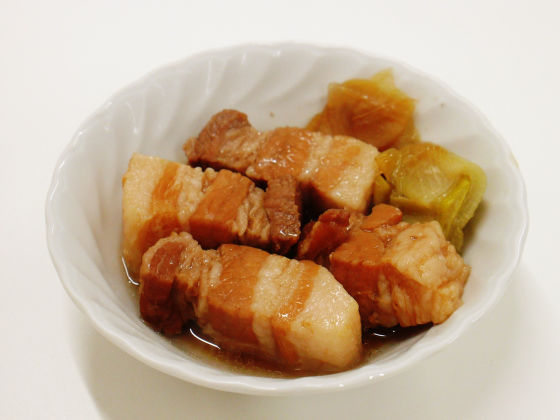 The fat is in a state of Purupuru, but there is no boiled collapse etc., the flesh is solid.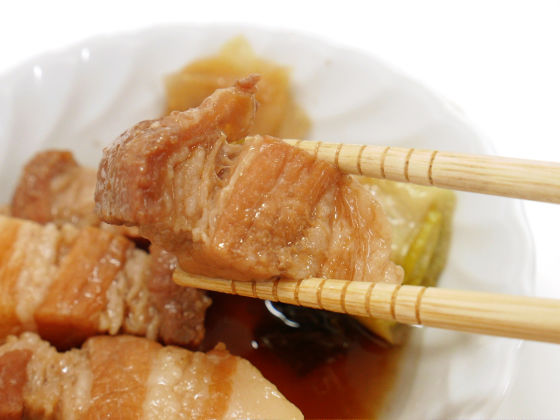 It is not to say "meat that is not so soft that you do not need to chew", but the plump red part still broke with chopsticks all the time.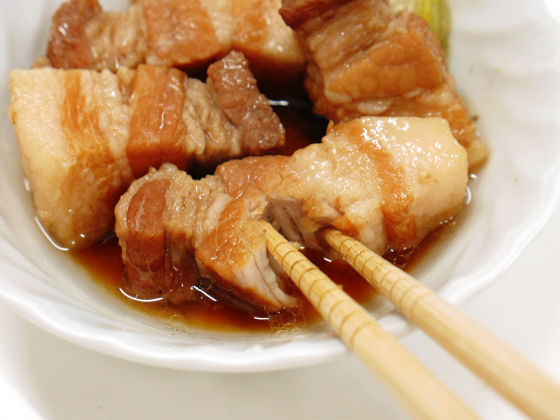 The taste is well dyed, the fat and lean flavors mix exquisitely, and it is juicy. Speaking of what I did is mostly "cutting the material", but without any adjustment of fire reduction, the cooked bonito was completed easily.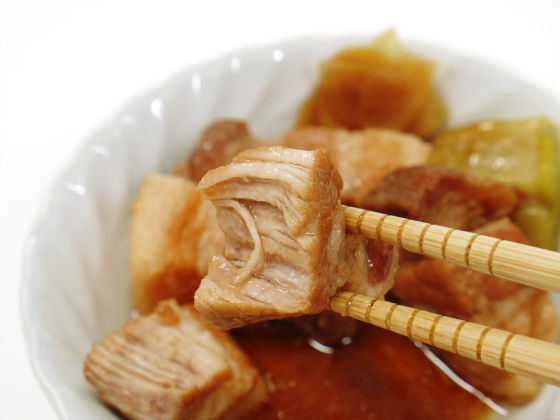 Next, I will make oden using slow cooker mode. Prepare fried noodles, potatoes, boiled eggs, fried chicken, knotted kelp, radish and so on.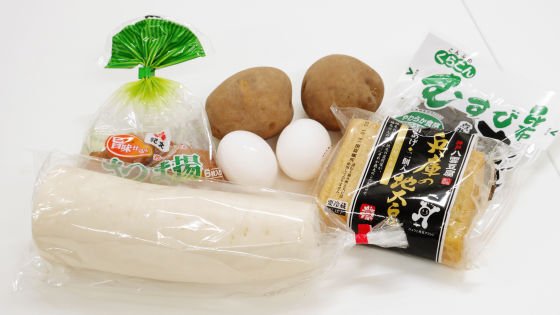 Basically this is basically the same as cooked bonito, and the necessary work is almost to "cut material".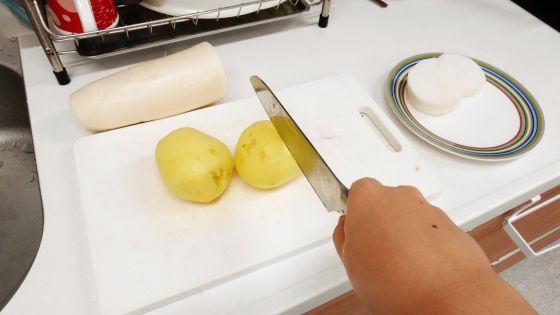 This is about the prepared ingredients.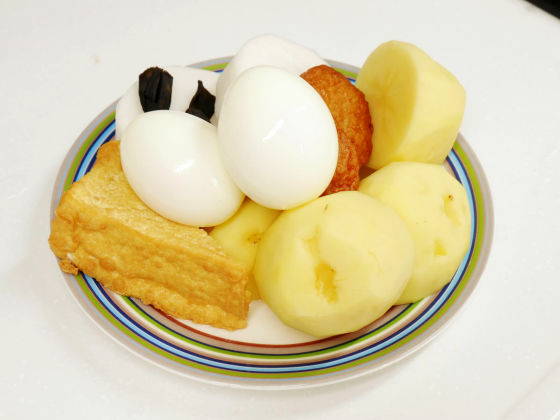 Put the ingredients of sauce, soy sauce, sake, shio, mirin etc. together inside the pot ......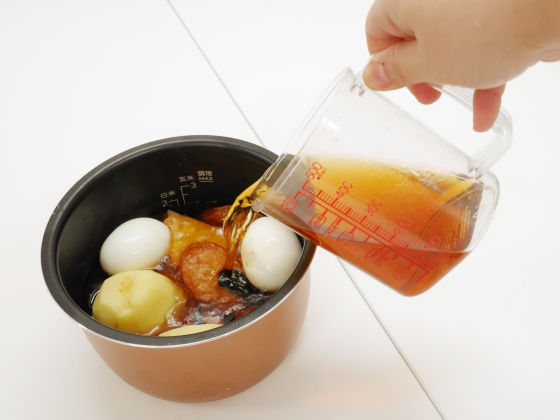 Set in the main body.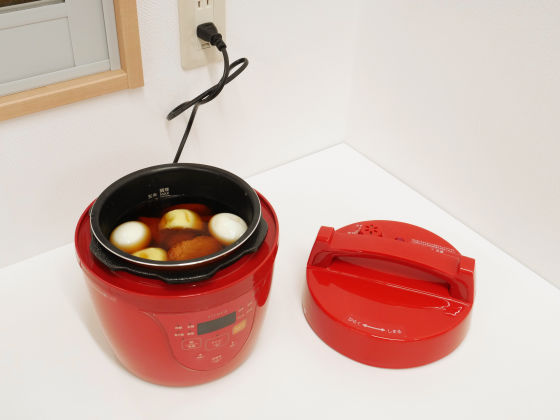 In addition, there is a line called "Cooking MAX" in the inner pot, and basically it is necessary to put ingredients so that it can fit in this line. In the slow cooker mode, even if it goes beyond the line somewhatIt does not seem to be a problemIn the case of pressurized cooking, if it crosses the line, it means "It will be serious."



Play the lid ... ....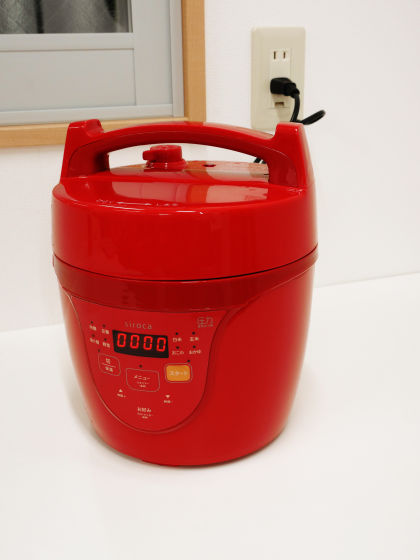 The pressure switching valve is set to "exhaust".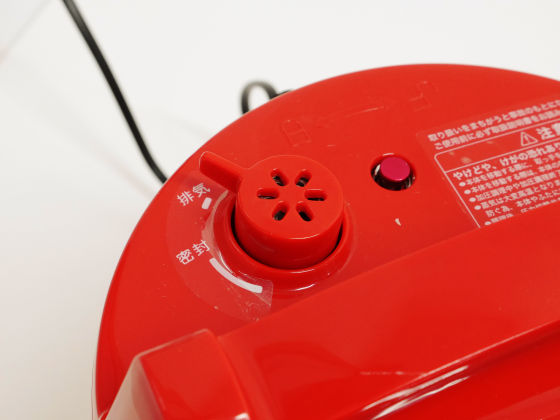 Next time you press the "favorite slow cooker" button. Then, the screen display changed from "P" to "S 06".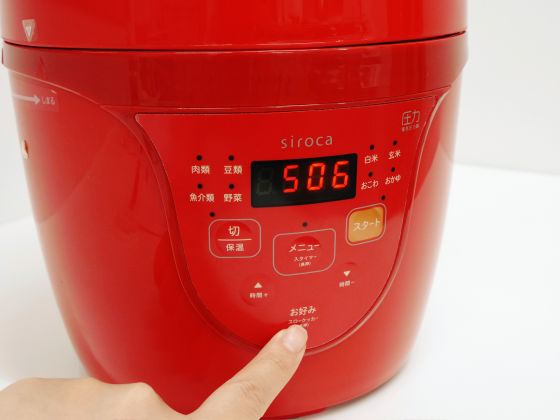 Just press start button.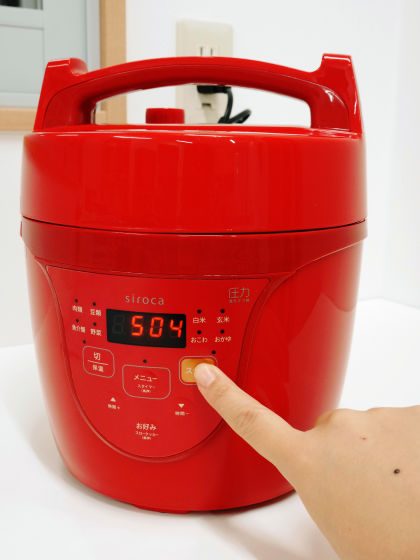 In case of oden, cooking time is 4 hours. After that, if you leave it and do whatever you want, Quick Quick Meister will complete the dish without permission.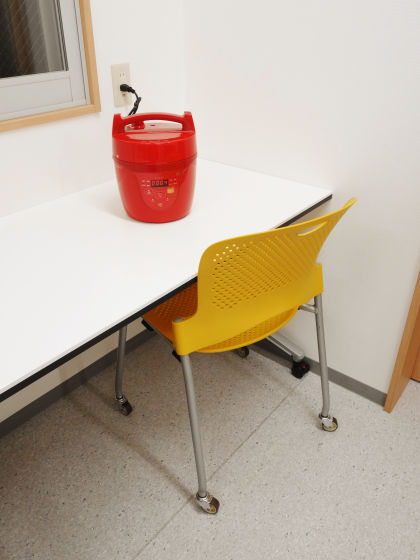 Four hours later, if you hear "beeps", the dishes are complete. Unlike pressurized cooking, there is no need to worry about pressure indication pin.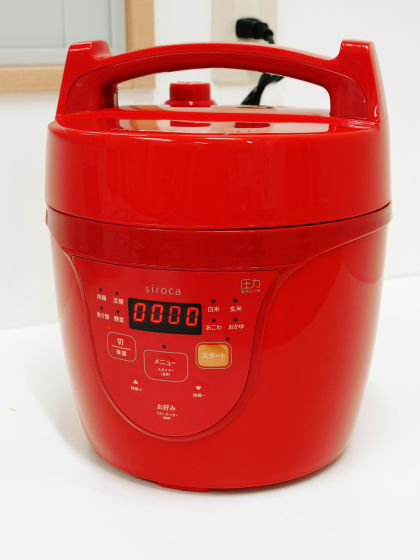 Open the lid ... ....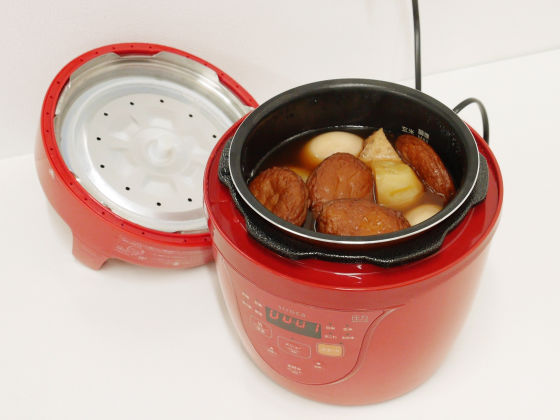 I tried it on a plate.



Even though potatoes are not boiled down, chopsticks pass by suddenly in a state that they are in a state of soiling.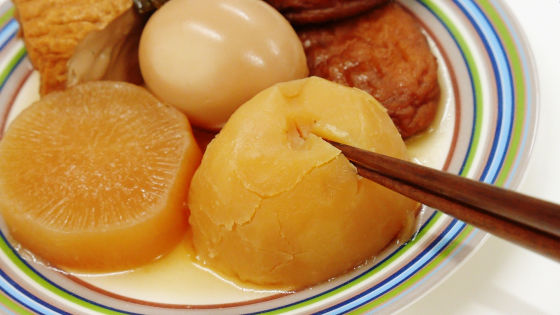 Dashi soup is completely in the middle, and juice and juice seeped out everywhere you eat.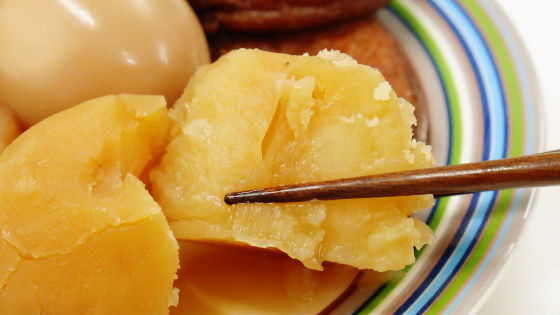 The radish also does not collapse.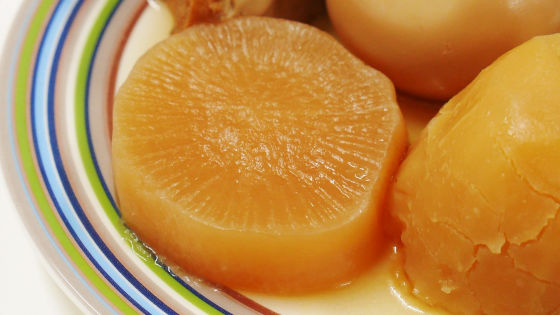 This is also impressive as street, with chopsticks scooping ... with little effort. Not to mention that the taste was stained to the inside, of course, it was finished in softness enough to crush with a tongue without chewing.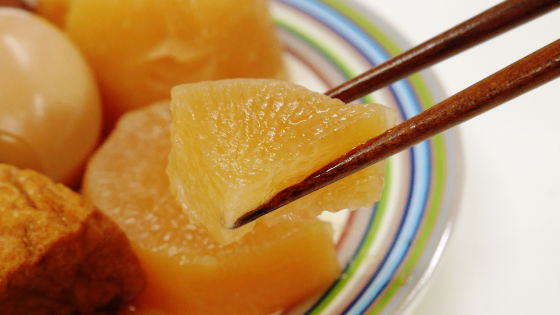 The tying knotting out the good is a state of mushrooms.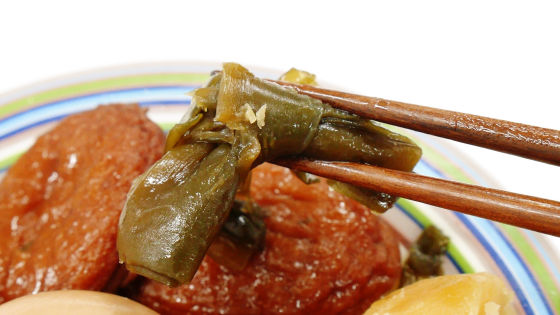 Deep-fried and ...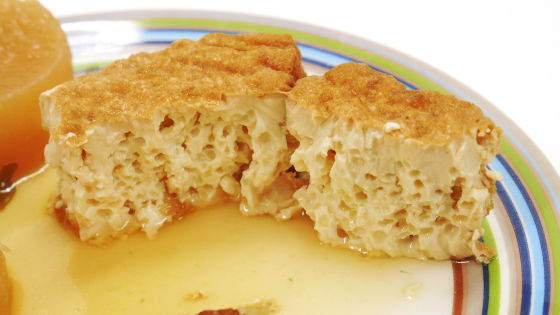 Boiled eggs were also in good color.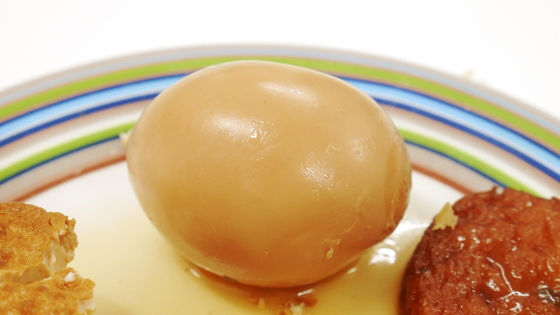 This is also tasteless taste in the middle, so convenience store Oden is not about eyes.



Also, Cookmeister is a place where rice can be cooked and can be used instead of a rice cooker. I cooked it with oden's remaining juice and it was possible to make rice, so I tried it. We prepare Oden, fried tofu, carrot, mushrooms etc.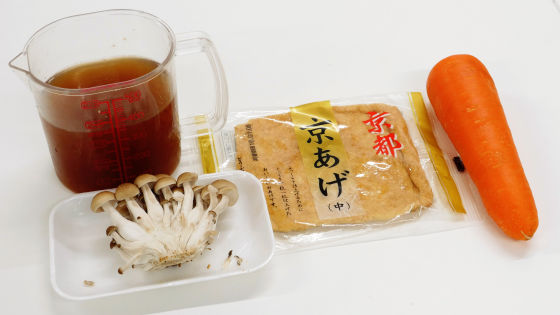 First of all, I will rice the rice which I washed as usual, and drain it for about 30 minutes.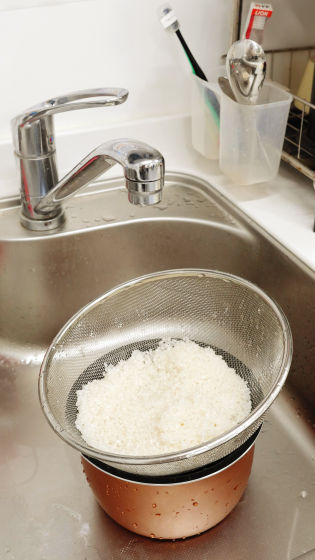 Let's cut the material to the appropriate size during that time.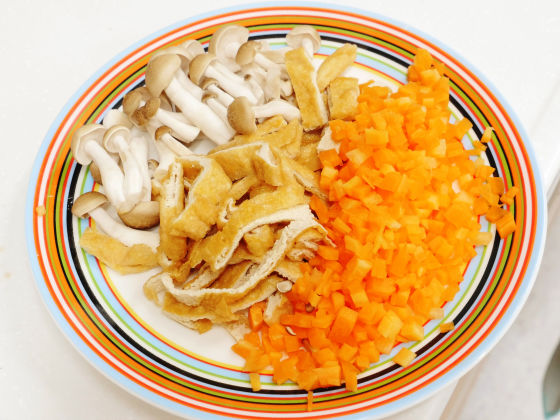 When draining of rice is completed, we will add white rice, soup stock, vegetables and so on to the inner pot.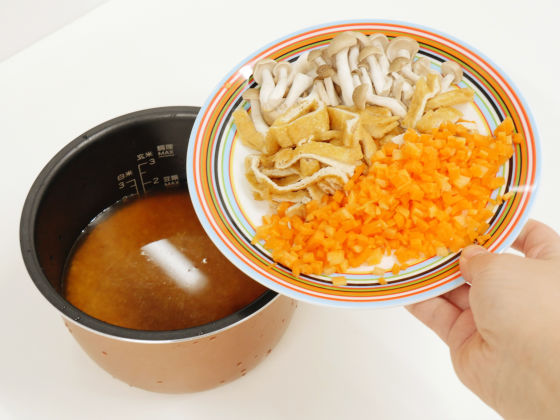 Set the inside pan to the main body.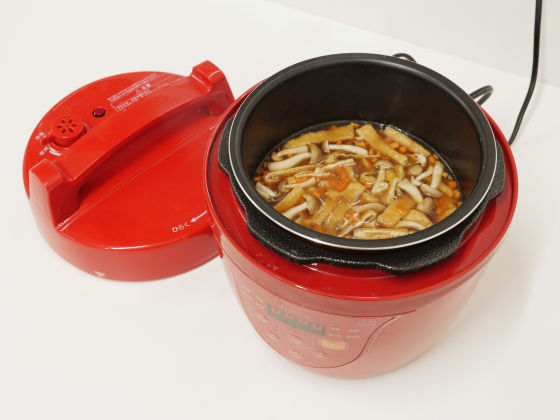 Select "White rice" mode from the menu and press the start button.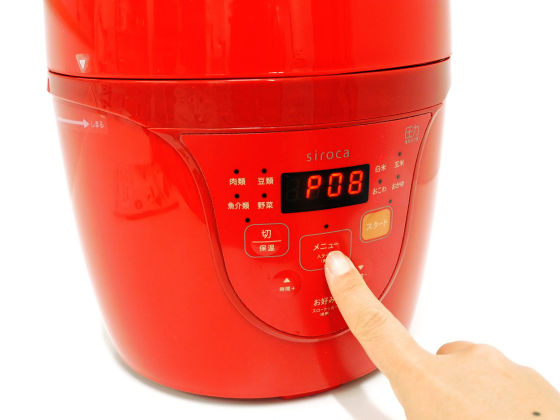 Pressurization time is only 8 minutes.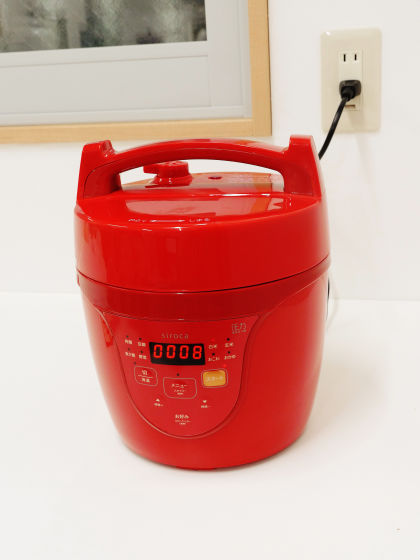 After pressurized cooking is finished, wait about 10 minutes for the pressure indication pin to go down ...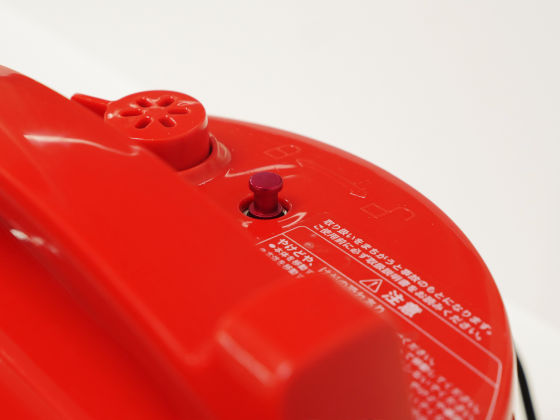 When opening the lid, it looks like this.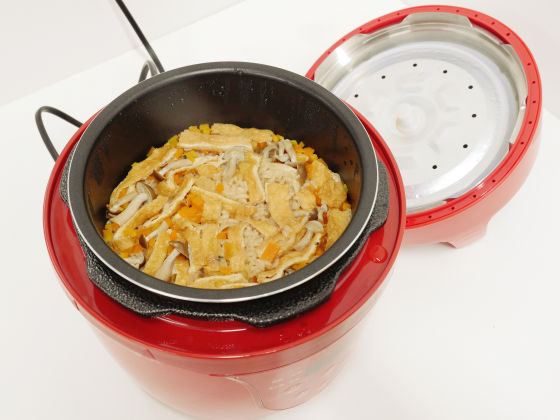 Mix the rice with the attached paddle.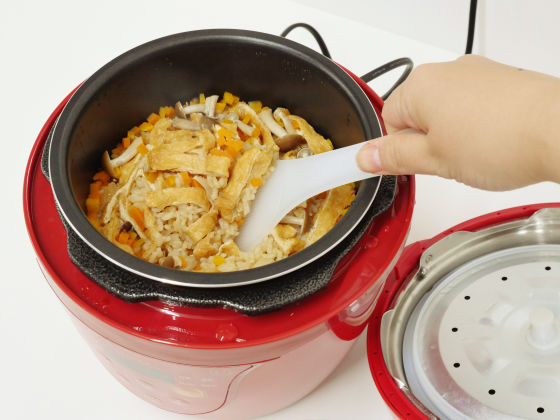 I tried it. Before cooking, I was worried that "Can you really cook rice?", But rice is cooked perfectly from anywhere.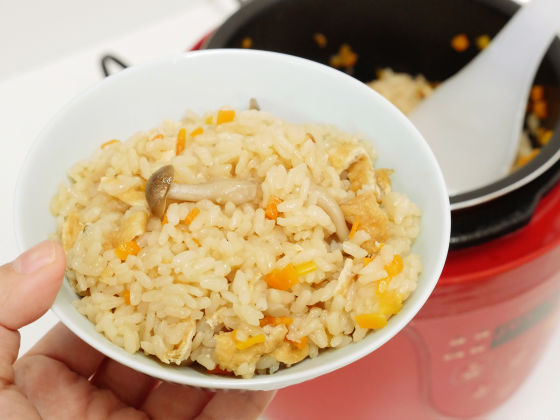 Oden's dough is steadily damping rice is not too hard, it is not too soft, it is just good condition. In the case of cooking rice, you can also set timer by long press of the menu button, so you can cook rice at the time you aimed like ordinary rice cooker.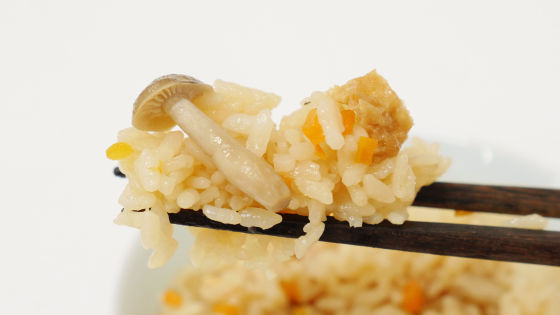 Also, depending on the dish, such as boiling boiled pigs, it is said that cooking is possible with either pressurized cooking or slow cooker, so I tried to see how much difference there is. Pig, rose, green onions and ginger with seasoning put in the inner pan and set in the main body.



Let me drop it ... ....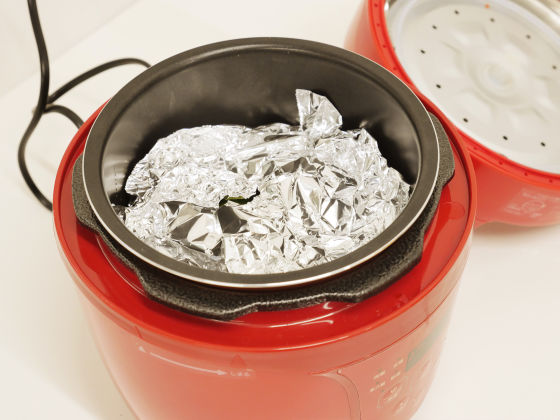 Now set to slow cooker mode of "S04". With this, we do not pressurize and cook, but we will cook pork over 4 hours.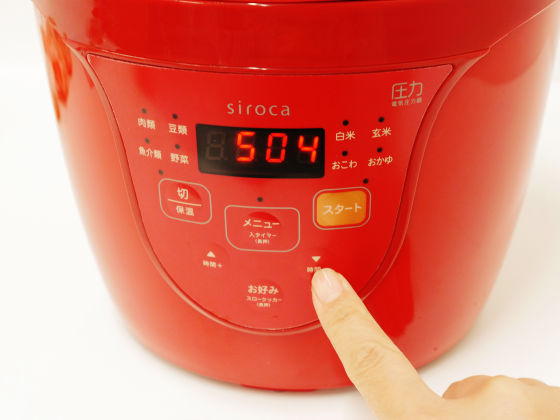 The advantage of Slow Cooker is that "cooking is done without permission when getting up in the morning when preparing at night". The quick meister also has a warming function for 6 hours after cooking, so you can wake up in the morning and eat hot dishes. So preparing in the evening, when you wake up in the morning and try opening the lid ......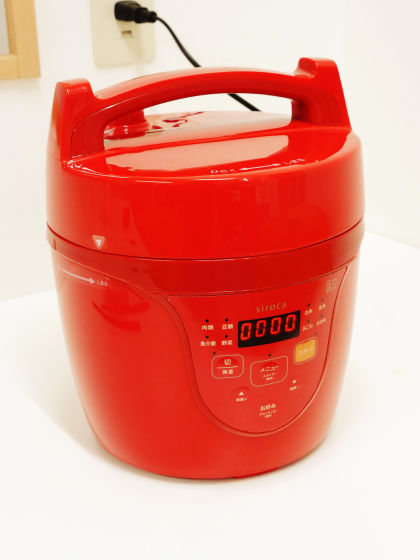 Like this.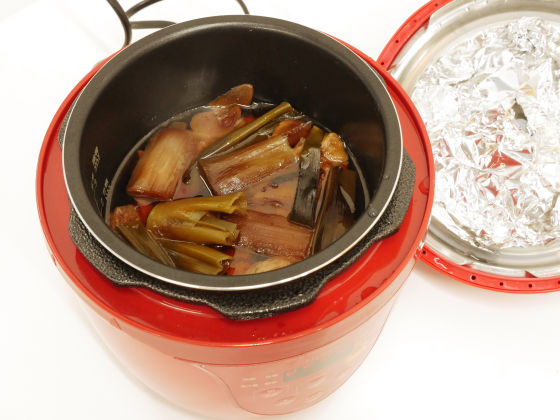 I tried it on a plate.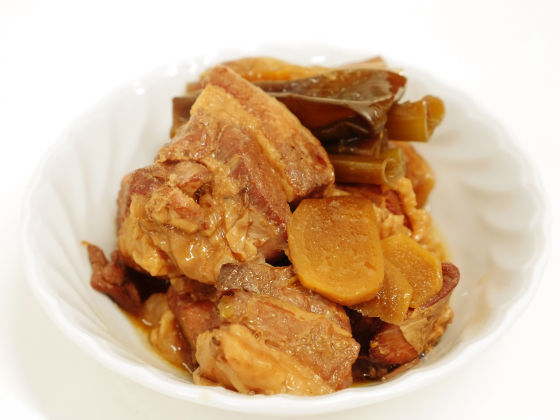 It is finished in Trotoro than when pressurized and cooked in a short time. Especially the fat body was soft enough to dissolve in the mouth.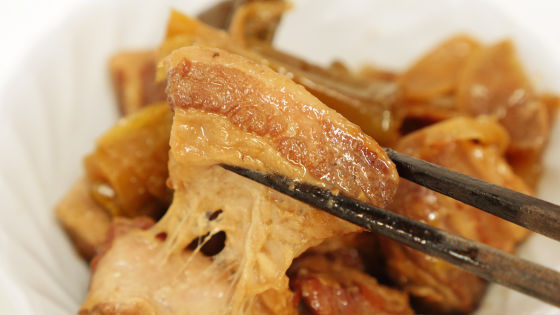 Soft enough to easily split meat with chopsticks. As I put it in my mouth the fiber seemed to unravel with the neck.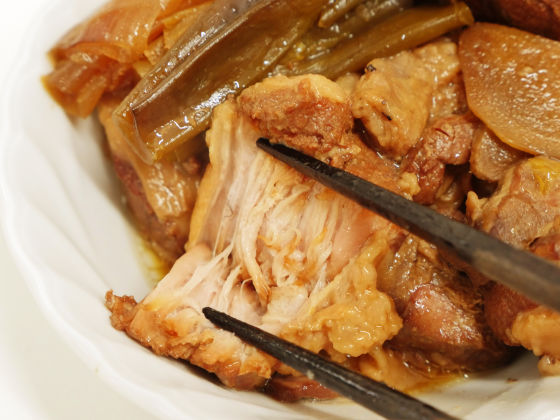 Legs etc. were also in the state of a toro, unexpectedly becoming exquisite finish which seemed to shout "white rice!"!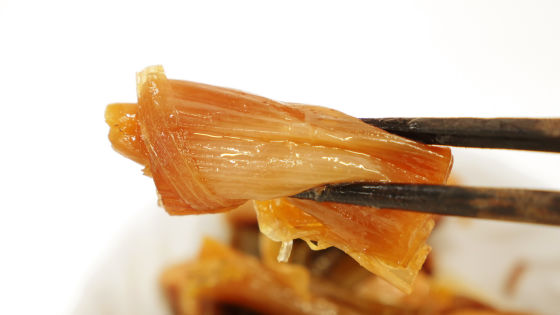 So, depending on your preferences and circumstances it is possible to cook with a slow cooker, sometimes with a pressure cooker, and despite the fact that the work to be done almost ends with "cutting ingredients", delicious dishes are served without permission It is quite useful item for those who are busy or disgusting that they are troublesome. It is not suitable for large families because the capacity is slightly small and most of the attached recipes are for 2 to 3 servings, but "I usually use it as a rice cooker and use pressure cooker & slow cooker when I want to eat delicious items" Because it is possible to use it, it is quite easy for people living alone. The large pressure cooker is awkward to handle and tends to get caught in the shelf, but because it is compact size it is easy to wash the inside pan, and the point that it is convenient to use was also a point.

The price at Amazon is 12,890 yen including tax, the color is developed in two colors, white and red.

Amazon.co.jp: siroca microcomputer electric pressure pot Cook Meister White SPC - 101 WH: Home & amp; Kitchen