I thoroughly checked the appearance of the revolutionary cookware 'CHEFDRUM (Chef Drum)' that automatically cooks while rotating like a washing machine Review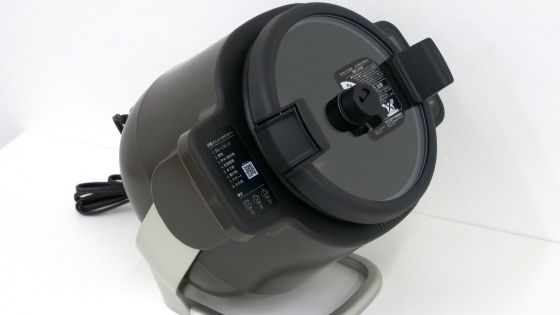 Iris Ohyama has released the CHEFDRUM , a cooking appliance that automatically makes stir-fried dishes by rotating the inner pan. In addition to stir-fried dishes, chef drums can cook a wide variety of dishes such as stewed dishes, fried foods, and low-temperature cooking. Since I had the opportunity to actually touch such a chef drum, I first thoroughly checked the appearance.

CHEFDRUM KDAC-IA2-T DAC-IA2-H | Iris Ohyama

https://www.irisohyama.co.jp/dac-chefdrum/
The chef drum box looks like this. The Chef Drum logo is printed in the center.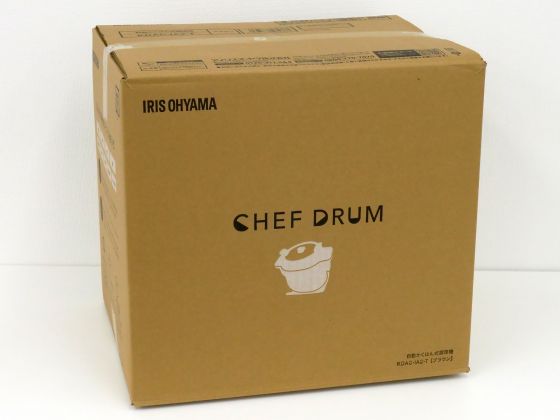 Opened. The chef drum is protected with Styrofoam.



Inside the box was the main body of the chef drum, the inner pot, the lid, the recipe book and the instructions.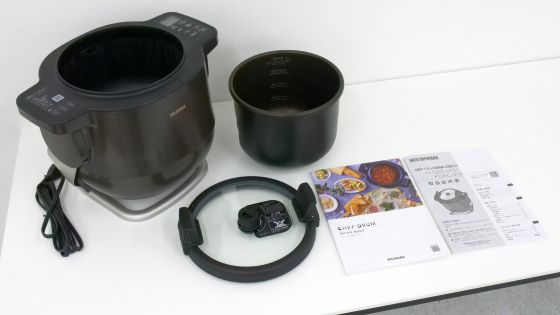 The appearance of the chef drum body looks like this. The Iris Ohyama logo is printed on the front.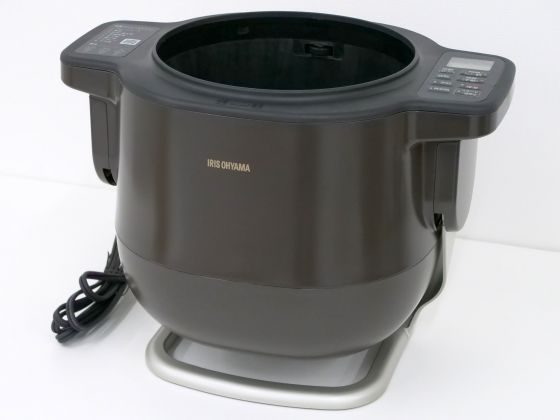 The power cord extends from the back. Power cord is non-detachable.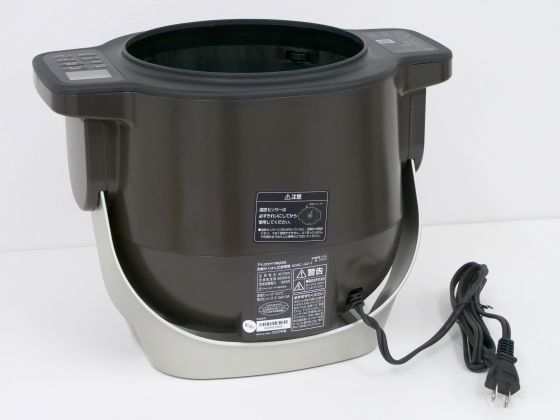 left side. The body of the chef drum is supported by a gray stand.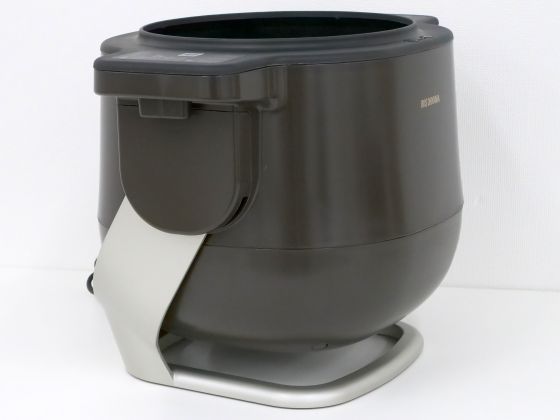 right side.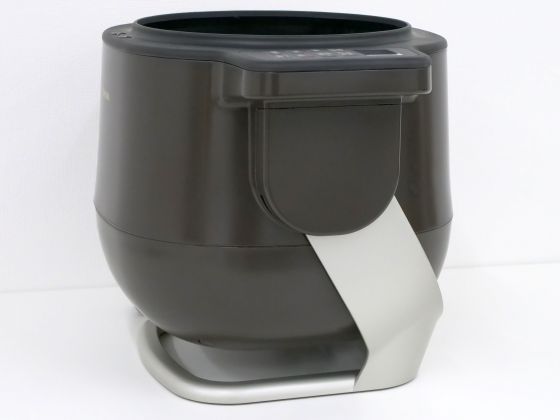 Looking from above it looks like this. A QR code that allows access to Chef Drum's
recipe site
is placed on the left side, and an operation panel is placed on the right side.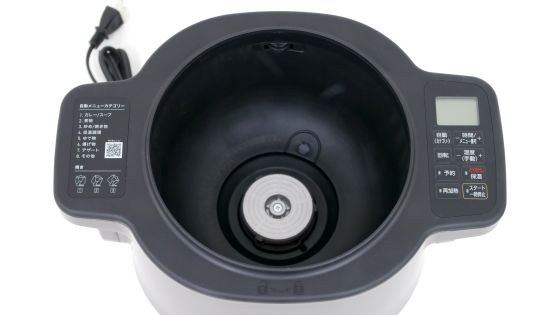 There is a hole on the bottom that seems to be for exhaust heat.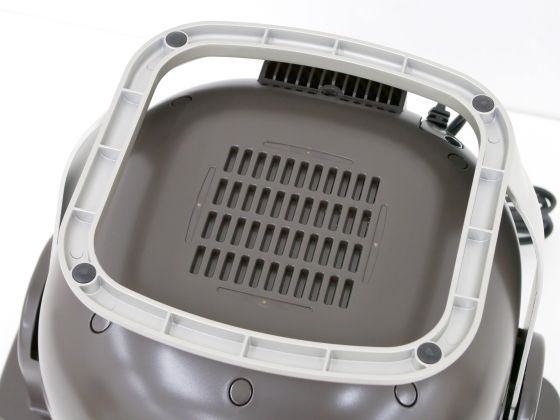 There is a protrusion like this on the back side of the left side ... ...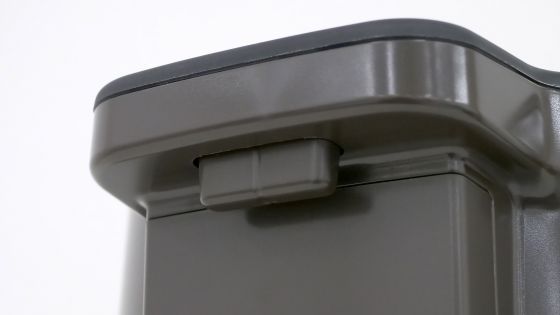 By pushing the protrusion, the chef drum can be tilted in 3 steps.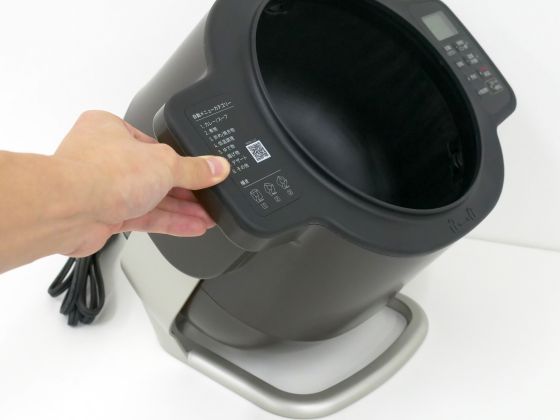 There are three slopes from 1 to 3, and the maximum water level changes at each step. The state of 'tilt 1' is as follows. The maximum water level in this state is 3L.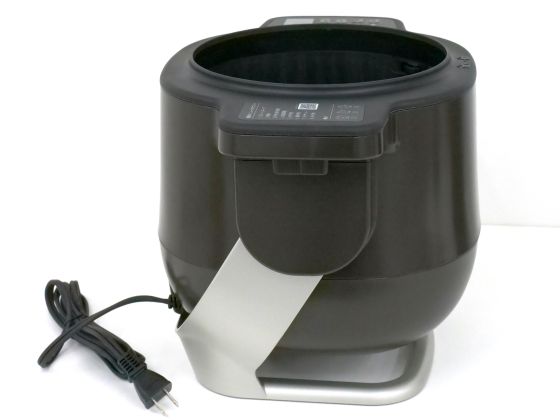 The maximum water level for 'tilt 2' is 2L.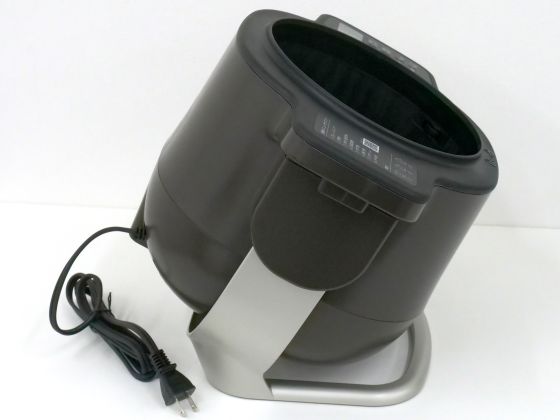 The maximum water level for 'Tilt 3' is 1L.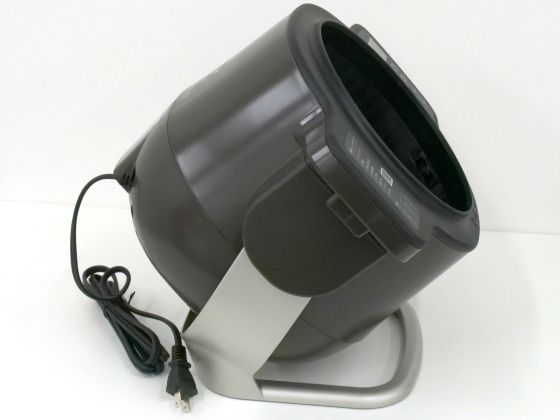 The appearance of the inner pot looks like this.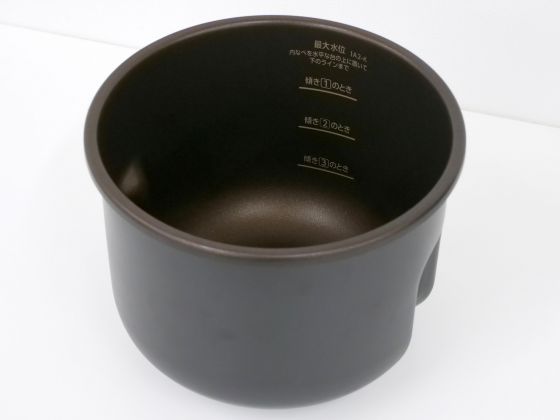 If you change the angle, you can see that the recess is provided.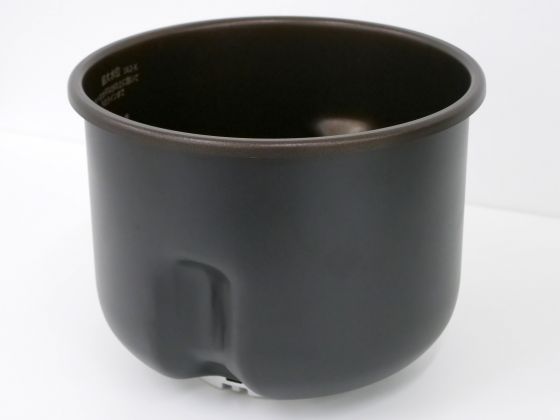 The maximum water level line for each tilt stage was marked on the inside.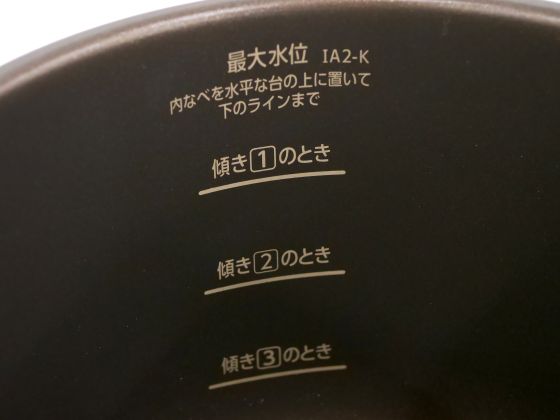 The bottom looks like this.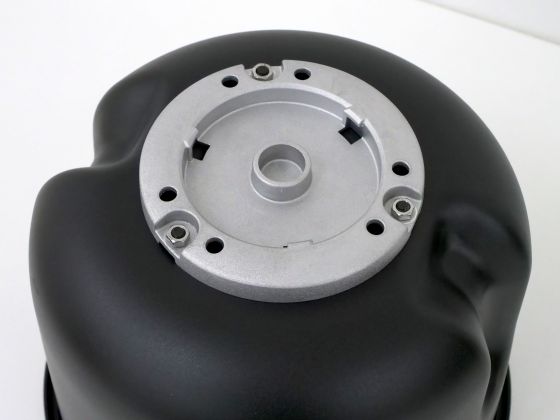 The actual weight of the inner lid is 1444g.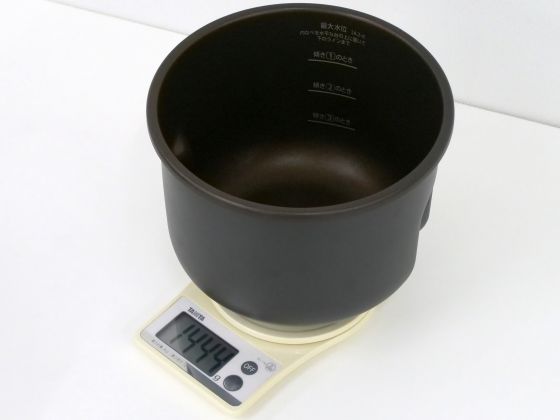 The pot of the
10-cup rice cooker
used by the editorial department was 1339 g, so you can see that it is heavier than the pot of a large rice cooker. However, compared to heavy cooking utensils such as enamel pots, it falls into the light category, so it seems that there will be no trouble handling it.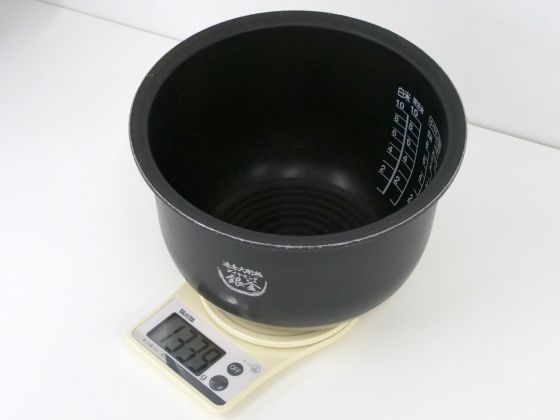 The lid looks like this. It has handles on both sides.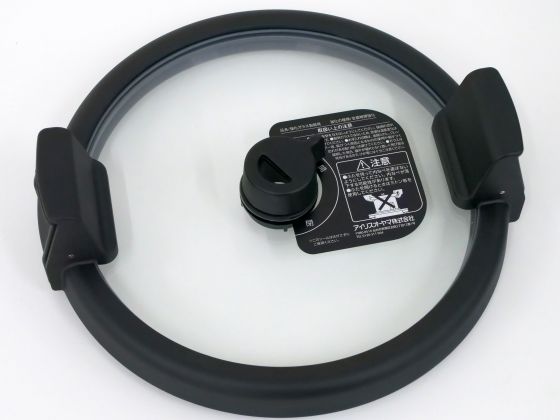 The central steam vent can be adjusted according to the cooking to be made.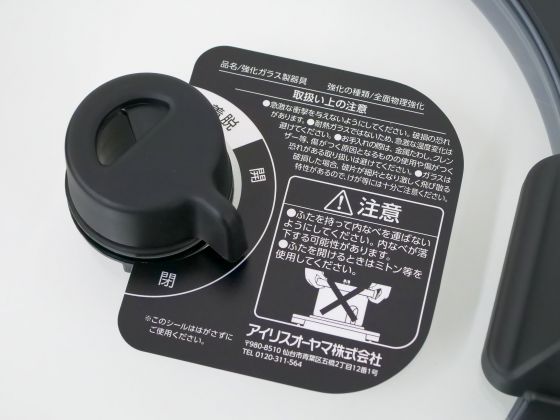 Packing was attached to the back side.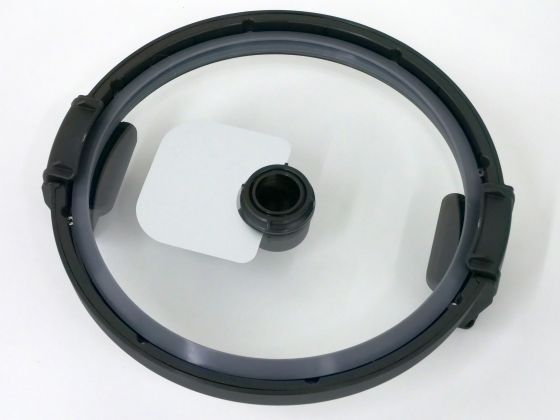 The weight when adding the inner pot and lid to the chef drum body is 7.2 kg.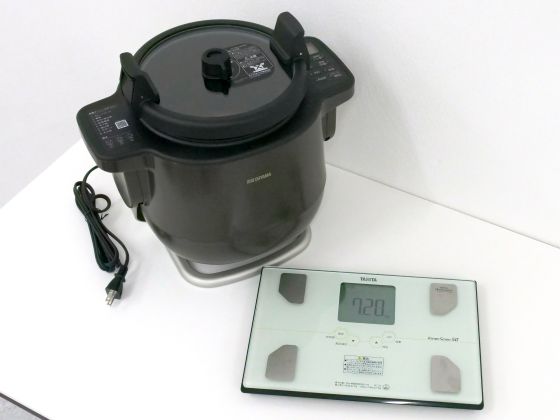 The manual says to leave a space of 10 cm left and right, and 30 cm behind and above when installing the chef drum. Below is the state where the chef drum and the wall are set 30 cm apart as a trial. It requires a fairly large installation space, so it is essential to check the installation location before purchasing.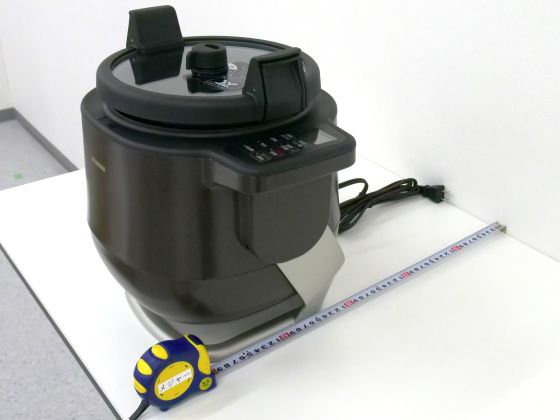 A variety of automatic cooking menus are registered in Chef Drum, and you can automatically cook a wide variety of dishes such as stir-fried dishes and deep-fried dishes by referring to the attached recipe book. You can check the review article that actually cooks with Chef Drum from the link below.

I tried using an automatic cooker ``CHEFDRUM (Chef Drum)'' that perfectly finishes stir-fried food and fried food while rotating round and round Review-GIGAZINE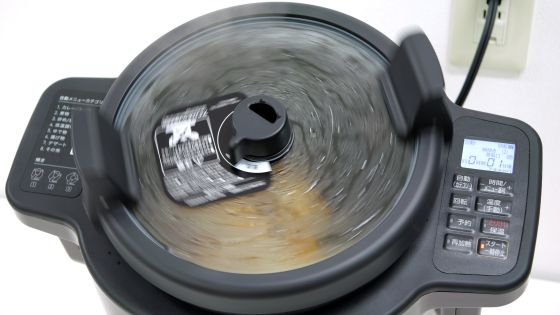 In addition, Chef Drum is sold at Amazon.co.jp at 54,780 yen including tax at the time of article creation.

Amazon | Iris Ohyama Automatic Cooking Pot Automatic Stirring Cooking Machine Chef Drum Electric Pot Fried Food CHEF DRUM DAC-IA2-H Gray | IRIS OHYAMA | Soup Maker